Finding Imo
The Quest For The Easter Kitty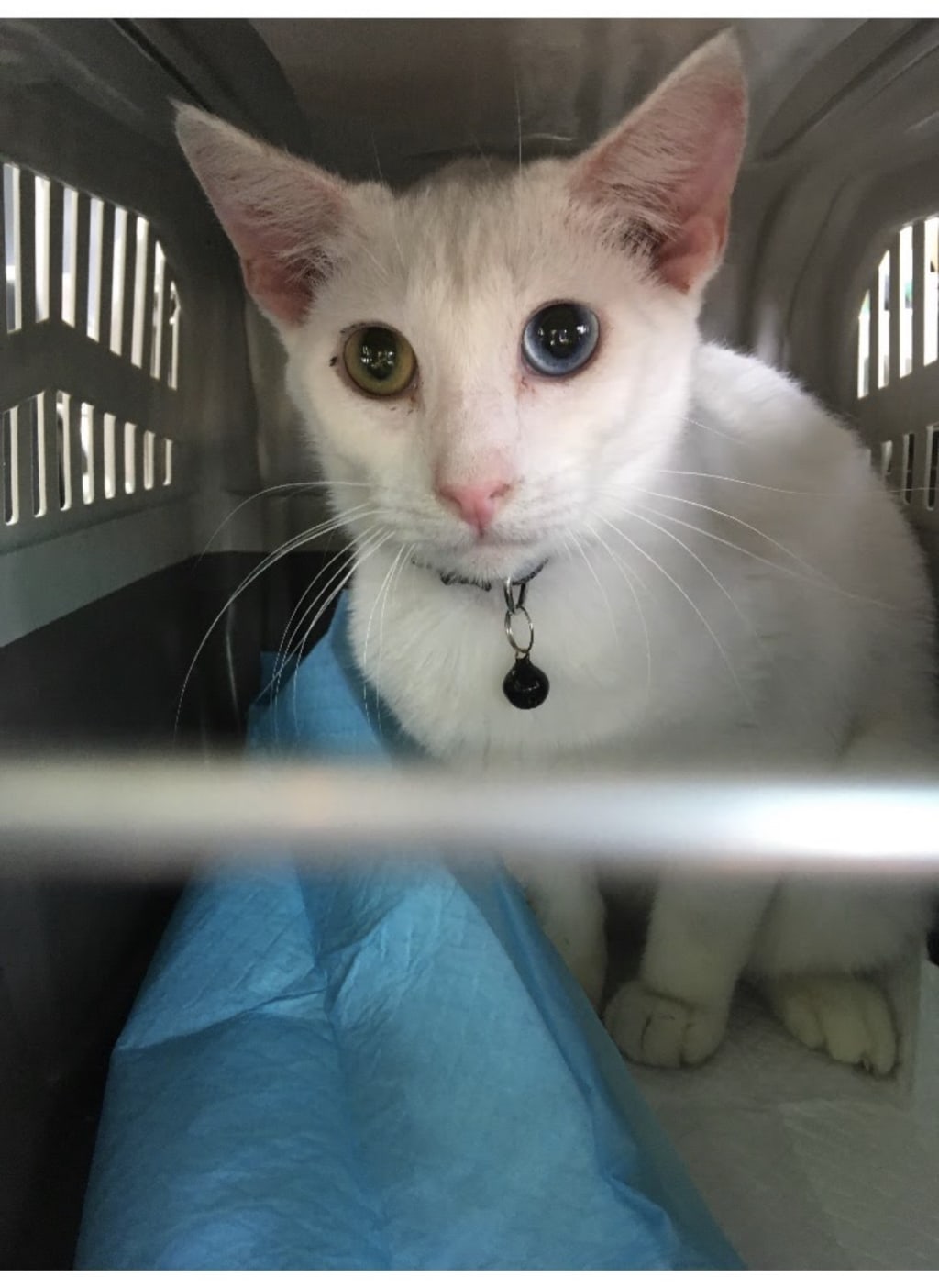 Two months had passed since the search for a white kitten began. I'd had Suna, my black cat, for five years already and I thought it was time she have a cat companion to have adventures with. Also, as newlyweds, my husband and I felt adopting a cat was a way to expand our family without having children right away. However, the search for our new family member was not going so well. I had already reached out to four different posts on Petfinder.com, none resulting in adoption. Every time, there was an adoption application already in progress or the young furball had just been taken by new cat guardians. I felt like I was a step behind every time. I never thought finding an all-white cat would feel like the search for the Holy Grail. Why an all-white cat? My husband and I are firm believers in balance and maintaining everything in harmony. Since we already had a black cat, it only made sense to get a white cat. That and I could already see myself reliving my childhood, pretending to be Sailor Moon with Artemis and Luna lounging around.
Why adopt instead of buy? Sure we could've just walked into a fancy pet store and bought a cat, but my husband and I both came from humble beginnings. There were times in our lives growing up when we were both strays and they were key people in our lives that gave us the strength to rise above and rescue ourselves. We wanted to be those kinds of cat guardians. The kind that help a cat live it's best life. We were soon approaching April, which had always been a powerful month for us because we were both April babies. I had faith that everything would align itself and I would find our new cat. Finally, one lazy afternoon, I see a post that catches me; it's for an all-white, 10 month old cat. The picture is a little blurry but you can clearly see a yellow eye and a blue eye. His description painted an image of a joyful young cat, very playful despite having been rescued off the side of a highway along with a bunch of other kittens. He already sounded mine. As I continued reading on, my heart sank when I got to the adoption agency's page and I read that they were based in Louisiana. I live in New York. They aren't exactly next to each other. I couldn't ignore my gut feeling telling me this was my cat. I decided to read on, hoping the rabbit hole would lead me to a white furball.
When the planets align, they really do align. I thought I read it wrong on the Operation Save the WhoDatt Fur Babies website, but by some miracle, although the adoption agency is in Louisiana, they transport pets up to the north east coast. In exactly one week's time, they were bringing up several cats via van to upstate New York. I filled out that adoption application faster than any Cosmo dating quiz. After several phone conversations, I was approved! That coming weekend, I was to take the long drive up to town I'd never heard of and pick up the cat and his vet records. Everything seemed legit, but of course having grown up in the city I knew scammers were always preying on the naïve heart of the desperate. And I, my friends, was desperate. Still I felt there is no way to reach the gold if you don't overcome hurdles. This was just another hurdle, though a mental one. I needed to think on the other side of the scale. What if it wasn't a scam and this cat ends up changing my life? That's the possibility I was focusing on. Definitely easier said than done. I mean, Louisiana was over 20 hours away. This had scam written all over it. I wasn't used to doing all of this over the phone. I was a tangled web of anxiety when suddenly I receive a series of texts from the driver who'd be bringing up the cats. All the future cat parents were added to a group chat so we could be updated on the trip. One by one we started seeing pictures of the cats as they were getting ready to leave. The minute I saw the picture of my future fur baby all the anxiety washed away. The heterochromia was just fascinating. What beautifully rare eyes! Mesmerized, I knew I was already falling in love.
The fateful Saturday afternoon finally arrived. My husband and I were facing a three-hour car ride until we would finally meet our new family member. That was more than enough time to convince him on the name that came to me for our new little friend. Suna was named after the famed naked beauty from the movie The Mummy, Anck Su Namun. It seemed only fitting to me that this new cat be named, Imo after the high priest Imhotep from the same movie. I had already brought up the idea for the name a few days ago and he said Imo was a contender but wanted to keep things open in case a better name came along. In truth, he didn't come up with any other suggestions and neither did I so the name won by unanimous vote. I had been so focused on our conversation about the name that I failed to notice we were in the middle of nowhere. Literally, no houses, just thick woods and hills. I felt the fire of anxiety engulf me again. I could just hear a faint whisper in my ear saying "scam" ever so softly. I mean what was I really doing out here right now? My husband had put full trust in me during this entire process and here I was driving us to get kidnapped or worse…chopped into little pieces and buried right here, in the middle of nowhere. Of course, I shared all this with my husband and he said that although this thought did cross his mind there was no way someone would go through the trouble of putting so many cats in crates just for this. Right there I thought about all the times where I have felt like I have been gambling with my life while trying to get Suna to go into her crate. I saw Imo's picture again. Looking into his eyes gave me peace. I just had to have faith a little longer.
Finally, we arrived where the GPS indicated. It was a giant house. Instantly I recognized the van from the group chat pictures sent before the departure. More and more I felt the fog in my mind start to clear away. My heart raced as I approached the door. I knew once I opened the door my life would change forever. I would either be blessed or chopped. Thankfully, it was the former. When I walked through I door, I was instantly transported to another world. There were so many cats and dogs just lounging about. The vibe felt like a warm hug on Christmas morning. Several crates were stacked up, all filled with cats wondering what their fate would be. There was another couple there picking up a cat. And in the corner, sitting in his little crate, was Imo. Our eyes locked, the connection was instant. I picked up the crate and my husband opened the door and carried him out. For being almost a year old, he was so small and skinny. I caressed his little face while my husband held him close to his chest. He felt like the missing puzzle piece from our little family. I felt the same tears of joy build up in my eyes, just like they did when I found Suna. Imo was definitely the one. We were in and out of the house in no time. It was a no brainer that Imo would ride on my husband's lap, crate free, so that he could move around and stretch after the long trip. The bond with this cat after just moments was amazing. It was as if we had all known each other in another life. And then, in an effort to demonstrate his gratitude and love, Imo baptized my husband's feet, with his urine. We both laughed and took it as a sign that he imprinted on him, like Jacob did in the Twilight Movies, making this a bond for life. The next day was Easter and April 1st. The power of April had been with me once again and at the end of the rabbit hole, the Easter bunny left me an Easter kitty.
Three years have passed since Imo came into our lives and I honestly can't remember what it was like before him. He is so loving and playful and is so unique in his own ways. I've become fond of the way he comes up on the bed and starts kneading the sheets as if he was getting ready to make some bread. When he wants food, he goes into ambulance mode, meowing like the worst opera you've ever heard. He is obsessed with boxes. Every time a package arrives, he thinks it's a gift for him. Seeing how much he has grown physically and emotionally is beautiful. To see a pet go from being so guarded that he wouldn't let us pet him to laying next to me every single day when while I was recovering from surgery- it's just been a truly magical transformation to witness. Seeing his growth, has inspired me to constantly keep striving and pushing to be better. To remember to open myself up to new things. My anxiety and doubts almost robbed me of this entire journey. I am so happy that I decided to believe in the good, because having Imo in this home has been the biggest blessing for all of us.