Favorite Memory: First Day
The very first day we brought our dog home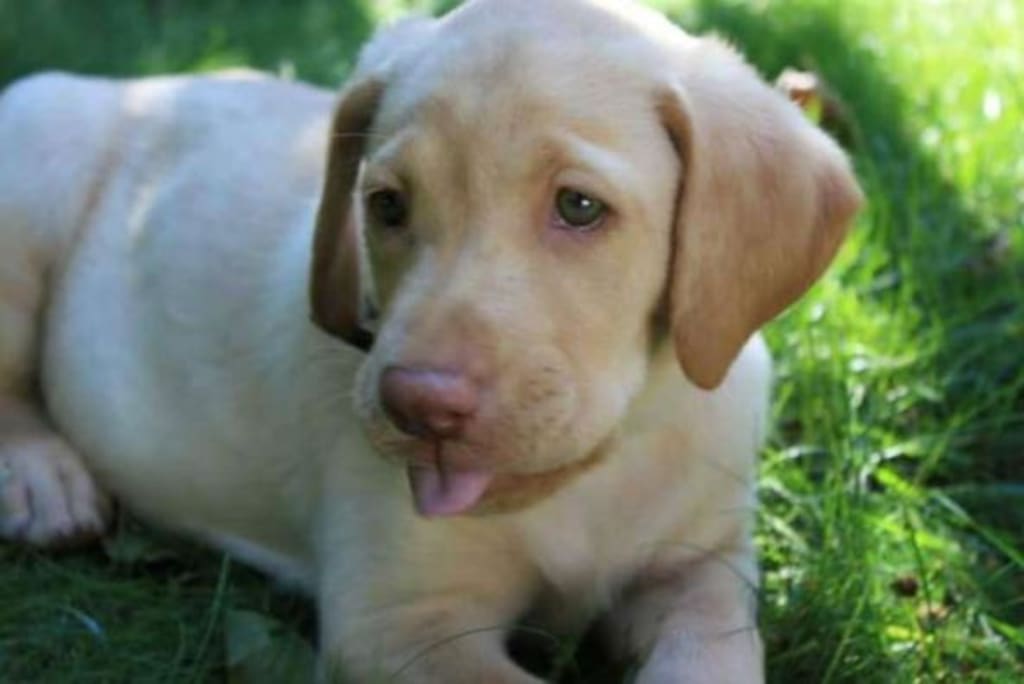 Credit goes to Tiffany, a friend of the family, who took amazingly cute pictures of our dog
I have many amazing memories with my dog, Sandy. The day I learned we were getting a dog in the first place, waiting for the day to arrive to pick him up, and our first day together had to take the cake -- or in this case, the Milk Bone -- though.
It's a beautiful day in May, 2013. I, along with 3 of my 5 siblings, are in the living room, watching TV. My mom walks into the room and tells us some pretty exciting news, news that would shake me to my core in the best possible way.
"Kids, we're not getting rabbits."
Strange beginning, I know. But it gets loads better, trust me!!!
Before this, we had been discussing trying to get our parents into getting us rabbits or some other smaller pets because they're easier to care for. We had had a variety of pets, from fish to birds to gerbils, but we had never had rabbits.
The disappointed sigh that leaves my mouth would soon be replaced with something much, much more enthusiastic because my mom then starts spelling "D-O-G" in Sign Language. I get it first, but I don't believe it. Then when my older sister realizes, her reaction sparks mine.
I remember literally squealing, and I was eleven, too 'old' to squeal like a little girl anymore. But I did, because I had always wanted a dog. A dog of my very own. I'd said that I'd take care of a dog, feed it, take it for walks, love it to the best of my ability.
I had asked when. Mom said that it wasn't born yet, that the mother dog was still pregnant, so we had to wait at least two months before meeting our dog, let alone taking it home. I remember looking at my calendar, having been given the approximate date of arrival for the new litter of puppies. July 7-10, 2013. Counting down the days until my dog would be born was very exciting as an eleven year old, but I felt like my patience was dwindling every second I had to wait.
***
Fast forward to July 8, 2013, a litter of about 5 or 6 beautiful Labrador puppies were born. Mine was going to be yellow, as I remember thinking yellow Labs were the prettiest since they looked like golden retrievers. (I still believe yellow Labs are the prettiest, but I may be biased at this point.)
My mom and sisters got to see him first since they were already headed that way a couple weeks after they were born. I was sad, but figured I'd get to hold him when we picked him up (which I did!!! And he didn't even pee on me!).
My siblings and I were going through different names, even going as far as potentially calling our dog "Pickles", "Tickles", "Rover" (I vetoed that one, too generic am I right?), and other silly names. We landed on Sandy since we did, indeed, pick a yellow puppy. Oh, but the best is yet to come...
***
September 2, 2013 is the day we brought our doggy home. The day is a haze of wonderfully blurred memories, but my favorite, favorite memory of me and my dog is our very first day together, when I went with my family to the breeder's house and I picked him up for the first time. The entire house smelled of dogs, and I loved it so much!
We had brought an old towel along in case Sandy had an accident in the car, which was placed on my lap as I held him while we drove home. I remember his quivering nose as he sniffed the air, his pink tongue that would tentatively lick my fingers every so often, and the fast heartbeat of the excited but nervous puppy in my arms. I think he could tell we were taking him home with us forever, and he was very excited to see our house.
When we got home, we let him go potty right away. I was amazed he made it the 45-minute drive home, as I had read that puppies are just like humans in that they really can't control their bladders until they're older.
He did his business swiftly, and then started sniffing around the yard. He looked at us, probably wondering where his family was, but I threw a ball and he ran after it, slowly and feebly. It was absolutely adorable.
The next thing I know, I'm playing tug of war with a rope, playing chase, and then chilling inside with our own dog. My heart was so happy at seeing him playing with me and my siblings. He would run up to me and I would pick him up gently, cuddling and loving him.
***
That was over nine years ago. Since then, our beautiful Dudley Labrador retriever has grown to almost one hundred pounds. He's a big, furry guardian who would do anything for me and my family. I sincerely hope he lives long enough for my young nieces -- 10 months and almost 3 years old -- to remember him as the loving fur-baby he really is so they, too, can have loving memories of him.
dog
About the author
Writing has always been a passion of mine. I've been writing since I was around 7 or 8 years old, where I would write down silly little stories on long car rides or help my dad brainstorm ideas for his soon-to-be book.
Reader insights
Nice work
Very well written. Keep up the good work!
Top insights
Eye opening

Niche topic & fresh perspectives

Heartfelt and relatable

The story invoked strong personal emotions
Add your insights