Famous Racehorses Throughout the Years!
Come with me on a journey through the finest racehorses from as early as 1764!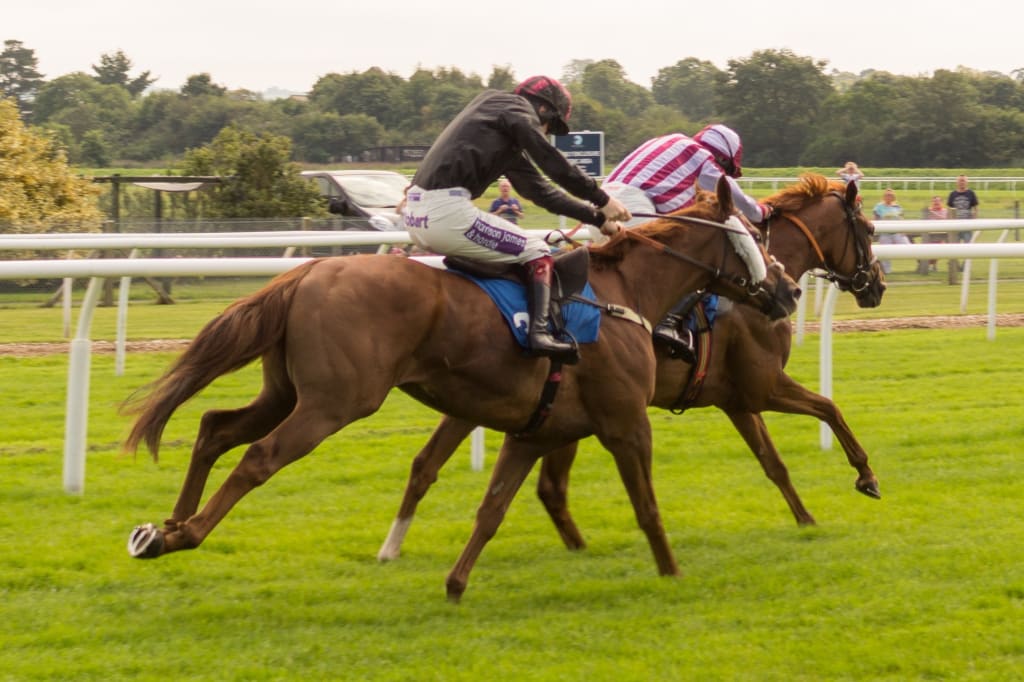 Lets start at the beginning of racehorse history as it began to resemble our modern day racing. At the turn of the 18th century, horse racing didn't resemble modern horse racing at all, but it was closer to our modern racing. Horse racing traces back to 700-40 B.C.E. Back then it was mainly chariots and bareback racing. towards the mid 1700s it evolved closer to what we have today, but it was still very different than what we love to watch and bet on today. It was during the reign of Queen Anne (1702-1714) that thoroughbred horse racing started to take off and mold into what we have today. This leads me to the first horse I'm going to talk about.
Eclipse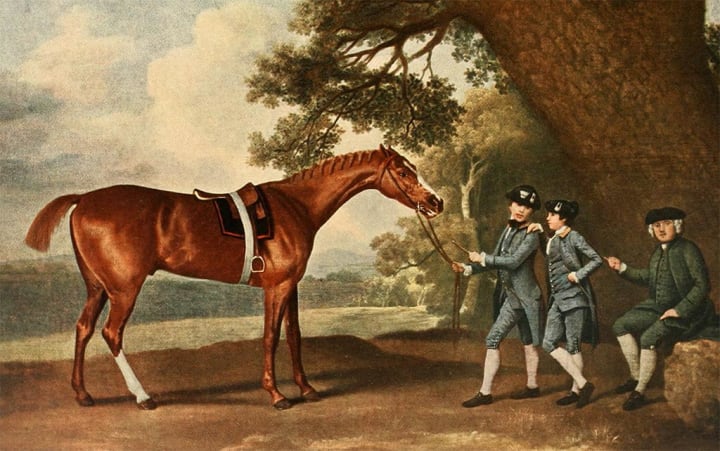 His name was Eclipse, he was born in 1764 and passed in 1789. He was foaled during and named after the solar eclipse of the first of April 1764. He was a bright chestnut with a wide blaze and one tall stocking. He was quite tall for any racehorse of his time, he stood at a striking 16 hands high. Eclipse's career did not start until he was five-years-old! He was set at a four-one favorite on his first race, which took place May 3rd, 1769. The race consisted of three heats each of them consisting of four miles. Eclipse had no trouble winning his first race.
Eclipse's career consisted of 18 races, he won every race he ever entered, including winning 11 kings plate's supposedly not ever being fully extending, proving that he was far superior to any of his competition of that time frame. He was soon retired due to no one betting on any of his rival competition, he sired overall 344 winners of more than ₤158,000. His bloodlines are found in many of todays modern race horses.
Eclipse passed away on February 27, 1789 at the ripe age of 24 due to a serious attack of colic, which unfortunately proves to be fatal in some cases especially in an older horse. His skeleton is now housed at a veterinary college and he has a learning centre named after him along with several stakes races named after him.
Man O' War
The next horse I'm going to talk about is one a lot of people have heard of. He was born 101 years ago on March 29, 1917. He is still widely considered one of the greatest race horses of all time and for good reason. He had several sports publications including, The Blood Horse, Sports Illustrated and even ESPN. His racing career took place just after WWII, he won a staggering 20 out of 21 races and $249,464 which is equivalent to 3,052,000 US dollars in 2017. He was the unofficial 1920 horse of the year and was honored alongside Babe Ruth as the outstanding athlete of the year by the New York Times.
In 1919 he won nine out of 10 starts including but not limited to the hopeful stakes and the Belmont Futurity. His only loss in his career came at the Saratoga Race course, which was later nicknamed The graveyard of champions, Man O' War Lost by a neck to a colt which was very fittingly named, Upset. Man O' War was not raced in the 1920 Kentucky derby, because his owner Samuel Riddle did not believe in racing such a young horse in such a long race so early in his career. So Man O' War made his three-year-old debut in the Preakness Stakes where he defeated his old rival upset by one and a half lengths. He later went on to win the Belmont Stakes at a staggering 20 lengths, which by doing so he set a world record. Man O' War's final race of his career was a match race between him and Sir Barton, of course Man O' War won by seven lengths.
In 1921 Man O' War was retired to stud. He went on to sire many champions including the Triple Crown Winner War Admiral. He was also the Grandsire of Sea Biscuit. His line still continues today through horses like, In reality, Tiznow, Da' Tara and Tourist. Man O' War's line was so successful it is still found in almost every modern day pedigree.
Secretariat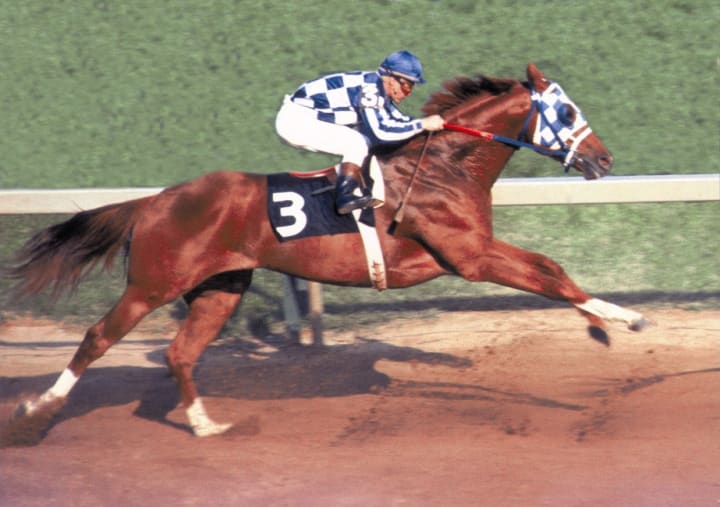 Everyone has at least heard of Big Red! He is probably one of my favorite race horses of all time! His records are still unbeaten to this day and in my personal opinion I don't think anyone ever will beat Big Red's records. He was foaled March 30, 1970. During his career he won five Eclipse rewards. Remember our first horse we talked about yea, Big Red Was awarded some of the awards named after that beautiful 1700s chestnut. In the list of the top 100 20th century race horses, Big Red is second only to the awesome Man O' War. Big Red at the age of three not only did he win the Triple Crown, he set track speed records on each race, which like I mentioned above have not been beaten to this day. His Belmont Stakes win is considered his most iconic race. He won by 31 lengths leaving his competitors in the dust!
At the end of his three-year-old year Big Red Retired to stud. He went on to sire many successful racehorses, but his greatest successes in his time as a stud was siring amazing broodmares. His daughters proved to be great producers of champions so much so that he was listed as the leading broodmare sire in north America in 1992. His pedigree is still seen in many of the successful racehorses of this time. Big Red passed away October 4, 1989 due to a terribly painful case of laminitis. An autopsy also showed that not only did Big Red have a big heart figuratively speaking, but literally. Secretariat's heart was twice the size of a normal horse's heart, which I believe helped him in his amazing victories. What an athlete he was.
Zenyatta
Ah, the lovely Queen Z. She was foaled April 4, 2004. She won 19 consecutive wins out of her 20 race career. She was guided by jockey Mike Smith for 17 out of her 20 starts. David Flores rode her in her first three starts though. She was sired by Street Cry, she stood a staggering 17.2 hands (70 inches or 178cm) and weighed in at 1217 pounds (552 kgs). She was inducted in the national museum of racing and hall of fame on April 25, 2016.
Queen Z won 17 Graded Stakes races, 13 of which were grade one races. Our lovely Queen Z also won several of those Eclipse awards I keep talking about. Along with many other recognitions. On January 20, 2011 Penny Chennery announced that Zenyatta was named the 2010 recipient of the Secretariat Vox Populi Award. On November 7, 2009 Zenyatta became the first Female horse to win the Breeder Cup Classic.
Queen Z retired November 17, 2010. She was first bred to Bernidini, She gave birth to a healthy colt, which they named Cozmic One. He performed poorly on track in 2015 and has since been retired and is training at De Sousa Stables to be a English eventer. Queen Z was then confirmed in foal to Tapit. On April 1, 2013, her ninth birthday she gave birth to a beautiful chestnut colt named Ziconic. Ziconic like his mom has been showing a nice last to first running style. She then started having bad luck with her offspring, she had two more fillies and a colt but all of which passed away due to different circumstances, she also lost a pregnancy in 2017 and she is not being bred again in 2018 due to concerns for her health.
American Pharoah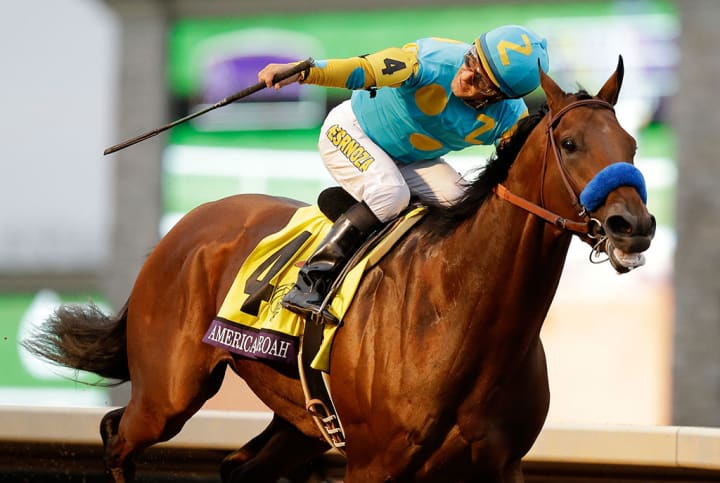 American Pharoah was the first horse I lived to see win the triple crown. We had an astonishing 37 year wait for the next triple crown winner. American Pharoah delivered that amazing moment for us! Foaled February 2, 2012, he is the 12th triple crown winner in history and was trained by Bob Baffert. He also won the 2015 Eclipse award for horse of the year.
He won the Kentucky Derby on May 2, 2015 with a one length lead. He then went on to win the Preakness stakes just two weeks after running the Kentucky derby. He won the Preakness by seven lengths even though it was on a very sloppy track due to rain, the Preakness had not been ran on a sloppy track since 1983. On June 6, 2015 American pharaoh won the Belmont stakes with a 5 1/2 length lead, becoming the 12th Triple Crown winner in American history, ending our 37 year "drought" for another triple crown winner. But our dear American Pharoah doesn't stop there. He became the first horse ever in history to perform what we call a Grand Slam. On October 31, 2015 he went on to win the Breeders cup classic, Making him the only horse ever to win the triple crown and the Breeders cup classic. He was named the winner of the Secretariat Vox Pupoli Award.
American Pharaoh arrived at his retirement home November 2, 2015. He began breeding mares officially in February of 2016. He had a confirmed 80 mares out of 100 in foal. His stud fee was second highest in the nation at $200,000, which is second to tapit's $300,000 stud fee. His first foals were put up for auction in the summer of 2018 the highest one being sold for over $2 million in japan. We all hope to see what his offsprings bright future holds.
This is just a small handful of great race horses. There are many many amazing race horses I could write about, but if I did that id have you reading for at least a few months! These are some of my handpicked favorites and some that I find amazing. Thank you guys for reading and I hope you enjoyed this journey with me.