Beasts of the Wild
Facts About Elephants
And Why We Need to Protect Them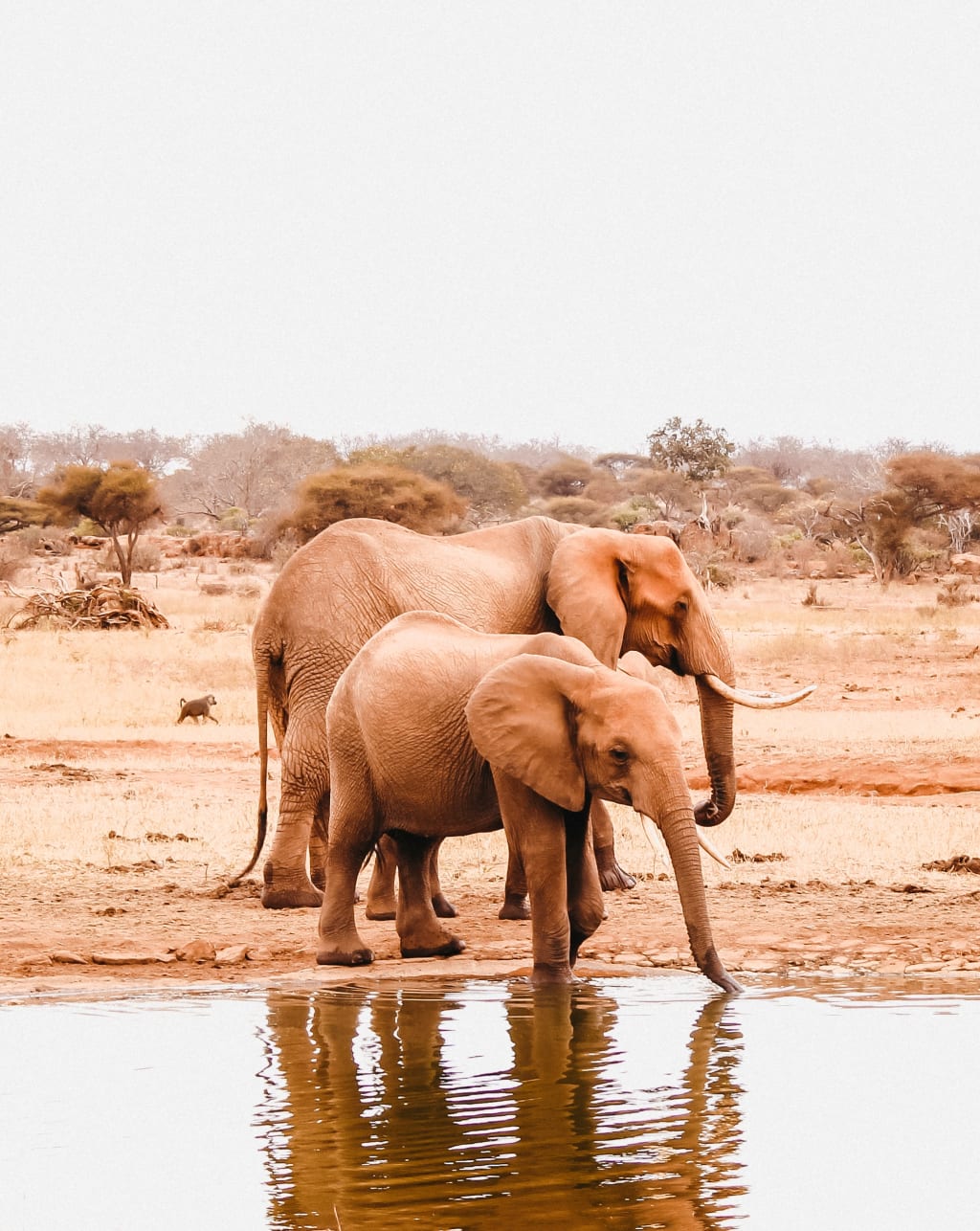 Photo by Alexia Ellesse on Unsplash
Nowadays, people are taking away elephants and their habitats. People are poaching elephants for so many reasons but the main reason is for their tusks, which are ivory, which they use to make jewelry and pieces of art. Elephants will be going extinct if we do not take action to stop the poaching of elephants and help conserve their habitat. Every day, people are taking over the elephants' land and turning it into farms, which leaves the elephants no place to live.
Here are some facts about elephants; elephants are the largest land animal in the world, they have long trunks and tusks, and floppy ears which they use to swat insects and to show their feelings. The female elephants do not have tusks, there are two different kinds of elephants. First, we will start with the African elephant; they are bigger than Asian elephants, they have bigger ears that cover their shoulders. They have thinner bodies, their trunk has two fingers. Their tusks are longer, and they live on grasslands.
Next is the Asian elephant; they are smaller than the African elephant, they have smaller ears that do not cover their shoulder. They have rounder bodies, their trunk has one finger, and they live in forest areas. Male elephants are called bulls and baby elephants are called calves. Grown-up elephants stroke the baby elephant to welcome it. The grown-up elephants surround the babies to protect them. If a calf gets stuck in the mud, the whole heard helps free them.
Male elephants might fight each other for a female, and males usually live alone unless they mate with females. When a group of elephants joins together, it makes a heard. Females are the leaders of the heard and they help their heard find food and water. Elephants eat grass, leaves, flowers, fruits, and seeds. Elephants skin is very sensitive, they cover themselves with dust or give themselves a shower to protect their skin for getting burned. Elephants use their trunks to pick up food, give themselves a shower, and stuff like that. They will sip water with their trunks and to drink, they spray it in their mouth. To give themselves a shower, they spray the water on their bodies with their trunk. Elephants also like to swim to cool down; they use their trunks as a snorkel to breathe when they are under the water.
Elephants are very interesting and important to the environment. When they eat seeds, they take and plant them in other areas in their feces. Elephants are gentle giants that are important. They should not be poached for their tusks, these animals are going down fast. We need to stop the poaching and trafficking of ivory. Ivory pricing is $2,100 a kilogram, which is good money, but at what expense? Killing an innocent animal and just to make a quick buck. Some people are so heartless to kill poor animals for money.
What we should be doing is conserving these gentle giants and their habitats. But instead, we are taking their land and killing them for money. We are going to take these animals out, soon the generations after us will not be able to see and know about elephants because selfish people took them from them. If we keep poaching elephants, they are going to go extinct, is that what we want? It shouldn't be what we want, we should want to protect them instead of poaching them to make a quick buck. These poor animals are not the only animals being poached either, we are poaching tigers, leopards, so many different species of birds and snakes, and alligators. And if we don't stop poaching these creatures, they too will be extinct.