Elliot
The cat who adopted a store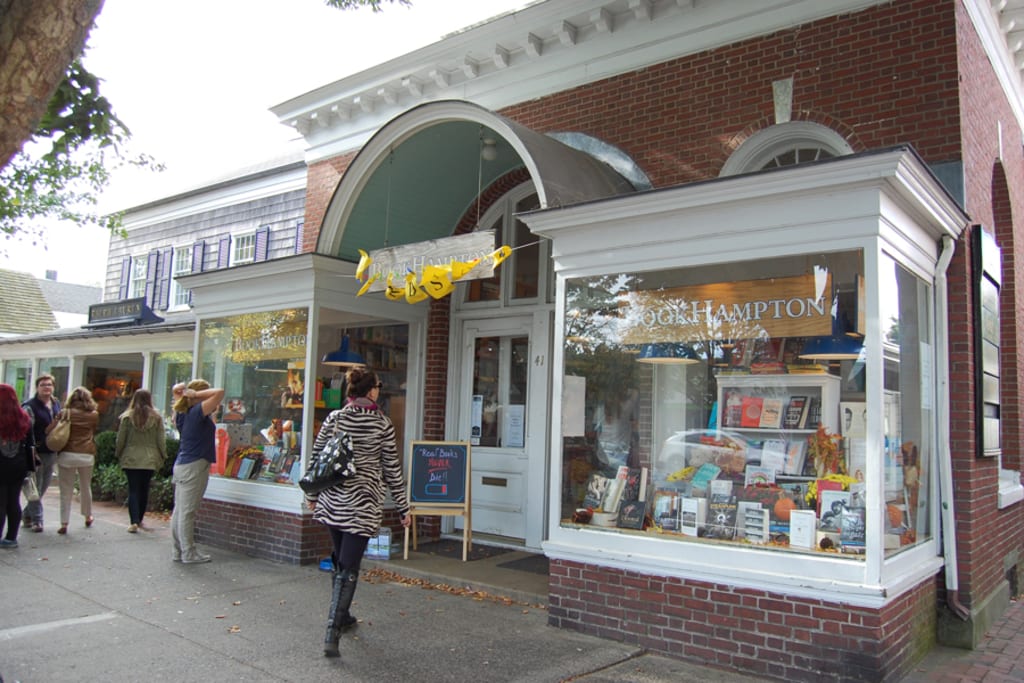 Phot Credit: Brendan J. O'Reilly
It was the kind of book store everyone imagines when they think of an Independent book seller. The same kind of quaint mom and pop feeling in You've Got Mail but bigger. Shelves handcrafted by the local carpenter holding the sectioned books in categories and alphabetized by title in some areas then switching to author in others; vintage tables with curvy carved legs holding stacks and stacks of coffee table books and bestsellers and featured items or remainders. The second floor was filled with soft leather couches and comfy chairs inviting you to not just linger....but read.
The owners were 'the Georges', transient from NYC then settled into East Hampton and opened the best bookstore ever independently owned. (Sorry, Shop Around the Corner). They ran a tight ship, expecting their employees to not just be informed about the Times Best Sellers list (weekly quizzes- no joke), but to be readers. You were assigned a section based on your interests and background and expected to know everything about it; where to find particular books, what they were about, what the critics say, and what you thought. In addition you were to have general knowledge about every other section in the store.
Jorge worked the store, George managed the business. And although Jorge may not have shared his affection often, if he referred customers to you and gave you more responsibility he was giving you his respect. They were among the best bosses I have ever worked for to this day. I learned a great deal from them and was one of the lucky ones that was welcomed into their family. But didn't expect a smile...too often.
I worked for them years ago, when my 2nd husband and I separated. He had worked for them prior and rather than helping me get back on my feet with a loan, they employed me even with no retail experience(tech a man to fish...).
About a year after I started, I was opening the store and went to the back room to sort the sale books and heard a faint sound at the back door. I stopped, listened and continued sorting. Then it was louder, and a definite meow. Outside the door sat a perfectly coifed gray tabby who happily accepted my offering of half of my sandwich and then turned and left. He came to us for about three days , we fed him and eventually he came in. At first , he seemed only to want a little food, to take a snooze on a stack and be off.
We decided to put a notice in the window for a found cat as he seemed well cared for, and we didn't want to keep someone's pet. He spent the night that night for the first time and when I came in the next morning, the sign I taped to the front window was laying face down on the displayed books. Sure, it just came untaped from the window, right? Except the tape was still on the window.
We decided to name him Elliot, after T.S., as this was a book store after all. Elliot and I became fast friends. We started playing a few games here and there. For example, the stair race. When I opened the door in the mornings, he'd peek around the corner to be sure it was me, then position himself at the foot of the wide staircase. I would walk over to him, give him a sideways glance and say 'ready, set, go!' And we'd race up the steps. Every day. And every day, he gloatingly waited at the top of the steps for me then triumphantly walk away.
Elliot slowed the pace of the hurried Hamptons, encouraging customers to languish over their browsing and just breathe. Impatient customers, got a leg rubbing from Elliot , others found him staring at them from a display table just as they were asking what was taking so long? They needed to purchase these 15 books before their movie started! His gaze brought them back into the moment. And made us all feel comforted.
Elliot stayed with BookHampton for about 5 years, training new employees and becoming every customer's special friend, making each feel his purrs were just for them.
Then one day he meowed to go outside, turned to look at me one last time, allowed me to scratch his ears then departed. And never returned.
It was as if his work was done here. Perhaps we should have named him Mary Poppins.
cat
About the author
I am a transient New Yorker (always in that New York state of mind) living in glorious southern California. I am currently working at a private K-12 school where I teach theatre outside of the box and am the Artistic Director.
Reader insights
Be the first to share your insights about this piece.
Add your insights