Dragon Eggs
The chaos that ensued when I brought a dragon home from work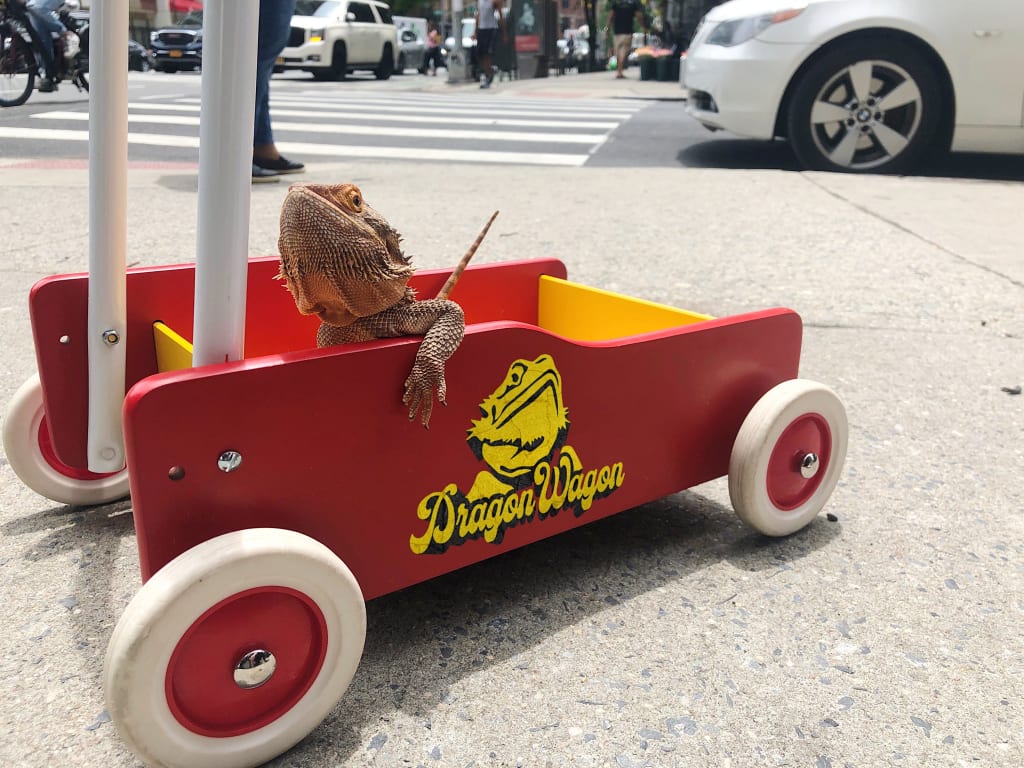 Smaug out on the town in the Dragon Wagon
I work for a children's science entertainment company. I do a lot of the administrative work and also teach in after-school programs all across the city. The kids call me Lab Rat Kat, and I feel like a celebrity when I walk into schools. I'm wearing a lab coat, I'm getting high fives, and people are cheering my name. Okay, only two of those three things are true… And that's because I don't put my lab coat on until class starts! I love my job. Pre-coronavirus, we had an office where we also hosted birthday parties, and in the office we had a pet. His name is Smaug, and he is a bearded dragon. He lives in a 40-gallon tank, eats mostly leaves, and I love him dearly. Some people have work wives; I had a work dragon.
When the office closes, I volunteer to rescue Smaug and foster him during the COVID-19 shutdown. "It'll only be for a couple of weeks, and he's super easy to take care of," I tell my husband, Nathan, who is hesitant since we already have three pets crammed into our 600 sq. ft. NYC apartment: Russell, the orange cat who loves me so much there's no room leftover in his heart for consideration of a single other creature; Katy, the black and gray princess who is gentle and sweet; and Riley, the excitable, 90 pound yellow lab who is terrified of Russell. We really don't have any excess space, time, or energy for another pet, but I eventually convince Nathan that it is our duty to go get Smaug. We trek to Brooklyn, retrieve the dragon, and settle his terrarium on the bookshelf in our bedroom. Call me Kat Exotic.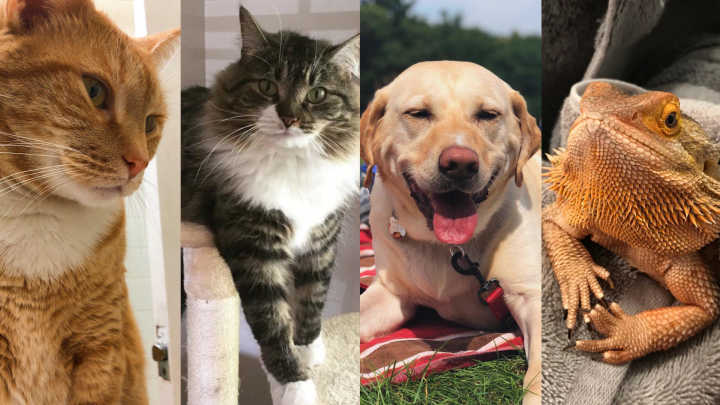 I get Smaug out to run around for a little while every day. My two cats don't have a problem with him, but my dog, like Lennie from Of Mice and Men, gets so excited to be near Smaug that she sniffs him too aggressively, causing him to puff his beard up and turn black. This means that when Smaug is out, the dog has to be kept in the other room. They are separate zoo exhibits. Admission is $6 a piece. I make Smaug an Instagram, learn that he likes to swim in the bathtub, and almost step on him several thousand times. We consider tying a balloon around him to be able to track his location. He starts eating a wider array of veggies, passing the days in the sunshine on the windowsill, and really thriving under my care. I'm owning this dragon Mom thing and becoming quite attached to the little guy.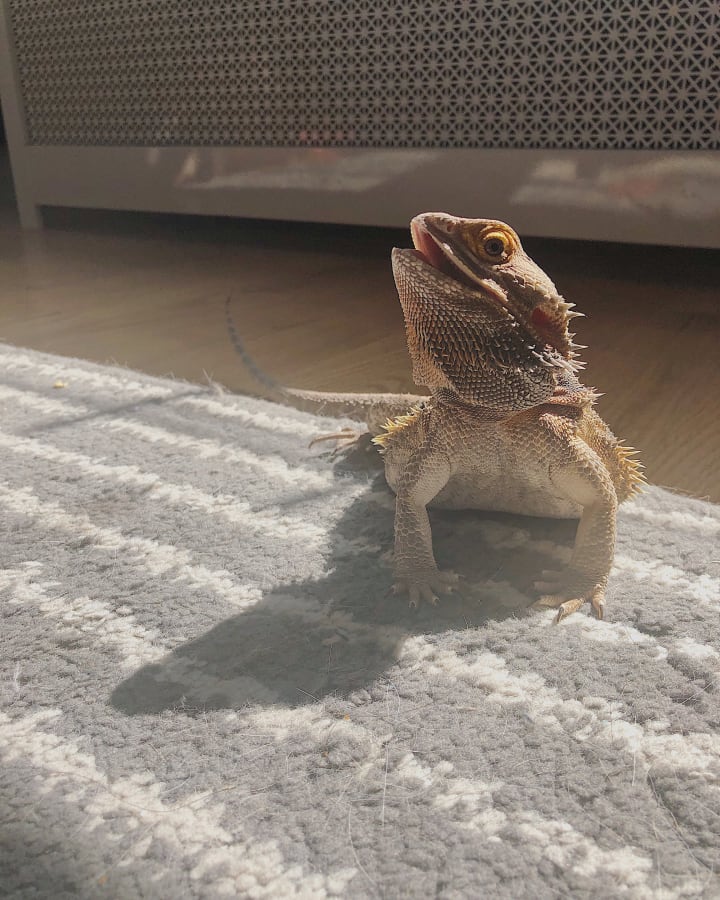 Then, one day, he starts digging. He throws sand all over his cage and even tries to make a hole in the rug when he's in the living room. I google why he's doing this, and I discover three startling facts:
1. Bearded dragons dig when they are ready to lay eggs
2. If a bearded dragon cannot create a suitable nest, it will become egg bound and die
3. Wait a minute, Smaug is a girl?!
We immediately start researching what we're supposed to do and learn just how wholly unprepared we are. In the midst of lockdown, we suddenly need to acquire several bags of reptile sand, a reptile calcium supplement, and facilitate the exact right temperature and conditions for egg-laying. Or the dragon will die.
I go to Petco, and there is a line outside that I wait in for 20 minutes. I worry about how we will manage these babies: college is only getting more expensive, will I have enough time to devote to them, do I even want to bring more children into this messed up world?
When I return, Nathan has used cardboard to set up a section of the terrarium for cave-making. This section needs to have wet sand that Smaug can throw around without getting it all over her food or water. She immediately starts throwing sand over the top and digging a hole underneath the wall like a prisoner trying to escape. Back to square one.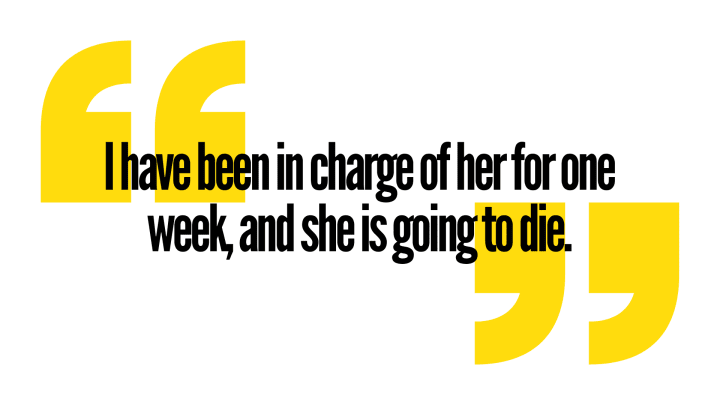 People online often build separate areas for their dragons to lay eggs in a second terrarium, a handmade wood enclosure, or a Sterilite container. We have none of these things and no way to get them quickly because of the pandemic. Plus, there's no where to put it in this overcrowded apartment, remember? We frantically search through our things looking for anything that will work. Despair truly starts to set in as I sit down on the floor and search for exotic pet veterinarians in the neighborhood. I start gently prying at Nathan to see if we can pay for surgery to save Smaug. I am completely out of ideas. Then, Nathan finds the cats' travel litter box! We measure to confirm it will fit in Smaug's terrarium, clean it out, dump sand in, and present it to the dragon who is now running our lives. Smaug doesn't care for it. I have been in charge of her for one week, and she is going to die.
I do more research. I try more things. I finally build Smaug a glorious hill that she can dig into and make a cave. Apparently, this is the setup she envisioned for a nursery, so she gets to work immediately. She digs for days. She makes an architectural masterpiece. She lays no eggs.
We wait.
She digs.
We wait.
She digs.
We wait.
No eggs.
I cry.
She digs.
We wait.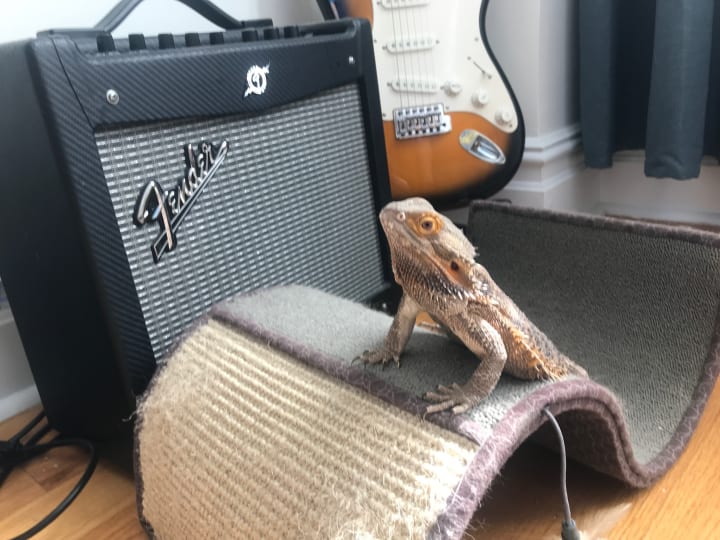 Many baths, digs, and worried googles later, I determine that Smaug is not going to lay eggs. It was a hormonal issue brought on by the proximity of other animals, which she has never experienced. Perhaps the transition from sunny science lab to Upper West Side Apartment Zoo was a bit of a culture shock. She still digs sometimes, and I still almost step on her a thousand times a day, but the dog has learned to be in the same room with her. The dragon I said we'd have for a couple of weeks and would be easy has been neither of those things, and my husband says we can't keep her, but he also puts her to bed every night and whispers he loves her. So, maybe we're a 4 pet family now?
Check out Smaug's acting debut and follow Smaug on Instagram @athomewithsmaug. Nathan also says we can't keep this wagon, but ¯\_(ツ)_/¯