Don Vito
employee of the month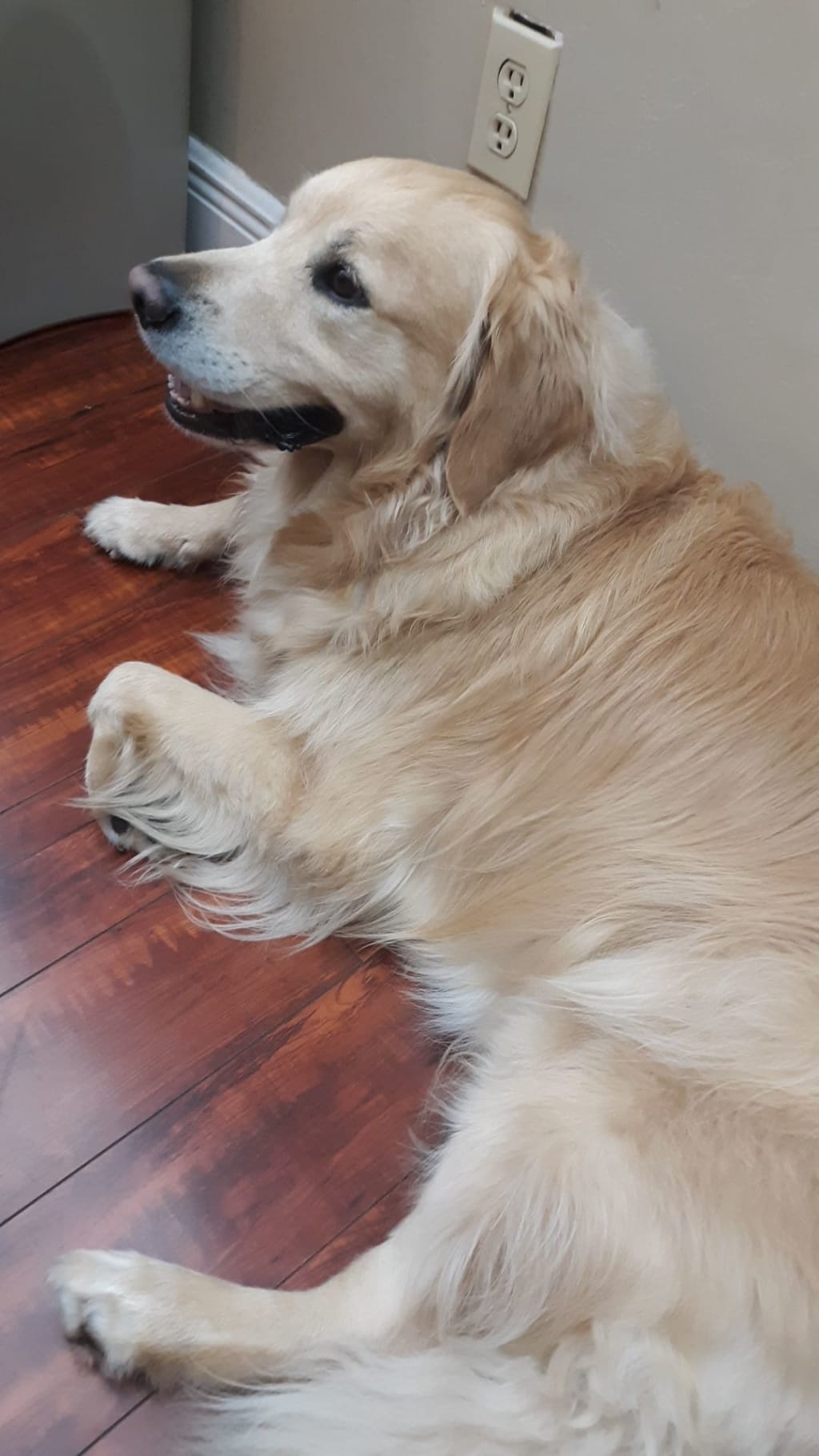 Vito at the office
Don Vito Corleone
For pup of the month I nominate Don Vito Corleone, my office buddy! January 2020, I started working at a hotel during the pandemic. To my surprise the first day I applied a furry yellow fellow by the name of Vito greeted me. He was a two-year-old golden retriever that belonged to the owners. During the beginning of the COVID, Vito's company bought me plenty of ease dealing with rowdy guests, provided genuine comfort at the office and taught me about golden retrievers. Vito deserves to be the employ paw of the month for more reasons beyond his existence.
Vito had always been a mellow, even-tempered dog, despite people running in and out of the hotel. There had been a time where a drunk woman stepped on Vito, and I had to run to stop her and he remained calm, silently panting. It was the weekend of St Patrick's day and on the hotel, property was a bar open to the public. The bar had karaoke, and provided delicious Irish pastries with brewed drinks. When I clocked in to the hotel, it would just be me and my buddy Vito on watch for the night. Around 7pm, all the drunken guests started stumbling into the lobby. The woman became overly excited to see him laying comfortable all smiles, and she stepped on my buddy. I was afraid of his reaction because dogs usually growl, or screech when stepped on. I escorted the woman out and I took a treat to the back of my office to keep him from everyone. I never felt alone with him especially dealing with incoherent people.
My office friend always gave me company. Having to work during the pandemic had been very difficult, since I had been the only employee to not leave. I had to pick up the slack from others, and had double mounted work on myself. Having a furry buddy to calm your anxiety during a global pandemic meant the world. At the end of the day, the owners would trust me to watch over him. He sat at my lap while I answered phone calls and took in reservations. Vito would also lick at my feet while I was interacting with rowdy guests. He made my nights at work an experience. I looked forward to seeing him every day. He would follow me to the ice machine and beg for ice cubes that I would spoil him with after the end of my shift.
Working with Vito taught me about golden retrievers beyond their gorgeous appearances. I have never met any until I started working at the hotel. I have always seen these beautiful playful dogs on commercials and television shows. I learned golden retrievers are known for their excellent work ethic! They are tracking dogs, show dogs, and obedient competitors. They are easy to train and very loyal companions. They are also employed as therapy dogs. Vito always stood by my side in the office which made my environment less stressful. He remained obedient whenever I took care of a guest. Golden retriever puppies tend to be highly energetic dogs that need to be active or they will direct their energy to undesirable outcomes, (chewing wood, tearing up items). To my surprise Vito never ran around, he just wanted to be around me.
Dogs are more than just pets. They can be companions, employees and even our children. Vito will forever be my favorite co-worker. He has been there during the difficult times during this pandemic, comfort when I had crazy customers, and he has taught me about the golden retriever breed. So, here's the cheers to Don Vito Corleone, 2021 EmploPaw of the month!
dog
My name is Leslie. I have been writting since I was in elementary school, and have always been afraid to show my work to others. I hope to share myself on this platform with like minded individuals. Thank you for providing a safe space.