Dogs Are The Best People
And other observations about life & death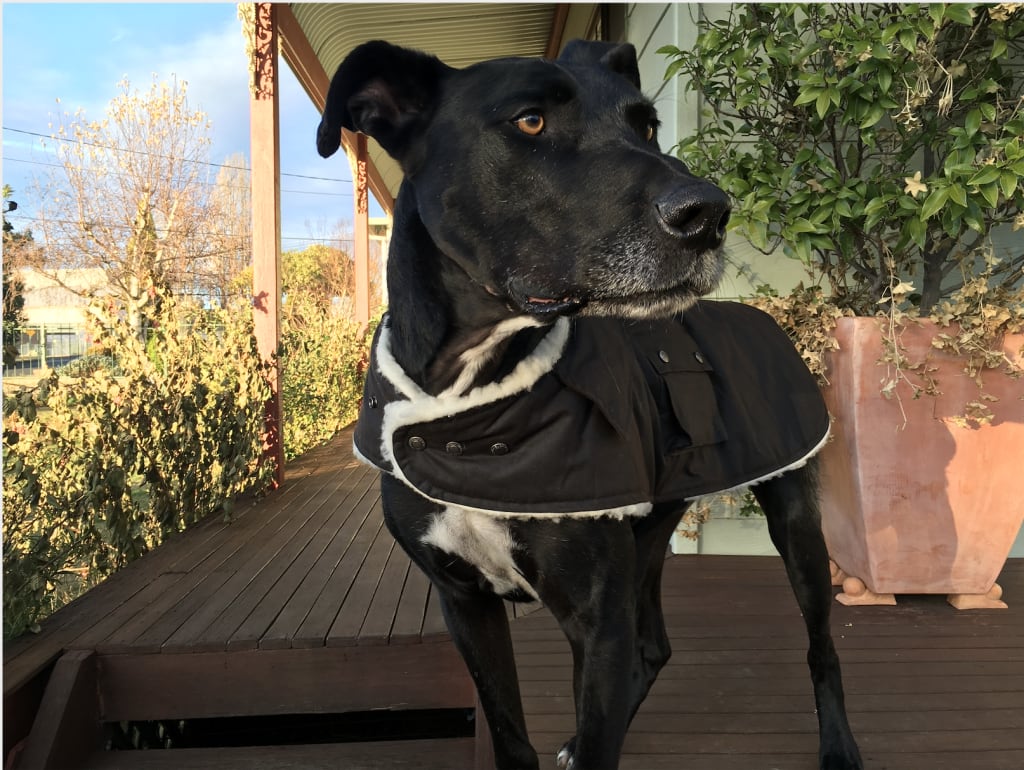 Photo by Author
Death is weird.
That may be a heinous oversimplification, but it's the best I can come up with when I try to describe what comes to mind when I consider the intricacies of death.
As a relentless logician, you'd think the concept would be fairly straightforward for me. You live, and you die. Black and white. Simple, right?
But as I stared into the loving eyes of my most loyal and dear friend of the last ten years as the light and life slowly left them, I realised there was nothing simple about it.
Despite that, I'm going to keep it simple. Because I could sit here and attempt to write something profound and worldly about life and death. But the bottom line is—I lost my best mate. And it hurts like hell.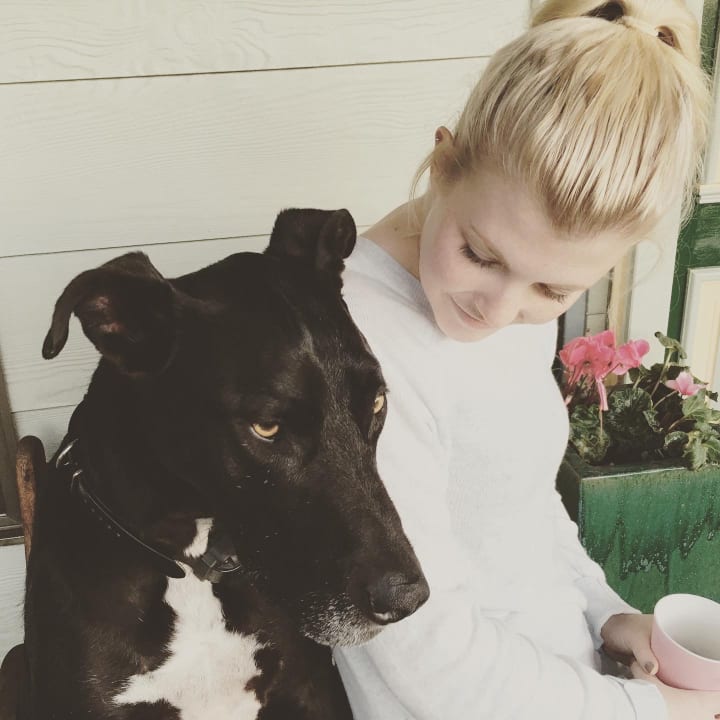 Bruiser, or "Lord Bruisington" as he became affectionately known due to his penchant for sitting in any seat human-style like a king on his throne-was my husband's dog for two years before I came on the scene. A lesser person would've been jealous or resentful of the newbie that had waltzed in and claimed the attention of their person. Not Bruiser-the very first time I visited, he came straight up and rested his giant great Dane/Irish wolfhound head in my lap and stared into my soul. It was love at first sight, infinitely more instant than the connection I had with his human (my now husband).
I can say without reservation that dog is the reason my life turned out the way it has.
At age 20, I made the giant leap of moving in with my boyfriend. The day after it was official, he was moved to the afternoon shift, which ran from 2 pm - 12 am, 5 days a week. As I worked a standard 8 am - 4 pm, our schedules were far from aligned. So, in essence, I spent the first 2 years "really adulting" predominantly alone. If it weren't for the company of that dog, my relationship would have imploded. We were young, less resilient, terrible communicators and generally inexperienced at life. Being apart most of the time put extra strain on that.
But every day, I came home to be greeted by a wagging tail, a cuddle and a shadow that followed my every move until bedtime. Every time I wanted to pack my things and go running back to the safety and security of my parents' house, I looked at those giant yellow eyes, and I stayed. He gave me the strength and encouragement to grow up and learn to rely on myself, and build resilience. And his company meant that I was never truly alone.
He stood by us every day, unwaveringly loyal.
He forgave us willingly when we brought home his annoying little sister, our Alaskan Malamute and his companion for the next almost 9 years, Bella.
He followed us as we moved house twice, including a 13 months stint with my mother in law where his life of luxury was demoted to "outside dog".
Bruiser was the kind of dog that looked scary but instantly captured the heart of anyone who met him. He was the epitome of the gentle giant. His favourite way to show affection was to surprise you from behind by sticking his head through your legs and happily standing there for as long as you'd let him.
He followed my husband around the yard and was the best site foreman ever. He'd cut laps two steps behind the lawnmower, stand far too close to the welder, get sprayed in sawdust and grinder sparks. But he was always on the job until the boss called "tools down" and happily stayed for a knock off beer.
He stood stoically as I sobbed into his thick coat when I lost my first baby.
He sat by my side for the agonisingly long 9 months of my second pregnancy- through every bleed, false labour scare and period of extended rest. I would start every morning with a meditation on my back patio on my rocker with his head pressed firmly against my growing belly, listening to the movements and heartbeat of his future human sibling. He eased my crippling anxiety, and his company saw me through another difficult time in my life.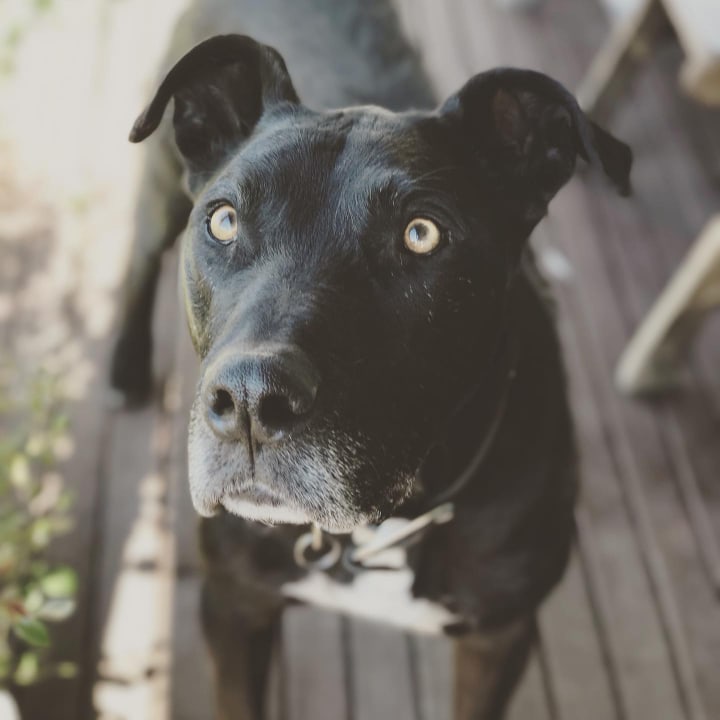 He still loved me when I brought home the human baby that turned our worlds upside down. He embraced his new role, lower down the pecking order. He complied when his couch privileges were renigged, and eventually, his outside time grew longer.
He embraced life in his twilight years despite our attention being placed heavily elsewhere for much of the last 16 months. He was always ready to pick up right where we left off, even if it had been unusually long between belly rubs and tug of war.
He stood by with his incredible loyalty as we let out complacency and belief that we'd have him forever dictate spending less time with him because we had significantly less time to spare.
He accepted the tiny and not always gentle hands as they learned how to pat and respect a dog. Finally, reaching a point where the old and new could start to integrate safely.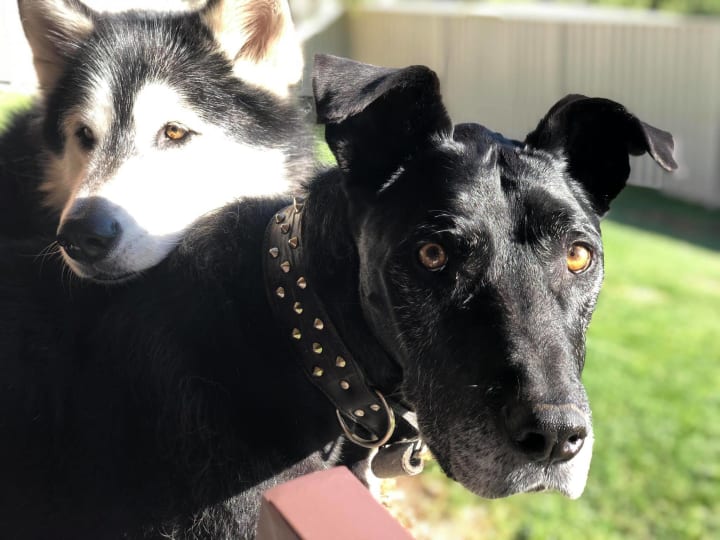 I've experienced loss in the past. I've lost people I've loved dearly. But I've never lost a constant before.
When you lose someone, you only see once a week, or month or year… somehow, it's easier to process it with a sense of denial. They're not gone; I just haven't seen them in a while…
The last real loss I experienced was when my grandfather died the day after my daughter was born. That was a monumental loss, clouded with regret. And yet, it still has slipped into the "I'll see you later…" rather than the "gone forever" category.
But Bruiser is gone. He was a constant. His loss has left a giant great Dane/wolfhound shaped hole in our lives.
All dogs are special. But every now and then, you come across one that is one in a million. Bruiser was one in a million.
---
12 years is a big age for a big dog. All of a sudden, he got so old. His jet black face was mostly silver. His thick, muscular build became skin on bone. His strong legs started to bow, and his straight back started to bend.
He didn't make a fuss when he stopped being able to use his back legs, and he started to lose control of his body. He seemed accepting of his fate, and he knew it was time, even if we didn't want to believe it.
And he looked at me with utter adoration and forgiveness when I sobbed my "sorry's" for every missed minute, cuddle, game and pat of the last 16 months.
I'm so thankful we don't let animals suffer the way we do people. After 16 months of less time, less attention but no less love-it was the least we could do for him.
His eyes looked deep into my soul the same way they did the very first time we met as I gently stroked his head, and the medication took effect. He slipped away so peacefully I barely would've noticed if it wasn't that the light in his eyes dimmed a little.
Dogs really are the best people. Here is this classic from The Fauves for good measure.