Dog Grooming Shears Buyer's Guide
Affordable Grooming Shears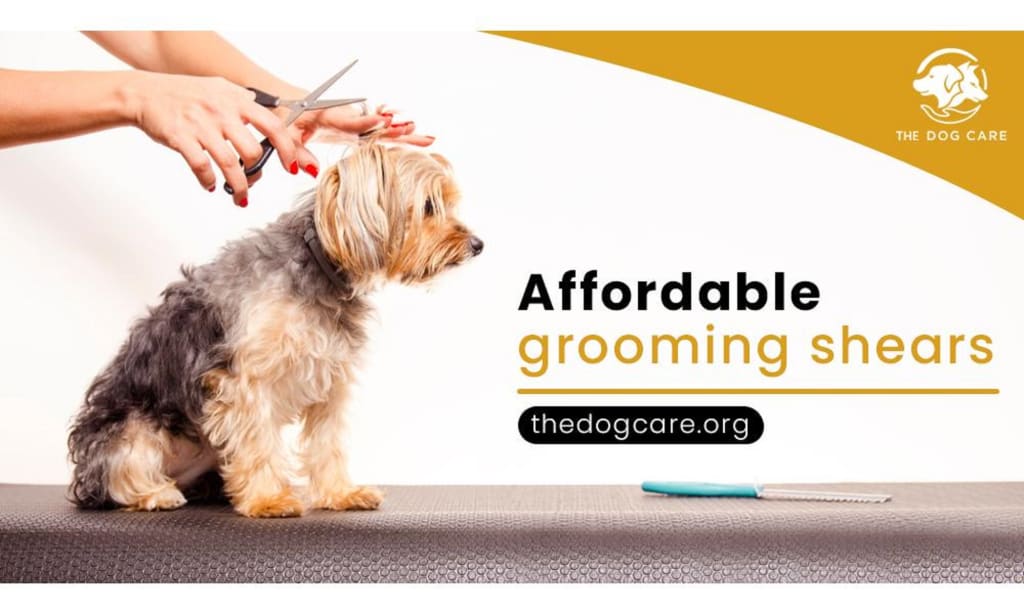 The speed and quality of your work, as well as the health of your hands, will be affected if you don't use the right dog grooming shears.
We've put together some information for new groomers to help you pick the best OPAWZ shear for your specific needs, preferences, and affordable grooming shears.
Shears are one of the most crucial pieces of equipment you'll utilize as a pet groomer.
Stainless steel 440C (Japanese)
A good pair of shears constructed of tougher steel that would be more durable.
These premium varieties will also stay sharper for longer and may often be re-sharpened to extend their lifespan.
Japan's steel is recognized as the best shearing steel on the planet.
All of our grooming shears are constructed of Japanese stainless steel, and 440C is a high-end stainless steel with excellent corrosion resistance.
Convex Japanese edge
Convex edges are hollow ground to an exceptionally sharp edge, allowing the operator to employ all cutting techniques seamlessly. This action is frequently referred to as "butter cut."
Shears of various sizes
A fully equipped professional groomer should have many sizes of shears in their toolbox.
The majority of groomers like to use a 7.5" to 8/5" shear, which is classified as a finishing shear:
Grooming Curve Shear – 7.5" OPAWZ Symmetrical A-shape (WG3)
OPAWZ Ultra Sharp Grooming Straight Shear – 8″ OPAWZ Ultra Sharp Grooming Straight Shear with Larger Handles (WG4)
Using longer shears allows you to remove more coat per cut.
This improves efficiency while also assisting in the completion of a flawless finish.
Smaller shears, 5.5" to 6.5", provide you more control and allow you to work on smaller areas with less stress on your hands.
Don't buy massive shears until you're confident in your ability to make large cuts.
If your technique is still in the snipping stage and you're just using the top third of your blades, we recommend getting a smaller shear and practicing cutting with the entire blade.
Asian Fusion Curve Grooming Shear – 6.5″ OPAWZ Asian Fusion Curve Grooming Shear – 6.5″ (AF1)
Straight Grooming Shear – 6.5″ OPAWZ Asian Fusion (AF3)
Blades can be straight or curved.
Straight Grooming Shears: These shears are the most popular of all since they come in a wide range of sizes, weights, and blade lengths.
Curved Shears: These shears have a tiny bend to them towards the point.
They're required to simply cut and shape the dog's fur to fit the contours of his body.
Although a straight shear can handle everything, curved blades can help with topknots, faces, ears, and feet.
They can also assist you in determining angulation.
Curved shears are a must-have for any groomer.
Shears with two blades and notched teeth are known as thinning shears.
Thinning shears are used to thin out a thick coat's hair.
They have one fine-toothed blade and one cutting blade, so when snipped through the dog's hair, they will only take a small portion of it, thinning it out rather than cutting it entirely.
Unlike a straight shear, which leaves a defined edge, they can also be used to merge different lengths of fur on a coat.
Blenders are useful for finishing teddy bear faces on Lhasa or Shih Tzu breeds so they don't seem jagged, as well as shaping around the chest and neck.
Blenders are useful for any work that requires a softer definition.
When smoothing lines and corners, feathering, thinning bulk, or adding volume, thinning shears can save time and deliver more uniform results.
Less hair is removed with fewer teeth, but they can leave more marks.
Maintenance
Shears should be cleaned and oiled on a daily basis.
Even if coats have been dried, hair will retain moisture, which will make its way into the blades of your shears and the middle screw that keeps them together.
After you've determined what quality of shear you want to buy, the most crucial thing to look for in a shear is how it feels, not just in your hand, but throughout your entire body.
Carpal Tunnel Syndrome, Tendonitis, Bursitis, rotator cup, and other hand, arm, shoulder, neck, and back problems can all be caused by the incorrect shear.
These issues can be avoided with the appropriate shear.
A heavy shear is preferred by certain groomers, but most prefer a lighter shear.
Be aware of your personal preferences and ensure that the shear's weight is comfortable and that you have a sense of control all the way to the blade's tip.
A professional groomer would typically have a variety of shears for various tasks in order to provide the finest service to their customers' pets.