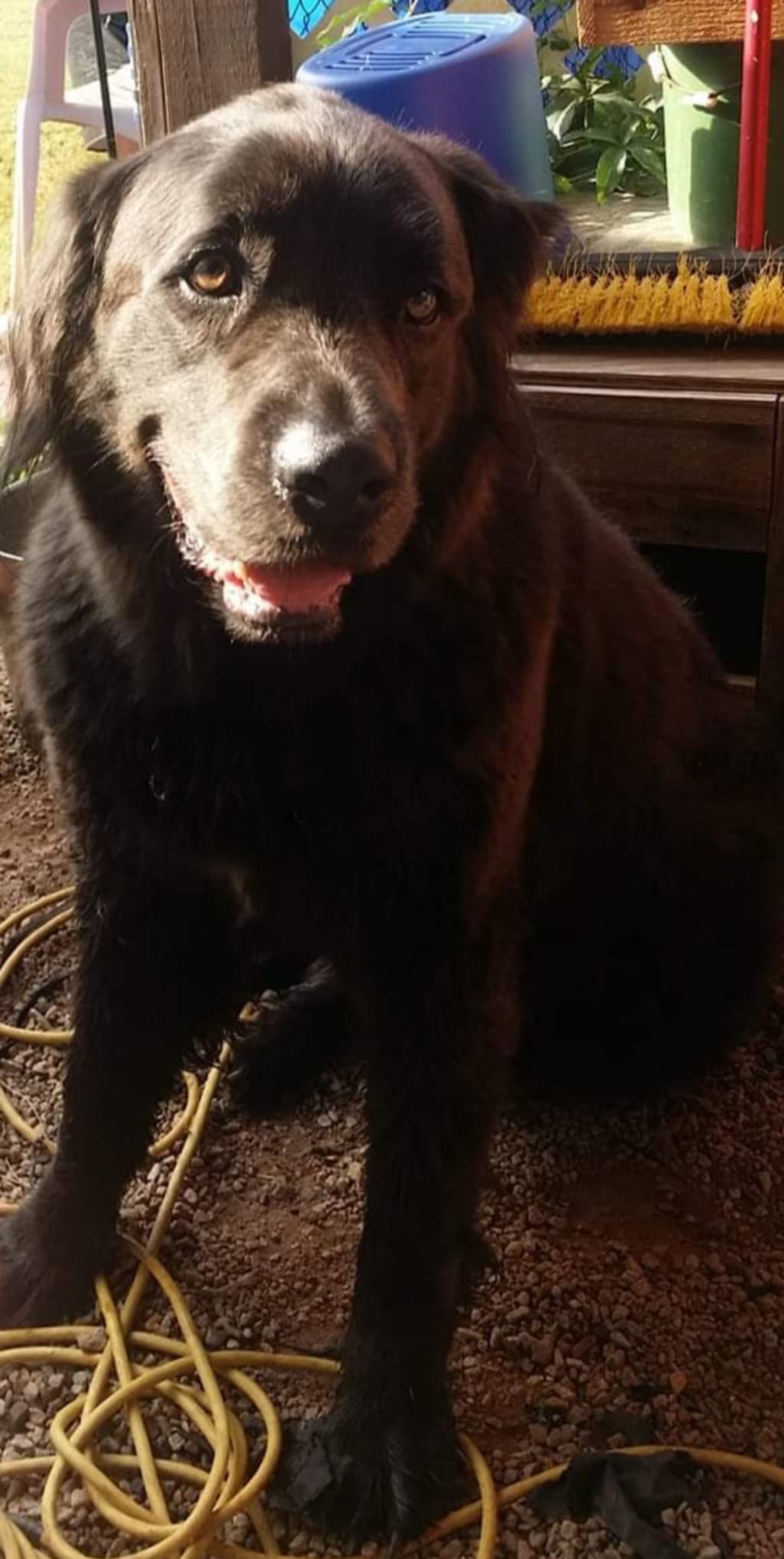 My dog died today. It's an odd thing, death. It hits you when you least expect it. He died today at the ripe age of 12. "That's pretty old for a big dog," they tell me, as if it'll help the pain. There's nothing that will help the pain of losing a family member, and that's what he was, a member of this family.
We got him 12 years ago from friends who's dogs had puppies. He was such a fluffy, awkward thing, with dark gray and floppy ears. I was eight at the time and fell in love. He fit in perfectly and our Pekingese loved him. I remember so many good times, like him playing in the snow for the first time and tumbling down the hill when he ran too fast. I remember him as a protector, a companion, someone I could tell all my secrets to. He was an important part of this family, just how every dog should be, but he's gone. He's gone and this isn't how today should have happened.
I moved out at 18, just two years ago. I was living in Florida at the time and they moved to Georgia, taking the three dogs with them. Earlier this year, we all moved again, this time everyone would be in the same place. It's been wonderful seeing everyone and seeing my puppies again. Everything's been good and I know he'd been having some hip issues, but we were all doing our best to help him. Today I got a call from my mom at 9:20 AM. She'd been crying and asked if my boyfriend and I could come help her. He wasn't moving and couldn't stand on his own. I got up and dressed faster than ever, with only the thought that maybe his hips were having worse issues. We got to my parent's apartment, my mom was standing outside in tears. I hugged her briefly before hurrying inside, my fears growing. There he was, laying on the floor of their bedroom. He didn't even pick up his head to look at me. He couldn't. His eyes spoke volumes. He was scared, terrified. He didn't know what was wrong with him or what was happening. My boyfriend, brother, and I got him into my mom's van and I stayed in the back with him, fighting back tears as I pet him and told him it would be okay, but I didn't believe myself. We got to the vets and they took him back to out an IV in while we went to a room in the back. By the time we saw him again he could barely breathe, he barely had a heartbeat. He wasn't moving at all and he was terrified, looking around the best he could. My mom talked to the vet, still in tears, but I barely heard them. I was so focused on him. On making sure he knew he was going to be okay and that we loved him. We decided to euthanize him, which is one of the hardest choice to make, but he was already so far gone and in pain. He didn't deserve to be in that much pain. We all loved on him, he'd been so amazing and such a great friend. My mom had to leave, she couldn't stand seeing another dog go. The doctor came in around 10 o'clock and gave him the injections and… that was it. I broke down in that room with his body on the table. We said our last goodbyes and left, riding back to the house in silence.
Its 5:42 PM. Just around eight hours since he's been gone. It's already hard to think about him. It's hard to even say his name. Sin, our Yorkie, the last one left, doesn't know what to do. She doesn't know how to act without her big brother there. Mom and I took her for a walk and I looked at the leaves around us-the freaking leaves—and it broke my heart again, remembering playing with him and throwing leaves at him as he would jump to catch them. It's been eight hours and I see him everywhere.
My dog died today. No one tells you how painful death will be. No one tells you how your throat will close up thinking about them or even writing about them. Death is an odd thing and it often feels like it comes too soon. It's hard, and it'll always be hard no matter what. We miss you already, buddy. We love you so much and we will always love you, Trillian.