Comrade Odie
How the family dog carried on a long-standing family tradition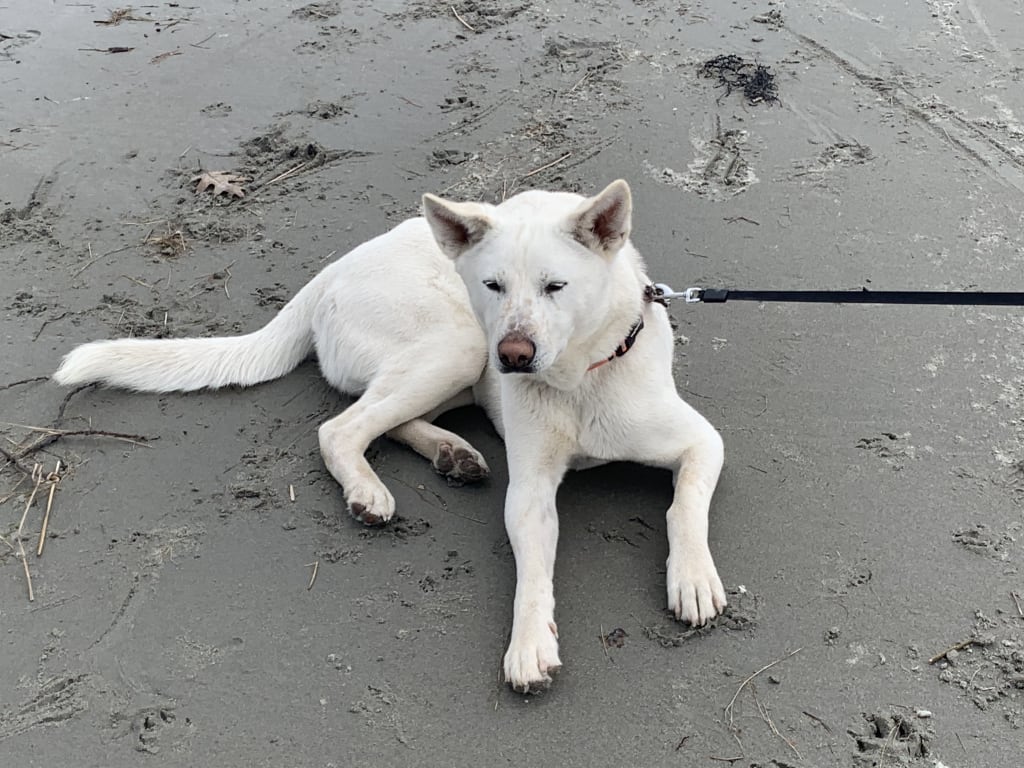 Odie at the beach (he laid down in the sand in protest because my dad put the leash on him so he couldn't raid people's picnic baskets)
My dad adopted Odin in July 2020. When our old dog had been put down due to cancer two years prior, my dad had sworn he wouldn't get another dog. But then the pandemic hit and the world shut down and being retired and single, my dad was all alone in his house and needed something to get him motivated when I wasn't around. So he went on petfinder and drove an hour and a half to pick up Odin, a supposed German Shepherd Australian Cattle Dog mix who had been picked up off the streets of Georgia.
We've had Odin, affectionately nicknamed Odie, for over a year now and while we have had our bumps in the road (mainly with his ongoing health issues) he has wormed his way into our hearts and proven to be a great family pet. We also found out he has no Cattle Dog or Shepherd in him at all! He turned out to be mostly Korean Jindo, a hunting breed from South Korea, with Chow Chow, Akita, and Siberian Husky thrown into the mix. This amalgamation of Asian Dog Breeds resulted in my dad referring to him as a Wasabi 57 (instead of a Heinz 57).
This story in particular takes place two months ago. My father lives in a small town on the coast of Southern Maine, and in this town the Bush family has a summer home. My Dad and his family have been Anarcho-Leftists ever since my great-great grandparents fled Pogroms in Ukraine with the surviving two of their four children, and we don't think very highly of the Bush family. So we tend to mostly ignore them except on the rare occasion they try to make friendly conversation with us, which has happened to both my parents quite a few times while working in the area.
This particular morning, my dad took Odie to the beach as the sun rose like he does every morning. During this short window of time, Odie was allowed to walk along the beach off leash and roam and sniff around to a certain degree. And on this particular morning there happened to be a group of men in black suits walking along the same beach. George Bush himself and his gang of secret service agents. Odie had already interacted with them once and made the agents on edge with his presence and my dad wanted to avoid confrontation, so he tried to stay as far away from them with Odie as possible.
But his plans were in vain.
Odie caught sight of them after a minute or two and his ears perked up. He ran at top speed towards them and away from my dad, who, being a 61 year old man with COPD and a titanium rod in his leg, couldn't possibly run fast enough after him to keep up. Odie kept running as fast as his legs would go until he reached the Bush Posse and came to a screeching halt right in front of the former President and right next to the secret service agent closest to him. My dad could only look on in horror and pray to God for a miracle as Odie lifted his leg.
The secret service agent had reflexes like a cat and pushed George Bush out of the way while simultaneously missing the stream by millimeters and my dad was CERTAIN that Odie was going to get shot that day. Well, Odie didn't get shot but he did make his political opinion known and carried on a long standing family tradition of fucking shit up for the government.
All I can say is: L'Chaim you funky little Comrade.
dog
About the author
18 Years Old
She/Her/They/Them
Marine Bio Student
Class of 2025
I tell my story because when I am forgotten, I am truly gone. The longer my stories grace people's tongues, the longer I live.
Reader insights
Be the first to share your insights about this piece.
Add your insights