Charles. Coworker. Lifesaver.
A story about an extraordinary golden retriever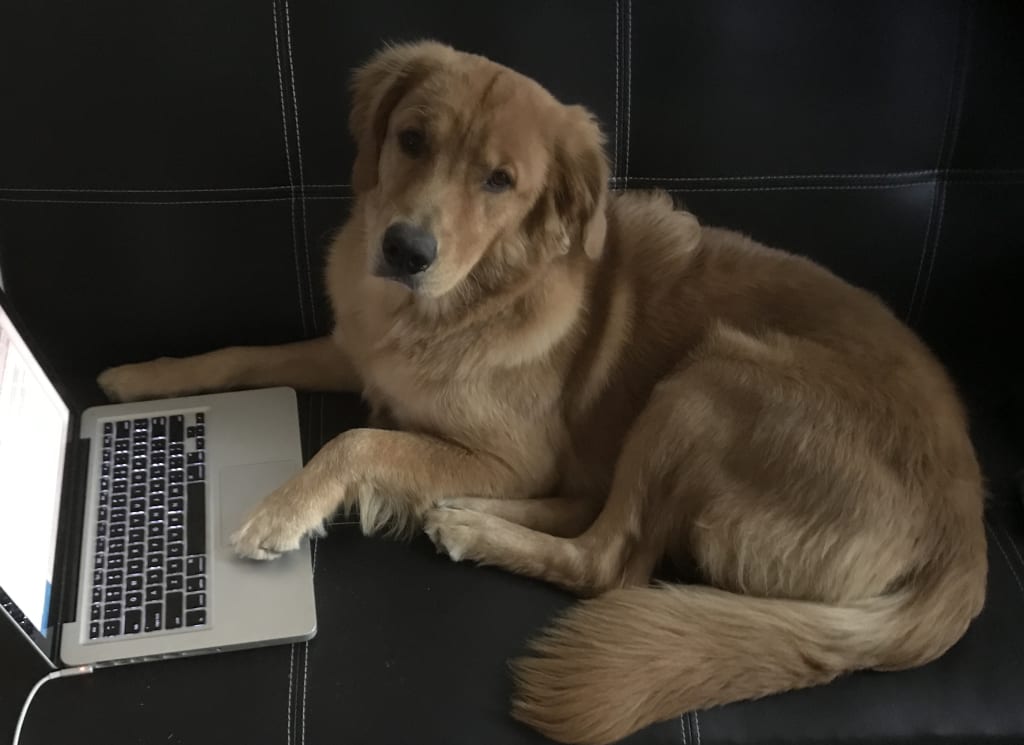 I've been working remotely since long before the pandemic made doing so more common. For an introvert like me, it has been one of the absolute greatest gifts in my life, second only to that of my furry coworker, Charles. I had never wanted a golden retriever. Growing up we always had small dogs, and I did not think I could handle having one that I couldn't pick up. But my husband at the time had his heart set on either a golden retriever or a yellow lab, and he eventually wore me down.
The puppy phase was extremely difficult for me, especially since Charlie developed pneumonia as a small pup. I still remember holding that little ball of fluff in the shower, patting him to loosen the junk in his lungs, while hoping the steam would help his breathing. Getting three different antibiotics down him every day was nearly impossible. Dogs really are incredibly skilled at detecting and spitting out those pills! It was almost 2 months before he was completely recovered. By then he had grown so much. He was not that little ball of fur I could hold in my arms anymore. But the bond that I created with him through that experience was so intense. During all those hours of lost sleep, between all the worrying, I fell hopelessly and madly in love with that little furry snout. Before Charles showed up on the scene, I was a very self-focused person. He had begun to change my priorities and I found myself planning my life around him and his needs.
It was an interesting time for Charlie to enter our lives, because our marriage had already begun to unravel. I was mostly in denial at the time, and probably thought subconsciously that getting a dog might help to save our relationship. Things did not go that way, however. My ex began traveling more and more for work and he became increasingly distant, from both me and from Charlie. We had also moved around the country a lot for my husband's job, so I did not have any family or good friends close by. Charles truly became my best, closest friend in those days.
In my darkest of times, all I could do was to hold on to my two bright spots. The job that I love, and my sweet doggy coworker who was by my side every day. He got to know my routine, so he calmly laid down when it was time for me to focus. He would curl up next to me, sometimes putting his paw or face on my leg. The comfort it gave me to have him there is indescribable. Without Charlie, I can't imagine how alone I would have felt during that heartbreaking period of my life.
When things in my marriage got worse, and it was finally time to make the break, I only wanted one thing. I knew I had to take Charles with me. I didn't care about the townhouse, or the Mustang or any of our other possessions. I packed my one big suitcase with my favorite clothes, loaded Charlie up in the back of a rental car, and we headed west. I knew that I would be OK as long as I had my golden boy, and in the end, I was right. I'm in a much happier place in my life now, but more than anything, I still appreciate my awesome work-from-home job, and the fact that the dog who saved my life still gets to sit next to me every day while I work.