Cat for You
A Tale & Tattoo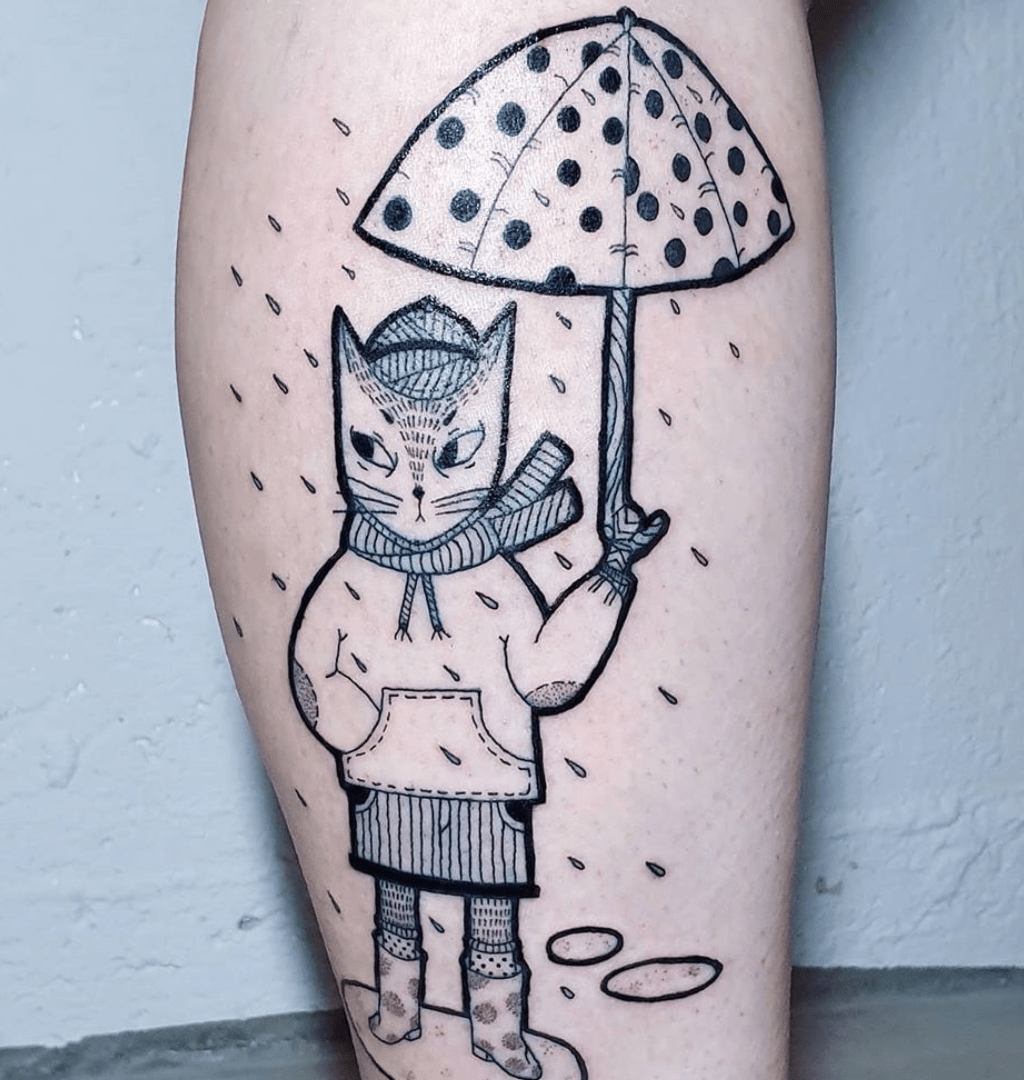 Design by @dascha.walter
The most interesting tattoos seem to have a story or association with a person, place, thing, or memory that is forever etched as an illustration. For someone who doesn't have a single tattoo, I am fascinated by others' accounts of what the symbolism on their bodies represent for them, the "why" behind each work of art. Surely there are those who may not have explanations for their tattoos – maybe they just chose certain designs for pure aesthetic qualities – but the tattoos that do carry stories for the people who welcome them onto their bodies like canvases, those hold a special quality worth more than 1,000 words.
If I were to get a tattoo, its origin would center on the memory of two grandmothers and an animal that tied them together forever with me.
On September 7, 2019, almost two years after my Grandmother Zina's passing, and a day after my Grandmother Nelya's last birthday on this Earth, a brown and black striped Mackeral Tabby, wondered into my family's life by claiming my parents' backyard deck as her own for multiple days on end. Traditionally dog-people with cat allergies, my family hesitated at the thought of having to take this feline in. With no luck finding an owner, my parents soon realized the cat had chosen them, and they would have to extend a welcome home, with one stipulation. She would be an outdoor cat, so as not to ruin the furniture or produce rounds of itchy eyes and runny noses for her landlords.
Meanwhile, a new tenant also occupied my Grandmother Zina's old house thousands of miles away overseas. She was charcoal gray with round eyes, a Scottish Fold. Owned by family friends who now occupied the house, she held personified qualities that seemed to hold my grandmother's energies as a vessel long after my grandma was gone in physical form. She would walk from room to room, outside in the garden, and near the chicken coop where my grandmother would get fresh eggs, following her previous footsteps, as if to say, "I am/she is still here."
Back home, after a few months of getting to know her, my parents had a name for our feline: Dusa (short for Dulcinea from Don Quixote and the Spanish "dulce" meaning "sweet"). With each passing day, the rules bent, and she was gradually welcomed indoors, one room at a time, first the screened porch, then the kitchen, living room, den, and eventually the whole downstairs floor. Still, when it wasn't raining, she spent daytime hours outside, by choice, exploring, climbing trees, and bringing back chipmunks, squirrels, rabbits, and birds as a token of her gratitude for the nightly shelter and protection my parents afforded her.
Although my mother and father transitioned into treating her as a second daughter, I did not yet know her as a sister. Since I lived six hours away by car, I only saw her on holidays and occasional weekends, so complete familiarity on my end was not yet intact. However, when COVID-19 hit and I moved temporarily home in April to be away from the metropolitan congested city I had lived in for five years, I suddenly found myself becoming fast friends with Dusa. She reminded me of the gray tenant in my Grandma Zina's home, yet distinctive in her curious spirit.
However, it would take a series of summer losses for me to fully understand the true depth of a pet's love.
In June, my Grandma Nelya became sick with Colon Cancer and had a surgery to remove the tumor, and immediately following, a long-term relationship of mine came to a halt. As she lay in the hospital trying to recover from a post-surgery infection, I Facetimed with my grandma, who we planned to bring home to us to fully heal. During the call, she asked if the cat was ready for her arrival. I lifted Dusa for my grandma to see "sweet" for herself. It would be my last conversation with her, since within days, we lost her on July 23, a morning when nature mimicked my tears with droplets from the sky that eventually made way for sunlight. Throughout the blur, anxiety, and grief that was June into July, and even in the uncertainties of August to September, Dusa became a source of comfort that I would never have imagined an animal, let alone a cat, capable of providing.
During this time, her domain expanded to include the second floor, where she would follow me each night to curl next to me by my bed, sensing my need for solace. Her daylight hunting hours were even replaced with a new favorite pastime of following me to my "work from home" station, kitchen for meals, and even the bathroom. Perhaps a dog stuck in a cat's body or like my Grandmother Zina's tenant, just a cat with human characteristics.
Not only was she a comfort, she reminded me of both grandmothers simultaneously. One moment, she was Grandma Zina consoling me after the most recent loss of my other grandma. The next moment, she was Grandma Nelya convincing me she was also still here with me. If the gray Scottish Fold at my Grandma Zina's house overseas couldn't be here too, I'd picture both of my grandmas in some form within Dusa. Not literally but interspersed energetically in moments when Dusa "talks" (meows), blinks slowly to show her love, or simply soothes with her joyful presence. She continues to serve as a reminder of them both.
My tattoo would thus be symbolic of them and the spirit of the animal that continues to uplift my own spirit during a time of so much change. A talented friend and tattoo artist, @dascha.walter, recently created a design for a client which would be the template for mine.
Caught in the rain under a polka-dotted umbrella, a tabby cat clad in warm clothes, stands in a puddle and looks off to the side at something unidentifiable. She looks strong despite the cold and rain, the latter of which she despises. Curious as to the meaning of whatever she is looking at, when I don't notice – for instance, when I'm sleeping – she wonders off my left shoulder to get a little closer to what she discovers is the sun peeking behind the storm clouds.
She loves those moments of adventurous escape to the sunlight, but knows she has to come back to experience the rain every so often, because without the rain and its lessons of patient tenacity through adversity, she wouldn't as fully appreciate the sun, its glorious days, and memories of grandmothers' warm hugs.