Cat Café? What Is That?
A Truly Unique Café Experience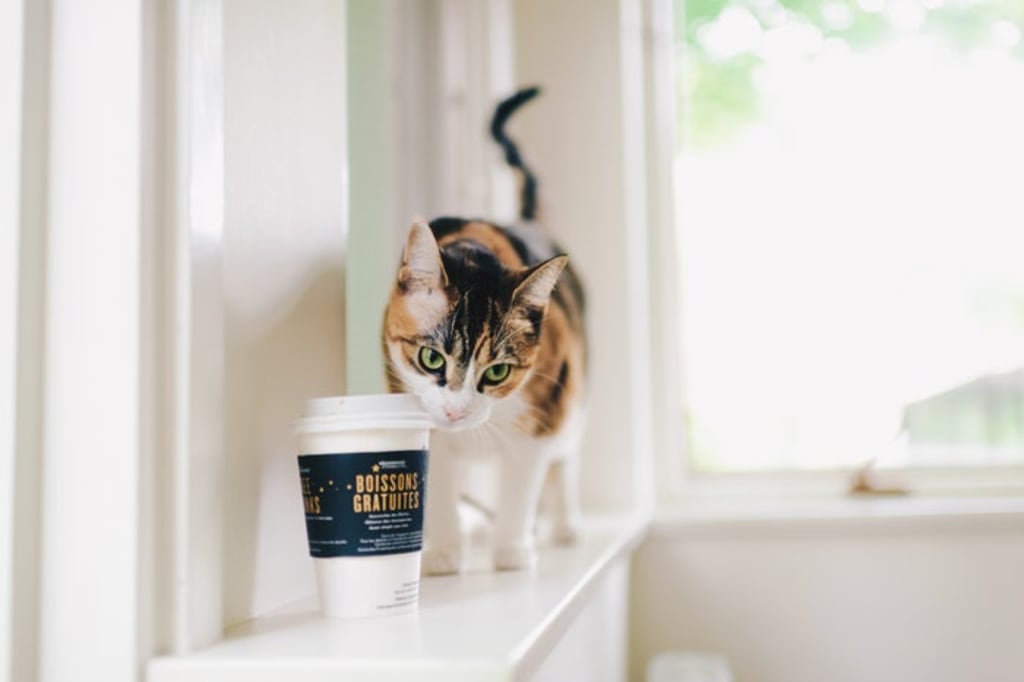 Do you love coffee? Do you love cats? What about drinking your coffee while petting a cat? If that sounds interesting, then a cat café may be for you. Cat cafés are exactly what they sound like, a place to get a cup of coffee, possibly a muffin, and spend time with cats. Places such as the Purrvana Café & Cat Lounge in Savannah, Georgia or Java Cats Café in Atlanta have been becoming very popular in the past five to ten years. In 2015, there were at least 24 known kitty cafes across the United States. Since then, more have opened and are thriving. Many of these locations host cats from local rescues to give them more face time with the public.
These cafes are mutually beneficial for the cats, as well as those who visit them. While increasing the chance of adoption for the cats, the humans are actively decreasing their stress levels. It has been shown that petting a cat or other pet can reduce stress as well as lower blood pressure. Another study showed that having a pet around while working on a stressful project or work assignment lowered stress more than having your partner or a friend around to talk to.
Adopting one of these cats from your local cat café would be an amazing thing both for you and the lucky kitty you choose, but not all people live in a home that allows animals. This is another reason why the cafes are so wonderful. You can hang out with these amazing creatures and get your fill of them without having to pay for their food or clean out a litter box. They will more than welcome the extra back scratches.
So, go ahead, look up your local cat cafe. Make sure you call ahead and see if you need a reservation because some places limit the number of guests for health and safety reasons. Another cool thing some of the cafés are now offering is yoga. Please check with your local café to see if this is available.
So next time you want a nice cup of coffee and unique atmosphere, skip the chain shops and visit the cat café in your area!
Here is a list of other cafés in 9 cities in the USA:
1. New York City: Koneko Cat Café
(reservation required)
26 Clinton St. New York, NY 10002
More info: Koneko NYC
2. Chicago: The Windy Kitty Cat Café
1746 W North Ave, Chicago, IL 60622
More info: Windy Kitty Chicago
3. Saint Louis: Mauhaus
(reservations encouraged, but walk-ins welcome)
3101 Sutton Blvd, Maplewood, MO 63143
More info: Mauhaus
4. Dallas: The Charming Cat Café
2401 S Stemmons Fwy, Lewisville, TX 75067
More info: The Charming Cat Cafe
5. Seattle: Seattle Meowtropolitan
(reservation required)
1225 N 45th St
Seattle, WA 98103
More info: Seattle Meowtropolitan
6. Los Angeles: Cat Cafe Lounge
(reservation highly recommended)
1736 S. Sepulveda Blvd. Los Angeles, CA 90025
More info: Cat Cafe Lounge
7. San Francisco: KitTea Cat Café
(reservation highly recommended)
96 Gough St, San Francisco, CA 94102
More info: KitTea SF
8. Phoenix: La Gattara Cat Café
(reservation required)
1301 East University Suite 136
Tempe, AZ 85281
More info: La Gattara
9. Nashville: Catfeine
(opening soon)
1602 W Northfield Blvd, Suite 500
Murfreesboro, TN 37129
More info: Catfeine
If you are not close to one of the cities provided above, or the two listed at the beginning of the article, feel free to Google cat café and your city name. These cafés are becoming very popular and most big cities have one or in a town nearby. If you can't find one and think it is a good business opportunity, I am sure a local pet rescue would love to join you in the venture and the cats will thank you, too.
cat

Rachel Ashman
I am new to writing. I am currently a math tutor at a internationally known math tutoring center, mom to a chihuahua and two cats. I hope to make a career out of writing once I get better at it.
See all posts by Rachel Ashman →