Bryn's Diary May 6, 2019
Back in the groove.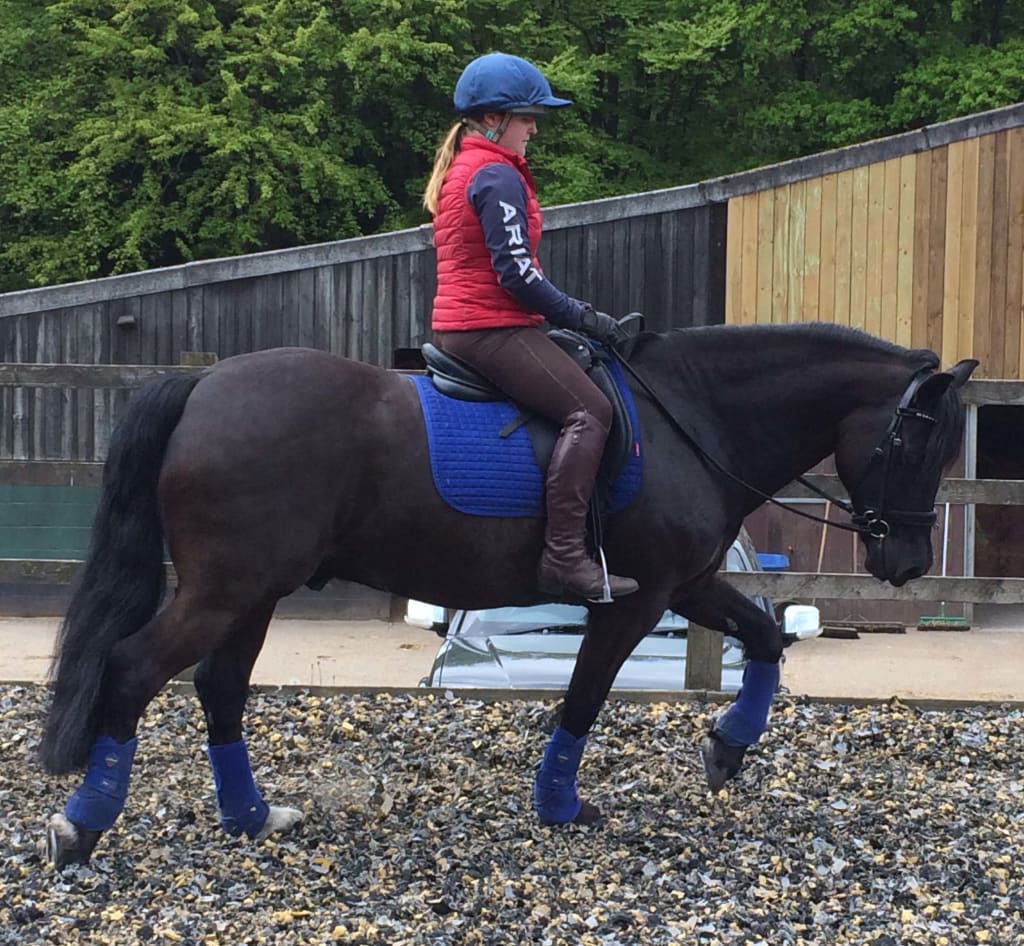 After moving stables and allowing Bryn to settle into his new routine it was time for him to have his first schooling session.
We didn't want to challenge him too much. Instead we wanted to give him the fullest opportunity to have a stress free and enjoyable experience. To support him in every way we could we let Izzie Bagley, who is a highly experienced, and talented young rider, look after him.
As always with all of our horses, before we do anything in the arena with them, we walked Bryn around for a few minutes. This gave him a chance to stretch his legs, get used to the saddle, get used to his surroundings, and start to concentrate on the task in hand.
Once Izzie was on board we could see Bryn switch into 'work' mode. He became keen to start his session. Izzie, wisely, walked him around the arena a couple of times to get a feel for his movement, the amount of power, and how he reacted to her aids. Her comments as she walked him by were:
'He is so even in the hand,' and,
'Responsive to the leg… very'
Then the trotting began. His forelegs had the typical high action of Welsh Section D'. This was even more pronounced than when he had been exercised on the lunge line the previous day. His hind legs worked hard pushing him along from underneath and behind. He looked good. And we think he knew he looked good.
Izzie asked him to execute a long half pass across the arena. We could see it head on from where we were standing. It was fluid, accurate, and well within Bryn's capability.
This seemed to switch something on with Bryn as when he went past us to go back up the long side of the school; he broke into doing a Piaf, which had not been asked for.
The 'Piaf' is a movement in which, put in its simplest terms, it's the equine equivalent of a human walking or jogging on the spot. It was a movement used by cavalry to keep their horses warm, and focused before they were given the order to go into battle.
We all decided that this was his way of telling us he knew he could do more, wanted to do more, and so he did.
When we originally sent Bryn to be trained by Daisy Jackson, his transition into canter was an explosive launch. This always caused the canter to be unbalanced, and as a result unsustainable. We had seen him schooled a couple of times during his training, and could see the transition becoming smoother every time. Each time was less explosive and increasingly sustainable.
Today, the question was asked, and Bryn responded with a transition as smooth, and as cool as polished marble. The canter was full of energy, but it was contained energy. All of his power came from his hind quarters pushing him forward rhythmically looking like a horse that really knew what he was doing. Each time he struck off with the correct lead making his canter balanced, coordinated and effortlessly sustainable. So different from the leggy, un-coordinated, and unbalanced horse we sent away sixteen months ago.
While the session was going on, Benney was at the gate to the field he shares with Bryn that overlooks the arena. He called, and called Bryn, who did not look up once to his 'bestie,' while he was going through his paces. His concentration was 100 percent. Rainbow was in the same field, and just carried on grazing, oblivious to what her friend was doing.
All through this session, Bryn looked happy to be working, and putting into practice what he has learnt. At the end he was a bit sweaty on the flanks, and along his neck, bot not frothing. Around his mouth was a slight froth from where he had been chewing the bit. All good signs of a job well done.
As Izzie walked him around to cool off, she could not stop grinning.
'He just has so much power.'
'Wow, what an engine.'
'Never felt like he wanted you off... just wanted to get on.'
Our own opinion of Bryn is obviously biased, but having watched him during this session we were immensely proud of him.