Bryn's Big Day Out
Any horse can be a dressage athlete.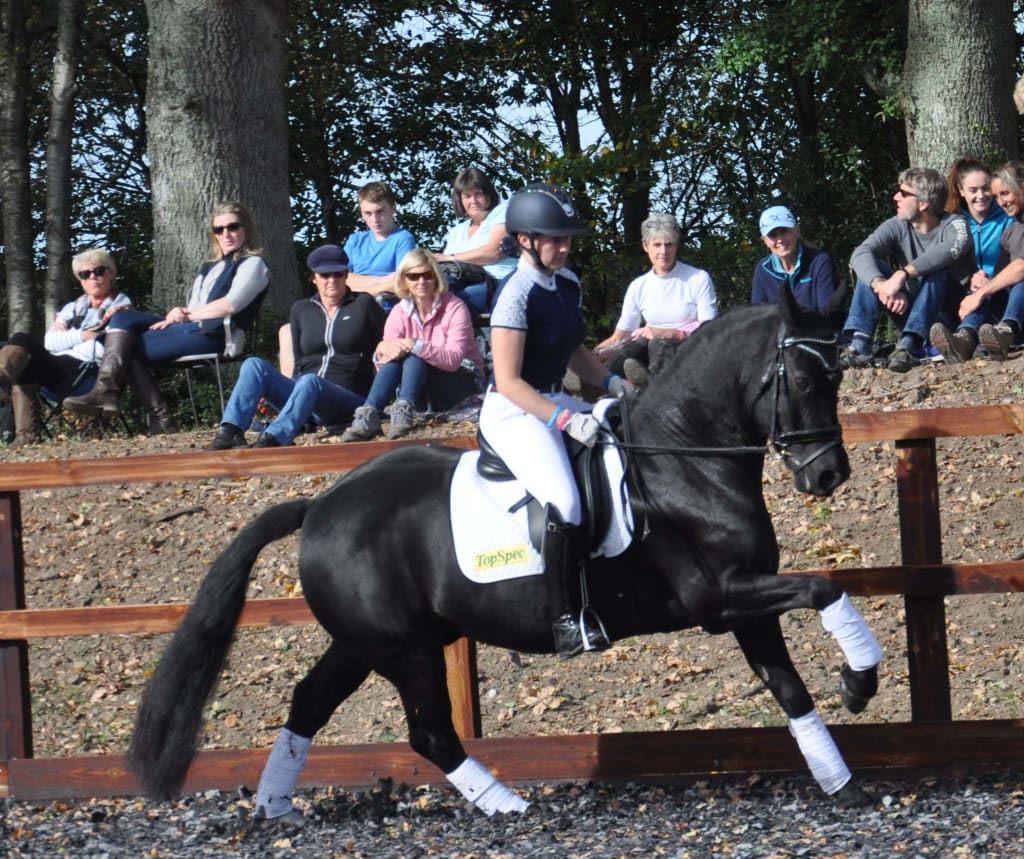 In the process of training any horse for any discipline be it racing, eventing, show jumping or as in our case dressage there comes a point where the single most critical decision about the horse's future has to be taken.
'Are they ready?'
A horse cannot answer that question so the answer is entirely down to the trainer's judgement which will involve spinning several questions through their own minds.
Are they really ready? Can they cope? How will they react? What if it goes wrong and all the patient work of the last few months is undone? Those questions and their intermingling variations are the ones that only a trainer can answer on behalf of the horse. Our trainer, Daisy Jackson, distilled all of these imponderables down to one short statement.
'It can only go one of two ways.'
With that set of possible outcomes, the decision was made to take Bryn, our Welsh Section D gelding, to his first public appearance since going to Daisy's yard in January 2018. The venue, at the Jesty's yard near Wimborne, is only a few miles from Daisy's yard and is familiar to Bryn already. He has been hacked past the yard and even worked in the new arena where his first grown up event was scheduled. What would be unfamiliar to Bryn would be the music coming through a sound system, a compere giving a commentary and an audience. So, not that many unknowns to face for a first time out. That event was going to be organised by Anna Jesty and Daisy Jackson to raise funding for treatment for a very ill friend of everyone's in the Dorset equestrian world.
On the big day Bryn walked on to the lorry at Daisy's yard like he had been doing it every day for years. He travelled the short distance to the venue contentedly pulling on his hay net. At the other end he strode off the lorry, sniffed the air, had a good look around and walked down to his temporary accommodation for the duration.
Very soon afterwards he was all tacked up. Daisy got on board and relaxed any nerves he had immediately.
'It can only go one of two ways.'
Now, where had my wife and I heard that before?
Daisy took Bryn down to the arena giving him plenty of time to have a look around and feel the atmosphere. His route took him behind the audience who were applauding the end of a demonstration by Anna on one of her warmbloods. Bryn was completely at ease. They entered the arena and walked around very calmly allowing Bryn to stretch, relax and take in his new surroundings. The music was very quiet and slow, almost Zen like. The compere, Amanda Louise Birch, spoke very softly over the sound system explaining Bryn was not a warmblood and that he was very new to dressage.
He was taking it all in his stride and we were very proud owners. Even more so when we heard a couple of people seated near us say, 'Wow,' or, 'What a stunner.' We stayed quiet.
Then for want of a better phrase, Bryn and Daisy started throwing some shapes in trot. Working on both reins they made circles, loops and loads of straight lines around the and across the arena gradually building up to a canter. This gait is Bryn's weakest and still needs lots of development but it could only go one of two ways.
Daisy asked the question. Bryn tried to give the right answer but couldn't and threw in a little buck. There was no panic from the rider. Just reassuring touch of the hand down his neck to say 'don't worry, we'll try again.' The question was asked again and Bryn struck off into the most fluent and powerful canter that was in Daisy's complete control. He did it and he did it good.
The display only lasted three or four minutes. When they came to the 'halt and salute' moment there was brief silence followed by applause from the audience. Bryn seemed to know who it was for and we are convinced that if he could have he would have taken a deeper bow than the male lead in Macbeth at curtain call.
The compere, Amanda Louise Birch, said after the event:
'I think what struck me most was his sense of responsibility for his part in the event. He came in and Daisy did a great job of getting him relaxed with the environment, and then he got his work head on. We were saying afterwards that it is nice to have him in the demo because people often think you must have a warmblood for dressage, but of course any horse can be a dressage athlete. Bryn proved that point exactly.'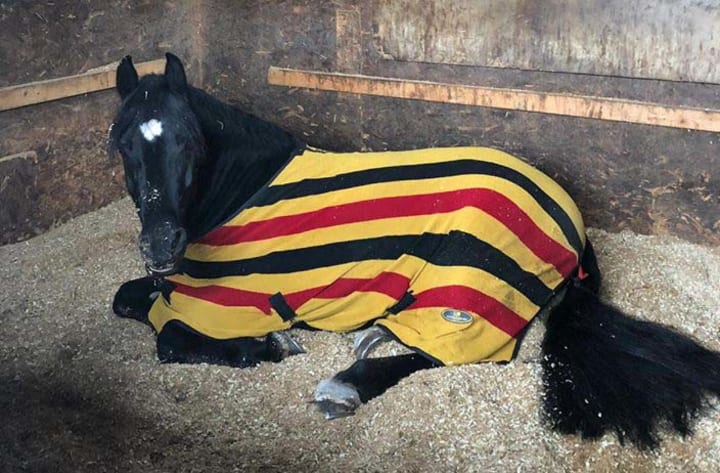 AmandaBirch Dressage
Daisy Jackson's Sponsors—Topspec

Alan Russell
I am a very lucky person. I live in a beautiful area,the New Forest,have a happy home that I share with my wife and two felines. More,much more than this I travel many highways,to interesting places and meeting interesting people.Carp diem.
See all posts by Alan Russell →