Bryn Does a Photo Shoot
Style, class & charisma but as for the handler.....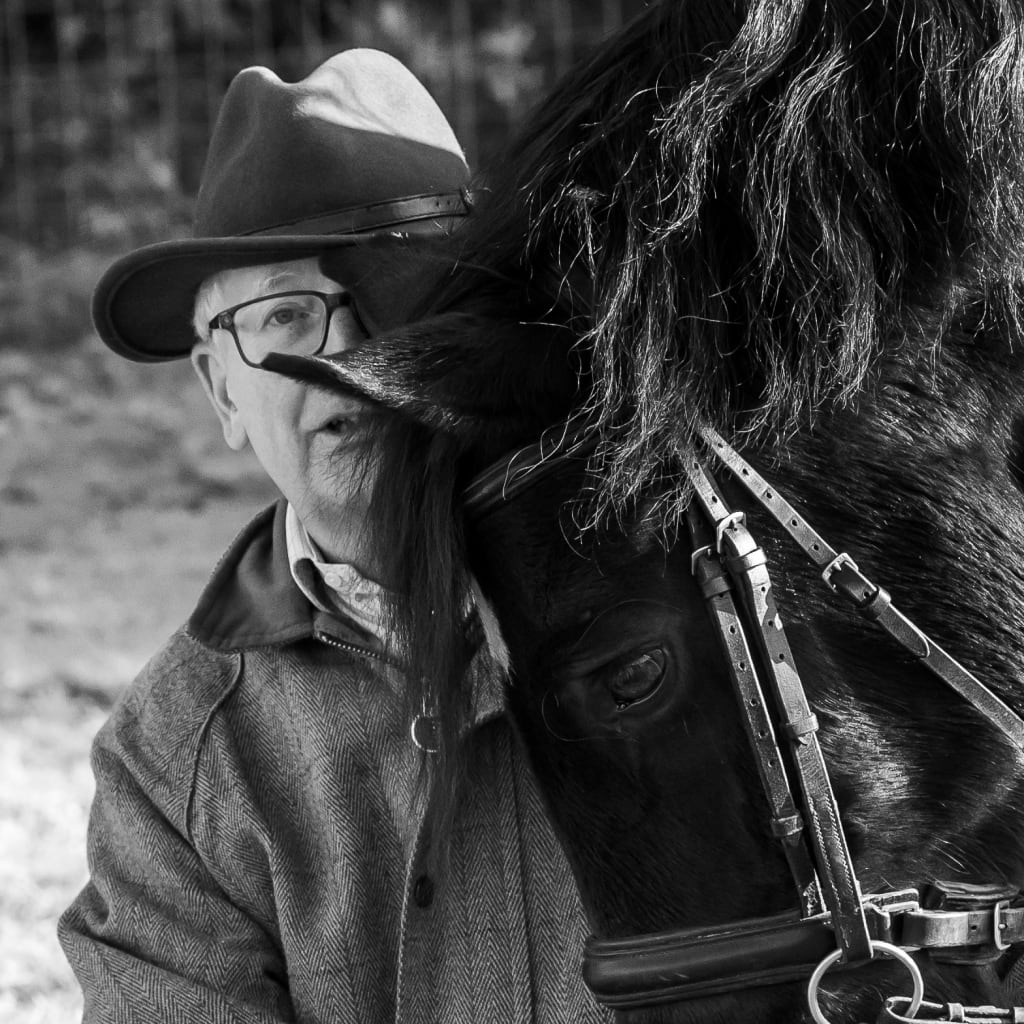 The opportunity was too good to miss. A chance for Bryn and I to take part in a two hour photo shoot with professional equine photographers under the guidance of the renowned equine photographer, Emily Hancock from The Training Barn based here in Ringwood in Hampshire.
Bryn and I were going to be models.
I have only worked as a model once. That was several years ago for a still life art class. It involved sitting still for two one-hour sessions while the students drew or painted me. And before anyone asks, even though it was still life I did keep my clothes on. During those sessions I only had "me" to think about.
How very different it was going to be modelling with Bryn. He is our nine-year old Welsh Section D gelding. At least half a ton of horseflesh whose instinct for "flight from fear" is lurking just beneath the veneer of domestication. And we were going to be working at different locations around the farm including open fields.
Oh, how I hoped Bryn would behave. The adage attributed to W C Fields of "Never work with animals or children" played repeatedly in my mind while I visualized Bryn running away from me in a field. I was just a little nervous about how the photo shoot would go.
The day of the photo shoot arrived. It was a perfect autumn day. Clear skies, bright sunshine and clean air. Ideal conditions for an outdoor photo shoot.
The photo shoot was split over two on- hour sessions. At the start of the session each horse and handler were allocated to one photographer for each of the one-hour sessions. This was so that all of Emily's students would have two sets of subjects each to work with.
Our first allocated photographer asked me to walk with Bryn ahead of her along a track. Bryn and I set off. I was a bit nervous about what could go wrong and this must have fed through to Bryn. Consciously I worked on reducing my energy levels by repeating to myself "Low energy, low energy". I slowed my breathing, made it deeper and slowed my walking pace. All these little exercises combined with rubbing Bryn's neck and withers with my spare hand made Bryn begin to relax. While all this was happening, I could hear the camera clicking as well as instructions from the photographer.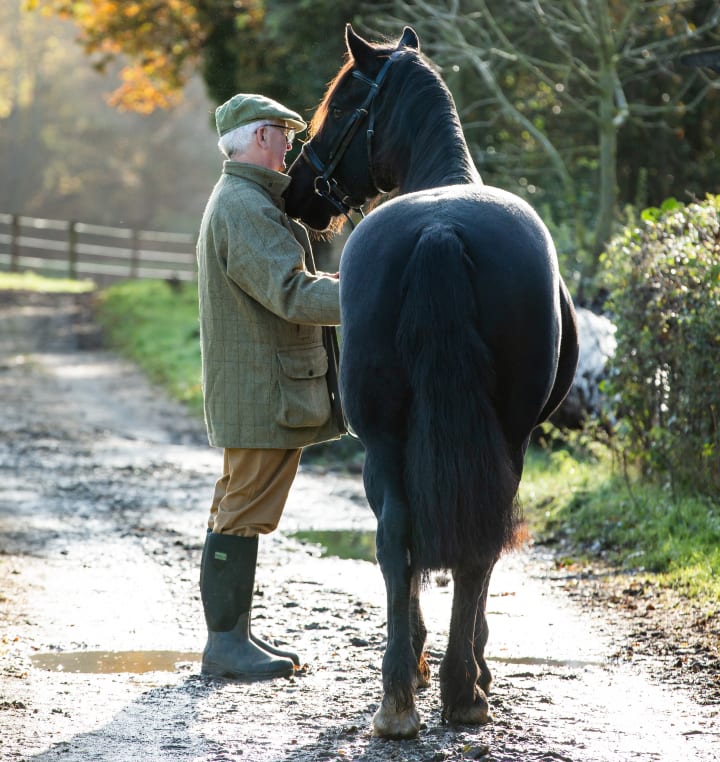 "Stop there….that's perfect", "Turn back and look at me….no, both of you", "Relax your hands on the reins……………..that's it………………good job" and "Walk on".
We were kept busy adopting various poses and this set the tone for the rest of this first session.
The remainder of this first session was spent in a picture-perfect field. Rich green grass and a forest of deciduous trees holding on to their full autumn colours. If Bryn was going to. As they say in the racing industry, "smoke off" this was where it was going to happen, but it didn't. The more we worked at getting into different poses the more both of us relaxed. I would like to think Bryn realized that he was the centre of attention, had a job to do and being the consummate professional that he is, got on with it.
Our first session was nearly over but we continued to work at being photographed as we walked along the track back to main yard.
No time for a break to have a drink or something to eat before we met our second photographer and the show continued almost uninterrupted. This second session started in the stable block. Bryn and I were in Rainbow's stable whose window made a natural frame for head and shoulders portraits. And the bonus was that the window was in the direct sunlight.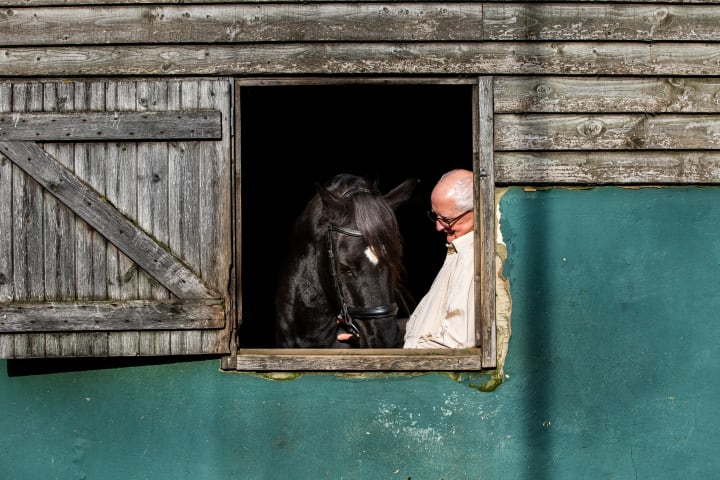 From the stable block we walked through to the farmhouse garden. There the photographer put us in various poses in front of the thick and richly coloured hedges.
By now were ninety minutes into the session. I began to see that Bryn's concentration was fading. He couldn't hold a pose for very long and started to fidget. His ears went back against his head or he would be looking off somewhere other than at the camera lens. The immediate fix was that my wife, Heather, gave me a packet of mints to put in one pockets and a handful of grass nuts for the other pocket. We would set Bryn up in a pose and to keep him there and allow enough time for the photographer to get some decent shots I would either give Bryn a mint or a couple of grass nuts to help his concentration.
Among our horses we have a true veteran named Rainbow who will be 32 in January 2020. We have several photographs of her but we thought it would be nice to get a couple of shots done by a professional photographer providing they had the time, which they did. We walked Bryn into Rainbow's field as they were old friends and when grazing together were extremely close. Rainbow was a bit grumpy about him coming into her field and so the best photograph of the two of them still shows her with her ears flat back while she stared at Bryn.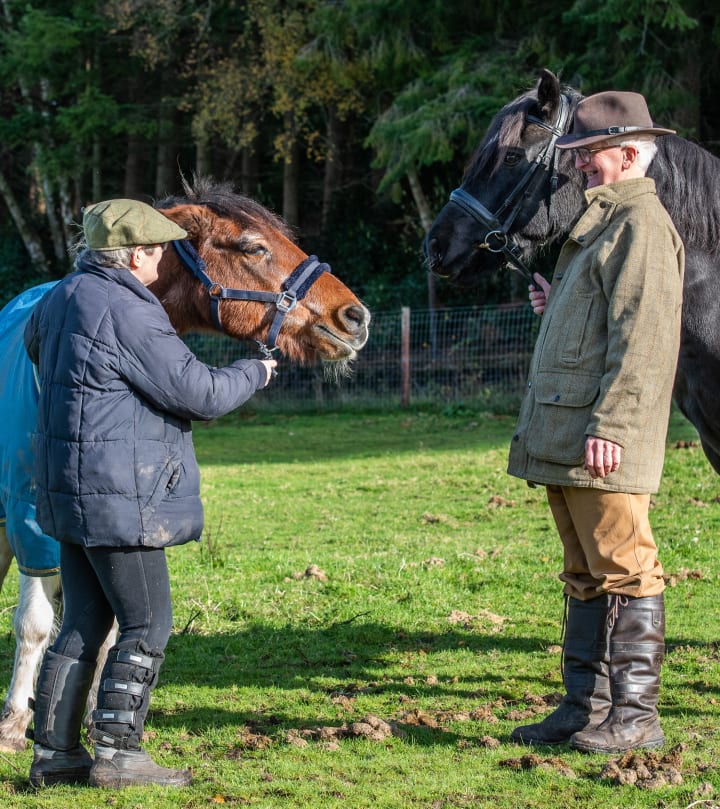 And of all the shots from the day and probably one of the last ones to be taken is my favourite: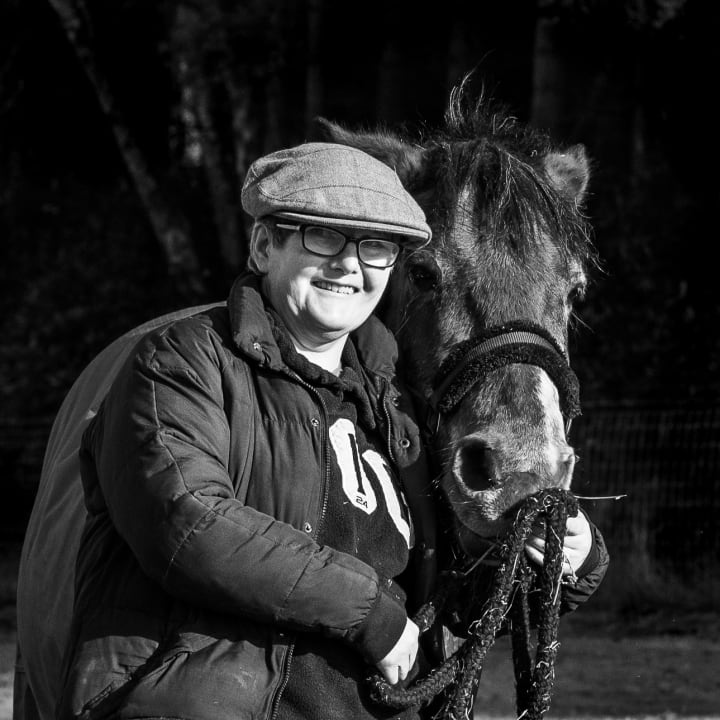 And finally, a big thank you to Emily Hancock of The Training Barn and her photographers for the wonderful portfolio of photographs and memories.

Alan Russell
I am a very lucky person. I live in a beautiful area,the New Forest,have a happy home that I share with my wife and two felines. More,much more than this I travel many highways,to interesting places and meeting interesting people.Carp diem.
See all posts by Alan Russell →