'Bless You'
How My Cat Got Her Name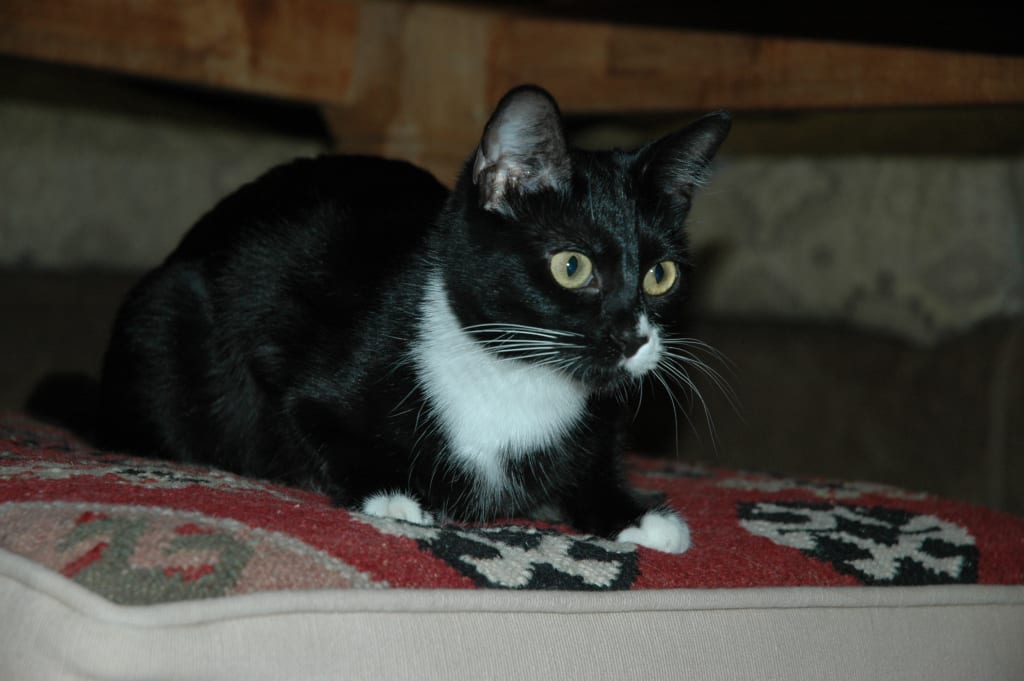 For Christmas, my parents promised me I could get another cat. I could go to the small pet shelter 15 minutes away from the house and I could adopt a kitten. I could pick out whichever one I wanted and she would be my baby for the next year or two before I went to college.
I had my heart set on finding an all black kitten with bright blue eyes to match mine, but beggars can't be choosers.
I walked into the "kitten room" with the biggest smile on my face, an eruption of "mews" as I, the owner of the shelter, and my mother walked in.
I looked around the small, furry bodies at my feet. None of them were all black, but there was a small black and white one.
I picked her up, she buried her head in the crook of my neck, and I scratched her neck.
"She's a little sick," the owner said. "I'll give you some medicine, she'll be fine."
As if on cue, the small bundle in my arms sneezed into my hair.
I just started laughing. She was so small.
I already had a cat—an older calico—but I missed having a baby kitten. A cute, little, small kitty who wouldn't run out of my room every day.
I glanced around the room again. The other kittens were adorable, but the little girl in my arms was the one for me.
I nodded to my mother, and while she paid for the kitten I went outside and put her in the tiny travel crate we had. But as soon as we left the shelter, the kitten was out of the crate and on my lap. She slept for most of the drive home, and I was fine with that. She was a tiny leg warmer sitting happily in my lap.
We got home and I took the kitten into my room. She wandered around and after every fifteen steps or so, she would sneeze.
"Bless you."
Another fifteen steps.
"Bless you!"
My mother came in to check on me and the yet-to-be-named kitten, and the old calico came in tow.
The old cat, Meowsers (who I named in the third grade), hissed and left the room angry. My mother joked she was upset about no longer being an only child.
"What are you going to name her?" my mom asked. She kneeled down and pet the kitten.
The kitten sneezed and my mom said, like a broken record, "bless you!"
An idea popped into my head, and I smiled.
"I think I'm going to name her Bless."
My mom laughed at me, but I was content with the name. It suited the small black and white fur ball.
That night, I found her sniffling and sneezing while curled up in a ball next to my stomach while I watched Bob's Burgers. When I finally laid down to go to sleep, she woke up and walked to the top of the bed, then fell asleep on my pillow next to me.
She didn't sneeze in her sleep, but she purred loudly for a sick kitten. I loved it.
Whenever I'd pet her head while she was sleeping, she'd open one eye and glare at me, then, if on cue, would sneeze.
"Bless you."
And then she'd fall asleep again. Later on, when she'd wake up, she'd crawl up onto my shoulder and sometimes sneeze into my ear. It was a funny feeling, and no matter what, I still loved her.
The tiny little fluff is now full grown and enjoys biting me to show her affection. And her teeth are sharper than when she was a kitten, and her nails are a bit longer.
But she still sneezes.