Black and Yellow
(argiope aurantia)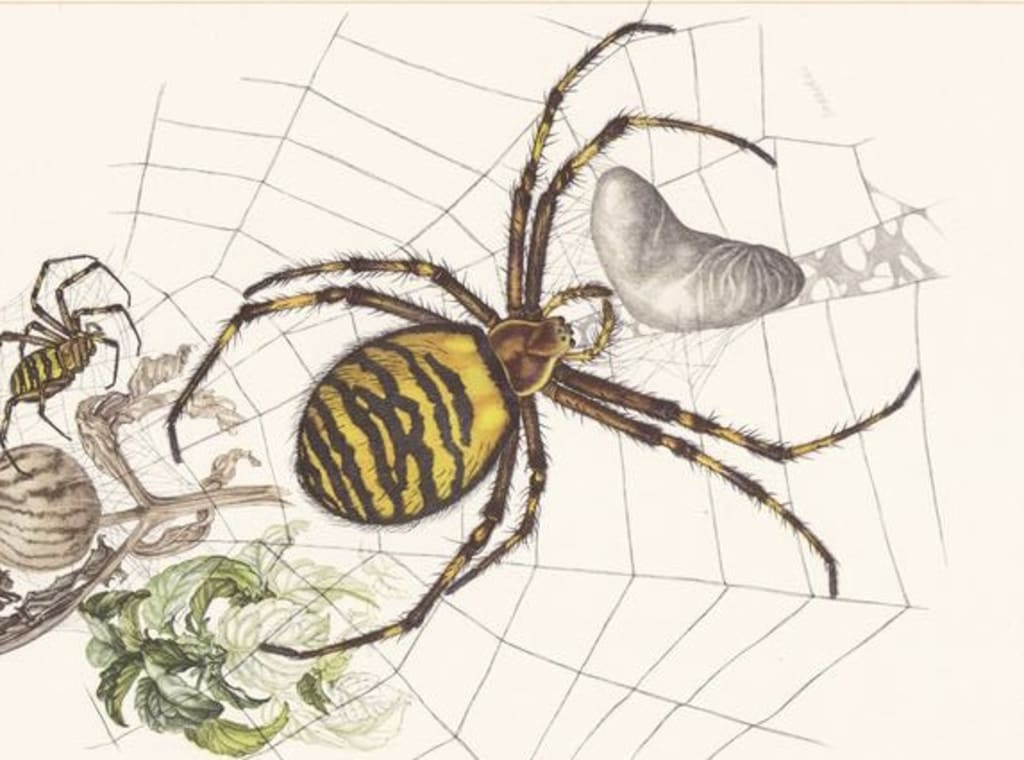 Art by C. Caspari and K Grossman PUBLISHED: Paris, Société Française du Livre, 1961
Stan got mashed last night.
People act first and think later. People are guilty of all kinds of killing. That's just typical of the species.
Okay, I've done a few myself but a guy's got to eat.
I do have to admit, my set up here is pretty nice.
Most of the girls around here are vegetarians. They cruise by all the time and sometimes they sit here on the patio to eat their little tiny veggie lunches. They're pretty nice to look at but when they see me I get nervous. They are very pretty girls but when they see me they make the most awful faces. Even though I wear my black and yellow like Spandex. Skin tight.
I try to maintain a low profile. Especially when they have barbecues. They like everything to be really attractive for whoever's invited.
They've never invited me. But for me that's okay, and it's especially great when they don't take out the garbage. That's when I can chow down on the little visitors.
Speaking of garbage, a few months ago some older lady was visiting Third Man, to watch her daughter do a concert. The girl had been shocked to win one of Jack's twenty thousand dollar contests and part of the thrill was getting to perform in the Blue Room. But that's not the garbage part.
The mom had finished a bottle of juice. I don't know what kind it was but it smelled pretty sweet. When she was looking to throw out the bottle Jack came into the room from the opposite way. She asked where the garbage was. He showed her the cans. THREE of them, he said.
That was funny because I could tell that's not why she came to Nashville. Who comes to ask Jack White where the garbage is?
I don't even do that. Course, I don't have to. And I don't need any little black book to know which end is up. And anyway I can't read.
Yeah, I admit it. It's fun to go out at night and brag, just let it slip, that I live at Third Man Records. Well, why not? Isn't that what Nashville is all about? But don't ask me how I got here. I really, really, really don't remember.
Stan was a pretty good guy. I mean, I don't think he ever bit anybody. But like I said, or tried to get across, people are impulsive, unpredictable and dangerous. I don't know who killed him. But when I found him I wrapped him up and hid the body. So now, tonight, after everybody hightails it out of here, I have to go out and tell my buds what happened. It won't be a night for bragging about Third Man Records.
When people show up at Third Man they do seem to have good times . They seem to think this is some kind of special place. The visitors always seem happy. I can tell when they're playing music because the drums make such an incredible, intense vibrating rhythm. I would feel it in my bones, if I had any.
So what else?
Well, now it's edging towards autumn. Usually that's when a guy like me makes my curtain call (Sorry for the show biz patter. It just gets in the blood). But I'm not looking forward to it. I mean, I can lounge all day on this beautiful patio which they've decorated with a bunch of hanging pots. The petunias and some other stuff are still blooming and, well, they're just very attractive to insects and stuff. I watch them like a hawk (?) but I try very, very hard not to move.
I have to admit, I love it here.
I don't know what I'm going to do with Stan but I'm not going to eat him.
wild animals
Set designer, script editor, horseback rider, jeweler, potter, farmer. Currently in Georgia.