Better for a Queen Than a Wine Bottle
My favorite holiday card wasn't planned at all.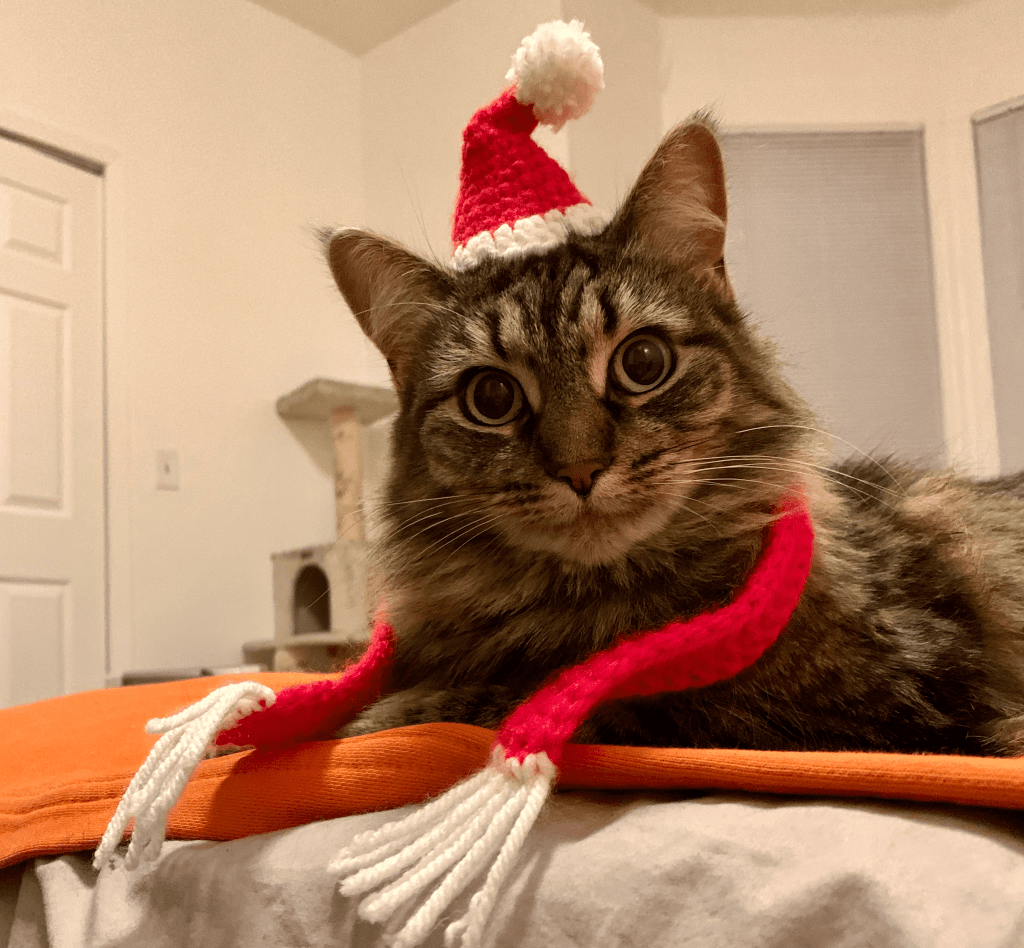 "Human... what are you subjecting me to?"
My grandmother can do it all. She knits, she crochets, she even makes unbelievably complicated amigurumi. She's been making scarves, hats, and gloves for everyone in the family going back as far as I can remember.
In 2019, she got extra creative. In the summer, she started making cats, rabbits, and mice with amigurumi patterns. At Halloween, she made pumpkins in all different colors. With Christmas on the horizon, she brought things up a notch.
She then set her sights on making Christmas things with her mad mastery of yarn.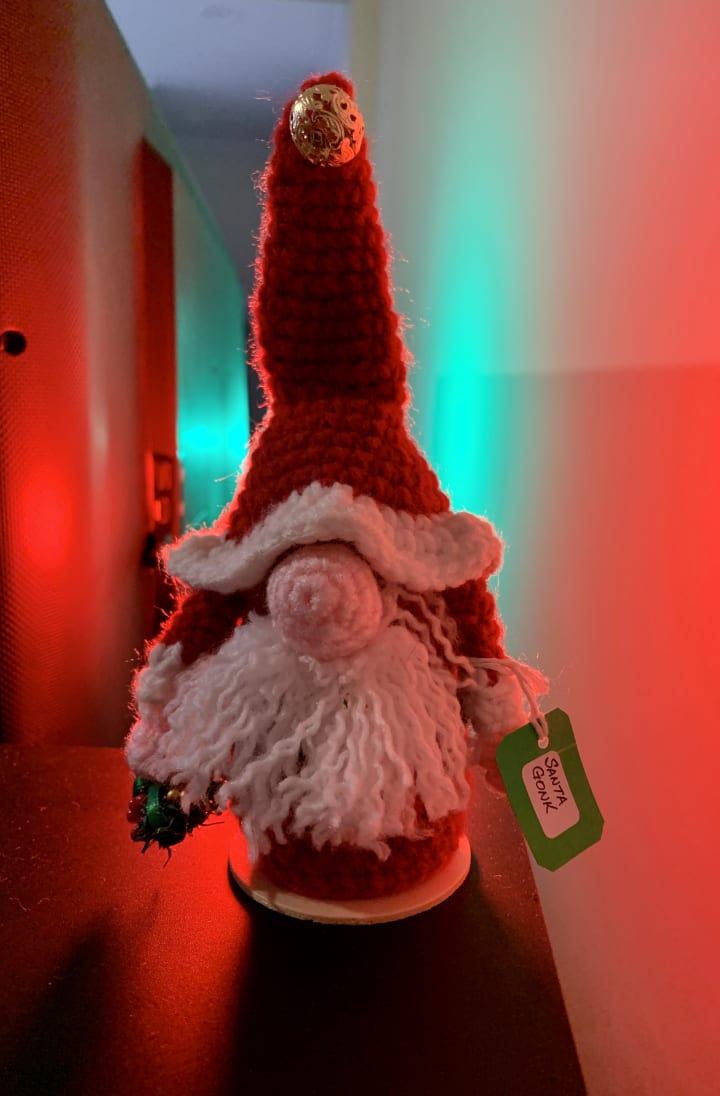 She made this charming little dwarf-like Santa who is actually a gonk. Though I hadn't heard of them before, they're evidently particularly festive gnomes. It also seems to be slang for calling someone a drunk, but let's not worry about what else may or may not be in Santa's milk. We all deserve a little spiked eggnog around the holidays.
In my grandmother's knitting and amigurumi adventures, she also made placemats, bows, and even wine bottle decorations. She made a tiny scarf and tiny Christmas hat meant to outfit a wine bottle with a festive touch. She gave it to me when I visited, lightly saying it's a nice way to make an easy gift a little more personal.
As soon as she handed it to me, I got a very different idea for the set. I couldn't help but size up the hat and scarf. Though intended for a wine bottle, it looked like it could perch just perfectly between a cat's ears. I've always loved the idea of dressing up my cats, but I usually can't find anything that they don't abhor.
However, this hat and scarf set was so small, soft, and light, I knew I had to try.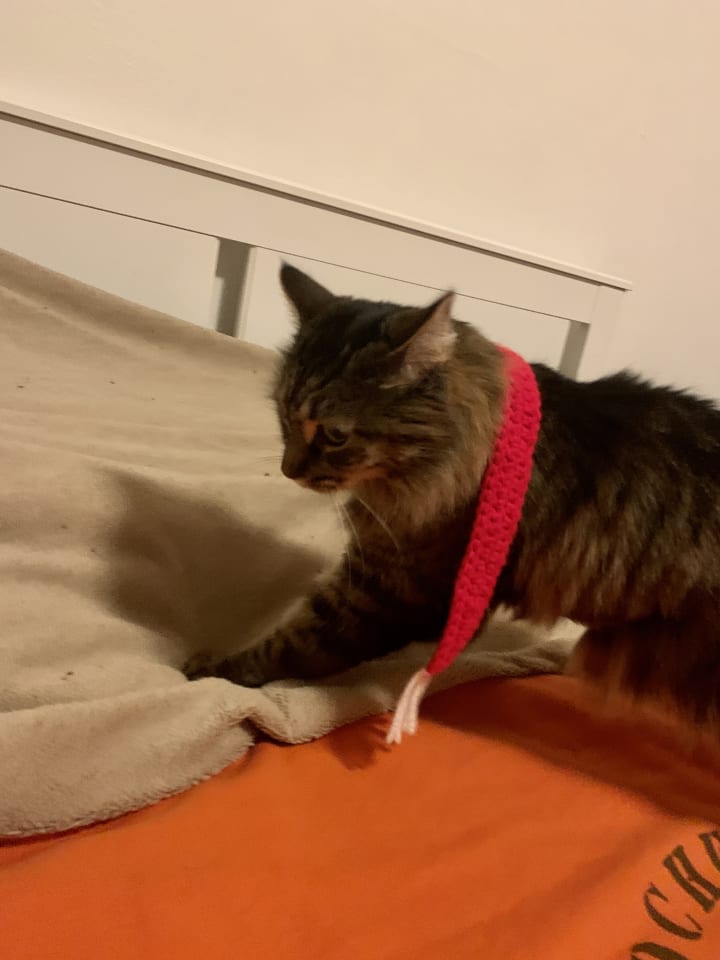 I didn't tell my grandmother about my deviously brilliant plan in case it didn't work out. I didn't want to talk big about dressing up my darling kitty and end up with just a bunch of scratches and failure bandaids.
Her Royal Highness, Misty, wasn't so sure at first. Although skeptical at first, Misty reluctantly allowed the scarf to rest on her. She definitely wasn't thrilled with the arrangement, but she didn't seem to hate it completely.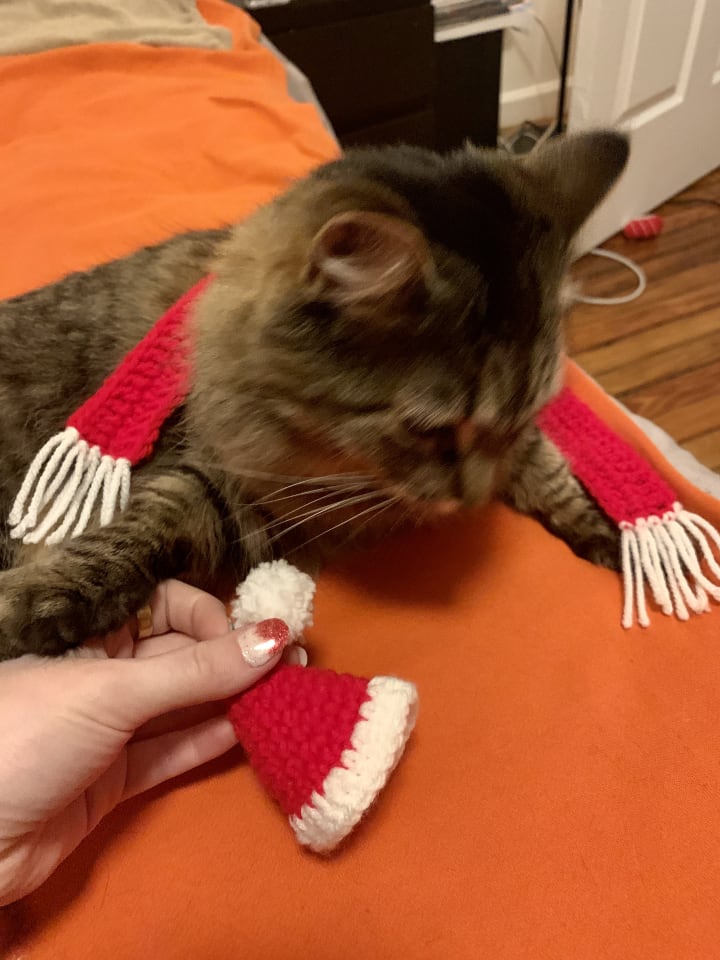 I'd like to think Misty didn't hate this completely. But given her misgivings about the hat, I might be too optimsitic.
In reality, I think she was just taking pity on me—her loyal subject—and allowing me to dress her up a little.
After giving her a few treats for her trouble, Misty accepted the hat long enough for me to snap a few quick pictures of her.
Once I had a few, she promptly shook the hat off and tried attacking it.
And that brought us to the card.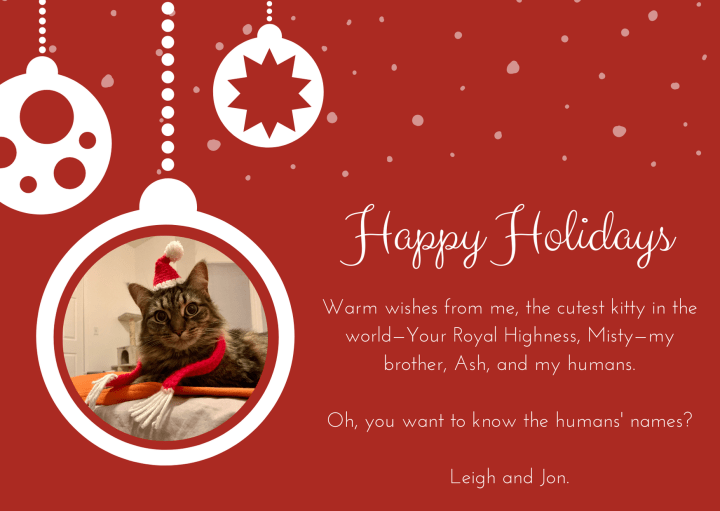 I wish I could say that I planned all of this out. If I had, I'd probably have gotten better lighting set up! After making the most of doing some light editing on this spontaneous photo, I put together a card riddled with silly feline overlord jokes.
My grandmother was delighted when I set it to her. I told her that the hat fit Misty very purrfectly. In my grandmother's exact words, "You made better use for the hat and scarf than for a bottle of wine!"
Sadly, the store does end there. I sent out my silly Christmas card as an ecard; while I love the thoughtfulness and the delightful nostalgia of paper cards, I wanted to take the environmentally responsible path. Though truth be told, I'm also a procrastiantor and didn't leave quite enough time to rely on the good old snail mail system.
My grandmother and Misty are the real hereos of this story. It might be full of puns, cat humor, and some slapstick graphic design, but it's really thanks to my grandmother's creativity and Misty's patience that this holiday card came to be.

Leigh Fisher
I'm from Neptune. No, not the farthest planet from the sun, but from Neptune, New Jersey. I'm a writer, poet, blogger, and an Oxford comma enthusiast. I go by @SleeplessAuthor on Twitter and @SleeplessAuthoress on Instagram.
See all posts by Leigh Fisher →