Bauer Power
Our little fur monkey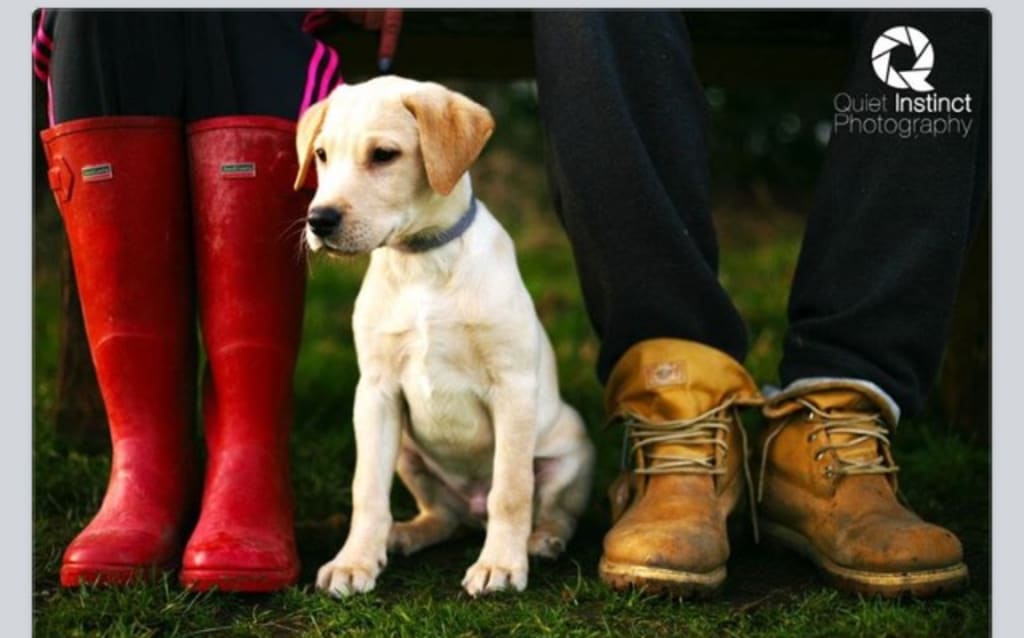 My favourite picture credit to quiet instinct photography
Bauer was born in October 2014, although he had a name and a personality for the two years prior to this. My husband and I would go for long walks, and turn to each other to point out how much Bauer would enjoy this walk. When you loose a beloved pet you go one of two ways, you have to have another straight away or you can't face the thought of another animal replacing them. Neither is right nor wrong, they are simply different.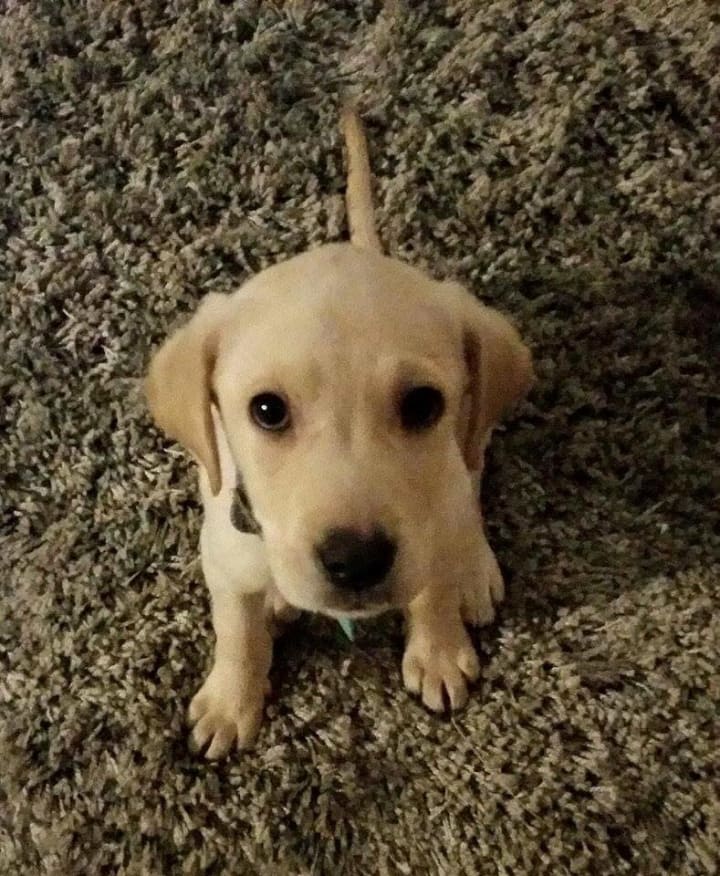 In 2014, it was time, and Bauer entered our lives. Named after Jack Bauer (Kiefer Sutherland's character in 24.) Even though I wanted and longed for him so much I struggled to bond with him straight away as felt I was betraying my lost pet. At four months old he slipped into a pond on a frosty walk.
He starts to scream, and squeal, as though we are attempting to drown the golden Labrador puppy. A puppy whose brothers and sisters were all taken on by the guide dogs for the blind to enter training becoming guide dogs. I scoop him from the water and wrap him in a towel, his little quivering body and racing heart against my own, we became inseparable from this moment on.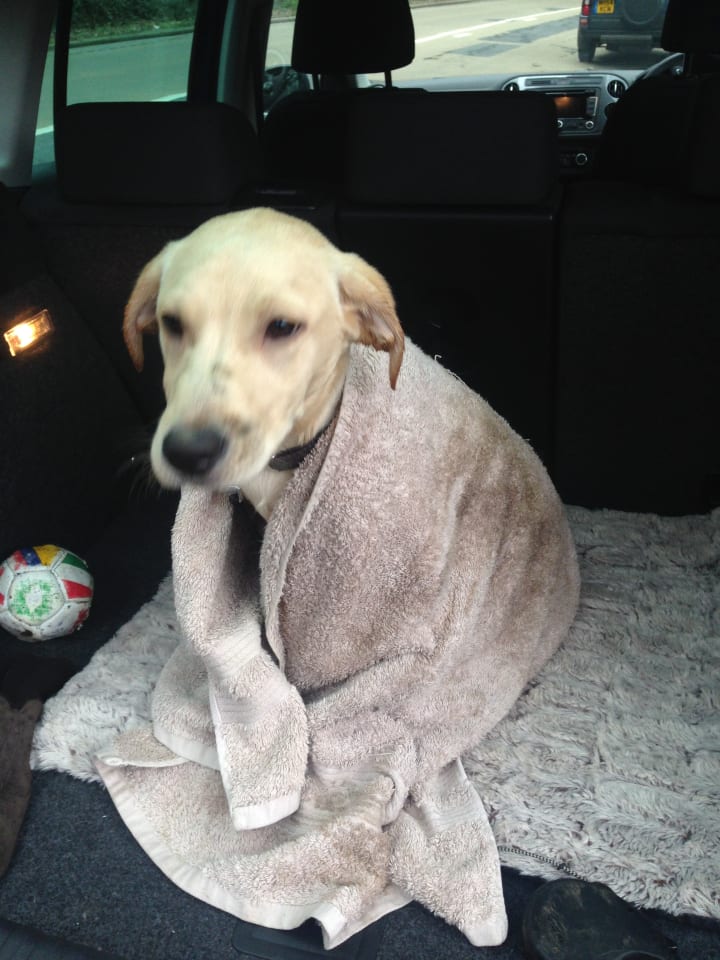 I was jealous of my husband, being self-employed he worked from home and spent every waking moment with B. The pandemic arrived, and I was sent home never to return to an office. All my Christmas's came at once.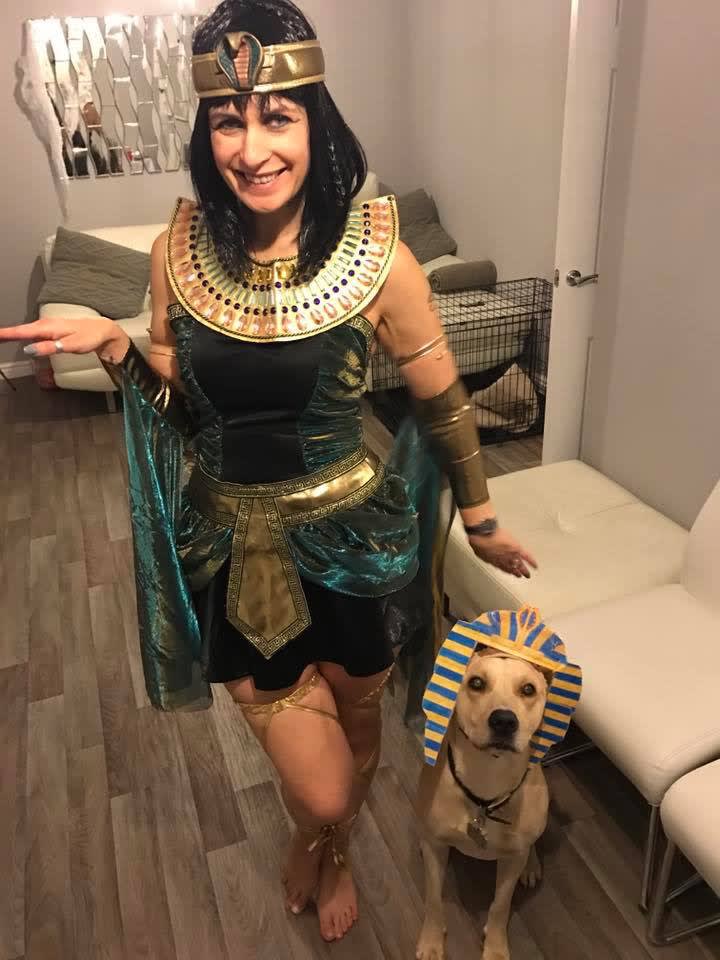 I received the gift of time to go for a run every morning with B. Living on the edge of the Peak District we would take our 'wander' walks every lunchtime, whereby we followed our noses and explored parts of the beautiful countryside we have never seen before.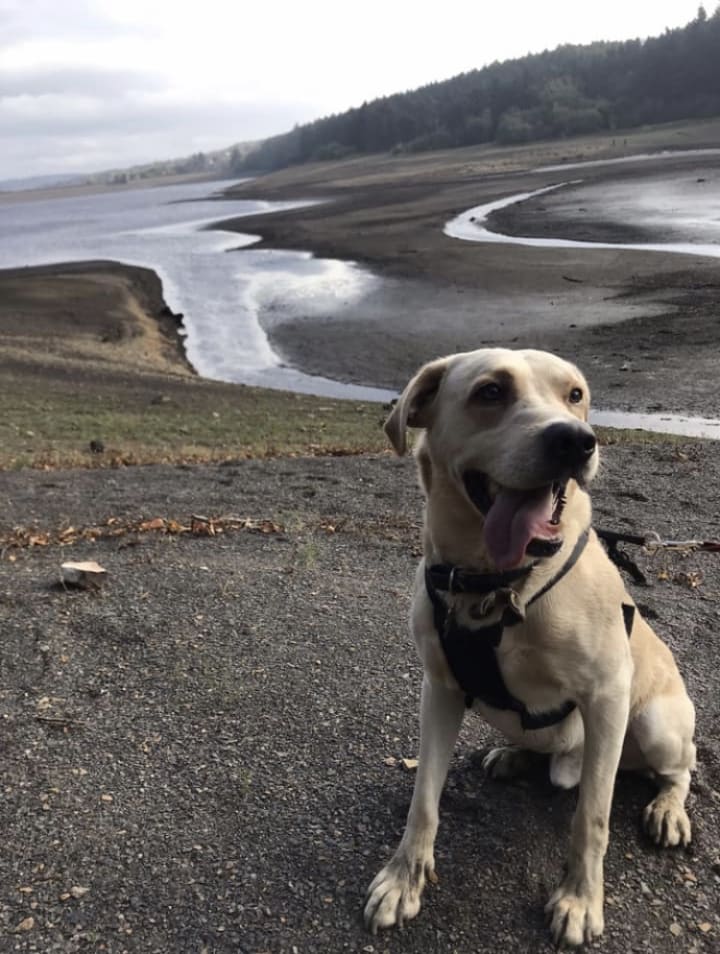 From an early age B, having recovered from his initial horror of his frosty dip, has loved to swim. He draws quite the crowd as he takes running leaps off the banks of rivers and reservoirs with a massive grin on his chops, and no fear. I had enough fear for both of us.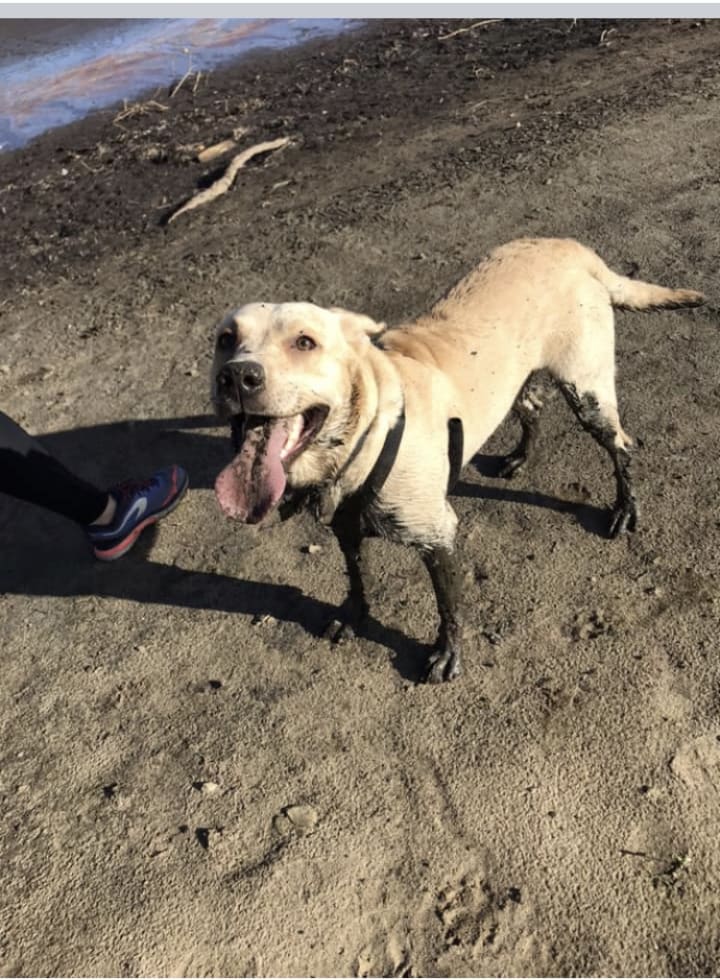 I've read many a story of people drowning saving their dogs who got in to difficulty, and did not want to add my name to the list of statistics. Beyond a shadow of a doubt I would dive in to rescue him, with no fear for my safety, should the need arise.
Watching him with envy as he leaps into any and every body of water I start to research wild swimming and a dream starts to bloom, a dream of swimming with my dog. Yes, I potentially can hire a swimming pool and go with him, not what I have in mind. We want the freedom of nature not a concrete slab. Well, I do, B isn't being vocal on the subject, with him being a dog and all.
At six and a half, opportunity comes knocking. Not having a foreign holiday for 18 months we are blessed with a solid week of tropical temperatures, and in a double stroke of luck this coincides with a trip to North Wales to visit my parents. Laying on the golden sands looking out to the sea I throw all my inhibitions to the kerb and strip down to my bikini, something unheard-of in the UK. I ignore people watching me and run to the sea with B. Throwing his ball in and racing him to fetch the toy.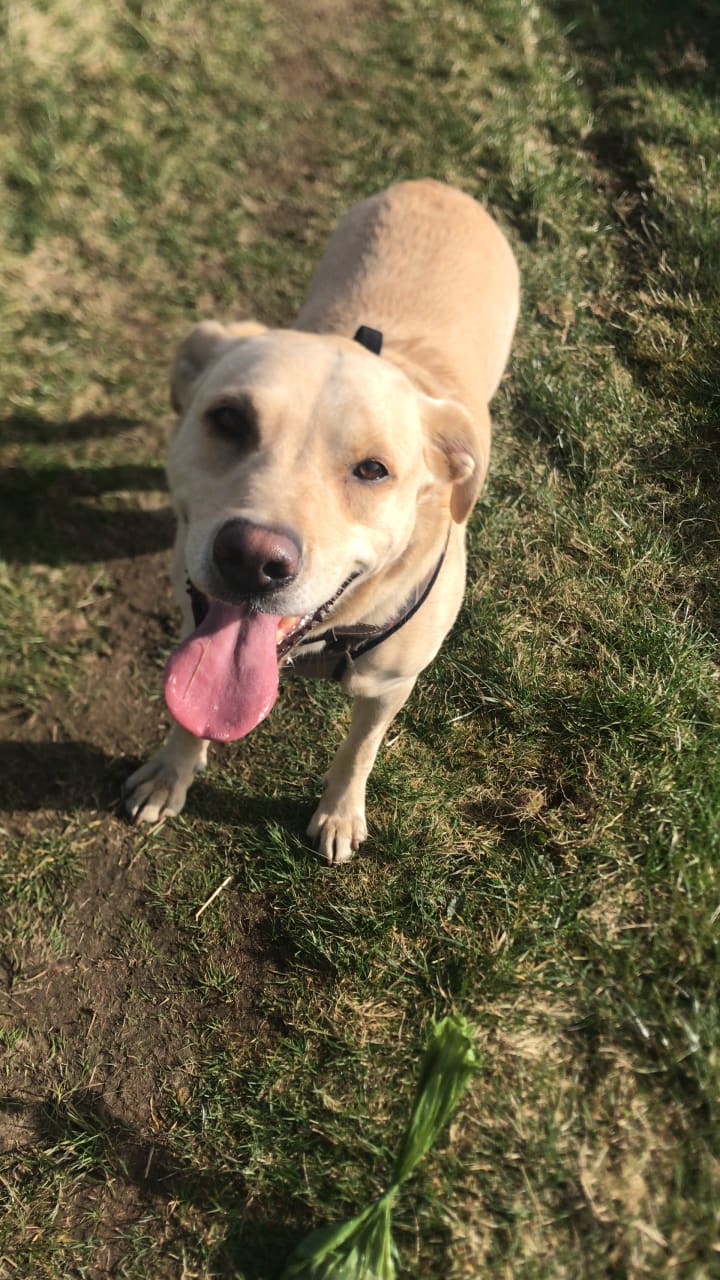 What I am unaware of, and have not researched is how dogs, especially Labradors, swim with their claws ploughing through the water. Add this to the fact B thinks I'm drowning not swimming, and is trying to rescue me. I exit the water like I've been for a dip with Freddie Kruger. The antagonist of the situation bounding along beside me with an inane grin across his face as though he is rather pleased with his contribution to dog rescues at sea.
Obviously I see the funny side of this, and we spend the rest of the day playing fetch, jumping waves and generally goofing around in the sand, surf and more importantly sun. The humans begin to become unable to ignore the growling of their stomachs any longer, and we wander around to find somewhere which is soggy doggy friendly and serves delicious food.
We hit the jackpot with a sophisticated restaurant with an exceptional decked area out front, with tables, comfortable chairs, cushions and blankets. An ideal spot for watching the sun sink into the sea while indulging in everyone's favourite habit--people watching.
We ask the Maître'd if dogs are welcome, and he finds us a lovely table. Here lies my second mistake of the day, in my enthusiasm of us finding somewhere. The restaurant is stylish, sophisticated and allows dogs. I make a bee-line for my seat, and we become engrossed in their extensive menu.
A couple not too far away are having a romantic meal and are gazing lovingly into each others eyes, clear they are on a first date. I prod my husbands foot and reach for his hand, we share a grin. The waiter leaves our drinks, and turns away. My grin turns to a look of horror, similar to the look one has when a dog is swimming towards them, claws coming at you like Cleopatra, (if you know, you know.)
No, this was much, much worse. In my enthusiasm I hadn't thought to check if Mr Bauer required a toilet visit before ensconcing ourselves in this lap of luxury. In his defence, he is outside, on a decked area doing thankfully not a number two.
However, the gooey eyed love birds a few tables away, were about to witness her handbag float away. Apparently a small swimming pool of water he consumed, after we left the beach to rid himself of the salty, sandy taste in his mouth, was being gifted to the restaurant.
Don't judge me, he's never done anything like this before. I was completely humiliated, here I was thinking my arms looking like I'd had a heavy bout of self harm was embarrassing, how little did I know. We can assume this is not the first time this has happened as the Maître d' is on it with an oversize window squeegee which a window cleaner would use, but on a long broom pole. He sweeps the offending--liquid away, with the grace of a conductor at a symphony orchestra directing his violinists.
The deck is disinfected, the love birds relocated. Every dog owner assures us not to worry, this happens all the time. Before we have time to register what a healthy tip we are going to leave to apologise, and hope this doesn't mean dogs are barred from dining here in the future. The description here is not showering Bauer with glory. The clumsy swimming is on me for not thinking to research as is the--accident at the restaurant.
Suffice to say we had a lovely meal and a cute, funny tale to share with all our friends about the dangers of a beach day. We should all be thankful the UK weather doesn't encourage this behaviour often.
In December, we were fortunate to manage a week away for my birthday on the stunning Cornish coastline only a 15-mile drive from Landsend. Such incredible scenery and considering the time of year we are more than fortunate with the weather. Well, we are until my husband points this out on our last but one day, low and behold the heavens open and continue for the full day. Ignoring this little hiccup the skies are beautiful and blue, with white wispy cotton candy clouds being blown with the force of a gale, certainly blowing our cobwebs away.
December in the UK is cold, especially with the wind being so fierce on the coast, however my sensible thermal long johns, which are my best investment of the year and I'm not ashamed to admit this. We climb up a steep carved stone staircase, the granite boulders carved from the rock itself, whether this is by man or nature I cannot say.
I am a little nervous on this walk, once we are on the cliff top, the wind is strong. There are some steep rises, and falls along with sheer drops with no warning in some parts of the trail. Bauer is attached to my waist lead, filling me with terror occasionally as his over enthusiasm to explore make my life flash before my eyes.
Eventually we arrive at one of the most beautiful sandy coves I have every seen. The colour of the sea from turquoise to emerald and everything in between. Understandably Bauer is keen to be released even in the cold, I oblige by unhooking him. No I am not tempted to join him. A family of three admiring the scene explain how sometimes seals swim in the cove, and with this one appears, quite far out. A tiny dot of black.
I squeal, having never seen a wild seal in the UK before, I'm not the only one. Bauer bounds into the waves thinking he's an extra in Bay watch, powering against the waves crashing into the cove and heading for the seal. If only he were to talk. I wonder does he think he's swimming towards a black Labrador? The seal, now joined by another friend who is nearer the shore line appears to be watching us, and Bauer's progress towards him.
After splashing around for a while Bauer comes back and the seals go on their way as we do. Another awesome story for the pub as I tell the barman how Bauer has achieved one of his life goals swimming with a wild seal. The guy proceeds to tell me how he's scared of seals as they can be vicious, my eyes almost pop out of my head.
Here I am kicking myself for missing their photo opportunity never did I imagine a cute seal can be vicious. After this I decide I need to have a stern talk with myself about my trusting nature, and assumption everything is all sunshine and roses. Apparently there is a darker side to cute animals, be this Labrador paws or seals teeth.
dog
About the author
The Order, SJ's NA series is coming soon.
If u like what u have read please subscribe & leave a heart.
You can follow SJ on
Twitter
https://twitter.com/SJ_Covey
Facebook https://www.facebook.com/SJCoveyAuthor
sjcovey.com
Reader insights
Outstanding
Excellent work. Looking forward to reading more!
Top insights
Easy to read and follow

Well-structured & engaging content

Excellent storytelling

Original narrative & well developed characters

Heartfelt and relatable

The story invoked strong personal emotions
Add your insights