Bad Dog CRAP (Not what you are thinking!)
Scam Warning - Police warn that The Bad Dogs are running a new scam....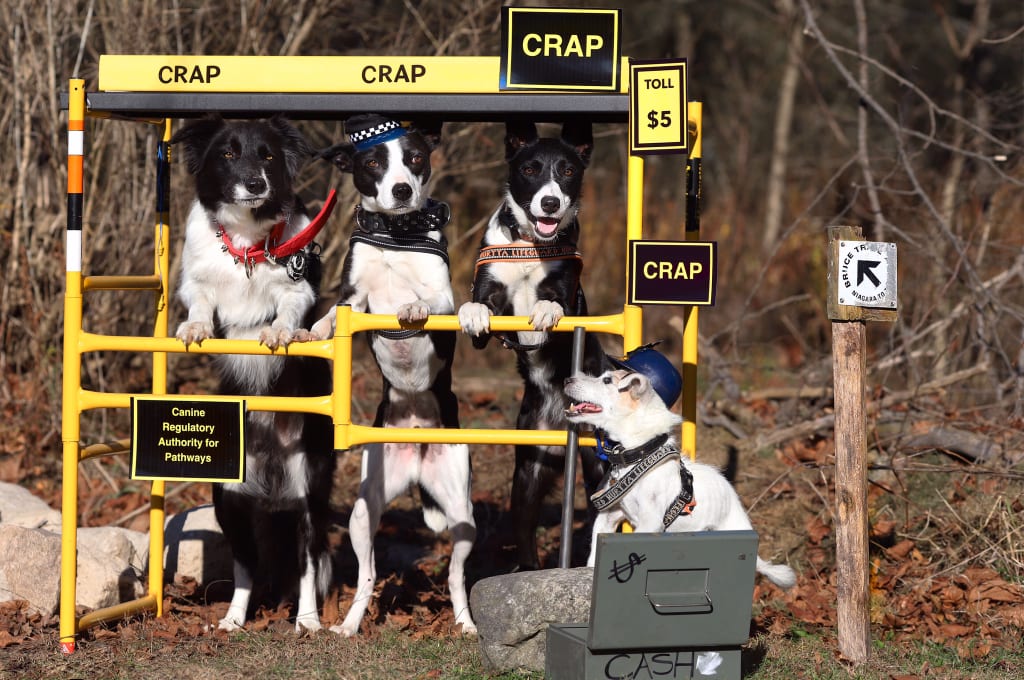 BAD DOGS: CANINE REGULATORY AUTHORITY for PATHWAYS (CRAP)
Is it a disorder? The fact that I have too many hobbies? What can I say? I'm easily motivated.
I admit that it's hard to fit in so many hobbies. So what's the solution? Well, combine a few of them. How can you combine dog training, woodworking and photography you might ask? And where do scissors fit in? It's easy if you are just a little bit crazy. And, yes, some might say more than a little.
Let me go back a bit. How did my obsession start? It all began with a 9" Jack Russell Terrier named Del and an idea for a picture. I was going to capture this great photo of a dog eliminating on a No Dogs Allowed Sign. I had no trouble finding suitable signs. But the photo composition was all wrong for a 9" high dog. So it was time to make a sign. And then, of course, I have the dog but I need him to eliminate on the sign. Or look like he is. So I teach him a new command; "what do you do with a fire hydrant Del?" And that's how the first BAD DOG photo came to be. Along with Del's new name DELinquent).
So now I'm just a bit addicted to the thought. What about the BAD DOGs doing some graffiti? Time to bring in Newman Bing, my Parson Russell Terrier. The hardest part of this one was hunting down water-based spray paint. I don't want to break the law. Even for a photo. LOL. At least not yet in my craziness. I'm still new to this addiction. I'm a little nervous to go spray a wall in public even with my water-based paint. So I seek out a less populated spot. I discover an old drainage wall behind some industries. It's not totally isolated. Lots of old graffiti and beer cans, etc. So now I'm not likely to have the public staring at me or the cops pulling over to see what I'm up to. But I'm out here in an isolated area with my expensive camera and two very un-intimidating dogs. Time to move quickly. But I get my shot. One of my favorites. (p.s. I did go back. Just to check. The paint was truly water-based. The graffiti that's still on the wall was there when I got there. I swear.
I'm now truly addicted. BAD DOG protests. Bad Dogs going through the supermarket express line with more than 8 items. Bad dogs stealing Cookies and Milk from Santa, Income tax fraud, defacing a snowman. Of course, my young Border Collie, Thorpe, is soon corrupted by the Bad Dogs. He starts pretty innocently with a slingshot, pulling fire alarms, etc. but it's not long till he's big-time as well.
I never actually got arrested. Before long I'm used to the strange looks. I'm much bolder. I don't hesitate to put out traffic cones to section off space in a strip mall for a photo. My target - an unused storefront to which I apply my homemade signs and decals. To mock it up as a "sex shop". DIY sex shop in 10 easy steps. I just keep working and ignore the stares from people. I bring out the giant box - with homemade labels for the inflatable dog. At this point, I'm approached to see what I'm doing. There's a daycare next door. They are not sure if they should be calling the police about a strange person. I explain what I am doing. Yes, I am strange. But not in the way she thought. I quickly pull out the iPad to show the type of photos I take. I'm safe. She leaves with a chuckle. I've learned. Always carry the iPad!! It's not the only time I've been questioned. I'm off topic. Back to the Adults Only shop. It's time for the dog. DELinquent stands upright on two legs, paws on the box. The box is rigged to be off the ground. In such a way so it will look like he's carrying it out of the store.
In all the photos DEL is the kingpin. Thorpe is the apparently innocent tag along. Poor Thorpe - succumbing to peer pressure. The BERK is just cool. Texas 2-10-4, a Border Collie is the newest addition. The only female of the gang. Newman-Bing is the clown. He is the least trained of my dogs. (But the most heart). So he doesn't handle the tough behavior. No holding the spray can for him when there's graffiti to do. But he's always more than happy to be the butt of the joke. And Newman-Bing's fondness for food is always a success. Like the stolen MacDonald's hamburgers. I've got a long lens. So I'm not really in sight. I have Newman-Bing sit with the burgers just inside the outer doors of the MacDonalds. When the doors open he's on it. Running with the bag through the door. So the photo looks like he's stealing the burgers. A few stunned people are approaching the door. They seem surprised to see a dog coming out unaccompanied by anyone. And possibly to see him carrying a take-out order.
You might be wondering "what the heck does this have to do with scissors?" Has she got the right challenge? Depending on what crazy shot I want to do there's a pretty large range of materials - fish tank, bow and arrow, costumes, tables, sports equipment, etc. And lots of customized signs to fit the photo. Building the large Aframe in my house to support the New Years' Eve ''ball" complete with winch for lowering that ball means the use of a drill, saw, etc. But there are a couple of standards. Duct tape for sure. But signs, costumes, logos, etc. always mean scissors. The Bad Dogs don't put up with signs or props that don't look good. They have standards! So a good pair of scissors is a must for every shot.
You might be wondering - "has she never heard of photoshop". Why would anyone spend hours building a rigged-up catapult in their backyard? Then more time still training each dog what position they should be in and where to look? Yes - I could just photoshop. Not spend hours figuring out how to rig up a "set" and train the dogs just to spend 30 seconds clicking that shutter. But where's the challenge in that???
The photo is one example of the Bad Dog album. It has special meaning for me because it's the last one before I lost Del at 14 years old. In it left to right are Thorpe, The BERK, Texas 2-10-4 and DELinquent.
**SCAM WARNING!**
I hope no one has unwittingly fallen for this scam and paid money to these criminals! My bad dogs have been setting up tollbooth's on popular trails - pretending to be trail officials. Charging tolls to walk the trails. "CANINE REGULATORY AUTHORITY for PATHWAYS".
What a load of... well .... CRAP!