Babe, Meet My Neurotic Dog!
Meeting, and adopting, my fiancé's family dog
I am a engaged mother with a son and three pets. Two of them are male cats named Felix and , and my fiancé's dog, Freckles, who is the subject of this story.
A​bout two years ago, my fiancé, Hunter, and I began physically dating after he returned home from his time in the Marines (before his return, we were in a long distance relationship). After about three months, we moved in together in an apartment with my son. He'd talked about adopting a dog, because he's an animal lover and missed the companionship of having a dog around. As an animal lover myself, I agreed, and we began searching for a shelter dog that would not fit with our family lifestyle, but also meet our apartment guidelines.
I​t was tough looking for a dog to adopt, and we were almost able to adopt one from a shelter outside of our town, but there were issues with the owner of the shelter, and the adoption wasn't able to follow through. This broke our hearts, my fiancé's because he wanted to adopt the dog.
H​o, during a visit at his parent's house, I met their cute dogs, Tater, Spud, and Russell, a trio of Pomeranian/Rat Terrier dogs. After greeting them, Hunter lead me to a room with an open closet. A low growl emanated from within the depths of the shadowy closet. Hunter rolled his eyes and said, "Freckles, it's me!"
S​lowly, she emerged from the closet, snorting and wiggling her tail. She was a small, but roundish white dog with black freckles on her body. She was happy to see him, but when she saw me, she began barking as if I were some invader. Later, Hunter told me a bit about her. Her mom was Tater, the Pomeranian/Rat mix from the trio and her dad was a dog named Duke, a Beagle/Pit mix. Freckles was among the second litter of puppies she had. Hunter explained that when she was , it felt like she had chosen him as her person. He had a rough time in school, and in way, he felt she could sense his loneliness. From that day , the two became close.
W​hen he came home from the Marines, watching them reunite was like watching one of those heartwarming videos where the dog sees its owner after not being together for a long time. After that day, he brought her home, casually telling his mom, "I'm taking my dog back!"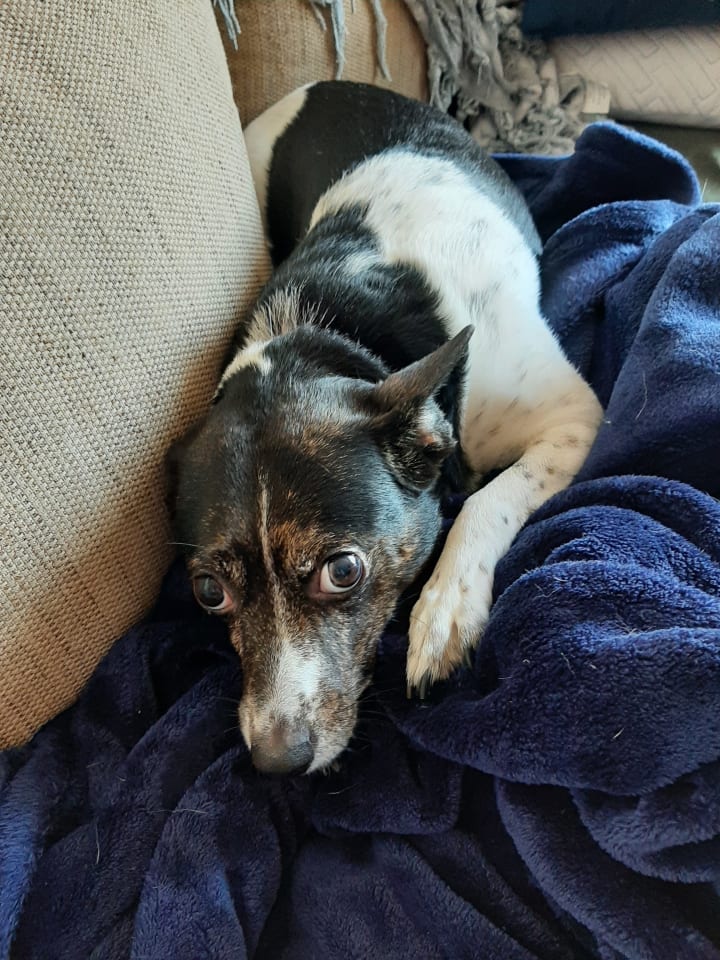 T​he first weeks were rough on her. Hunter described her as "a ball of anxiety", which made me more determined to befriend her. She let me pet her , but would go back to barking at me if I made a sudden move.
I was worried she didn't like me, until one day, when Hunter and I were play fighting, she came to my side and started barking, but not at me. She wanted in on the fight, but she was on my side, barking and growling at my fiancé to let me go.
It touched my heart to see her warming up to me! She was an important part of Hunter's life, and by extension, her approval of me meant as much as his. Now, we cuddle all the time. She likes to go on walks when the weather is nice, but almost everything makes her anxious.
D​ the 4th of July or a bad thunderstorm, she'll come to me, tail tucked between her legs and curl into me. As a way of comforting her, I'll either throw a blanket over her and hold her or wear one of my oversized hoodies and let her wiggle in close. I'll pet her and comfort her until the noise is .
I​t's crazy that over two years ago, she saw me as a threatening person, and now, she'll come to me more than my fiancé! 'd never gotten a chance to be close to a dog, not even my own family dogs, but with Freckles, it's as if we've bonded on an emotional level. 'm so blessed to have her in my life, and the human she came with.
About the Creator
M.N is a mother, cosplayer, nerd, and writer for CBR. She loves Marvel Comics and creating fiction. She hopes to inspire others with her stories and success.
Check out her work on CBR!
https://www.cbr.com/author/megan-negus/
Reader insights
Be the first to share your insights about this piece.
Add your insights