An Angel Puppy in Exchange for a Uterus: You Got a Deal GOD
How a mutt with a designer name saved my life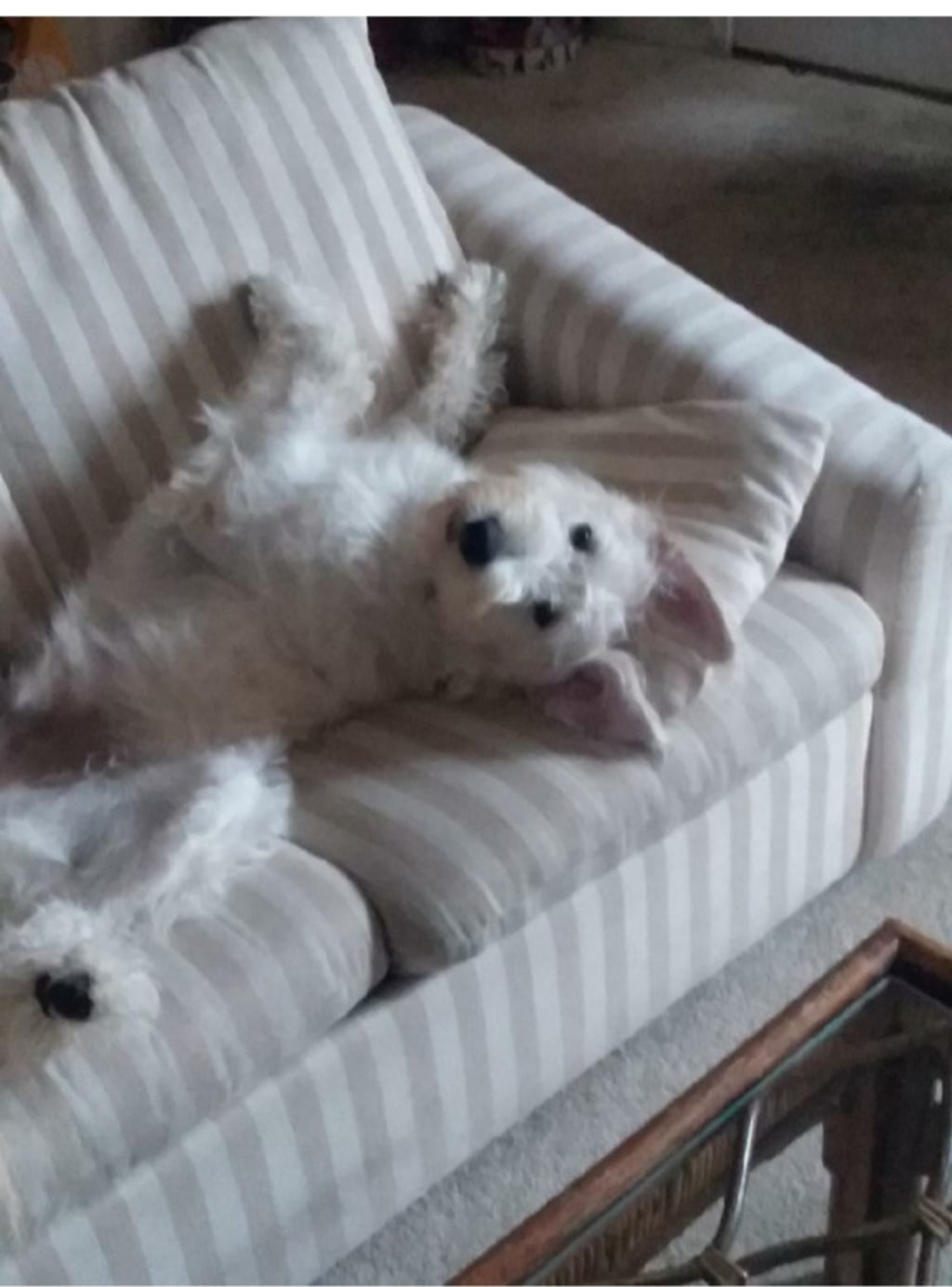 The 'consolation baby', Victor, at 8 months. He had saved my life at least five times already by the time of this picture.
The Day God Gave Me the Victor(y) I Never Expected and Probably Don't Deserve
I bought a first generation Labradoodle from a local farmer for $400, the VERY DAY I was released from the hospital following an emergency hysterectomy after a cancer diagnosis. I was 40 years old and childless because I had always figured that having a child would "just happen" for me one day, I guess. I had my fertility checked in my 20's during the first year of my marriage, but that was more out of simple curiosity, rather than some driving desire to have a baby as soon as possible. I had a clean bill of health, and I had never had a fibroid or polyp or anything out of the ordinary, so I figured it would eventually happen. But I also felt (or thought I did) okay with the idea that maybe it wouldn't happen, and I felt okay with that possibility too. I was already 40, but the feeling that my future was beautifully unknown, either way, kept me from ever actually mentally/emotionally confronting the topic of a child. I just didn't feel that strongly about the idea of being a mother, either way. But then, in one horrifying afternoon, a final decision on that topic was made for me. I went in for simple fibroid surgery on November 12, 2019, then 9 days later, on November 21, 2020, I'm being told by my OB-GYN of two years, who had flatly DENIED my request for an in-office endometrial biopsy months earlier, even dismissed my request that he do a simple CULTURE (which requires nothing more than half a minute of his time and a Q-tip, fyi, in case there are men reading this lol)... that my "fibroid" was actually a super rare form of Uterine Sarcoma and that I would need an immediate hysterectomy. The hysterectomy came on Wednesday December 11, 2019. On the morning of Friday, December 13th 2019, for the first time out of the 8 total days I had been brought a hospital breakfast tray, a pretty young woman in purple scrubs handed me that day's newspaper with the most genuine, and dazzling smile on her face that I had seen on any human being in what seemed like years to me. My spirit felt so pulverized that I didn't think I'd ever truly experience the joy that a simple kind smile from a stranger used to bring me, always right on time, though, the generously shared joy from a fellow human being is God's emergency anti-depressant, in my life's experience. But, I no longer even felt connected to my own spirit after the experience of the previous five months. It was an experience I can only describe as a feeling of being SHOVED onto a torturous journey of cancer by the cold and uncaring, incompetent little hands of a man who spent all of 3 minutes telling me about the extremely rare and aggressive Uterine Sarcoma that his lacking medical knowledge had insisted was simply a massive "fibroid" that had to be removed through a large C-section type incision because of the "highly unlikely" chance that it was a malignancy. HE told me that because of that "off-chance", it was vital that he had to remove the growth in one piece, because dissecting (also known as morcellating) a malignant uterine growth within the human body could release cancer cells throughout the entirety of that human body and there'd be no stopping it's spread in every direction. So, as much as I hate to admit to any form of vanity... 💅🏽lol, I reluctantly came to terms with the fact that I'd be losing one of the few perks of still being childless at 40... a smooth, shapely mid section. It's so ridiculous to think back when just a year ago my biggest concern was the hassle of rubbing cocoa butter on my belly day and night. I had no idea that I'd be nursing a far more deadly consequence than just my vanity in just 3 short weeks.
But that morning, December 13th 2019, I was dead center in the middle of a raging internal storm that I feared I may not survive. My mental and emotional state were far more worrisome than the cancer was for me at that moment. I wanted to die. And, all at once like a ton of bricks, after 40 years of having a somewhat casual, noncommittal desire for a baby, I felt that I would shrivel and die and without something to love and nurture and raise... A baby. Suddenly, I NEEDED a baby. I was so emotionally raw that initially I tried to talk myself out of these thoughts. It was having an extreme reaction to the trauma I was still currently in the midst of, and I just needed to go home, cry for a few weeks, then fix myself in the same ways that had worked throughout my life. Filling journals with crazy short stories based on my family full of hilarious country weirdos, and scrounging for the humor in tragedy with my little sister. We had that necessary life skill down to an art form. I HAD to just repeat to myself that I WAS going to be okay, like a mantra, like a meditative chant... but my gut, my heart, my spirit, felt clenched with terror at facing this new reality. I had no appetite that morning, but I perused through the classifieds looking for an affordable wooden dresser for the guest room. Nesting is supposed to soothe women, isn't it? I've never been all that good at being a proper woman. I didn't exactly know what I was doing as a little girl either, as a matter of fact lol. To this day, my girlfriends call me the oldest tomboy on earth lol. And apparently, it may take the maternal instincts of lifelong tomboys a little longer to kick in, but that sudden desperate need I felt for a baby to take care of did more than 'kick in', it kicked me HARD, square in the gut, and the heart, and the neck. It was like I was mourning a child that had never even existed... Anyway, back to my half-heartedly perusing of that mornings Daily News... There in the old-fashioned classifieds was just ONE ad for a littler of Labradoodle puppies, 8 weeks old and ready for a Mama at the exact moment I was finally in need of a baby. I showed my sister immediately because not even 6 weeks prior, she and I had a conversation about a Labradoodle she had met and fell in love with his temperament. My husband and I had just lost our nearly 14-year old female German Shepherd, Egypt, in July 2018 and I mourned so intensely and for so long (even there in that hospital bed, I longed for my little girl) I swore I'd never get another dog. The pain was unbearable. As I'm discussing all these thoughts I'm having about calling the ad, right in the middle of our conversation, my sister looks over my left shoulder with wide eyes and a huge smile. I'm discussing how much I miss my baby Egypt, and she's SMILING at some doctor??! I give her a brief judgmental glare then turn to see what turned her into a smiley weirdo, and I almost couldn't believe who I saw standing very still, half in and half out of my hospital room door, but a big, beautiful, golden brown Labradoodle! Turns out, Toby (I immediately asked him his name, favorite color, and told him how handsome he was... couldn't help myself lol), visited the cancer wing once a week as an Emotional Support Dog! But, just like the newspaper, it was a first for me, both on my eighth and final day as an inpatient! My sister and I embraced while Toby's gentle eyes gazed up at us, probably alarmed by the tears streaming down our cheeks. I had to praise God loudly and enthusiastically. He practically placed a perfect baby boy in my lap. And just in case I was to consumed by grief to recognize that God's love would protect me from myself, he knocked me upside the head and told me to snap out of it and go get my baby. I told the owner of the pup's mother that I didn't care what color he was, I just wanted a boy. I so loved Egypt and I never wanted to compare them, so I made sure they're about as different as could be. She was a jet black, pure-breed German Shepherd, and he is the blondest puppy I've ever seen. With adorable curls and a spirit so full of joy, tail-wagging, smiling, and happiness, that it's impossible not to become intoxicated by the pure innocence of his joy just to be alive.
I KNOW Victor (kinda a weird name for a little puppy, but it was symbolic, you see? HE'S MY Victor. My Big Win. My champion. My savior in so many ways.), was brought to me by God's Grace. Those were more than just little signs that I was supposed to get him. They were a series of miracles. Einstein said, "Coincidence is God's way of remaining anonymous." Einstein saw the world so differently, I dare say, so magically. I feel blessed to have finally understood at least ONE of Einstein's theories lol. This now 13 month old little boy IS THE PERFECT BABY! He's adorable, tries to be good (sometimes), sleeps through the night, 8 solid hours... I praise God for the angel he sent into my life before I had time to recall how much hard (and sometimes gross) work goes into properly raising a puppy. Especially an intensely high-energy pup like Victor. I feel overwhelmed by reminders that I haven't trained a puppy since I was a 25 year old knucklehead with something to prove to my dog-trainer father. That feels like two lifetimes ago. Now, I'm a fatherless 41 year old woman, suddenly being attacked by an unfightable cancer that doesn't leave much time to prepare Victor for a world that will expect him to behave as an adult dog, as huge as he's been ever since he was 4 months old... My puppy, Victor, deserves so much more than a sick admirer. I'm still amazed at his naturally-acquired considerateness and his seemingly polite request for a treat he already knows is for him (Except for his attempts to wrestle without warning that have knocked me off the couch... I tell him 'no' with force, I bop him on the nose with a paper towel roll, he pulls his head back, squints his eyes, sits down and is legitimately 'pretending' to care what I think. I pop him, then stay angry lady for 5 or 10 minutes... But it's like he SENSES when I'm about to stop trying not to stare at his cute ass, because his tail is wagging before I even crack a grin.
I'm so thankful to say that my most recent scans, on November 5th 2020 showed no signs of metastasis. I still feel almost like my old self most days. I just wasn't prepared for the extreme fatigue I experience from even the shortest of walks with Victor. I spent every dime I had (and every dime to come until May 2021) to send him to a two-week Board & Train, JUST so I could manage him on a walk. He just got back last Friday. Prior to going, he injured me pretty severely twice just by pulling and once by darting unexpectantly after a squirrel I didn't notice in time lol. I nearly lost my right foot. As much as I know that Victor is a miracle God gifted to me to save my life, I often have to fight the guilt I feel at not being physically strong enough to be a miracle gift for Victor, as he is for me. He so deserves long walks, rambunctious romps through the trails and creeks that Egypt used to love, daily dog park visits (well, THAT one's Covid's fault. But it still saddens me that he's not getting the same type of puppyhood that we were able to provide for Egypt.). He saves my life DAILY. He deserves everything good this world has to offer. Unfortunately, this body of mine is long past it's prime and the only thing I can reliably provide my little pride and joy is love. And constant reminders that I'd have no pride, I'd have no joy without the Amazing special appearance of Victor in this hope-starved woman's life right at the final buzzer. I'm so in love. Love can save this world. Only love, I believe. Even if it means saving just one person at a time. It's the saving grace of humanity. It took a puppy and his ability to love with a reckless abandon that restored my faith in humanity. He healed me enought to forgive that doctor that so casually cut my life span in half. I NEVER thought I would say that, or even write that down just now, a year ago. I was consumed with the type of all comsumming rage and hopelessness that allow soldiers to run straight into the arms of death. Dogs are magic, my friends. Now I just need to hire a youngin to exercise my magical bundle of hope and joy before all his magic drives me up a wall... LOL.
Maybe I'll start a GoFundMe to hire a hyper active teenager to take him on daily adventures! Boom. Dog Mom of the year! 😂👌🏽
Thank you so much to anyone who took the time to read this wordy love letter to my best friend! Everyone cling tightly to whoever, whatever, wherever, brings even the slightest joy to your spirit. Cherish it, savor it. And you'll all be in my prayers. Stay safe, my fellow word-nerds! We just have to wait it out a few months longer, then we can start sneezing dramatically in public again... Can't wait.