American Robin
The universe provides our answers in nature if we pay close enough attention through spiritual beings who visit only us.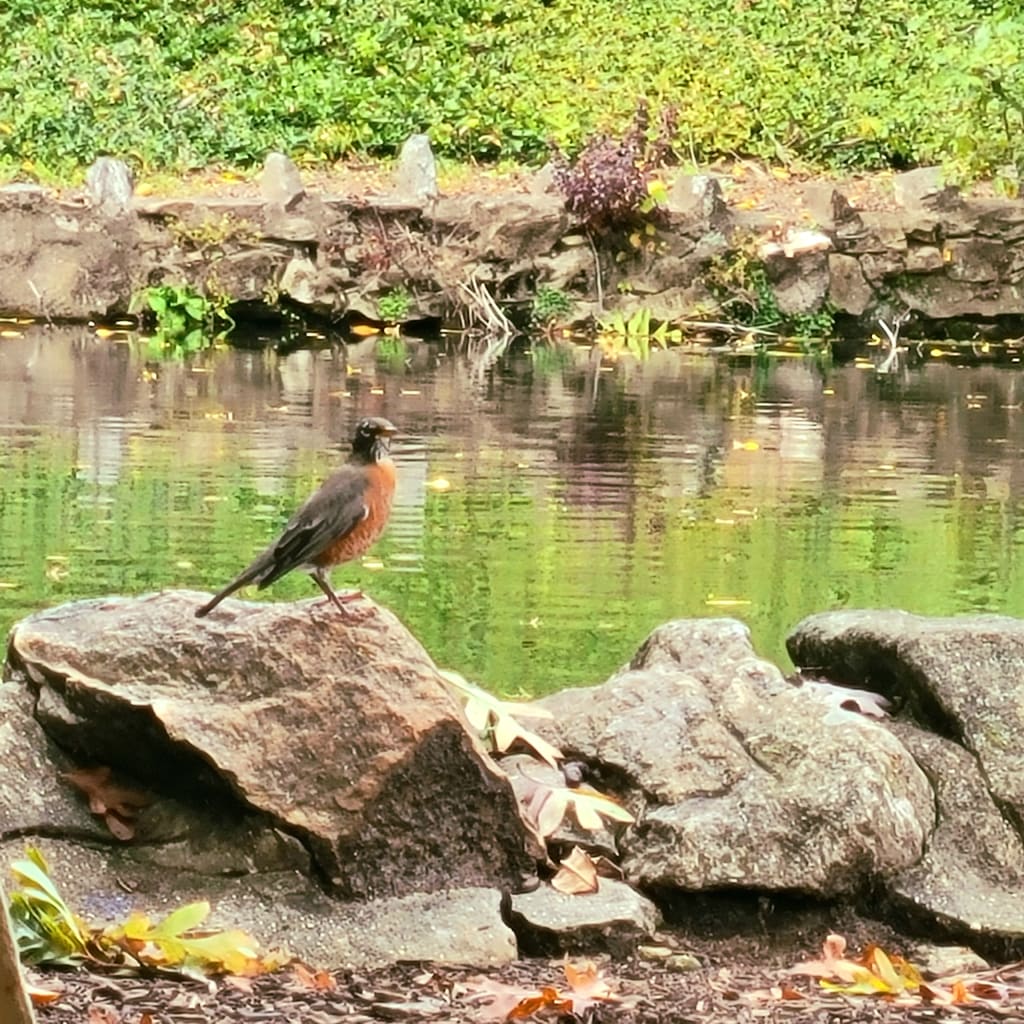 Abington, PA. September, 2020.
A sunny fall day presented itself, and I set out to take advantage of this by engaging in my studies on campus. The exact time I spotted the majestic creature and eagerly snapped this photo was 2:48 pm, but I was not expecting a visit, I was only looking forward to accomplishing my set goals for the day.
As I opened my school bag and pulled my notebooks and my laptop out, this lovely American Robin swooped down right in front of me and perches itself as seen in the picture. I observed it, captivated by it's grace and it's presence.
As I watched my friend, he payed no mind for he was searching for a treat, and I wished I had one to give. Or at least that's what I thought, but then I realized I was the only one to see the little guy. There was people all around, yet I was the only one who seemed to notice in the first place.
Soon enough, he flew away and I continued on with my studies, not thinking too much into the moment and the connection that we just had.
Later in the evening, as I reflected upon my day, I realized that there was something very significant about the moment that I had with the Robin. I searched my mind for an answer, although I did not want to overthink but I do not believe in coincidence. I gazed at the picture, until it came to me and I realized that I had seen this Robin times before.
I had seen this Robin in the back of my house one day. I remember that day distinctively because I was having a rough one, and I went onto the porch to clear my head. My friend, again, swooped down right in birds-eye view on a tree in my neighbor's yard, adjacent to mine. In my neighbor's yard, there is a bird feeder that hangs from a slim tree and I usually see the house sparrow and the pigeon swoop down in search of food.... but never have I seen a Robin. Even still, you had not come in search of food because you did not approach the feeder. At that moment I realized that you were in search of me.
I had seen 'Robin' again in my local park, 'Hyde Park'. It was a beautiful spring evening and I had thought to go on a walk in search of tranquility. As I walked, my attention focused on an opening in the cut near the pond located in the park. My curiosity guided me and I found myself on a flat rock close to the water, with long trees peering over me and the sun just behind them. As I looked up into the sky, soaking up the sun, this little Robin had found me again! For he had swooped right down in front of me braver than ever and pumped his bring orange chest out. Yet I had not dialed in on him who was saying "Look at me".
As if living in a dream, once again I was on campus walking to class. This time, I had no interest in my surroundings, I was peering down into my phone as I shuffled to this class. This time, 'Robin' was of abundance and he was shouting to me to pay attention to him. This time, he and his friends had made it clear that they were there for me. As I passed by a group of bushes on campus that hides the pond but leads the way to the next building where my class was, I was greeted by all of them. Flapping, and shuffling of the bushed filled the air, and startled I looked up to see that there were many American Robins swarming around me and taking base in a tree above. I felt like I was snow-white at this moment, and this was the last experience that convinced me that these creatures are meaningful to me.
The American Robin: Your spiritual symbolic meaning is growth and renewal in terms of new beginnings that lead to joy!
With this, I wrote this Haiku to always remind me of you:
Glowing orange chest,
Numinous of growth and joy,
You greet me, then leave.