All I Have
A picture of my beautiful Daisy May.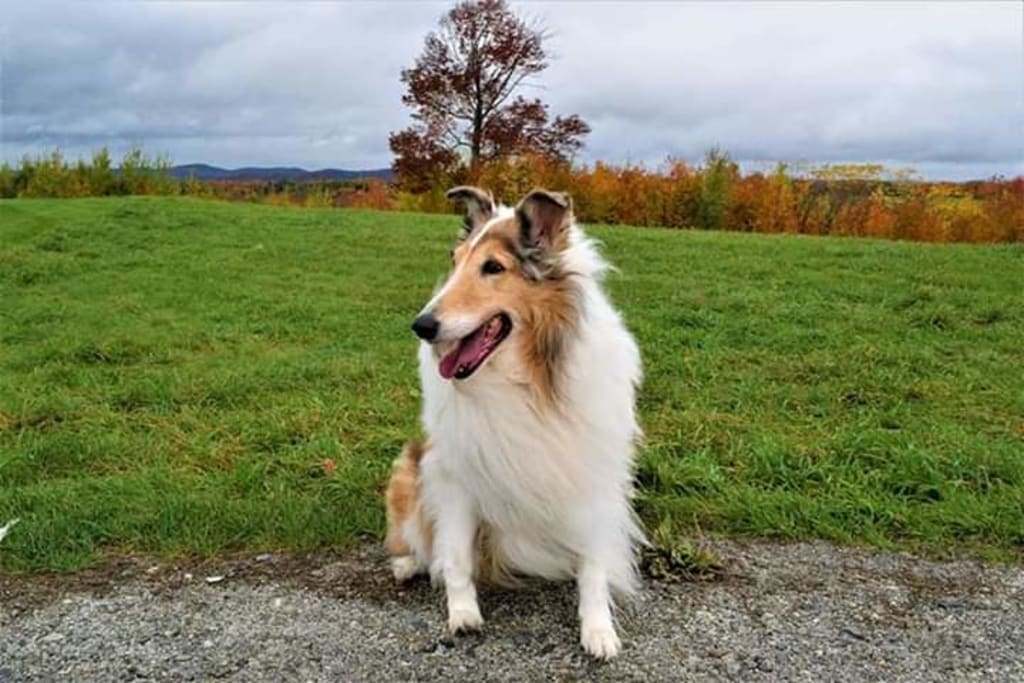 This is the last photograph I took of my beautiful Daisy May in her favorite place on earth, Vermont. I got Daisy from a breeder in Maine, where we lived out most of our lives. I met my now husband online in the Fall of 2015, and I moved to Vermont with Daisy in tow in June of 2016. She LOVED Vermont, almost as much as she loved listening to Reba McEntire on our car rides. She adored my husband from the start, and would rather cuddle up with him than me. My husband and I moved back to Maine in August of 2016...not the choice I really wanted, but he wanted to get out of Vermont. Every trip to see his folks we brought Daisy along, and all you had to say was, "Daisy wanna go to Vermont?" And that nine-year-old dog would become a puppy again. She would have this big grin all over her face the entire ride up there, and when it came time to go back to Maine she would hide behind my in-laws couch because she wanted to stay there. A couple months after this picture, Daisy jumped off the bed and started walking like she was drunk. I figured she had hurt her back or her hips. She had been fine all day. Daisy went outside and laid down in a snowbank, and refused to get up. My husband scooped her up in his arms and carried her to the car. We rushed her to the emergency clinic, and she laid down on their floor and refused to get up. They brought a cart out and we lifted her up onto the cart. My husband and I were brought into a room to give the history of why she was there. Daisy was wheeled out back of the clinic. A few minutes later a veterinarian came in and showed me a syringe full of blood and said that her spleen had a tumor on it that burst and she was internally bleeding. The veterinarian recommended euthanasia, because they could do surgery and blood transfusions and chemo, but she could be right back to where she is now in three months. I agreed with the veterinarian. Daisy has been too good of a dog to me over the years, and had helped me through some of the darkest times of my life. I couldn't let her suffer another minute. They brought us into a dimly lit room, and my husband and I sat on the floor with Daisy as the veterinarian administered the euthanasia solution. The last thing my beautiful Saisy May heard was me telling her to go to Vermont and be with her chickens that she loved so much. As soon as I said that I watched her peacefully take her last breath. My husband and I were devestated...she was our baby, and she was fine all day. Then at 5pm we are sitting on a vet clinic floor crying and saying goodbye to the most beautiful soul anyone could ever wish entered their life. RIP Daisy May 12/28/2008-11/23/2018❤️❤️❤️
Reader insights
Be the first to share your insights about this piece.
Add your insights