Adopting a Horse
It may not be as easy as you would expect.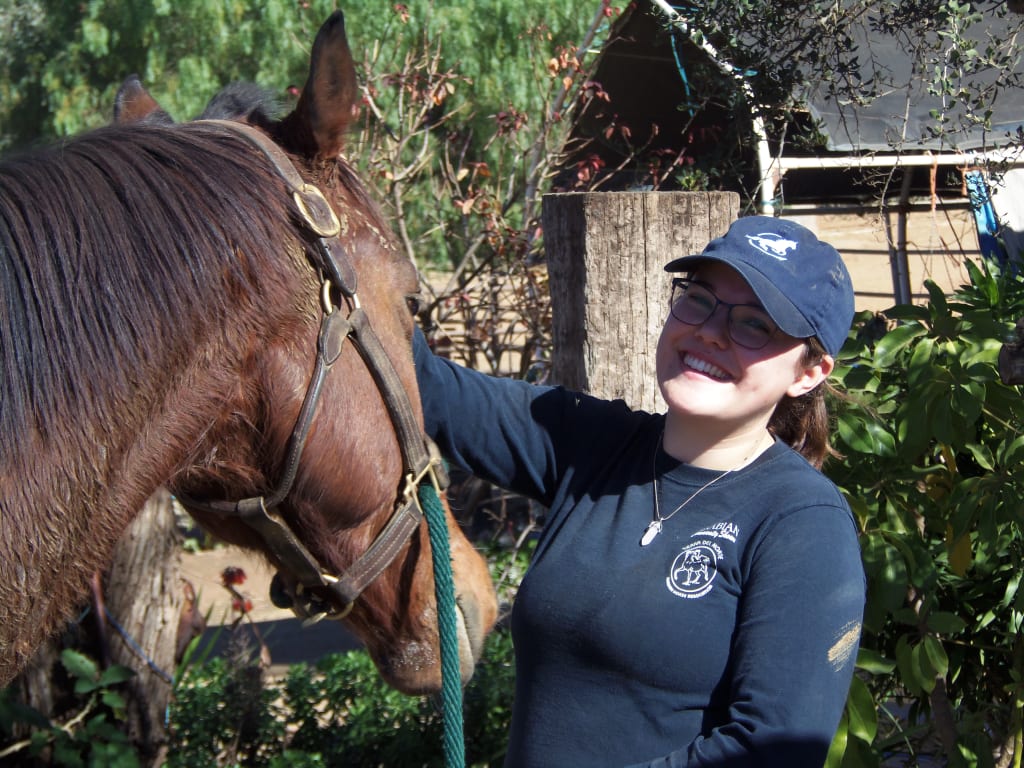 Aeon, the first horse I tried to adopt in my recent horse search
In the imaginary realm of my mind, adopting a horse was simple. Once you are deemed a suitable home, you pick out a horse that aligns with your skill level and take it home.
As it turns out, I could not have been more wrong.
It took me months to search through the rescue organizations in my area, find those which have a decent reputation, look through the horses listed for adoption, and choose one or two to look at. In the end, there were only two rescues in my area that had horses that appealed to me and did not have a clause in their adoption agreement that prevented the future sale of the horse. In the case that I did have to re-home my horse, I needed to be reimbursed for my time and not have the horse go back to a rescue for them to profit off of my efforts. Of course, this clause is very important in order to prevent the return of horses to auction and I am in no way opposed to it or the rescues that require it. In my case however, it was not a sensible option.
The first horse I went to look at was Aeon, an off-the-track thoroughbred located at Hoofs and Woofs Rescue. It is a smaller facility that took some Internet digging to find, with tons of dogs and older horses. There were actually three horses there that fit my requirements, but one had a suspensory injury and the other a bowed tendon. For that reason, I chose to only meet Aeon, since he was perfectly sound. It ended up being a 3-4 hour affair, from signing the liability waivers to lunging the horse, tacking up, lunging again, bathing, and feeding treats. Definitely not what I was expecting when I arrived! I was infatuated with the horse before I ever met him, and of course was ready to schedule a vet check. The owner suggested that I spend a bit more time with him before committing, which I of course agreed to. After a few days of waiting I attempted to schedule another meeting, at which point I realized that the owner was clearly blowing me off. First she was busy, then it was raining, and then she began questioning my intentions with the horse. I played along for a few weeks, then began to give up hope and look into other options. After about a month of delays, she finally told me that Aeon had to get a tooth pulled and would not be available until it grew back in.
While I spent much of the month incredible frustrated and emotional that I was losing this horse that my heart was firmly set on, I inevitably accepted that this woman had no desire to adopt her horses out, and my persistence was not going to change that fact. My previous notions of rescues being highly motivated to get rid of horses in order to take in more had been squashed with reality.
I have massive amounts of respect for anyone who devotes their life to rescuing horses in need and harbor no grudge against the owner or the rescue organization. It was a disappointing experience, but Aeon just wasn't the horse for me. So, I moved on.
Turning to the highest profile rescue in my area with tons of fantastic options for my next horse, I got in contact with HiCalibur Horse Rescue. Yes, THAT HiCalibur.
While I fully understand why they are such a controversial organization, I stand behind their efforts. In light of their recent shut down, I can attest that their facilities are overcrowded and the stalls aren't clean. The horses have tangled manes and bite marks from their neighbors. They aren't ridden regularly or equipped with fly masks, boots, and spray. However, they are fed. They have water. They are loved. When you consider where these horses may have ended up if HiCalibur had not snatched them up at auction, or where some of them came from, that is more than enough. They don't brag to be a high quality training and rehabilitation facility, they are a rescue that does everything they can to save the horses from the slaughterhouse or starvation. Every horse I met on that property was happy, loving, and well-fed. With the loss of this organization, we have lost some of Southern California's most dedicated equine welfare advocates, as well as the last stop before death for hundreds of horses. Everything they did was out of love and respect, and for that they should be applauded and not persecuted.
Aside from the controversy, I had fallen head over heels for a black thoroughbred gelding named Kovu. On the day I arrived, I was shown three different horses which fit my desires. I had a chance to lead, groom, lunge, and even ride the prospects. It was a very positive experience on my end, as it was an efficient process and they insisted on showing me as many horses as possible to ensure I was making the right decision. While the other horses I met were nice and could have been a decent match, I was, once again, madly in love. The little 4-year-old black thoroughbred had stolen my heart. I came out to ride him again a few weeks later and scheduled a vet check right away. Through circumstances out of anyone's control, he became lame minutes before the vet arrived and we decided to wait until he was sound once again. After a month of waiting for Kovu to heal, I had to accept that this injury was more than a funny step and I was forced to move on. It wasn't until my mother dragged me down to look at a horse listed online that I found my baby girl, Remi.
My guilt over not adopting a horse was assuaged 5 months later when I heard of HiCaliber's shutdown and I remembered the darling little 3-year-old thoroughbred that I had passed up on. She was still up for adoption, and I decided to take her on as a resale project. Since she was on their Name Your Price list, this was a decent solution to the fact that she needed more work than could be provided at the rescue. I was just as fond of her at this second meeting, even after meeting a few additional horses just to be sure she was "the one", and decided to call the vet out once again. Despite Savannah's rearing, striking, and general naughtiness we got a thorough enough exam that I felt comfortable taking her home. We even discovered that she is eight-years-old, not three! I showed up a few days later with a trailer and took my new horse home.
This was a simple and timely adoption, like those I had anticipated prior to my first experiences. The truth remains that the rescues want the best possible homes for their horses, and sometimes the process can take longer than one would expect. It may not be the easiest way to get your hands on a new equine partner, but the careful consideration is well worth the satisfaction of knowing that you helped save a life.