Adopt!
Show them what love is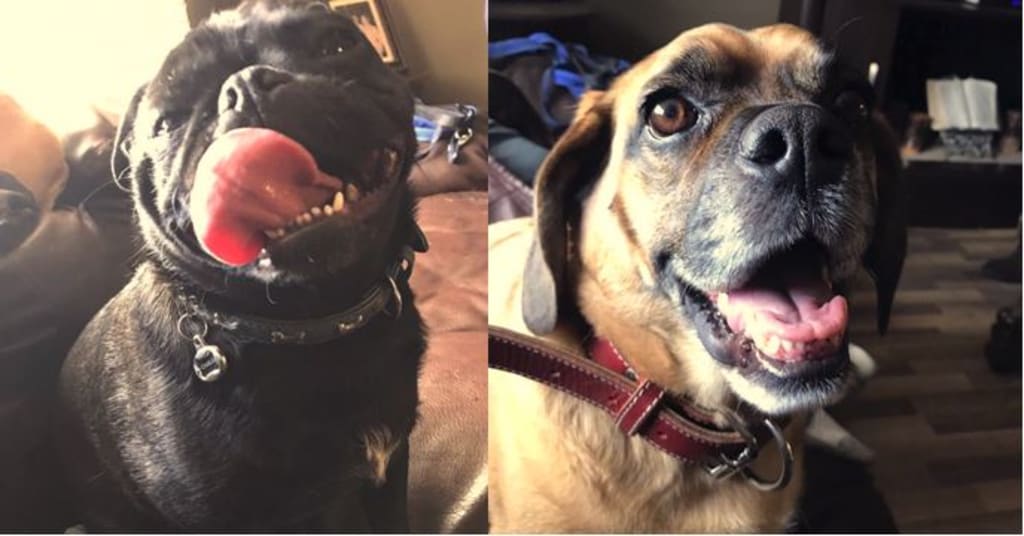 When you hear about people adopting pets you start thinking about shelters and how much better the life of the animal will be now that it has a home, but most people don't actually think about adopting a pet. Most people think about going through breeders, which I am not putting down as it is another way of getting a beautiful animal in to your life but going through a breeder is so expensive! Yes, you get the breed you were looking for and there is the anticipation of choosing your animal and waiting until they are able to come home but there are many other animals that do not have a home and are being put down due to over crowding shelters.
I am not dissing getting your animal through a breeder at all, I have two beautiful pups and one we got through a breeder. I had just moved in with my boyfriend and we started thinking about getting a dog but we couldn't decide if we were going to go through a breeder or if we just checked our local shelters and see if we found our pup. I went to our local Humane Society a couple of times but I could not find a dog that just had the "take me home! look"...if you have gone to a shelter you know what I am talking about. He tried going to the humane society as well but unlike me he wanted to take them all in and as we lived in a small apartment that was not an option. I started looking online for dogs, specifically basset hounds (my absolute favorite breed) and pugs (his all time favorite breed). I quickly gave up on finding a basset hound as I was 100% sure there was no way we were going to be able to pay $2000.00 + for the pup. The search for pugs was a little crazy because there are many breeders near us, I guess Saskatchewan is big on pugs. The search completely stopped once we saw the add of the breeder we chose on Kijiji...she had the picture of our little guy up on her add and he was the only one with his little tongue sticking out. He looked so cute!! We contacted her and made the arrangements to meet the puppies and the puppy parents ...the whole nine yards. We drove down to their farm and they had a huge kennel where all the puppies were hanging out, they looked so peaceful and some of them were super playful. We stayed there for almost 2 hrs! Talking to the breeder and playing with all of the puppies before we saw our little one, who was the only one taking a nap. My boyfriend cried when he came out of the kennel and walked towards us... it was very cheesy and cute. We made our decision and paid the breeder half of her fee and the next fee would be paid when we received Charlie (about 2 months later.)
The point of that whole story is that yes, we got Charlie as a puppy and he has a very, very spoiled life. We literally went all out, he got to go to puppy classes and interacted with many dogs, cats, children in order to get him socialized. He has slept in our bed since he was a little pup even though he has two beds plus his kennel. Charlie has a big bin of toys a lots of room to play with... but that is not the same story as other dogs/cats. Some get literally tossed out the door, left in the highway or simply are born in the streets.
My first dog is a rescue. His name is Pongo and he is the most loving and playful dog ever! We didn't plan on getting him at all... We had just moved in to a new house, when I was still living with my mom & siblings, a new neighborhood and we were just getting used to the changes. One day my brother's girlfriend asked us if we would go with her to the Humane Society to get a kitten, which thankfully we did. Once we got the shelter my sister and I separated from the group because we are allergic to cats. We ventured into the dog kennels...and that is where we found our little Pongo. He was sitting right by the door of his kennel looking right at us with his BIG eyes and puppy face. The tag on the side of the door said that he was about a year old, when we asked the ladies working how long he had been there they said that he has less than a week in the shelter. He had been found walking along the highway between Regina and Moose Jaw. We asked them what we needed to do in order to adopt him and we were told that as they had not done all the tests to make sure he is friendly, not possessive with the food ...and all that jazz, we had to wait 2 weeks and we had to have written notice that the landlord approves of us having a dog in the house that we had recently moved in to. By the time we left the shelter we had already Facetimed our mom to show her Pongo and like any mom she said "no", we kept pushing and for some fabulous reason she said "if our landlord agrees to you getting a dog, fine." Which to be fair, had it been any other landlord that little tactic would have probably worked but after I sent him a long winded email with the pictures of Pongo in the shelter and how we were okay paying the pet deposit there is no wonder he agreed. The minute I got the email back i showed it to my mom and called the Humane Society to make sure he was still available (they said they would hold him for 24 hrs only) and this was just over the 24hr mark so we had to make sure. They told us he was but we still had to wait the two weeks for the to get the vaccinations, chip, tattoo and all before we could take him home.
During those two weeks, we got him a bed, the food that the shelter recommended and toys, lots of toys. The day we could finally bring him home my little sister was in school so my brother and i got to do the honors. We walked out of the shelter with a beautiful dog so happy to have him as an addition to our family... but we did not expect his reaction. We got to the house and he looked very scared, it took him a couple of days to get used to the house and to us. We noticed that he would get very flinchy when we grabbed to broom or the news paper also he gets very anxious during car rides, specially if we are going to a new location. When we noticed the flich with the broom my mom cried... she could not believe someone could've hurt him like that. What I have not mentioned is that he had a little scar at the top of his head when we saw him at the shelter and it fell out a few weeks after he was home with us. We always wondered what happened to him but never thought that he would be scared of the broom... He is fine now with the broom, mop and even the news paper. We are still working on the car rides but other than that he is a perfectly healthy and loving pup. He is also as spoiled as Charlie, he sleeps with my mom or my sister and I pick him up and bring him over to our house all the time. I wish i would have taken him with me when I moved out but I didn't have the heart of taking him away from my mom and his house so I made the decision of going to visit him every other day and on my days off (in spring/summer) we go to the dog park!
Where I am going with this is getting an animal from a breeder is great because that animal will not know what it is to not be loved... but on the other hand (some) shelter animals have been abandoned because the owners moved, split up, could not keep them, or simply decided to leave them / letting them go in places where they knew the animal would not be able to find their way home. I am not making this up either, I used to have a coworker that also worked at a local shelter and she has told me the horror stories that she has dealt with. I am not saying that everyone should only adopt but it is always an option. I would not change Pongo or Charlie for anything, they are a permanent part of my family.
Reader insights
Be the first to share your insights about this piece.
Add your insights