A Prolonged Absence
Trouble in Widgetland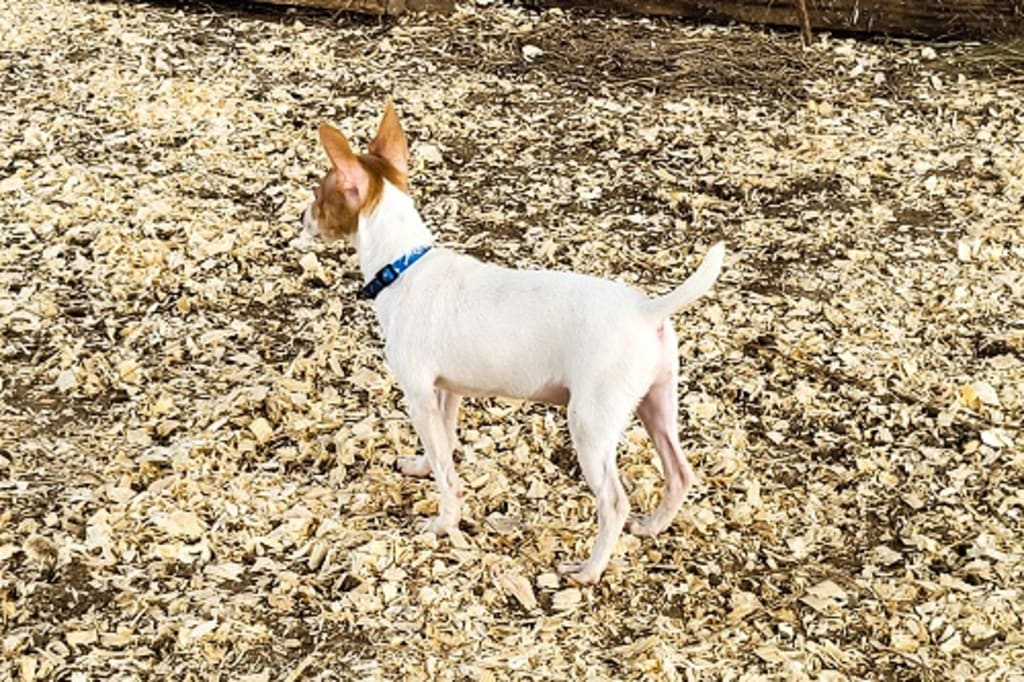 I apologize for the length of this article, but it has been growing in my head for a period of a couple of months now. The truth is that you must always be careful when buying a purebred, registered dog. It is no different with registered dogs than it is with horses or cats or goats or even any high-value inanimate object. Always, always, always get the paperwork in hand before driving off with your new dog or horse or cat or goat or car or whatever. I know this fact. I have always, always, always followed that rule. This time, I did not.
Oops.
It looks as if I will be one of the lucky ones. I have papers in hand. I am blessed to be surrounded with good friends, honest people, and helpful people at the registry. It was a delay and not a crisis. However, it got me thinking. Not everyone is or will be as fortunate as I am. Many people, every year, fail to receive their dogs' paperwork, ever. At all. Never. For the average buyer, who only cares about a puppy to love and cuddle, that might mean nothing. To a person who purchases a puppy for competition or breeding purposes, that might seem like the end of the world. I am here to tell you a little bit that might help you, should you ever decide to buy a registered dog for show or competition purposes.
Always buy your dog from a creditable breeder.
For the purposes of this limited article, a creditable breeder should be able to provide references from the show, sport, or working dog community of which you want your dog to be part. If your breeder has been around for a while, with several litters on the ground, and can provide no such references, look at recent superintendents' sites to see if any dogs with her kennel name have competed. If the breeder is "just getting started," then ask for references from the people who sold him or her the dogs, the veterinarian that cares for them, and any trainer with whom he or she has worked. Even someone who only breeds a litter occasionally or who only competes regionally should have someone who knows them and can speak positively about them.
A creditable breeder will be interested in learning more about you. He or she will probably want to interview you, well beyond determining if you will be paying by cash or credit. This interview process will often start with a puppy buyer questionnaire, which usually asks about where your puppy will be living and with whom, what your puppy will be eating, training, healthcare, and any number of things a breeder might consider important. It will also set up expectations that will be further set by the contract, such as the price of the puppy, deposits that will be paid, and a puppy buy-back clause. Not all breeders use them, but questionnaires are a helpful part of screening buyers or matching buyers with the best puppies for them.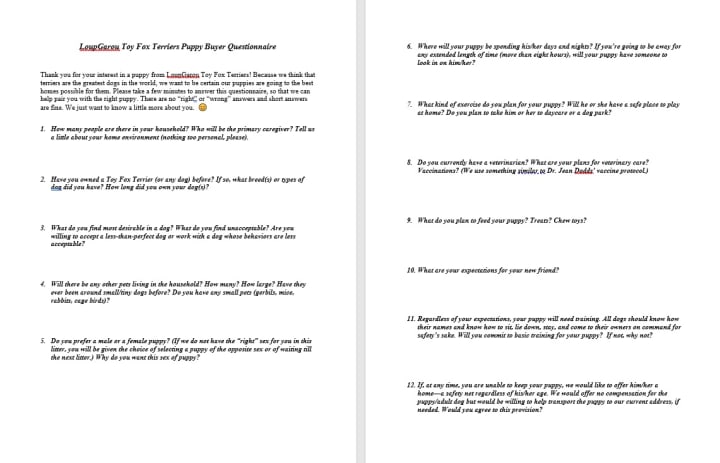 Finally, a creditable breeder will have one or more affiliations. Look for affiliations with some kind of meaning. He or she might be a member or an officer of a breed club, a Bred with H.E.A.R.T. member, or a Breeder of Merit. Some breeders serve on governor's commissions or as representatives on local boards. None of these things are required for a breeder to be creditable, but can demonstrate your breeder's involvement in being a good representative of the dog fancy.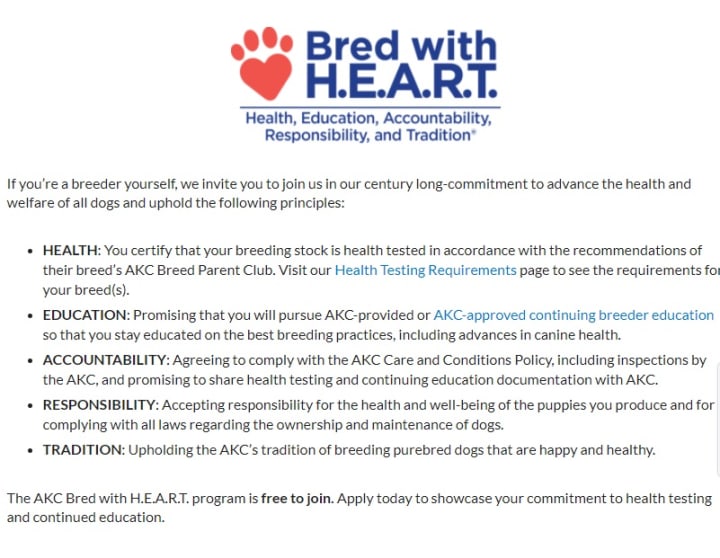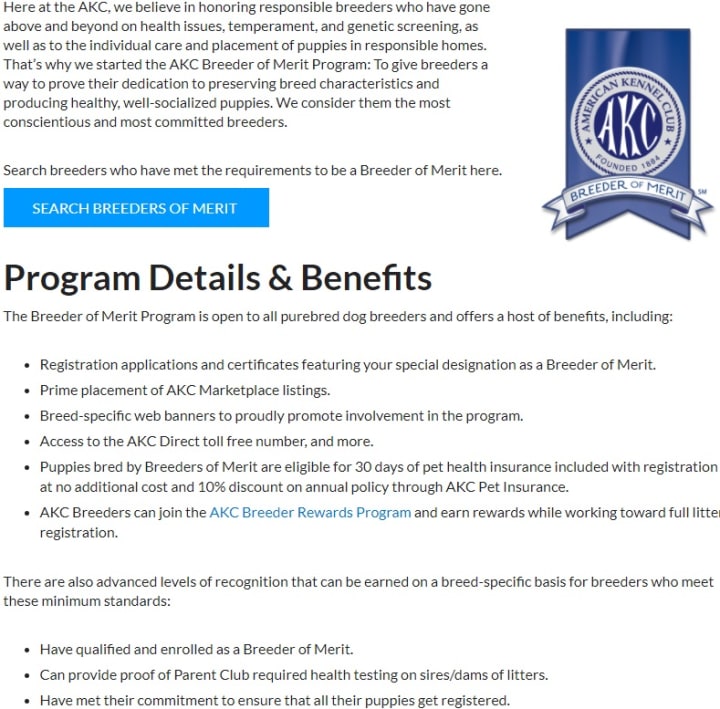 Insist on signing a contract.
One thing that could have caused me significant grief is that I failed to have a contract. A contract sets forth expectations that a breeder and a buyer have for one another and should not be considered punitive to either side. If you have done business with a breeder several times with several dogs over a number of years, it's easy to get sloppy and forget that people are human. They make mistakes or forget or need a bit of prompting over time. Many times, a contract will lay out a timeline for tasks that must be completed by both breeder and buyer. Sometimes these tasks control the possession of the paperwork.
Some breeders have very long contracts filled with detailed expectations. Other breeders have shorter contracts that cover the future in broad terms. Neither is superior to the other, but the length of the contract might be a suggestion of how much control the breeder expects to maintain over your puppy. It is fairly common for a good breeder to go over the contract with the buyer to discuss terms--and some terms are negotiable. Expect paragraphs that further lay out expectations stated by the questionnaire. Most contracts will also discuss penalties for tasks that are not completed or for things done that are not in the best interest of the dog. Keep in mind that many penalties are monetary and reflect the dollar value of the dog and court costs. Monetary penalties should not be taken to mean the breeder is more concerned about money than the dog; rather, a monetary value is set because many courts will not consider a contract enforceable without one being set.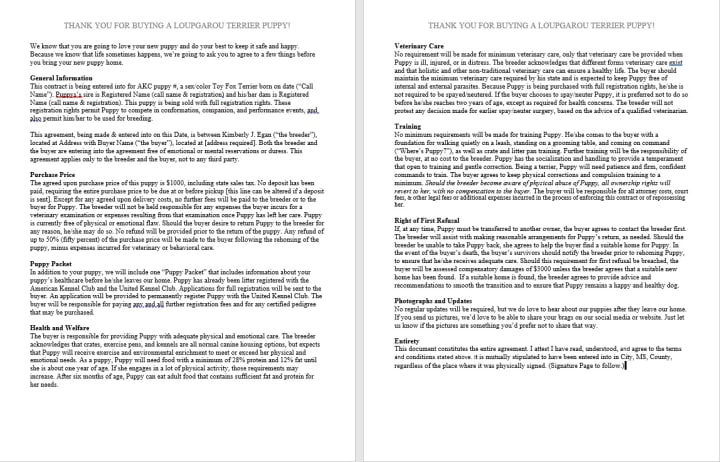 The truth is that a buyer lacks leverage with a registry or with a court if he or she lacks a signed copy of a contract. If my breeder hadn't come through with Widget's litter registration number, I would not have been able to get papers for my puppy: I had no proof I ever was to receive them. If your breeder does not use a contract, then ask if he or she would be willing to provide you with a bill of sale stating that your dog is being sold with registration papers and the registries in which it is litter registered.
Make certain your future dog will be registered with creditable organizations.
In the United States, where I live, that means your dog should be registered with the United Kennel Club (UKC) or the American Kennel Club (AKC). In addition to these two all-breed registries, many breeds have their own registries, specific to their own breed. Australian shepherds and Jack Russell terriers, for example, both have unique registries. Working breeds and stock breeds may have their own registries as well. If these registries are the only ones your breeder registers with, find out why. He or she may be a "purist" and breed only for working dogs. The breeder may have started out registering with a specialty registry and prefer it over an all-breed registry--or he or she might lose the specialty registration and associated titles if the dogs are registered with an all-breed registry. On the other hand, he or she may be unable to register with UKC or AKC due to difficulties registering your future dog's parents. This issue may go back to having a creditable breeder. Never buy a puppy from a person under suspension from a registry. Even if the suspension is not for cruelty or is unwarranted, you will most likely be unable to register your puppy even if you've already been supplied litter registration. You can find information about temporary and lifetime suspensions on the AKC Secretary's Page at akc.org or on the UKC Notice of Suspension Page under Registration at ukcdogs.com.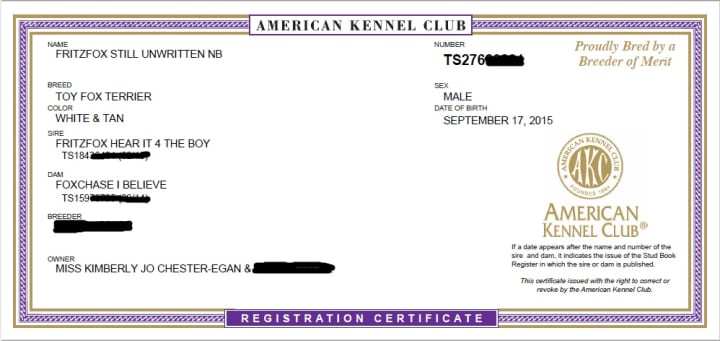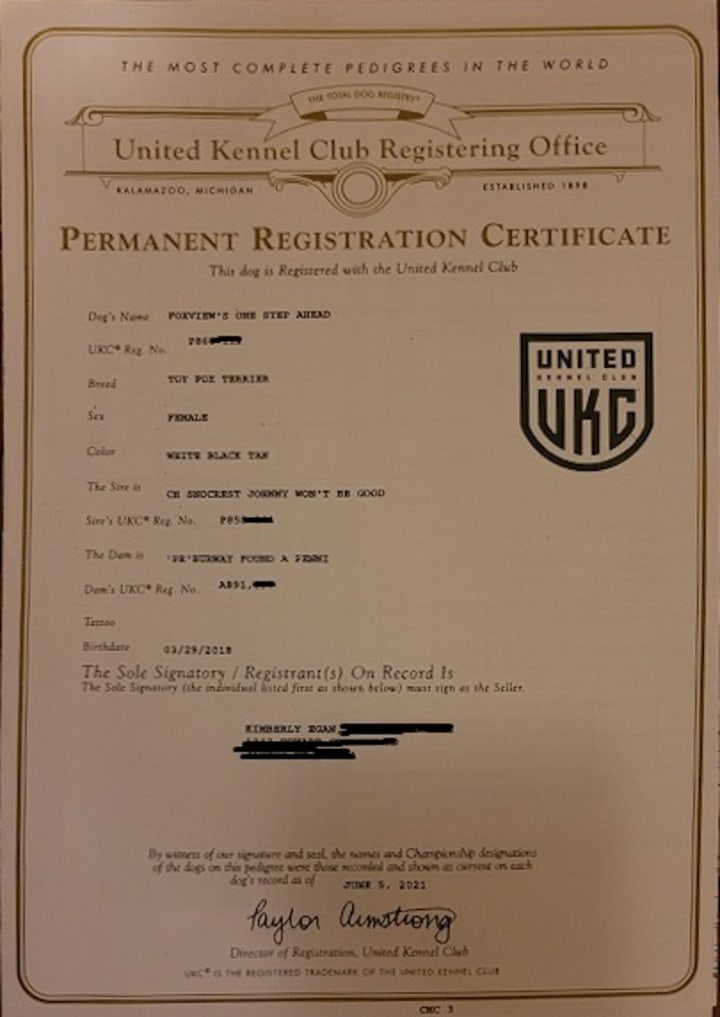 If your dog is solely registered with a specialty organization, it is possible that UKC or AKC will "single register" your dog. For a slightly higher price than for a litter-registered dog, you may be able to permanently register your dog if you can provide a current registration certificate, pictures of your dog, and a three-generation pedigree. Not all breeds can be single registered and not all specialty registries are recognized for this purpose. If your purpose is to show in conformation and your dog can only be listed with the AKC or the UKC after being spayed or neutered, then look elsewhere for a puppy.
The Upshot.
As I said, I am a fortunate person. At no time was I at risk of being cheated or scammed, as sometimes happens when unscrupulous people sell dogs. The breeder I got Widget from is a highly creditable one. That breeder has a record spanning YEARS of registering dogs with the AKC. The records behind that breeder's dogs are meticulous and no reason exists for any of the dogs from that kennel to be refused registration. Despite lacking a contract, the breeder was willing to live up to registration obligations. What we had was a misunderstanding and a brief loss of contact. After a stressful but blessedly short period, the breeder started talking to us again and initiated Widget's registration process. I'm blessed and recognize that we could have been ghosted forever.
For our part, we did our best to be patient and be kind. We understood that the delay was not entirely under the control of the breeder. We displayed our faith that Widget would indeed be registered and purchased a temporary listing number for him, so that he could go to his first UKC show later this month. I have to admit it. I've lost a little enthusiasm about bringing him out due to this issue, but I'm optimistic that everything is going to be just fine.
Geaux Team Widget!
A Note About Breeding "Done Right" and Creditable Breeders
It might not come as a surprise that there are people out there who think they can make money breeding dogs. "Done right," dog breeding is a losing proposition. Although there are many components to the process that would take a book to cover, "done right" includes providing dogs with high-quality food, proper veterinary care, genetic analysis, basic training, and professional evaluation of orthopedics, heart, eyes, and conformation. It is expensive, costing up to thousands of dollars per dog. In addition, and more to the scope of the article, breeding requires organization skills and the responsibility of tracing dogs' pedigrees through registering them in one or more credible registries. Creditable breeders recognize that they have responsibilities to give every animal they own the best life possible and to provide the healthiest puppies possible to their buyers. They understand that they will probably end up losing money over time, but money is unimportant to them overall.
A Note About Personal Disputes: Personal disputes are just a fact of life in the registered dog community. Let's face it . . . breeders are like any other artist and can have incredible, sensitive egos about their "work," except that their "work" is furry, friendly, and most of all, alive. One day "Ellen" can be your best friend, but let your dog beat Ellen's Fluffy in the ring or say that Bowser might need "more time to mature" before entering another duck trial and it's "Katie, bar the door!" Negative feedback based on gossip should be taken with a grain of salt. Overall negative feedback, however, should be taken as a red flag.
A Note About Suspensions: I mentioned above that a suspension from a registry might be unwarranted. I've known at least three people who have been suspended without merit, primarily due to politics or personal disputes. I do maintain that you should not buy a puppy from a person currently under suspension, but this red flag might be situational and temporary. It doesn't hurt to find out the reason for the suspension, the seriousness of the penalty, and the length of its term. A person under suspension for losing his or her temper at a dog show should not be condemned with the same vigor as someone who was suspended for deliberately abusing dogs.
dog
About the author
I am a writer, an editor, and a writing contest judge. I have had pets all of my life, but my family did not get our first dog until I was five. I currently have dogs, cats, dairy goats, quail, and chickens on my homestead.
Reader insights
Be the first to share your insights about this piece.
Add your insights