A lost of a pet
The journey of your dogs life!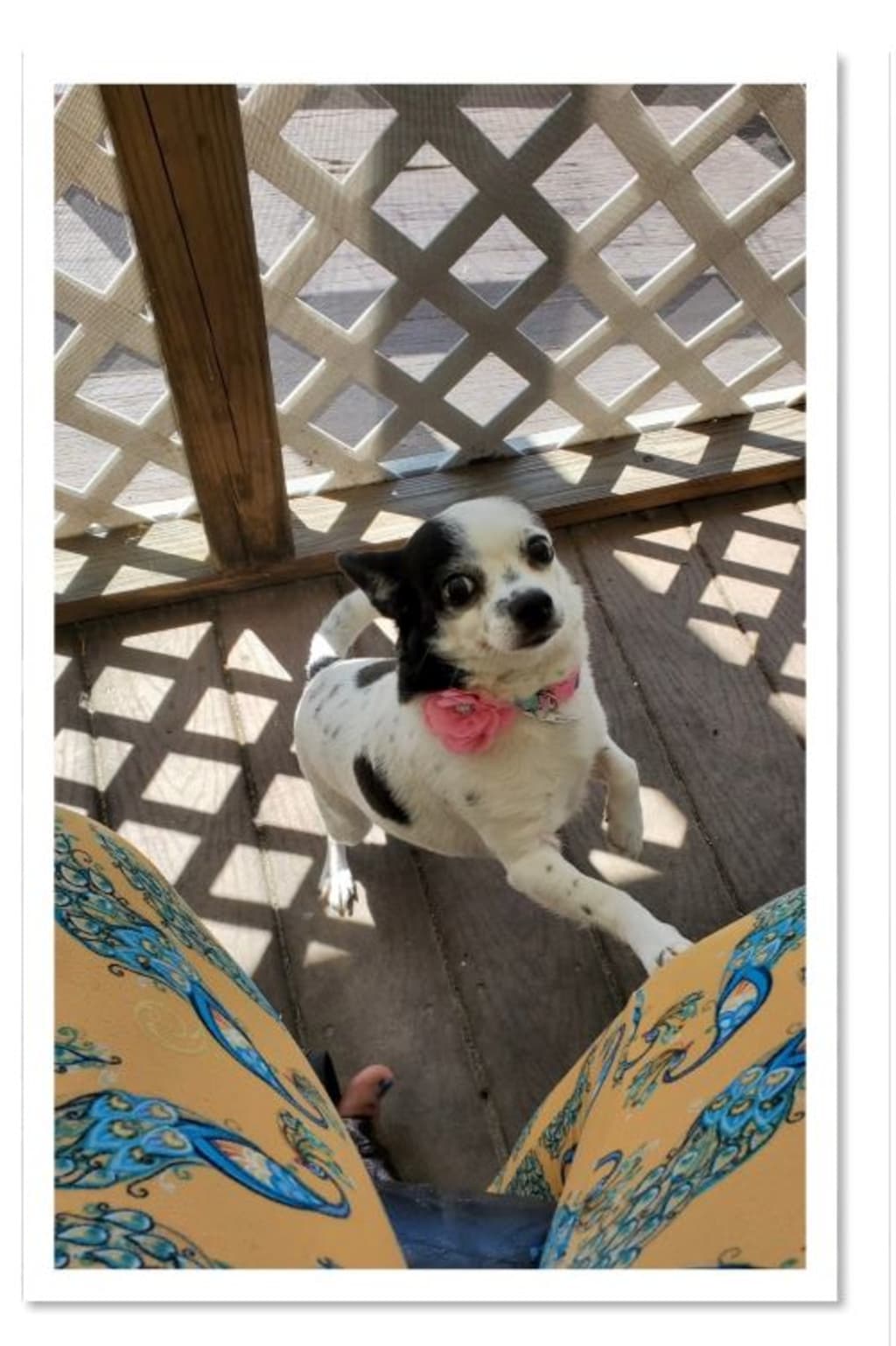 She was the best little girl in the world
Growing up some of us always had that dream or wish to have the prefect dog in their lives. Well, during my years of owning pets I have the best dogs in the world, and I lost the best dogs in the world to the creator himself at very young ages. When they died a small piece of me died with them. Now over the last few years as my children have become older to fill the void of an empty nest me and my husband have become fur-parents, we were blessed with our first fur-daughter in 2016 she is a special dog , Her name is Elsa Mae, when she was brought to us the poor baby was missing her left ear, we were told her mother chewed it off at birth, she brought light into our lives, a few month later a good friend had texted me on Facebook and told me that she had a puppy that needed a new home and asked me if I wanted to take her I immediately told her yes!
We were happy and excited we needed something cheerful brought back into our lives because my husband had become paralyzed a few months before and Elsa became his ESA, so we got into our car and went to meet the new puppy she was just over 8 weeks cutest old thing ever her name was Khloe, my friend's daughter had named her that and I promised her I wouldn't change the name. We took Khloe home and introduced her to Elsa Mae, at first Elsa wasn't happy she started to show out even though both of them were small dogs Elsa showed jealousy about Khloe having two ears, it was funny to watch because they started to play fight and Elsa would tug at Khloe's ear, the second day we had Khloe we had separated the two girl while I took my husband to physically therapy, we were gone for about an hour and half when we come home we found Khloe laying on the bathroom floor she looked like she was about dead, I was worried and shocked and sad, I rushed her to the nearest vet, taking what little money we had left in our bank account and paying for the vet bill to make sure she was okay, it turned out that Khloe had a panic attack onset by separation anxiety, after the doctor gave medication to calm her down and bring her back to life I was relieved that she was fine.
Over the next few months we watched how both of our girl flourished and we very smart in their own way, Khloe was a princess dog, she would bow when she used the bathroom, or her name was called, she loved the attention she would be the first one to jump up to get her belly rubbed, she was a patient dog as well she would be the last one to come to get food or treats, about 6 months later we got our third fur-baby, Tank he was a pit bull puppy, him and Khloe were best friends, they would cuddle together and play together. In July, my father in-law suddenly passed away leaving his Chiweenie Zeus behind, so we had to take him in as well, now we are parents of a teenager an 8-year-old and 4 dogs, a few months later we decided to bring Tank to my husband's aunts house because they were needing a guard dog, leaving us with Elsa, Khloe and Zeus. It was a year to the date that we had to rush her to the vet we came home and found light cord cables chewed and burnt, and we noticed that Khloe was acting funny, so it was Thanksgiving weekend at it was 10 at night, we rushed Khloe to the Emergency vet, again taking what little money we had to get her looked at we found out that she had chewed the light cord and burnt the inside of her mouth pretty bad. That was the day Khloe learned her lesson on chewing stuff and she stopped.
Over the next year and half our home felt empty without our other fur-baby, we had asked his aunt if we could get Tank back and she agreed, his cousin was supposed to bring him home to us and after taking 4.5 hours in the heat to get here, we got a Facebook message from someone we didn't know it was a video in in this video you see this man and our son Tank he told us that we could get him back if we would pay the $100.00 that he just paid for him in drugs, I was upset and disappointed and since I didn't have the money and his cousin refused to get him we let him go it broke our hearts, 3 years later we don't know how he is doing or where he is at it is sad because we lost one of our children because of family members addiction habit, well in 2020, another friend of mine had posted pictures of puppies she was selling and I took the opportunity and bought one of the boys it was Mid-March and COVID-19 was just starting to bring chaos and mayhem to our lives and since we were not sure how long we would be on lock down, we currently did not have a vehicle so she brought him over to my house, when he got here he was shy and so adorable, we went through a list of names he didn't answer to any of them and then my husband was talking about the new Scooby-doo movie coming out and when he said Scooby-doo, this little pup turned his head and his ears perked up. With that we named him Scooby, so through the next few months Scooby-doo and Khloe became close our girl had a habitat of break out of the yard and running around the neighborhood, and since they have never been around any male dogs that were not clipped, they never fully went into heat being Chihuahuas. When Scooby was old enough to start his humping Khloe was the first one to go into heat, we didn't catch on at first it was about 3 or 4 days into them getting stuck we realized what had happened, now we were going to be grandparents.
On October 3,2020 our daughter Khloe became a mother, she had two puppies, one that was solid black and the other one brown and white. She was the best mother in the world she nurtured the puppies, taught then things, never left their side, her daughter was the black one she took after daddy, and the brown and white one was her son, and he was her twin except for the color difference because Khloe was black and white and her son Rambo is brown and white, well as soon as Khloe had the puppies about 3 weeks later Elsa Mae, went into heat and she fought hollered and screamed when her and Scooby got stuck, on December 21,2020 Elsa gave birth to a litter of four, she wasn't the ideal mother, what happened next was absolutely amazing, Khloe stepped up and help Elsa nurse and clean the puppies as well as show them the ropes, Khloe, I was shock and proud of Khloe for doing that, when it was time her daughter went to her new home and we kept Rambo, now we have five dogs,.
We got Scooby fixed before he could have another litter, say 2021 creeped in we didn't pay it much attention Elsa went into heat and her and Rambo got stuck, here we go again, well 2 months later Elsa Mae has another litter of four this time she was the super mommy, Now, Khloe had been not allowing Rambo to touch her but when she seen Elsa with the puppies jealousy creeped upon her and she gave in and got pregnant, we were not to happy about it because of the whole son -mother issues well two month later. November 21,2021 Khloe went into labor her labor hadn't progressed like it did the first time, we waited it made sure she was good, around 3:00PM, I let the other dogs out for their afternoon bathroom break Khloe in labor all walks outside and finds a quite place to sit, when my husband shut the door after about an hour and half, he didn't realize that Khloe was still outside so I went to go find her and when I did I found something that will haunt me forever, a piece of her placenta was hanging out, I scooped her up and brought inside, she looked like that she in pain so I got myself together and her and rushed her to emergency vet, when I got there I found they had changed location so with a Khloe in the backseat I hauled ass to the new location. When I finally get to the new location I grabbed Khloe and took her inside for the staff to be very rude and a nurse looked at her and told me that I needed to have a total of $500.00 before they would even take a look at her, and pushed me out the door to my car, I sat in my car texting and calling anyone I could to get the money to have her looked at, while I was busy doing that my poor baby was in the basket looking and smiling at me, and she was slowly dying without any of my knowledge I sat outside on the phone for about two hours when a girl finally came out and said that she thinks it would be best since my dog looked stable to go home and watch her until I could get the money together.
So, I picked up my daughter as I did, I started to smell a foul odor coming off of her, so I hauled ass back , home when I got there my husband asked me what is going on I told them what they said, he was pretty upset about them not wanting to treat her without money, we got her comfortable and told her we loved her and she smiled at us, little did we know that would be the last smile we would ever get from our baby girl. About 10 minutes later we were talking when he looked over at her and told me she didn't look right I told him that she is probably contracting we will just keep an eye on her, about 2 minutes later I went to go sit next to her and I notice that she was not breathing, and her eye were glossed over. I started shaking her and calling her name she didn't respond, I broke down fell on the floor crying my husband got hysterical, we had a friend over and I asked him to take her out in our garage and cut her open I wanted to know what had happened I needed to know why my baby died.
When he did, he came and told us she was totally black inside and that she was rotting from the inside out, she had eight puppies inside of her and the reason she didn't give birth to them was because the first ones down her canal were stuck and it was conjoined at the head and they were not in a sack so that means that Khloe the poor girl had been slowly dying for a few weeks now. We were upset, I had to leave I went to see my sister, I had to clear my head I was hoping that by the time I got home that they would have buried her but they hadn't so I went into my backyard and dug her a hole and placed her and her 8 puppies in a box and sealed it and placed them inside their grave, when I was done I said my goodbye while crying my heart out, I was heartbroken, a dog that was so loving, caring , a teacher, jealous and happy, would be taken so young from us, with the holidays around the corner it made it hard for us to cope, every time we went to do anything that involved our dogs we would have to be careful not to say her name, all of our older dogs suffered from depression for a few weeks, Rambo missed his momma a lot he but over the last 2 months he has really showed us what she really did teach him over the last year, then their was Zeus he has been so depressed since she has passed that now he is dying he had given up hope and I think that I will have to put him to sleep in the next couple of days myself, then Elsa Mae she hasn't been the same since her sister/ best friend passed away. Scooby-doo, the lost of his soul mate and best friend has taken its toll on him he has become a little more aggressive toward Rambo, to me it seems like he blames Rambo for her death.
Since losing her I spend a lot of time in my backyard talking to her, letting her know how everyone is doing, hoping that she will visit them and tell them to live for her, something because I don't know how any of them will cope when we must put Zeus down. It is never easy losing a child, no matter if they are human or fur. A fur-baby is going to be the most loyal creator you will ever have and your heart hurts more over their loss then you do when a person your close to dies. Always treat you pets with care and love and they will love you and care for you until they leave this earth.
RIH all the dogs we have every lost, you are over the rainbow in a better place.
On January 21, 2022 Our Zeus joined his sister Khloe on the rainbow bridge.
dog
About the author
Hi, am I StarDiamondD I am 39,a mother of 3 I am, married to the love of my life, have a my master degree in pre-law, I am half German and half black, from NC, My husband is paralyzed. follow me on my [email protected]
Reader insights
Be the first to share your insights about this piece.
Add your insights