A Journey of Intention Discovered through Horses - Part 8
Always Learning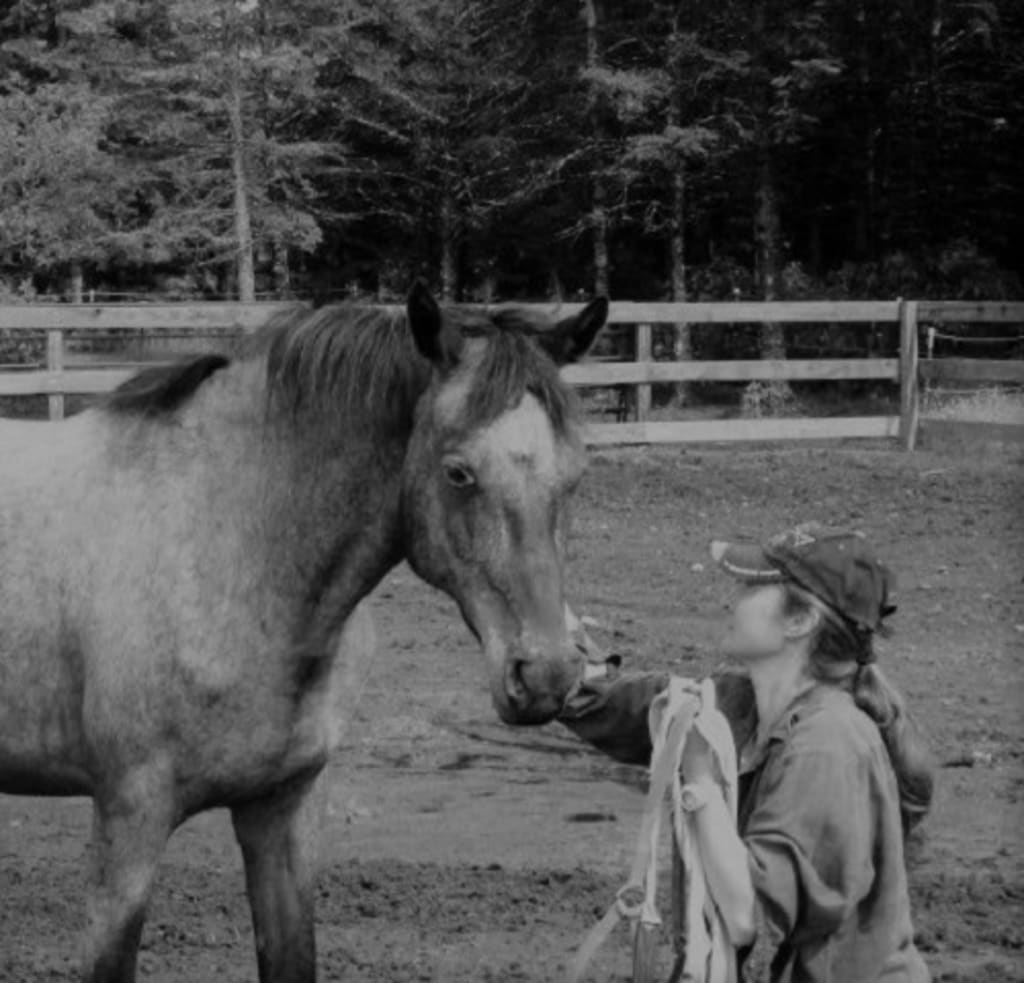 Blu and Me
"Do your best until you know better. Then. when you know better, do better." – Maya Angelou
It's mid-January, and I'm chomping at the bit to ride my horses again. It's been months, I think! The forecast teased me saying around 30F degree temps, but changed it to colder two days later. It turned out to be mid-20's and windy. Not my thing. I stayed in the house. And now it's supposed to get even colder again-like single digits and negatives. So, I don't ride. I stay antsy indoors and I think too much. My physical limitations keep me basically housebound when there's too much snow or ice or cold.
I think about how far I've come, the steps backward, and how much further I have to go – and I'm anxious to get moving already! I have so much to do and learn and discover and practice!
I started riding horses as a young child and started intentionally training a horse when I was 12. I'm now nearly 51. I've ridden and trained a lot of horses. I've made a lot of mistakes. Those mistakes have helped me learn and improve my horsemanship. I will continue to learn and improve. There are still a lot of mistakes to be made. But my mind is open, and my intention is good. I want to do better – always. Even when the lesson is ugly or uncomfortable. I'm comfortable in knowing that I've done my best, but I can do better.
As I anxiously wait for this weather to become riding weather for me, I am focusing on my own health in hopes of being that overall better horseman that I desire to be. I am working on yoga for strength and flexibility, diet for physical health and energy, and adequate water intake because proper hydration is good for so many things from physical to mental health. Besides working on improving myself, I'm also putting time into better understanding of equine behavior, management and training practices. I'm eager to put theory into practice to see how it pans out, and to figure out where I need to go next with the information obtained.
I wish the daily planner I ordered would get here. Somehow, having a schedule, though less than rigid, helps keep me focused and on track. It works for me. I write down the chores I need to complete that day by the hour from when I get up to when I go to bed, and I write out the weekly meal plan. I don't always complete my list – I often do not – but I get more done than I do without it. This is something I've learned over time, and I continue to get better at structuring it in a way that keeps me motivated and productive. It helps keep me on the path toward accomplishing goals. It reminds me to do the things I need to do even when I don't "feel" like doing it. That's the thing about written words- writing things down makes it harder to shift them around or ignore them or just conveniently forget to do things.
I like to prepare a weekly meal plan on the weekends so we can go grocery shopping, and I can prepare as much food and snacks in advance as possible. This does two things: it helps keep us all on track so we're not as tempted to make bad choices when we're busy or tired and it also means I don't have to be distracted by wondering what's for dinner?
By practicing organization and preparedness, I hope to maintain more motivation and focus toward accomplishing goals and learning lessons. It's always a work in progress.
Please visit my website here,
my Facebook page here,
or my YouTube channel here.
You can also read all the previous parts of this journey with the links included at the bottom of Part 7: