A Hansel and Gretel
A path of our own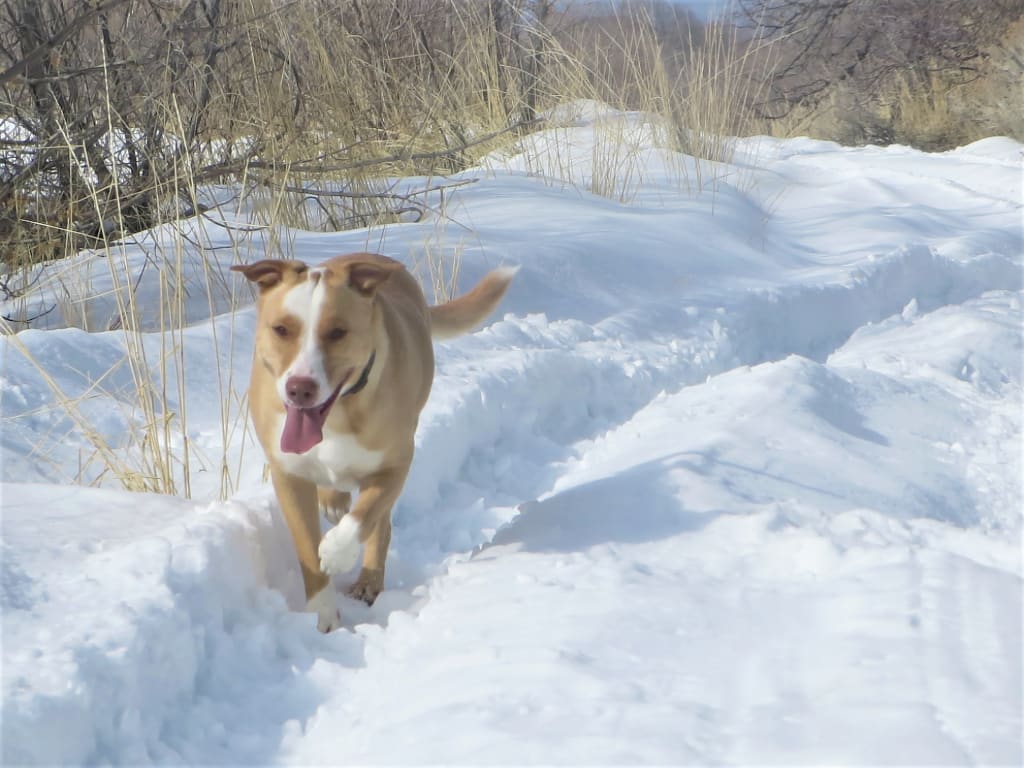 Observantly, it can be enthralling to witness the influential development that occurs between man and beast. The simple, silent friendship shared with an animal obtains the potential to aid one's maturement and upbringing due to their therapeutic tendencies. But from what I learned with Gretel, both of us broken and having had come from troubled pasts, the bond and behavioral influence from a trusted friend, was quite astounding.
It's interesting how commonly one's good intentions, hard work, and the sweat of their talents are taken advantage of for the gain and benefit of those they look up to. At least, these were the unfortunate cards that were dealt to Gretel and I. During my childhood I found myself repeating a toxic cycle of working myself nearly to death in attempt to earn my folks approval, only to rediscover that my presence would remain despised. For it was openly expressed that my birth was merely a stumbling block in the way of their desires; and I was treated as such. I was the animal that kept my folks from leaving to do what they wanted, and I was hated for it.
My depression, anger, and sorrow continued to dangerously throw myself deeper into a psychologically dark pit. It wasn't until I met Gretel that I stopped feeling so alone, and my path really started to evolve as we had our adventures together. Most of our daily ventures were founded up into the mountains that we lived just below from. It was there we could escape and just wander for hours, which sentimentally, was the start of my growth. The opportunity to be listened to had nurtured my mindset and allowed me to contemplate who I sincerely wanted to be and where I wanted to go. If it wasn't for Gretel, I would not have found the strength to wander from the paved path my folks had set out for me, and fought with their might's to keep me on. For they knew it would get me lost, and their path would land me in a terrible place just like them. This was their vengeance, and my debt to pay for my hindering existence. But one good friend proved valiantly, that their simple yet fulfilling influence, was stronger than the swarm of toxic ones. For Gretel was the friend that taught me how to love, and taught me how to be loved, as our journeyed mischiefs mended a broken heart that so yearned for affection.
As for our beginning, I was fifteen when I finally convinced my folks into letting me get a dog, for we were having issues with strangers trespassing in and out of our yard. These passerby's would shortcut through our secluded area in order to escape into the alleys behind us, and get away from the officer that lived across the street. Reluctantly, they one day gave in to the idea of a guard dog, for they didn't want any unnecessary attention drawn to what they themselves had behind closed doors. Wasting no time before they could change their decision, I set forth to the shelter, and there I found Gretel amongst a few litters of puppies. Of all the dogs they had, she was the eldest. Though she was only two or three years of age, no one really gave her a second glance from what I learned, naturally only because puppies were more eye drawing than the older mutts. But there was something to her sweet face and vanilla creampuff coat to match, that overall captivated my attention. She was a beautiful, red-nosed Pit mix, and I quickly came to learn that despite her humble simplicity, she also had a subtle Himedere attitude at times. For this reason, one of her nicknames consisted of Queen, which suited her back when we used to share a pillow and a blanket on the floor together. This explanation a long story short, my folks would tell me that they didn't believe in beds, which was cow bologna, for they both slept on couches. With Gret however a floor mat for a bed wasn't too bad no more. She was a very cuddly pup and would often hog both the pillow and blanket. I smile thinking of the nights I would beat her to bed, for when she would come to find me asleep, she would loom over at my side and whine some, but if that didn't stir me, she would poke me in the eye with her nose so that I could let her under the blanket with me. Again, this was why she was sometimes called Queen amusingly.
At the shelter, Gretel's chipper demeanor obtained so much innocence that it astounded me, for she was so trusting to me a stranger, despite her past of pit fighting then abandonment on the streets. It would be misleading to say that I was the one who picked Gretel, for it was actually Gretel who picked me. After all the pups were let out of their cages to play in an open field where I could observe and make my decision, Gretel remained by my side the entirety of the time. It did not take long to decide that she was the dog I was hoping to obtain. For the first time in my childhood, it was my first experience to feel like I had a friend, and upon learning more about Gretel's past, I'm sure it was her first time too. Thinking on it, I consider what made our bond really special, was that we both could tell that we were broken due to the poor decisions of others. But we were not yet destroyed.
The years after I took Gretel home continued to lull on as the home life didn't circumstantially change much, it only worsened, but my friend in arms eventually earned her name from the ventures we would go on. She was great at backtracking, and we would quietly follow the deer trails so that we could sneak up and watch the herds of deer and elk grazing amongst hidden meadows. She reminded me of Gretel from the fairytale, and together, we were just trying to figure out which way would lead us back home. In reality however, home was not back at the contentious house. Our home was together in the mountains, where we were free to be ourselves.
To elaborate more on Gretel's personality, she would bolt into the tall grass and you could see her popping in and out of view trying to snap at the fluttering butterflies overhead. It was one of the most hilarious things I could watch her do on a daily basis. She was very impactful on me with her gentle soul, though she did not like or trust cats or dogs, which made it difficult to walk her in town, it was in mountains that she loved every other animal was within her sights. I've watched curious little fawns approach Gretel to touch noses, then surrender themselves to cuddle up next to her in the shade, allowing her to smother them with nurturing kisses. Other times we would find herds of sheep, and what I can only assume was just plain boredom on their part, they would follow Gretel after they would greet each other. Sometimes for miles across the plains, even though we had set off to be on our way, the sheep would remain to follow closely from behind us, from which we would have to decide whether to find the fence we crawled under, or simply outrun them into the mountains. A friendly decrepit farmer once told me that from his window he would watch us run from his sheep, and at times, the sight would cause him to slap his knee and cackle. For from where he was sitting, it looked as if my dog and I had stumbled upon a horde of apocalyptic zombie sheep and we were trying to get away. The thought was amusing, and I rather did enjoy his rigid humor some days, or the way he'd randomly throw open his window to holler the same old joke, "Run Forest, Run."
The years of hardship at the house complicatedly did not end until I was 22, it wasn't until I managed to earn a way of means to escape into the woods with Gretel for good, in a way of speaking. Sacrificing hours of time we used to spend in the mountains, I studied the CDL to become a truck driver, from which Gretel helped by supportively cuddling next to me as I read the manual. Once I was trained and ready to start the job, Gretel came with me to travel more ventures across the country. Proceeding that after a few years, soon we both found a home that wasn't just running away into the mountains or on the shaky bunk bed of a truck. Today, I share a bed with my husband, and Gretel a plush bed of her own filled with her favorite toys, mostly balls. The rest are the remnants of stuffed toys she habitually has need to make sure are demolished and torn beyond recognition.
Our past we made due, but today we earned a bed of our own, not the floor, and from now on, we share a roof over our head that we love to be under. During our past strife, Gretel was the one to save me, by helping me realize that though they may be steeper, that there are other paths to take with a little patience and determination. Together we made our own, and we are happy.
Thank you Gretel, forever and always, my friend in arms.
dog
Ever ran from something that wanted to eat you?
41.84027625988268 -111.58876652862511
40.54406846485145 -112.23822408889815
41.675224, 107.983556
37.873425, 109.308014
My stories are something, but maybe nothing.
Receive stories by Adderall Cigs in

your feed