Created with I'm Gismo
A Guide to Making Walk Time More Enjoyable for you and your Dog
First things first, I found the perfect tool for my rambunctious tyke and our on-the-go lifestyle in New York City.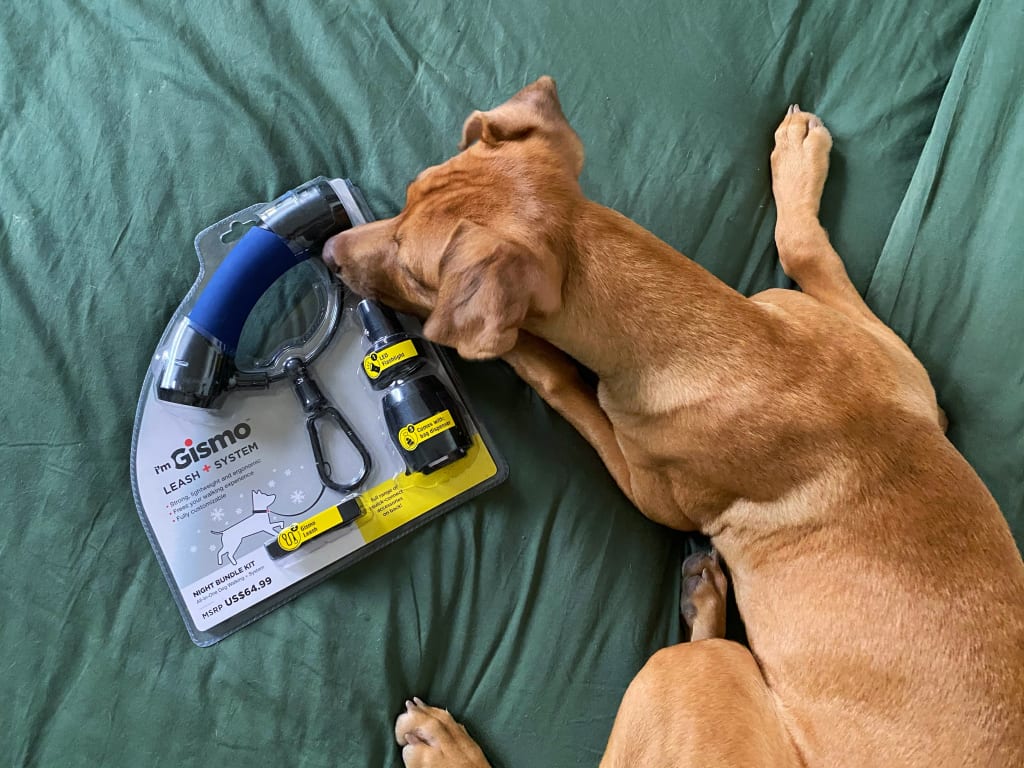 Being a single guy living alone in New York City, it's safe to say that I severely underestimated what adopting a puppy would do to my life. Even after testing my dog dad skills by dog-sitting my family's mini schnauzer for a month, I don't think I was ever really prepared for what was to come after adopting my pup, Billy Jack.
Billy Jack is a mutt of all sorts: pit, lab, chihuahua, and german shepherd to name a few. I adopted him from a foster family right at eight weeks old and since then, I've tried almost every trick in the book to raise a well-trained, happy pup. I bought all the toys, training tools, and even binged Canine Intervention in one single day.
Here's one thing about me—I absolutely love to walk around the streets of New York and experience all the life going on around me. When I first decided to adopt a pup, I was incredibly excited to have a best friend to explore the city with. But when I first brought Billy Jack to the city, I was upset to learn that he was a little too excited to see everything.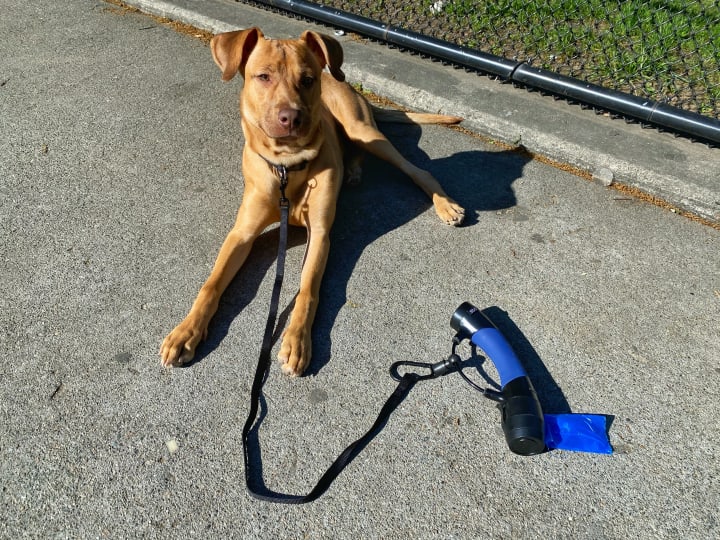 Venturing out into the streets of New York can be an overwhelming, even scary, experience for a dog. There's constant distractions and a lot of things Billy might perceive as threats: people, other dogs, cars, trucks, pigeons, and trains. Our struggles didn't stop on the streets, but continued at the park, in stores, and even in my apartment building.
I was upset our walks weren't panning out as I had planned, which led me to search for anything that would be able to help us enjoy time outside together. That's when I came across PetSmart's I'm Gismo Night Bundle, and it changed the way we walk forever! It's the perfect tool for my rambunctious tyke and our on-the-go lifestyle.
Mastering the Art of the Walk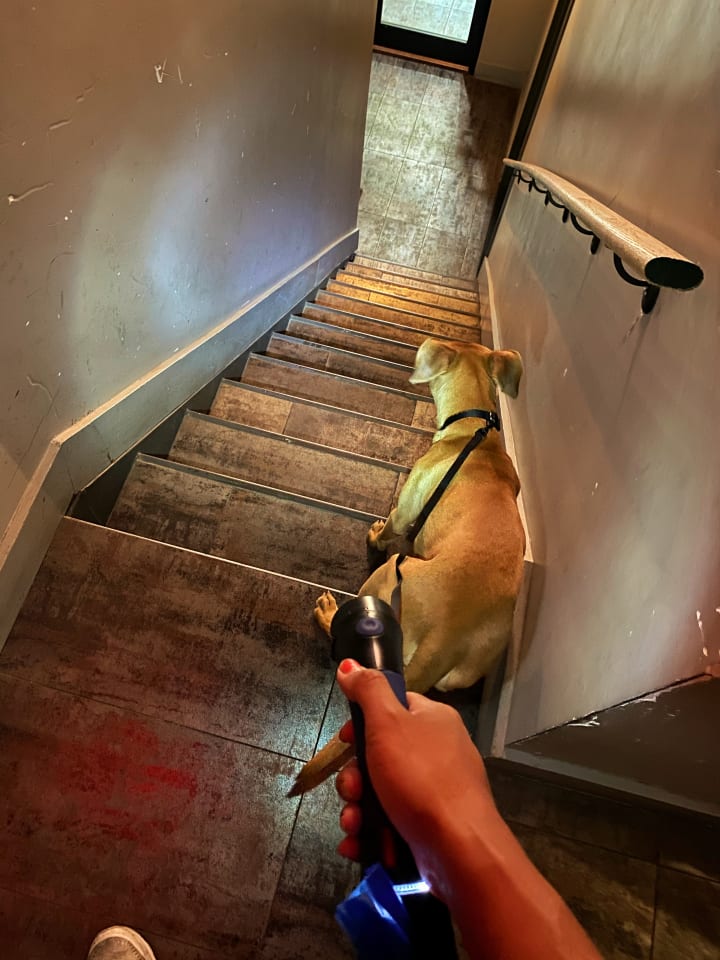 My biggest issue with walk time was that I was constantly fighting for control—and mostly losing. Even after weeks of scoping out my neighborhood and the neighbors on my block, we were always coming across new surprises that threw out Billy Jack's discipline, which caused me some frustration and embarrassment.
Taking Billy Jack for walks, I was always nervous he would end up getting away from me and running into a busy street. Between bikers and crazy city drivers, I was too nervous to walk him most places around the city.
The first time I used the I'm Gismo Leash Holder was the first time I felt in complete control on our walk. Not only is the handle extremely comfortable, but its shape allows you to grab hold and really direct your dog, which I always felt was nearly impossible with a normal leash.
I also loved that the bundle came with an incredibly nice nylon leash that was the perfect length for keeping Billy Jack close to me on crowded New York City sidewalks. It was so easy to attach the leash to the holder using the carabiner clip, and Billy Jack didn't even notice the difference.
Before trying out the Leash Holder on one of our walks I had been too nervous to bring Billy Jack to my favorite park, which I had been so excited to do as soon as spring in New York hit. I didn't even dream about taking him to the dog park, too scared of how my pup would act around the big New York City dogs.
That being said, given my newfound confidence with the I'm Gismo Leash Holder, I was feeling up to it one morning and decided to go to my favorite park in the city: Domino Park. With views of the Manhattan skyline, this Brooklyn park attracts a ton of people (and their dogs), especially on a sunny Sunday morning. Before heading out, I attached Billy Jack's nylon leash to the Leash Holder, restocked the treat container (which I'll explain later), and gave him a reminder to be a good boy.
I didn't want to push my luck too far, so when I first arrived at the park I walked in a grassy area that was surrounded by a few people, but no dogs. We were enjoying the sunshine, views, and vibes until a large black lab appeared around the corner. The lab was minding his own business until Billy Jack saw him, became extremely excited, and lunged for him—most definitely interrupting everyone's peaceful Sunday morning. Using the Leash Holder, I led Billy Jack away, asked if he wanted a treat, and fed him two or three. He calmed down so quickly, and I was the proudest dog dad!
The next weekend I was even feeling confident enough to bring him to the dog park. I introduced him to a few other pups while on his leash, and I even made a few dog parent friends too!
Tackling Nighttime Walks
Before adopting Billy Jack I was nervous about what would happen when my dog had to go for a walk at night. When I found out that the PetSmart's Gismo Night Bundle included a connectable rechargeable flashlight, I was hooked. Never again will I trip on the sidewalk or worry about him eating an object I'm unable to see.
I also feel so much safer being able to light up the space around me. Even though it's called the city that never sleeps, some neighborhoods in New York are extremely dark at night!
Conquering Leash Training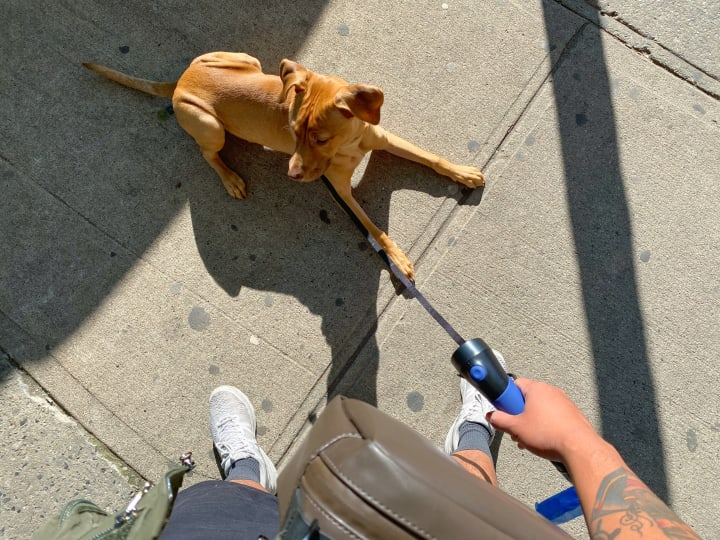 You can already tell Billy Jack and I were a mess when it came to leash training. We were using a technique in which I would make a sound (cue) when I wanted him to come or pay attention to me. This method worked well when we were at home, but we ran into trouble when I would constantly forget to bring treats out on walks. I was beyond excited to see that the I'm Gismo Leash Holder + System offered extra connectable features, and one of them was made specifically to hold treats!
The connectable wasn't just for treats, but also included a "clicker" that makes a very clear noise to let Billy Jack know I want his attention. I was happy to see the click noise was clear enough to be heard over the noise of New York traffic! It's safe to say I wasted no time ordering this extra connectable so that Billy Jack and I could really conquer leash training together.
As a busy New Yorker, I never know where the day will take me and Billy Jack, but I know I'll always have treats!
Mitigating the Poop Bag Dilemma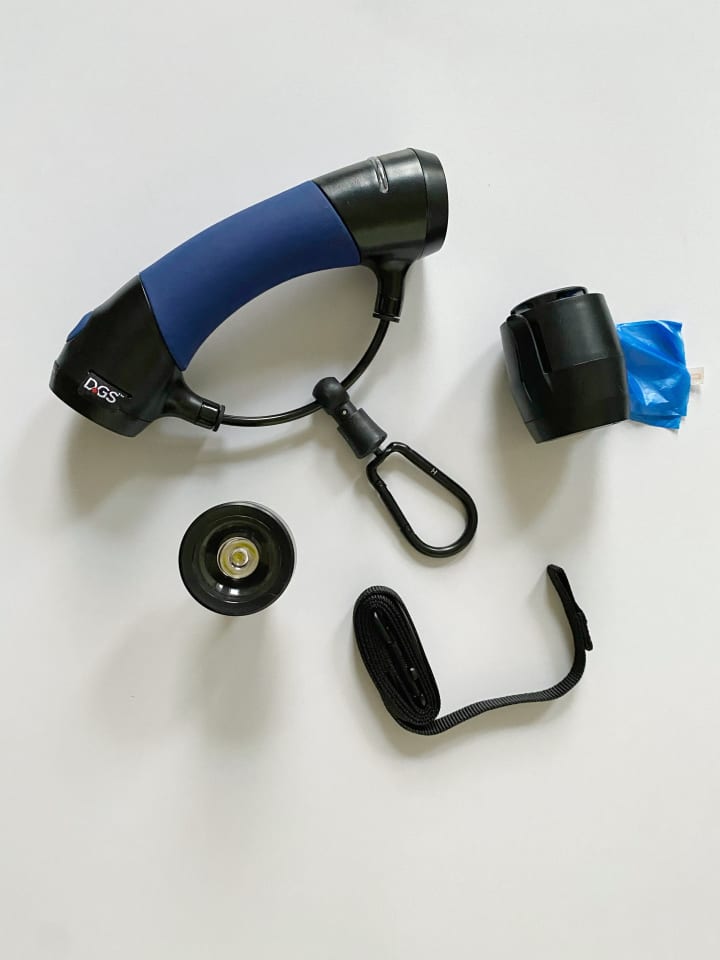 If you haven't gathered yet, I'm a dog dad in training, which means I often forget many of the essentials needed to be an effective pet owner. In addition to forgetting treats, I also constantly forget to grab the Holy Grail of items you need when you're a dog parent: poop bags.
Having an entire roll of poop bags built into your leash eliminates that dilemma entirely. Thankfully, PetSmart's I'm Gismo Night Bundle includes an attachment that turns your device into your very own poop bag dispenser!
The connectable dispenser even features a poop bag carry clip that will hold the bag. I have to say, I'm extremely thankful for this feature as the "garbage bin search" while holding a full poop bag was one of my least favorite parts of being a dog dad.
Reclaiming Walk Time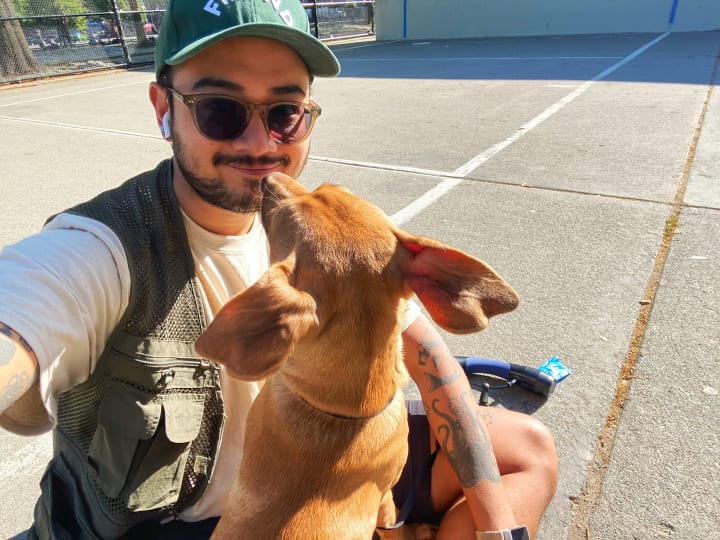 The I'm Gismo Leash Holder + System is a lifesaver when it comes to walks and leash training, and not just because you have full control, but because you always have everything you need on hand!
I'm so thankful for being able to enjoy my New York walks again, and even more thankful that I get to show Billy Jack the city, too. While I'm still getting used to being a dog dad, the great news is that if I ever decide to adopt a sibling for Billy Jack, I'll be able to walk them both no problem with the Dual Leash Carabiner Connector, which you can order separately if you want to connect two leashes at the same time. Though, for now, I'm beyond grateful that the I'm Gismo Leash Holder + System made me and my puppy feel safe and confident to take on the big city
product review
About the author
multidisciplinary creative type 🇵🇭🏳️‍🌈
founder of mercadovicente.com + mamamercado.com
instagram: @janvincentgonzales
Reader insights
Be the first to share your insights about this piece.
Add your insights