A Brothers Love
Elvis and Sylvester!!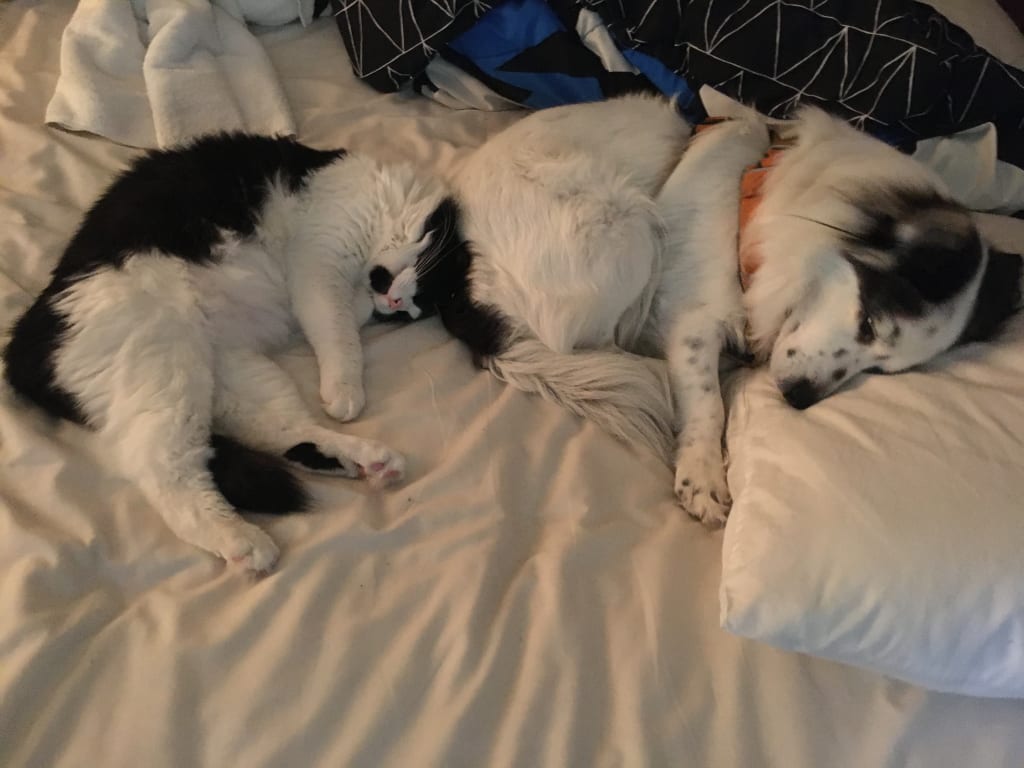 Sylvester the cat and Elvis the dog
Hi my name is Elvis. I am a Jake Russel Terrier and a Beagle mix. I am a high bread called a Jack-a-bee! I am a very energetic and hyper bread. I love to play, go for walks, chance my tail and cuddle With my owners. My owners taught me a lot of things I can do to get treats. I can sit, give both paws, I can also dance on my two hin legs. That's right! You read it right I can dance for treats! My birthday day is April 3rd 2017. I am three years and 10 months old.
In the picture above with me is my Brother Sylvester he's 1 year and 6 months old. Sylvester loves to play just as much as I do. He is my Best Friend.... Well other than my humands.
I now have seven human owners two boys named Bradley and Dyllon, three girls named Destini, Nikida and Skye, a mom named Jessica and a dad named Dale. But I belong to the one boy Bradley. He is my master. My boy is seven years old and he is my best friend in the whole world. I love my boy more than anything else in this world. 206
I became apart of this wonder family when I was only a two months old. I was given to my mom on mother day for my boy owner. When I was just a year old me and my mom had to move away so she could work. We had to leave behind all my other humans. That made me really sad. But where we moved for my mom to work we met my human dad. When he became apart of our family he had another cat but he didnt like me at all. Unfortunately he left one day and never came back. So my mom felt bad and decided to get him another cat. That's where my brother Sylvester came into the family.
He was an abandoned kitten :( My moms friend found him and was helping him survive. When my mom seen him she knew he was the perfect cat for our family. We got him on my dads birthday. My dad was so surprised and so was I..... but my dad loved him right away just like he did with me.
I didn't like him at first because he was new and well that's my dad and mom. But as the days went by I realized that he wasn't that bad. I seen that my mom and dad both loved him and cared for him like they did for me. So, we started to play and I quickly realized that mom and dad had enough love for the both of us. So I expected him and he became my best friends.
I love my human family, But I love my brother the most. He is my best friend. I don't know what I'd do with out him now.
My mom left to go back to my other humans but this time she left me and my dad and my brother Sylvester behind. She had to leave us so she could go back and find us a safe place to stay for when we go back.
I can't wait to see my mom and my boy and all the other humans when I get back home. I miss my mom so much. Wish I was in her bed getting cuddles and belly rubs right now. My mom is the best at belly rubs. But it will be soon. I can feel it in my belly.
This is my little story. I really hope u enjoyed reading. Hope u will join me again for my next story.
Elvis the dog!