1330 Miles By Car
Not all who wander are lost.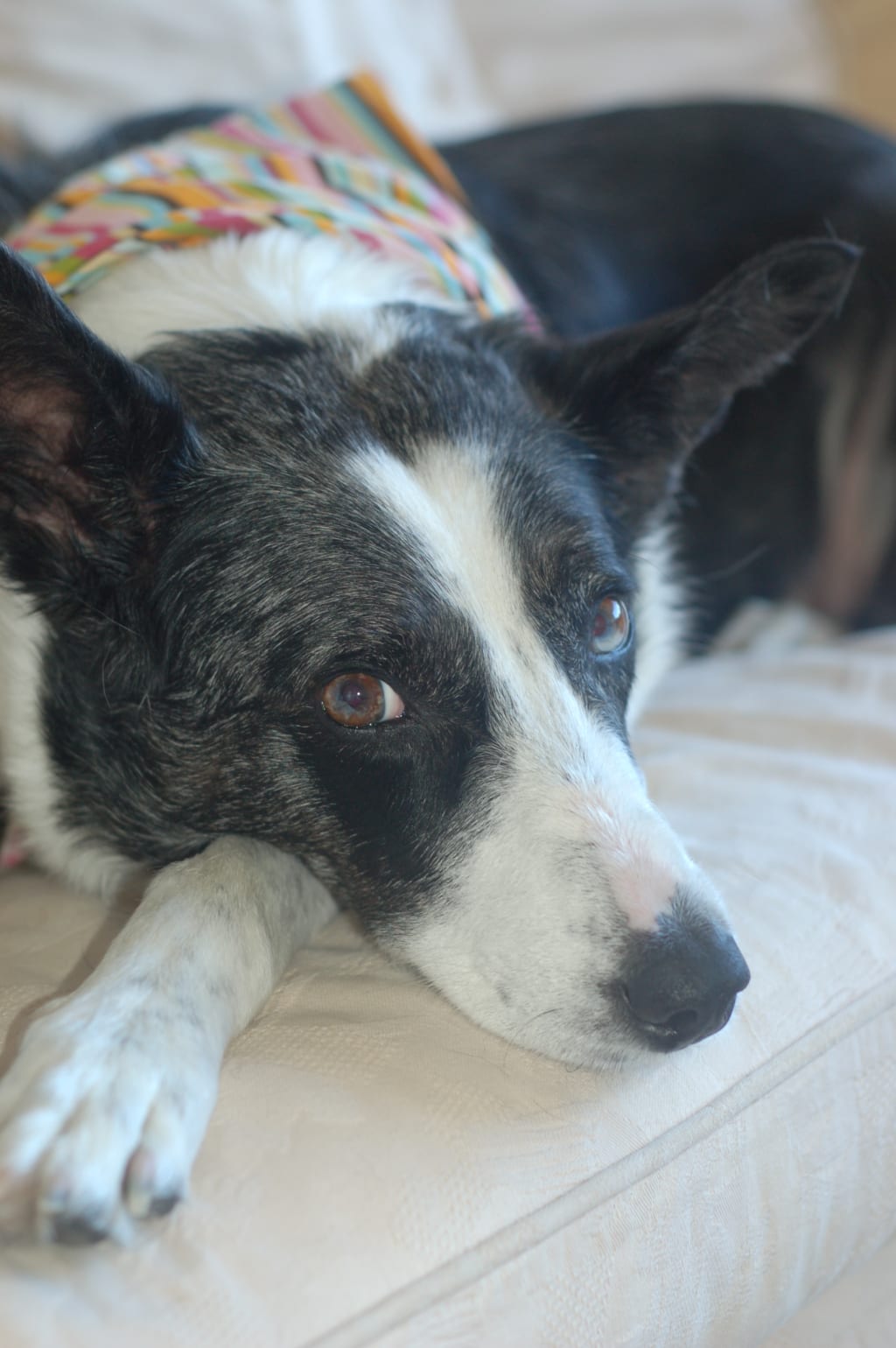 I love a good airport reunion. Show me the video of a veteran returning home to a cheering crowd at the airport and this ice queen will melt every time. Throw man's best friend into the "Welcome" crew, tail wagging jumping into their favorite human's arms and forget about it. Ugly crying every time.
There were no signs or fan-fare on the day that I lived out my own tearful airport reunion. I like to believe that someone was quietly watching and that the memory lives on, holding a warm place in some stranger's heart. The moment was too special think no one else in the world remembers that moment when I rounded the corner, hurrying anxiously toward "large item pick up" at the American Airline's baggage claim at Denver International Airport. Heart in my throat, hands shaking, my legs felt too weak to support my body as I eagerly scanned the crowd around baggage claim "14".
All at once, the crowd parted and our eyes locked. For just that moment, the world stopped spinning. I don't remember taking the last several steps to close the distance between us but as I hit my knees in front of her crate, Sally was jumping and spinning around with so much enthusiasm that she nearly turned her crate over.
Sally came into my life as a stray. She ran up to me on a street as I was out my afternoon jog. She stuck to my side me all the way home, like it was something we'd done for years. She stayed on my porch for the next 4 days - too terrified of my cat to come inside - before someone came to claim her. The next morning, she was back on my porch and that was that.
It broke my heart to leave her behind 9 months earlier when I set out seeking salvation in the mountains of Colorado and the basement of my best friend. Her terrified and confused face as she stood in the yard watching had been the last thing I saw as the door slammed and I began the fight for my life on the day that my ex-husband decided he would rather kill me than let me leave him. As I was loaded into the ambulance she was all I could think about. I saw her turn and run before the door slammed and knew she could be anywhere.
The relief and joy I felt as the neighbor's sons found her and brought her into the rig to show me she was ok, would be an equal source of joy and guilt over the next several months as I set out to take care of myself and find a new place to start over.
9 months and a lifetime later, there we were. Just a girl and her dog and the open road. I left TX with Seattle in my mind but felt so safe and happy during my stop over in Colorado, I just stayed. I wasn't living in a place that allowed a dog, and I planned to go on to Seattle, so I waited until it was time to make the trip to fly Sally from Austin to Denver. From there it would be 1330 miles by car to Seattle. 1330 miles, together.
I spent weeks planning. I had a real, old-fashioned map with our route plotted in red sharpie. I had measured down to the millimeter to be sure the crate required for the flight would fit in the back seat of the car. All of my other possessions were squeezed into my trusty Nissan Sentra accordingly.
Getting from baggage claim to the car was quite an adventure in and of itself. Sally was a stunning Border Collie Mix, with a unique 1/2 blue 1/2 brown left eye. She had always been a sleek and athletic dog. In the several month's with my parents, she and their Lab-mix had taken up competitive eating as their favorite sport and she had taken on the shape and weight of a small piece of furniture. Since I was not allowed to take her out of the crate to get on the parking lot transit, it took me and 2 other kind observers to get her on and off the bus.
We made it to the car only to discover, I had over looked the minor detail of the width of the angle of the car door opening in my measurements. Her assembled crate would not fit through the door. As I sat rubbing her head debated leaving the crate in the DIA long term parking lot rather than taking it apart and repacking the whole car on the spot, I wondered what about me said, "I would love your flirtations advances right now" to the young business traveler who was clearly in no hurry. No hurry to be on his way OR help as luck would have it.
Eventually business boy lost interest as I disassembled the crate repacked the car. A little sweaty and just a bit frazzled, we were on our way. A few miles after we left the airport, Sally stood up in the passenger seat to look out the window before turning to lick my ear. As she curled up and went to sleep in her cozy passenger seat nest, my heart was full. Absorbing her calm contentment, I found myself smiling in like a fool as we hit the open road. This was the first mile of the rest of our lives.
We stopped to chase a frisbee at a roadside park near the Colorado Wyoming boarder. Several hours later we booked a room in a surely haunted motor-inn near Cheyenne. After being re-routed thanks to a late season snow storm and I was afraid the only place with a vacancy sign may not be pet friendly. I sat in the parking lot debating whether I could sneak her in un-noticed. In the end I was rewarded for my honesty and we got upgraded to their largest room at no extra charge just because I was traveling with my dog. The only stipulation was that I had to go get her from the car immediately so they could meet her. The live-on site owners really, really loved dogs. I wondered absently, if this was a horror movie, would they get rid of me and keep my dog, or would I be the only guest spared, because I have a dog...
As I surveyed the room and washed my face, we'd been on the road for 13 hours, Sally picked up her leash and took it to beg at the door. When I took her out she ran to get back in the car. We hit the road as soon as the sun came up.
At Yellow Stone National Park, we meandered along at a tourist pace as we saw big horn sheep, a family of Grizzly and to Sally's dismay, the bison came right up to the car window. I had no idea what a rare treat it is to encounter the big horn sheep- just standing near the road like they were waiting to welcome visitors to the park and a momma Grizzly with cubs to boot. We stopped to put our feet in a lake and I pulled off at every scenic view point for pictures. It was a dream come true.
In Coeur d'Alene, Idaho, she fell in love with a Yorkie at the dog park down the road from our very dog friendly "Super 8" while I fell in love with the views and the people.
By the time we made it to Seattle, my heart was light and I was happy. Happy and content in a way that made me forget I had every felt any other way. With every mile, the months of healing and fear that followed the years of disappointment and frustration just melted away.
Over the next 6 years together we would enjoy adventures all over the Pacific Northwest. There would be matching puffy jackets and weekly trips to Pikes Place Market. We would be featured on my favorite clothing boutique's website - it was just too cute to resist the owner insisted - the way she wouldn't even leave my side while I went into the dressing room and her butt and wagging tail poked out from under the curtain then she looked so proud, looking up at me as the sales team would compliment me when I'd come out for the mirror.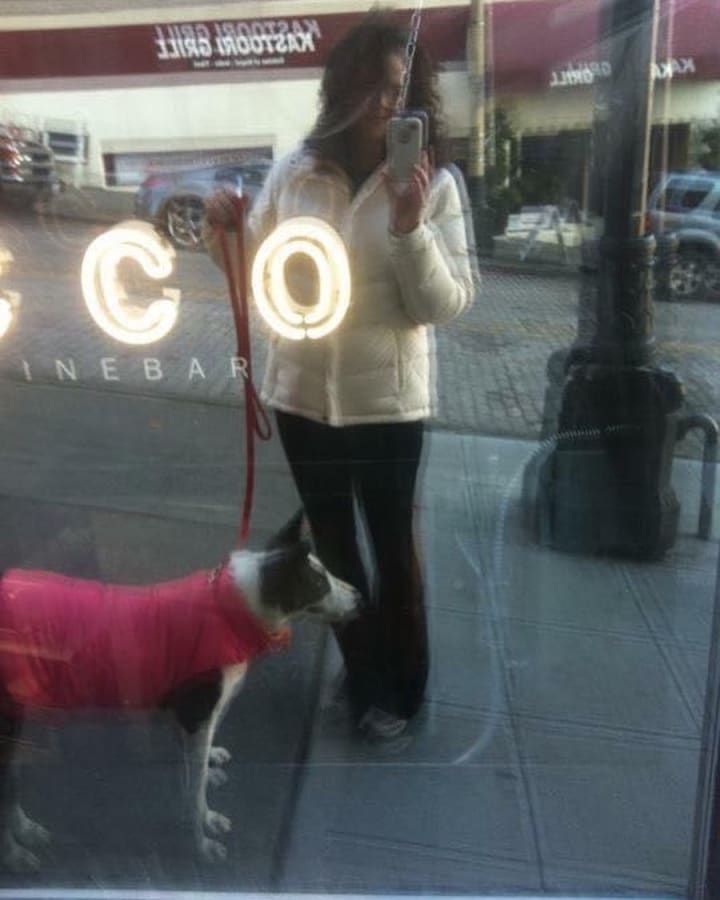 We would watch for werewolves and vampires as we explored the beaches of La Push and visited Forks.
We would meet the love of my life and move from our tiny apartment with a view to a home with a yard.
We would add a puppy to the family because "dad" wanted a dog that loved him since Sally's heart and affection were reserved for me alone. The night we brought the little 3 pounder home, she sniffed him, then laid across my lap and growled at him. "This one's taken, kid." He took the hint and barely let me touch him that first year. Sally and Ted were best friends for the rest of her life, and dad finally had a dog that only loved him best.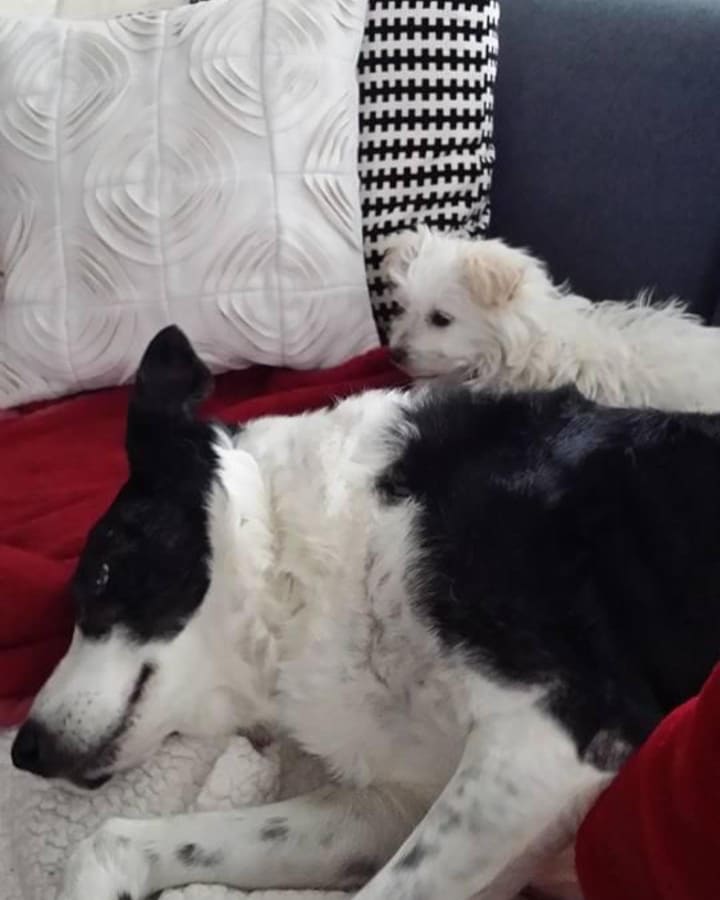 After 12 years together, there were no sweet, misty eyes when the end was near. I cried in earnest, sitting alone in the Denver airport, when my husband called to tell me that she had suffered a devastating stroke. I was away, in Colorado for my annual girls weekend with my best friend. Life is so funny that way.
Ultimately, my "ride or die" hung on until I made it home to hold her and wish her well on the next adventure she would have to take without me. I will always be so grateful for that.
Every trip I take through DIA for the rest of my life will include a private moment to glance toward baggage claim 14 and send a prayer of "thanks" for the love and companionship of a pretty little stray, who adopted me one day while I was out for a run and left a permanent "border collie shaped" tattoo on my heart.
dog
About the author
when I was in the 8th grade, I decided it would be amazing to be a writer. At 43 I have decided to grow a pair and put some of my writing out into the world for people to read.
Reader insights
Be the first to share your insights about this piece.
Add your insights