Why I Love my Pops...
Volume 1.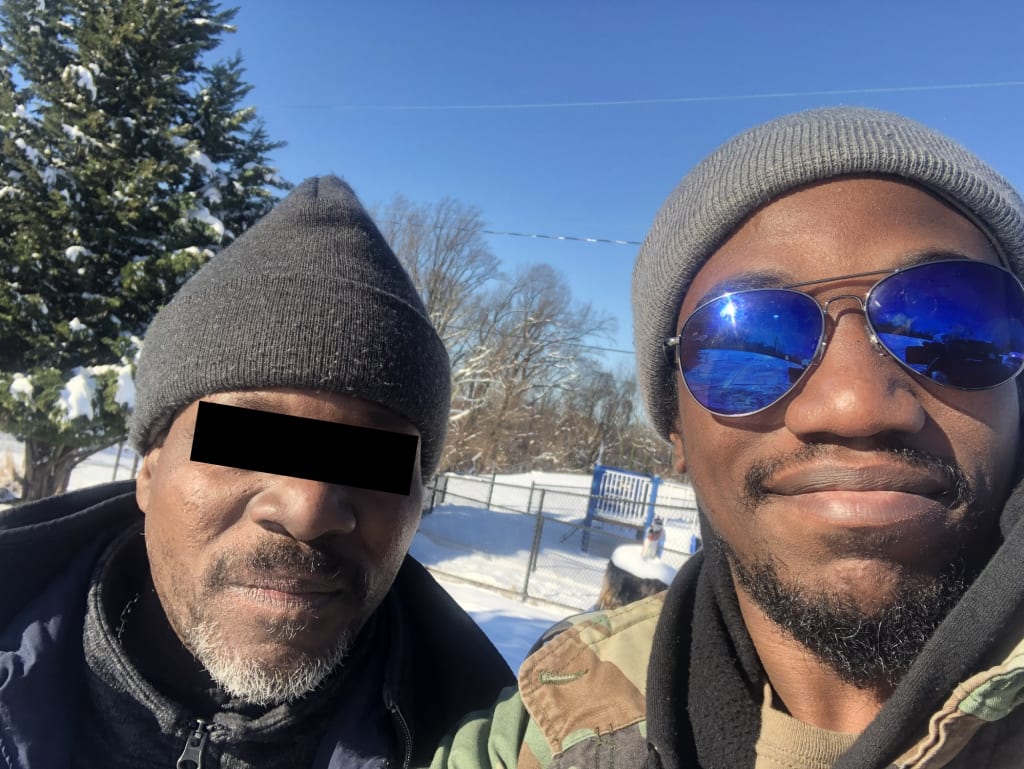 A selfie taken by me 14JAN2019; 1409, MON. Slightly edited 6JUN2023; 0232, TUE.
6JUN2023; 0354, TUE– Capitol Heights, Maryland, USA
It's later than the second American Revolution tonight. Tho, I believe that there's no time like the present for a gift of a gem, dropped on me way back when; by none other than the Old Man.
I triple dog dare ya to try and say that last statement seven times, in rapid succession; haha. Seriously tho, I'm figuring that if one of my fav Hip Hop artist can come from "the trenches"; to rapping the theme song for a certain show that kinda rhymes with the ebonics pronunciation of, "recession"...
My Pops schooled me on everything from bike riding; to driving; to electrical engineering; and even fisticuffs. Heck: He even gifted me some of his beloved hand-tools!
I'm talking brand new ones; as well a few of those fitting a combo of the two categories. As the song goes, "I got it honest; I just [had to] give it life.
Being an electrician's apprentice was fun and all. Conversely, I'm convinced that I can only retire him from the trade via my personal entrepreneurial career with my apparel brand.
That reminds me! Had he not taught me a Love for cameras; photography; and faith in a Higher Power at such an early age, I might not have ever been blessed enough to take those pivotal pictures in the Diyala Province of Iraq; some 11 or 12 years prior to the current day.
Pops taught us to pray every night; before every meal; and immediately upon opening our eyes with the sunrise. How much more abundantly blessed and highly favored my life would unquestionably be; were I to just bind his lessons around my heart!
"It [could've] all been so simple..." Then again, he counseled me on how the underdog wouldn't have the same level of grit without his/her experiences encompassing lack; inequity; and/or "anti-motivation".
There's far too many successful individuals who eat the decidedly negative projections of others as, "fuel for the fight". That is, for me to not at least mention the fact of the matter.
We're talking historical figures like the Wright Bros.; to the GOATs (Greatest Of All Time) such as MJ; to modern triple OGs like Logic. Without their determination; confidence; or tenacity...
All traits that the Papa Bear at least attempted to instill in myself; and my brothers; and anyone willing to hear the wisdom in an old man's weary words. If I learned nothing else from Bossman: Don't put your fork on anyone else's plate.
Before I get to THE lesson, I just wanted to double back; and harken on how instrumental his Love for photography would be in my life. Not only did the pictures I took "Down Range" end up on t-shirts via my personal apparel brand.
Tho, I'm planning; vying; & expecting to use said brand to assist the ailing Veteran community in an incredulously positive, meaningful, and impactful manner.
As part of the recently revised Vision/Mission statement goes, "[I] don't believe 'Veteran' and 'homelessness' belong in the same sentence; except in history books. Same for 'Vet' and 'addiction'; 'suicide'; and/or 'divorce.'"
I'll never forget when I was barely tall as the dining room table chairs at Gramms' spot; when I got the "bright" idea to steal French fries off my Pops' big, red plate. To make matters worse, I'm pretty sure that I was merely being greedy eyed.
Regardless, it's palpably true what they say, "Oftentimes, a subtle rebuke from your Dad will cut deeper than any belt; switch; or cord." As the colloquialism goes, "Don't at me"; haha.
With the utmost sincerity, whether it was his tone; the visible disappointment; or just a smidge of the two combined, those words struck a chord with me. Even to this day, I want to (please pardon the expression; and the visual) retch a bit in my mouth whenever I believe that I'm potentially removing "food" from someone else's table.
Especially in this modern economy; what with the "discretionary recession" that the lamestream media claims we are in the midst/mix of. Well, I better try to zonk out; because even spec ops soldiers require a modicum of sleep hygiene; and/or rejuvenating rest.
My fav Dad joke from Pops? "Don't take no wooden nickels; 'cause they ain't worth a dime..."
***
***
Prayerfully, you gained something pertinent (re: useful) from this post. If so, then please think about considering a show of support; however you may see fit.
Additionally, I'm easily reachable via Twitter. That's for private and/or public convos on the works written by me, my fav writers, as well as my other influences too.
The link in my bio will "counterintuitively" have that unmistakable tab in its main menu. Invariably, there's a tab in the very same menu cyclically returning you to my profile on this unfathomably superb site for writers.
Shoutout to all Vocal's inventors/staff/readers/writers. "[Y'all] the real MVP."
Lastly, if you're in the market for an incredulously original article of clothing or such: There's copious amounts at the link in my bio. Please don't believe for a NY minute that I'll be even remotely unappreciative of any all who "look out for the cookout".
***
About the Creator
I'm a Grunt who's been stuck in traffic for the past few decades or so. From DC to Seattle & Iraq; to back in "The Swamp". Also, I Love my Progeny more than life. Born Day: 4/20. Lastly, my apparel brand, War 'N' Tees is live! One Love.
***
Reader insights
Outstanding
Excellent work. Looking forward to reading more!
Top insights
Compelling and original writing

Creative use of language & vocab

Heartfelt and relatable

The story invoked strong personal emotions
Add your insights