Walking on Tip Toes
The many useful (and useless) lessons from my father.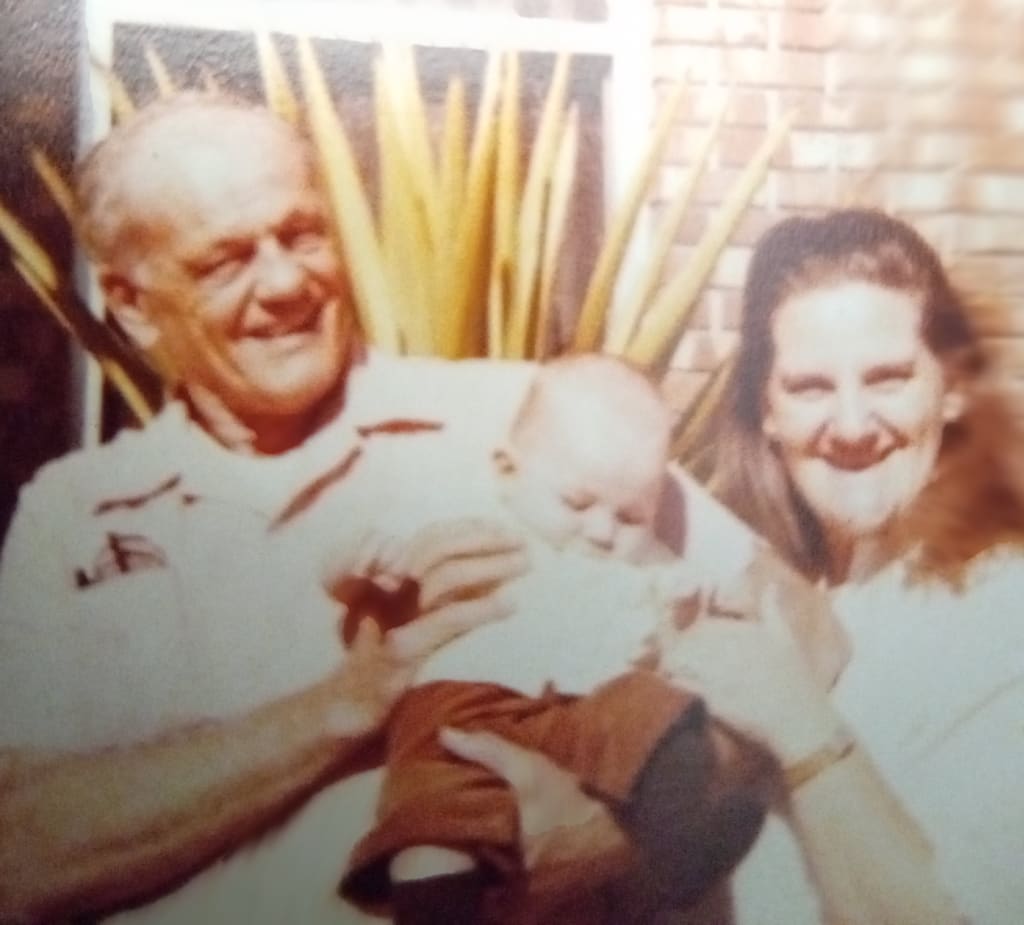 At church.
At school.
In sports.
At home.
Dad made his presence known everywhere, in somewhat big ways.
Because of his job, he took me around the world, where we lived. I mean, we lived there, not just a quick look-see and off again. I was immersed in Latin American culture for six years.
Before we moved there, Mom taught me about God and Jesus. She taught me songs and decorated for Christmas and Easter and Dad watched and smiled in approval. Once we moved, I started attending mass with the neighbor. The cathedrals were huge to my eye, gilded and magnificent. The mass was still in Latin, which doubtlessly affected my experience. I drifted away from Catholicism. I respected it, but I felt a more immediate relationship with God. I discussed this with Dad, who had been raised as a Methodist. He found an English language, Protestant church. They were Unitarian and I was fascinated as we were served by a Baptist minister, a Presbyterian and a Methodist. The Baptist was there to baptize me and the Methodist confirmed into the church on an Easter Sunday sunrise service. I felt wrapped in love. Dad served on the board of directors of the church for three years. We were connected there. He began to open up about having to give up his membership in the Masons. The Ambassador informed him that he had to cut his connections, receive no mail with the emblem on it, because it was associated with the Communist Party. He was angry and upset and he shared with me about that. I felt adult, trusted.
I was always a good student, so there was no trouble at school. Still, Dad ran and served on the school board for four years. Sometimes he was the president of the board, and sometimes the vice-president. He and Newell Judkins traded off every year. Mr. Judkins' daughter, Catherine, was my best friend. We thought we were in a special club. There were no real privileges, but we felt special anyway. It was during this time that I attended my first school dance. Dad taught me to slow dance; a two-step and a waltz. Mom watched and then they danced together, to show me how to really do it. I felt enveloped in love.
While there, I taught myself to swim because for the first time I could be in a pool almost every day. Dad was a swimmer, so he delighted in my accomplishment, and we could swim together. He even moved us to a house with a pool, so I could practice and we could swim together. For years before that, I had been jealous of my older brothers who could play football in the yard, or talk statistics and understand the game. I would sit and watch, but I learned only a little. Being able to swim with him made me special, because neither one of them could swim.
Dad was an accomplished pianist. The first house we lived in in Bolivia had a music room and a baby grand piano. I used to fall asleep to the sound of him playing. Gershwin, mostly. I still love "Deep Purple," and of course, "Rhapsody in Blue." I took lessons, but I didn't do well learning to read music. I discovered there were numbers above the notes, indicating which finger to use and I just used those. The piano teacher was so impressed with my advancement until the day I said, "Oops. That's a four not a five." She quickly covered the top of the page with a ruler and I reverted to pick and look playing which has no rhythm. Mom and Dad were disappointed and I quit. Before that, in Illinois, I had taken accordion lessons, and the teacher said I was a natural, practically a prodigy. I quit because I was only five and the accordion was too heavy.
In Bolivia, after the piano fiasco, I got bit by the guitar frenzy and started singing and playing folk songs. Mom made a recording of me playing for my brother to hear. He had a brief career in early rock and roll, so it mattered that he approved. He claimed to be impressed. My teacher taught us to play the same song in different keys, so I would record each version for him. Dad was in the other room the day that Bob sent us a tape, asking me to find a new song. "I think Michael has made it to the other shore, Sis," he said. I heard Dad laugh out loud in the other room. Amen!
He encouraged me to be active, whether riding a bike, playing volleyball or swimming. His strongest game, we never played together. That was tennis. He had been a hot-shot as a young teen, going to camps and competitions. But it was during the Great Depression, and he was needed at home. His dad had died young, so Dad and his brother, my Uncle Stan, got jobs after school and weekends to help out.
He taught me to drive while we lived in Laos. Since there was a war raging in Vietnam and things were tense in Cambodia, Laos was adjacent and we were under restrictions, so we had to stay in our compound. It was four blocks by two blocks. Dad would instruct me to take a left, turn on the wipers for one swipe and tap the brake twice, all at the same time. He informed me he was teaching me to drive the way a pilot works in a plane. Anyone following would have thought a six-year old had taken the family car for a spin. His patience was tried a few times, but he didn't give up on me.
As you can tell, he touched all aspects of my life. He actually helped me elope! He orchestrated moving my belongings from our home into my fiance's new apartment and stood for hours in line to transfer the car title to my name, on the day we were married by a judge. He didn't give me away, but he sent his son to stand up with us. Not much of an elopement, when the family helps out that much!
One oddity about Daddy's behavior. When he was home, he would carefully remove his shoes and socks, tucking them neatly by his chair. In case he left again, I guess. He didn't usually wear slippers. He would walk barefooted, but always on his tip-toes. When I was very little, I would walk on my tip-toes, like it was a game of "Follow the Leader," and giggle. When I was about eight, I asked him why he tip-toed, even though he didn't need to be quiet. He told me that way back when he was a tennis star, his coach had insisted he walk on his toes all over the camp, all the time, which would strengthen his calf muscles and keep him light on his feet when he played. I know he regretted having to quit.
As a teen, I took up tennis, too. We would just bat the ball back and forth over the net, not serious about it, not keeping score. I wowed folks by using the serving technique Dad taught me. It is quite different from the newer technique. Needless to say, nobody discovered me. I tried to walk around on my toes for a while, to develop my training. Trust me. It's hard. At this time, Dad was working in Vietnam and Mom and I were in Taiwan, so I only saw him every couple of months. When he was home, he would admonish me to "Tip-toe!"
Dad was a war hero, too. At least to me. I wasn't born yet, but I heard plenty of times about him jumping out of a burning plane. He was a navigator of a Flying Fortress, B-52, and the plane got shot down over Germany in 1944. He was next to last in line to jump out, but the parachutes were out of order. He got the 'chute of a 5'5" tall guy they called, "Butterball". Dad qualified to be called "Stringbean". He was 6'2" in height. The 'chute didn't fit. The straps were too short, so Dad had to jump with just the shoulder straps and his arms crossed in front. The pilot pulled the ring for him as he jumped. The rush of air and the pressure of the 'chute opening wrenched his back and strained his neck. He lost consciousness, managing to hold on as his mind came and went. He couldn't control the guide wires, so he just had to float as the wind took him. He landed on a boulder, slid along until one foot was wedged between two boulders, breaking his ankle. He landed with such force that his head smacked on the rock and he lost consciousness again.
That's just the landing. There's more, of course, but it doesn't belong here. I mention it because Dad had three important pieces of jewelry, in my opinion; his wedding ring (of course), a big fancy ring Mom designed for the whole family and his caterpillar pin, which he wore to signify that a silkworm saved his life. His caterpillar had red eyes, indicating that he jumped from a burning plane. Mom also commissioned a bigger pin with bigger ruby eyes for him. He wore it with pride, but sentimentally, I think he still wanted to wear the little gold pin with tiny ruby eyes.
He loved us all. He worked so hard, worked through the pain when his "war wounds" would act up. He liked to swim because it helped him stretch out his upper back and shoulders. As a P.O.W. his ankle was operated on with such finnesse that he never complained about it, ever. I once saw the X-ray, the only way to prove it had happened. It never swole, never hurt. Three pins inserted at different angles with such precision. He often wondered why the Stalag surgeons were so good to him, but he decided to be grateful and not worry.
He fought cancer off. He was given a clean bill of health, only to land in the hospital with a mystery ailment. After some fishing, they found some cancer had hidden in the lining of his heart, undetected. That's what took him.
He lived long enough to enjoy my first-born son for five years, to watch him learn to swim and play around with my guitar. I loved watching them together. For his last Christmas, I used my "12 Days of Christmas" cookie cutters to make him the entire song, all the way from a single partridge in a pear tree up to 12 Drummers Drumming. It took me weeks and hours and hours to carefully decorate each sugar cookie. I hope that showed my love for that special man, my Dad.
About the Creator
Actor, writer, voice-over artist, teacher, author, mother and Grammy of 4. I've done a lot. I grew up in Bolivia, Laos and Taiwan. Married 25 years, widowed. Please read my stuff and leave a comment! Thanks.
Reader insights
Be the first to share your insights about this piece.
Add your insights