What kind of marriage lasts the longest
The answer is the same for men and women
People who love each other want to hold hands and grow old with their children, but after entering into marriage, they find that marriage has become a walled city, and with the disappearance of passion, blandness has become the main theme, which inevitably makes people bored.
When it comes to life after marriage, many couples will each spit on their partners and feel too tired to get along with them.
"The children are mine alone, he never helps when he comes back, and blames me for not doing the housework."
"Called every day to chase me what I was doing, pocket money no more than 500 yuan, so that friends call me a strict wife."
"When I'm sick, I only know to tell me to drink hot water, teach him a hundred times to be nice to me, but he just won't."
Such things are very common in married life, but also many couples headache, to run a good marriage, couples will continue to try to find each other are comfortable with the way to get along.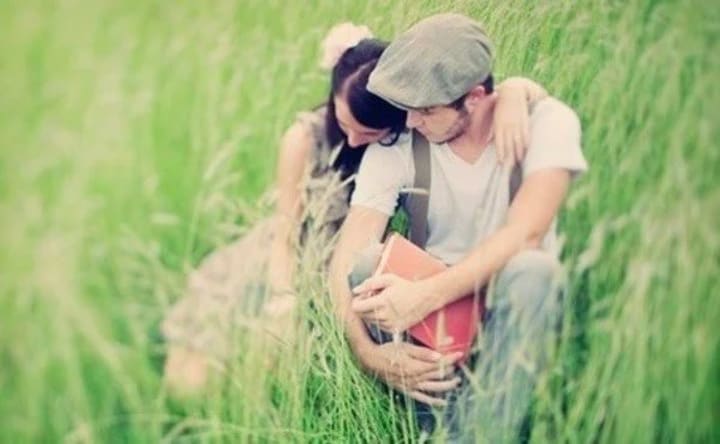 However, many people in marriage, who are thinking to change each other, or waiting for each other to change first, can end up with disappointment and miserable failure.
So, what kind of marriage is the most long-lasting, men and women's answer is the same.
Both sides have empathy.
Empathy, the general idea is to put yourself in the shoes of others, the ability to understand their emotions and feelings.
Many couples in marriage, want each other to tolerate themselves, understand themselves, and preferably understand their own needs, but did not think about what to do for each other, and did not care about each other's feelings.
My friend Ping An has been married for seven years and has been very happy. She said she knew she hadn't married the wrong person when she watched her husband's performance during childbirth.
She was a cesarean section, her husband took off work half a month before the due date to come back with her, after the birth of the child, he spent all day around her, and even the mother-in-law envied Ping Yuan's good life, said my son when so much care about a person really surprising, words can smell a lot of sour taste.
Ping Yuan's husband did everything himself, let his mother-in-law make soup and meals to send, and he took care of everything else so that the maternity ward also envied him.
He looked at his daughter's sleeping face, bowed his head, and kissed Ping Yuan's hand, saying that she had suffered and paid so much for him and that he would be good to her.
Some good people laughed at him, saying that he would spoil the woman in this way, and admonished him not to be too good to women.
He listened and retorted, "Do you know that a wife is the most important person in the rest of a man's life? She loves you to endure great pain for you to give birth to children, and without regret, not good to her is their stupidity.
Although he can't experience the pain of childbirth like a woman, he can perceive her sufferings, know how to understand her difficulties, and understand her pay.
Ping An looked at her husband's good to their own, she also felt his tired, will think to make him easier, each other humble, and love each other, the relationship has been very good.
This ability to perceive is very important in marriage, both husband and wife have empathy, get along will know how to think differently, can listen to each other, can understand each other's behavior, and then tolerate, to reduce a lot of conflicts, but also enhance the relationship between husband and wife.
Both sides know how to respect and accept each other's differences
There are no two identical leaves on the tree, each person is an independent individual, and has their strengths and weaknesses.
Many couples get along thinking that the other party can tolerate everything about themselves, but they are focused on each other's shortcomings, and undoubtedly find their unhappiness, which also affects the relationship between the two.
Have seen a young couple in the restaurant for dinner quarrel, the man only orders their favorite dishes, but forgets the woman's mouth is on fire and can not eat spicily.
The woman felt very aggrieved and said the man never consider her feelings, everything is centered on his own, so she felt very tired.
The man said angrily, from the birth of a child's temper is getting bigger and bigger, and there is no woman's look.
The more the two quarrel, attracting sideways glances next to people, the woman angry covered up crying, and left, the man cursed after eating a few bites and also got up to buy the bill to go, look at the let people sigh.
It seems to be a meal, but the details of the couple did not deal well with each other.
The man did not take into account the feelings of the woman, knowing that women can not eat spicily, but also ignore her, resulting in the woman feeling aggrieved, thus feeling tired and disappointed with the relationship.
If a man knows how to respect his wife, he will order the dishes that both of them like to eat and take care of each other's feelings, rather than selfishly just care about their feast.
Two people living together, each other certainly can not achieve 100% compatibility, can find the two overlap after the part, for the rest of the part should learn to accept, to seek common ground while reserving differences.
The greatest attraction of marriage is to explore the depth of connection between two people who are not related to each other.
If you want a marriage to last, you need to respect and accept each other's differences, build a more compatible world, to make the deep-rooted identity irreplaceable, the closer the two people will be.
Know how to give to each other
The running of a marriage is a matter of two people, if one of them only thinks about taking, then the other will feel tired and thus disappointed with the relationship.
In a good marriage, couples are giving to each other, giving each other love, giving each other respect, and giving each other the recognition they want ......
The two people in the marriage, have their preferences, also have their pursuits, know how to give to each other, can understand each other's doings, and then support each other.
The couple who know how to give to each other, the relationship will flow like a spring, and eventually become a virtuous circle, so that they live the way they want most, but also mutual achievement and growth.
Understanding, caring, relying on each other, interacting, trusting, and committing, as mentioned in Intimacy, are also the details of living together that mutual giving can fulfill.
Giving to each other is a way to bind each other's interests together and fulfill each other's unmet needs.
The two people in the marriage, keep each other in the process of mutual friction, want to deal with the details, the more empathy, know how to respect acceptance, but also give to each other, to constitute a happy and stable intimate relationship.
If you want your marriage to last, you have to learn to run it, just like Gillian Flynn wrote in The Vanishing Lover: "Marriage is about compromising with each other, trying to run it, and then trying harder to run it, communicate and compromise, followed by another round of running it."