What are the best honeymoon destinations in Bali?
Unify Holidays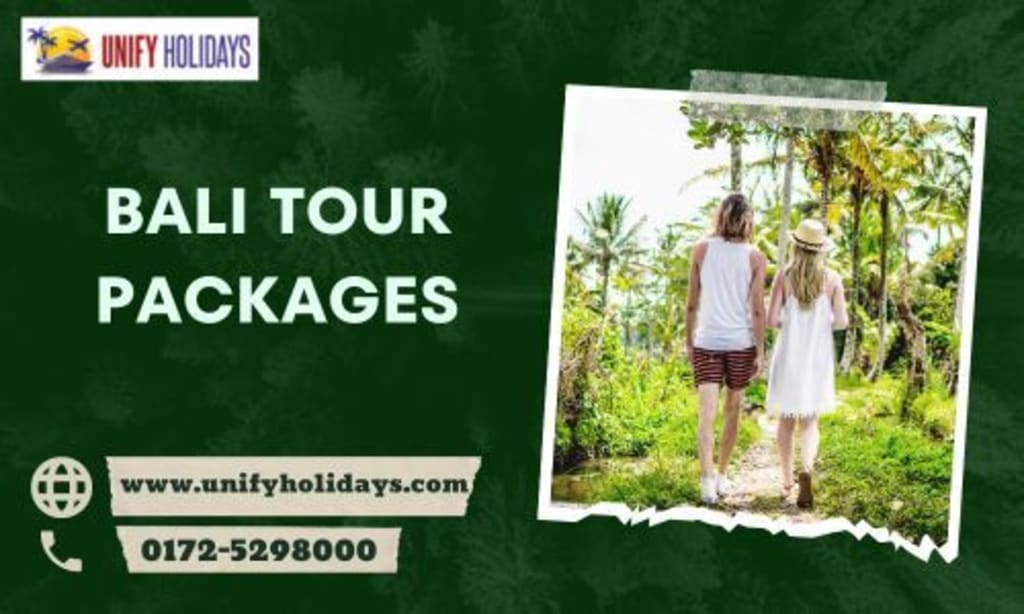 Bali tour packages
Bali, Indonesia's magnificent island paradise, has long been regarded as one of the world's most romantic locations. Bali, with its breathtaking scenery, colorful culture, and lovely beaches, is an ideal destination for couples looking for an outstanding honeymoon experience. In this post, we will look at some of the top Bali honeymoon spots, where love is in the air and dreams come true. Let Unify Holidays, your trusted travel partner, guide you through the enchanting journey of love in Bali with our exceptional Bali tour packages.
Ubud: A Haven for Romance Amidst Nature's Splendor
Ubud, nestled among beautiful green rice terraces and deep rainforests, is the ideal honeymoon getaway for couples seeking peace and romance. Hand in hand, explore the famed Tegalalang Rice Terrace, take a gorgeous bike ride through the countryside, or have a romantic picnic by the Ayung River. Ubud also has a number of exquisite villas and spa retreats where couples may enjoy restorative couples treatments and swim in private infinity pools overlooking the tranquil nature.
Seminyak: Beachside Romance and Vibrant Nightlife
Seminyak is an excellent alternative for couples seeking a balance of calm and excitement. Seminyak, with its beautiful beaches, expensive resorts, and fashionable beach clubs, provides a lively setting for honeymooners. Lounge together on Seminyak Beach's beautiful beaches, have a romantic candlelit meal at a beachfront restaurant and enjoy the energetic nightlife at famous places like Ku De Ta and Potato Head Beach Club.
Nusa Dua: Luxury and Seclusion for Intimate Romance
If privacy and luxury are important to you, Nusa Dua is the ideal Bali honeymoon getaway. This private resort region is known for its gorgeous beaches, crystal-clear seas, and world-class resorts that provide unrivalled luxury and privacy. Enjoy the luxury of your own villa with a private pool, relax with spa treatments inspired by traditional Balinese traditions, and indulge in intimate dining experiences by the beach. Nusa Dua guarantees a romantic, serene, and unforgettable honeymoon.
Jimbaran: Sunset Romance and Culinary Delights
Jimbaran is known for its beautiful sunsets, gorgeous beaches, and delicious seafood. Imagine walking hand in hand along Jimbaran Bay, watching the sun set behind the horizon while having a romantic beachside meal. Indulge in a seafood feast at one of the area's oceanfront restaurants, where you can appreciate the day's fresh catch in a romantic and private environment. Jimbaran provides an exquisite setting for couples to embrace natural beauty, gastronomic pleasures, and romantic encounters.
Uluwatu: Cliffside Romance and Spectacular Views
Uluwatu, perched on tall cliffs overlooking the Indian Ocean, offers stunning views and a romantic and adventurous environment. Enjoy personal moments while staring out over the vast expanse of the ocean from the famed Uluwatu Temple built on the edge of a cliff. Uluwatu is also a surfer's paradise, with exhilarating waves to ride with a partner. Experience the rush of the surf, discover secret beaches, and make memories that last a lifetime.
Gili Islands: A Tropical Paradise for Secluded Romance
Escape to the lovely Gili Islands, a trio of stunning islands off the northwest coast of Lombok, for a calm and seductive honeymoon experience. With no motorized vehicles permitted on the islands, Gili Trawangan, Gili Meno, and Gili Air provide a tranquil and intimate setting ideal for couples seeking a romantic holiday. The largest and liveliest of the three islands, Gili Trawangan, with gorgeous white sandy beaches and a lively nightlife. Explore the island by bicycle or horseback carriage, dive together to see spectacular coral reefs alive with marine life, and enjoy the sunset from swings dangling in crystal-clear seas.
Conclusion:
Bali, with its mesmerizing beauty and romantic atmosphere, provides an unforgettable honeymoon experience. Bali has something for every couple, whether they choose the peace of Ubud, the dynamic vibe of Seminyak, the seclusion of Nusa Dua, the culinary pleasures of Jimbaran, or the cliffside romance of Uluwatu. Let Unify Holidays be your trusted partner in planning your dream honeymoon to Bali, as we curate exceptional Bali tour packages that cater to your desires and create cherished memories of love and romance. Contact us today and embark on a journey of a lifetime with your loved one in the paradise of Bali.
Reader insights
Be the first to share your insights about this piece.
Add your insights