Tips For Choosing Ruby Rings For Anniversaries
Factors to Consider When Choosing Ruby Rings for Anniversaries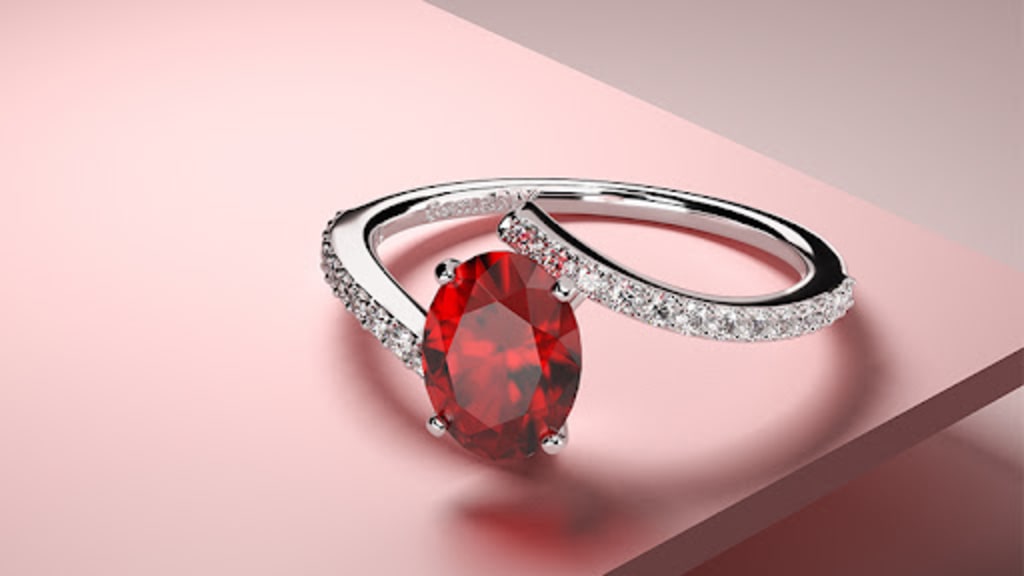 ruby ring
Ruby rings are a popular choice for anniversaries because of their beautiful red color and symbolism of love and passion. Ruby is called the king of gemstones for many reasons. You will surely want to delight your loved one with a gemstone that is ruling the gemstone world for years. However, choosing the right ruby ring can be overwhelming, especially if you are unfamiliar with the different ruby rings available. In this article, we will provide you with some tips for choosing the perfect ruby ring for your anniversary.
Ruby is a traditional wedding anniversary gift for a 15th and 40th wedding anniversary, but every day is a good day to gift your loved one ruby jewelry. To avoid any confusion, we will go step by step to provide you with quick tips for choosing a ruby ring.     
Determine Your Budget
Before you start shopping for a ruby ring, it is essential to determine your budget. Ruby rings come in a wide range of prices, so it is significant to set a realistic budget to avoid overspending. You can find beautiful ruby rings at every price point, so do not worry if your budget is limited. By determining your budget, you will be able to narrow down your options and make the process of choosing the perfect ring easier.
Consider The Quality Of The Ruby
The quality of the ruby is a significant factor to consider when choosing a ruby ring. Rubies are graded based on color, clarity, cut, and carat weight. The most valuable rubies have a deep red color, flawless clarity, excellent cut, and large-carat weight. However, these rubies are also the most expensive. If you are on a budget, you can still find a beautiful ruby ring with a lower-quality ruby. Just be sure to inspect the ruby closely to ensure it has no visible flaws.
Choose Centerstone Setting
The setting of the ruby ring can greatly affect its overall appearance. Ruby rings can be set in a variety of metals, including gold, silver, and platinum. The metal you choose will depend on your personal preference and budget. Gold is the most popular metal for ruby rings, but silver and platinum are also great choices. The setting can also affect how the ruby sits on the finger. A prong setting will elevate the ruby, making it more visible, while a bezel setting will protect the ruby from damage.
Think About The Style
Ruby rings come in many styles, from classic solitaire designs to more modern and unique designs, such as two-stone or three-stone designs. The ring style you choose will depend on your personal preference and the choices of your partner. Classic solitaire designs are timeless and elegant, while vintage styles are perfect for those who love antique jewelry. If you are looking for something more modern, consider a three-stone ruby ring or a ruby ring with accent diamonds.
Consider The Occasion
When choosing a ruby ring for an anniversary, it is significant to consider the occasion. If it is your 25th or 50th anniversary, you may want to choose a fancy ruby ring for a silver or golden jubilee. For other anniversary years, a simple ruby ring may be more appropriate. You can also consider your partner's personal style and taste when choosing a ruby ring for an anniversary.
Get The Right Size
Getting the right size ruby ring is the most crucial part. To ensure that it fits comfortably and securely on the finger, you should know the accurate size of its wearer. If you are unsure about your partner's ring size, you can take a ring that fits them well to a jeweler to know the accurate size. You can also measure their finger using a printable ring sizer. There are many other playful ways to know her ring size secretly, such as you can take an impression of her everyday wear ring on soap or check her online purchase history. It is important to get the right size to avoid the ring slipping off or feeling too tight.
Shop From A Reputable Jeweler
Either online or offline, you should always purchase a ruby ring from a reputable jeweler. A reputable jeweler will provide you with a certificate of authenticity for the ruby and offer a warranty or return policy. Do not forget to read reviews and check the jeweler's authenticity before making a final purchase. There are many add-on benefits of purchasing a jewel from a reputed jeweler. If you are falling short of the budget, you can get your ring in easy installments.
Wait For The Right Time To Make The Final Purchase
Because you are purchasing a ruby ring as an anniversary gift, you may have sufficient time to decide on the ring. To get your ruby ring at the best price, it is a good idea to finalize everything about it first and then wait for an exciting deal on it. Most jewelry sellers run sales on many significant occasions, such as on Graduation Day, Valentine's Day, Women's Day, etc. All you need to do is to keep the notifications turned on for their websites. Hence you can grab the best deal as soon as the sale starts. You might have heard that mesmerizing things are rare, so you should quickly grab the jewel of your choice before it gets out of stock. 
In conclusion, choosing the perfect ruby ring for an anniversary can be daunting. However, by considering the quality of the ruby, the setting, the style, the occasion, and getting the right size, you can ensure that you choose a ruby ring that your partner will love and cherish for years to come. Ruby is a gemstone for July; if your significant other is a July born then you should not give it a second thought to give them a ruby gemstone ring. Ruby gemstone is elegant enough to steal the attention of everyone. To make your loved one feel the warmth of your love, club your gift with a meaningful love quote and see the sparkle of the gemstone in her eyes. 
About the Creator
Hey, I am Henryy Willsons. I am highly excited about writing. I love to put my thoughts into words and make an impact on others through my writing skills. I love to write about fashion and jewelry trends.
Reader insights
Be the first to share your insights about this piece.
Add your insights