Stunning Wedding Dresses from YesStyle for Brides on a Budget
The buying guide for cheap and stunning wedding dresses that will not burn a hole in your pocket and most importantly, perfect for your body type.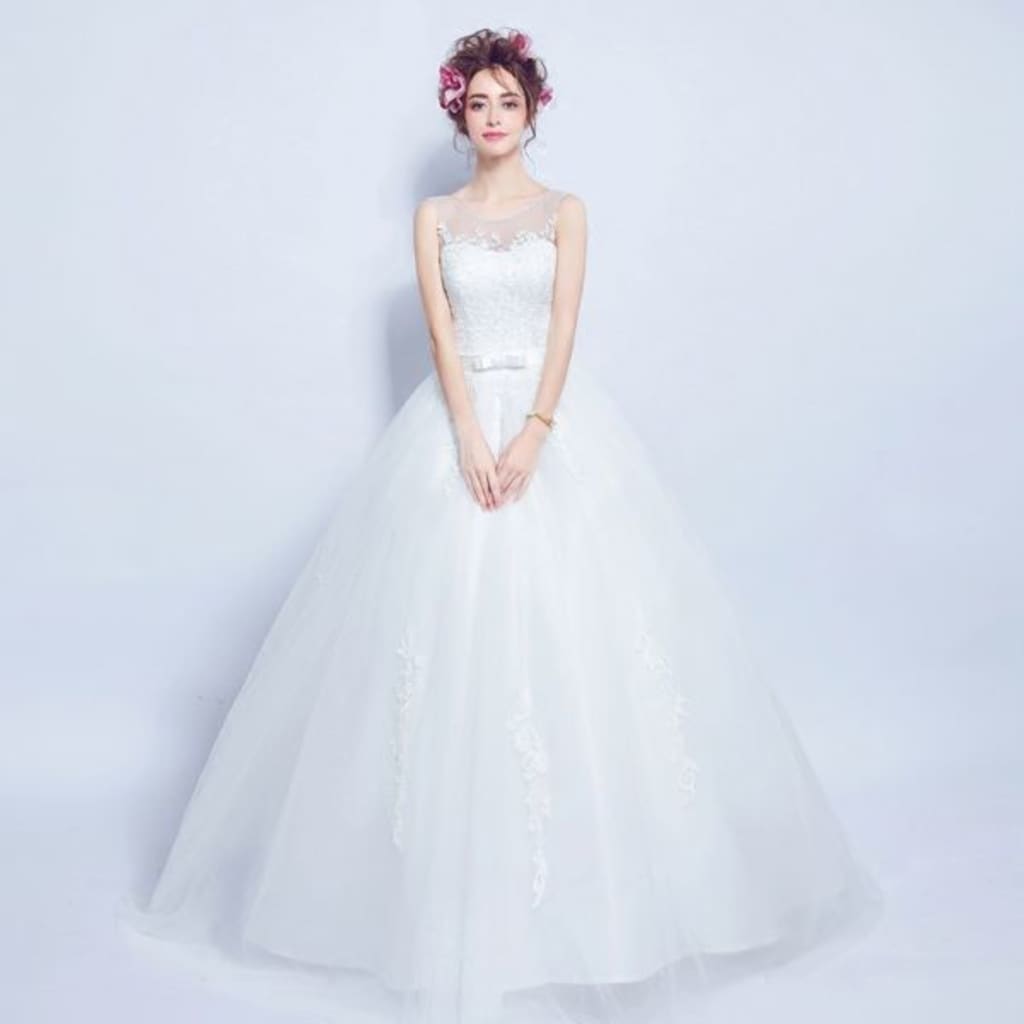 Limited time, limited budget, and you just don't have time to go around bridal boutiques for wedding dress shopping! Inspired by a Youtube video by Tina Yong, YesStyle is here to the rescue. Just by typing "wedding dress" in the search column, you'll be spoiled with more than 1,000 dresses. However, you may feel overwhelmed by the wide range of choices. Thus, it is advisable to know what type and colour you want to wear on your big day.
Body type: Petite
For the petite brides, avoid dresses that will overwhelm your frame. Especially when you're planning to dance in the dress, it will be impossible if you can't even walk in it.
If your're into off-shoulders dress, this Fioridi—Off-Shoulder Trained Wedding Dress is perfect for you. This trumpet wedding dress will gives you ample space to move around and the layering on the chest gives you enough drama that you definitely don't need anymore on your big day!
Body type: Full figure
As the bride, you can choose whether to wear something that will make you look like you have smaller frame or something that will accentuate your curves. Depending on your preference, the type of dress may vary.
Ball gown dresses will enhances your waist and at the same time makes you feel like a princess as you should on your wedding day. The lace on the top and the train will also add an extra height to help you look slimmer.
Body type: Long and Slender
So where do we start? Brides with this body type have wide range of choices to choose from. However, there's a few material and design in particular that you need to choose in order to create a more feminine figure.
The embellishment on the bodice of this dress adds more bulk to your bust to create fuller upper body, the sheath material adds more volume to your frame and will create illusion of curves. For brides that prefer to hide their thin arms, the sleeves of this dress will got you covered! The details of the dress from top to toe are just right for a balanced look.
Body type: Hourglass
For brides with an hourglass figure, you can choose to either enhances or downplay your curves. The Fioridi Embroidered Mermaid Wedding Dress is definitely for those who want to highlight their waist. The transparent bodice at the back will bring a lot of attention to the brides' sexy curves.
For modest brides who wish to tone down the sexiness on their wedding day, avoid dresses with plunging necklines and skinny straps. Choose a wedding dress with higher neckline, sleeves or cape. Regardless of your pick, remember to choose a dress that offers enough support to avoid any unwanted spillage accidents.
Body type: Triangle
Brides with triangle body shape don't need anymore highlight on their already enhanced bottom. Thus, you need to pick a dress that will bring attention to your upper body.
This magical wedding dress has a unique butterfly applique, which is definitely different from all the dresses which are listed above. The ruching bodice will draw the attention away from your hips and it's perfect for a romantic garden wedding.
However, online shopping for wedding dresses is not for the weak heart. It's for adventurous brides that has a good tailor friend that can do any alterations that may need to be done for a perfect fit dress. If you are that type of women, you can end up wearing a wedding dress for less than $400 without going through the hussle. And guess what? YesStyle offers return within 14 days and reimbursement for defective items. Sounds like a real bargain!