Some Great Tips to Ensure a Memorable Mehndi Ceremony
Mehndi Ceremony Ideas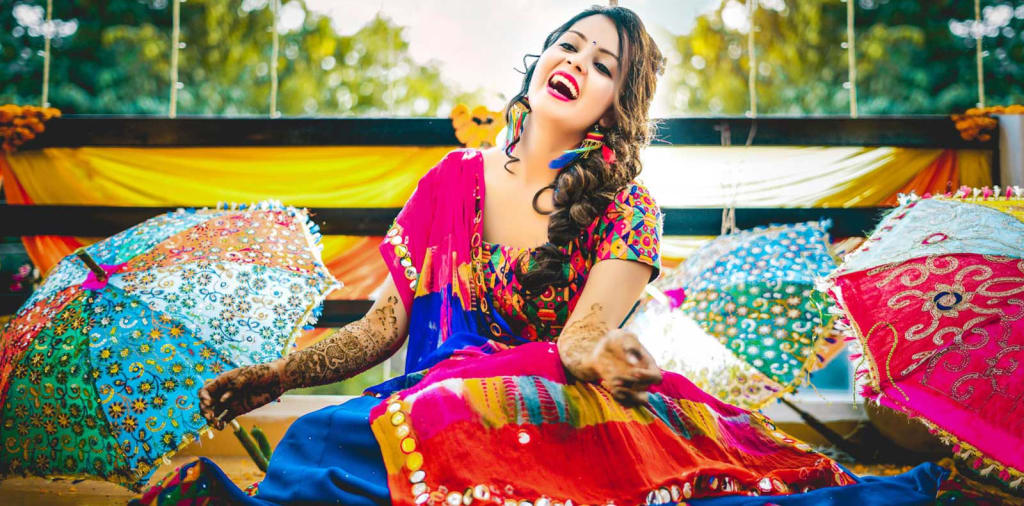 There are various different pre-wedding rituals that precede the actual Indian wedding ceremony and among them, the most fun wedding ceremony is the mehndi ceremony that's full of colours and laughter.
On the day of the mehndi ceremony, the bride, along with all the women of the house and other near and dear ones, gather at one place to sing traditional songs and have their hands and feet adorned with beautiful patterns made from mehndi. There are various different types of motifs that are actually popular like mandalas, peacocks, mesh, the bride's and groom's faces, etc. You can opt for getting the mehndi patterns made from colourful mehndi to make yourself look lively.
Some houses prefer having just a simple and intimate ceremony with just the ladies of the house attending it, but there are others who don't shy away from making it a grand event. Mehndi is one of the 16 adornments (solah shringars) that a bride is expected to wear at her wedding, and this really makes it an important ceremony.
Here we have mentioned some things that must be considered to make your mehndi ceremony memorable:
Hire A Good Mehndi Artist
The most important part of any mehndi ceremony is to hire a mehndi artist who can really provide you with some amazing henna patterns that look beautiful on the hands and feet. There are various different mehndi artists in Mumbai who can help you out with the latest and trendy mehndi designs that you can flaunt all over the social media as well.
Find And Book A Beautiful Venue
The most important part of any ceremony is the venue that'll be hosting it. Finalizing on a beautiful venue that comfortably accommodates the guests who'll be attending is really important. Make sure that the venue is easily approachable and have all the necessary amenities that your guests might require. Since mehndi is not that grand as the marriage you can go for an offbeat venue in the midst of nature as well.
Have Your Venue Colourfully Decorated
Mehndi Ceremony is Joyful and vibrant and that should reflect in the decor as well. You can ask your decorator to use some colourful curtains and flowers, as the decor elements, to make the ceremony colourful and full of life. A beautifully crafted decor can really do wonders to the overall event and you can take it a bit further by even DIYing some decorative elements by adding in origamis and creating rangoli patterns.
Hire A DJ
When you are going for a grand mehndi celebration you can't do without a good DJ who'll play some upbeat mehndi ceremony Songs on which your guests can groove to. You can also decide on combining the sangeet ceremony along with your mehndi celebrations and include the various dance performances by the little ones in your house. This will really make the entire event full of vim and vigour.
Serve Some Delicious Food
No matter what event it is, food is the most important thing that can make it successful. So, having some delectable food to satisfy the guest's appetite is something that's the most essential part of your mehndi ceremony. You must ensure that you taste each and every dish yourself before finalizing the menu so that you know that your guests are served with the various food options that are actually delicious.
With these few tips in mind, we are quite sure that you'll be all prepared to make your mehndi ceremony memorable. You just need to keep in mind that all the above things will take time to plan out and starting early is really essential to get everything covered perfectly.