Slay wonderfully with the best bridal hairstyles
Have Fun with your Bridal Hairstyles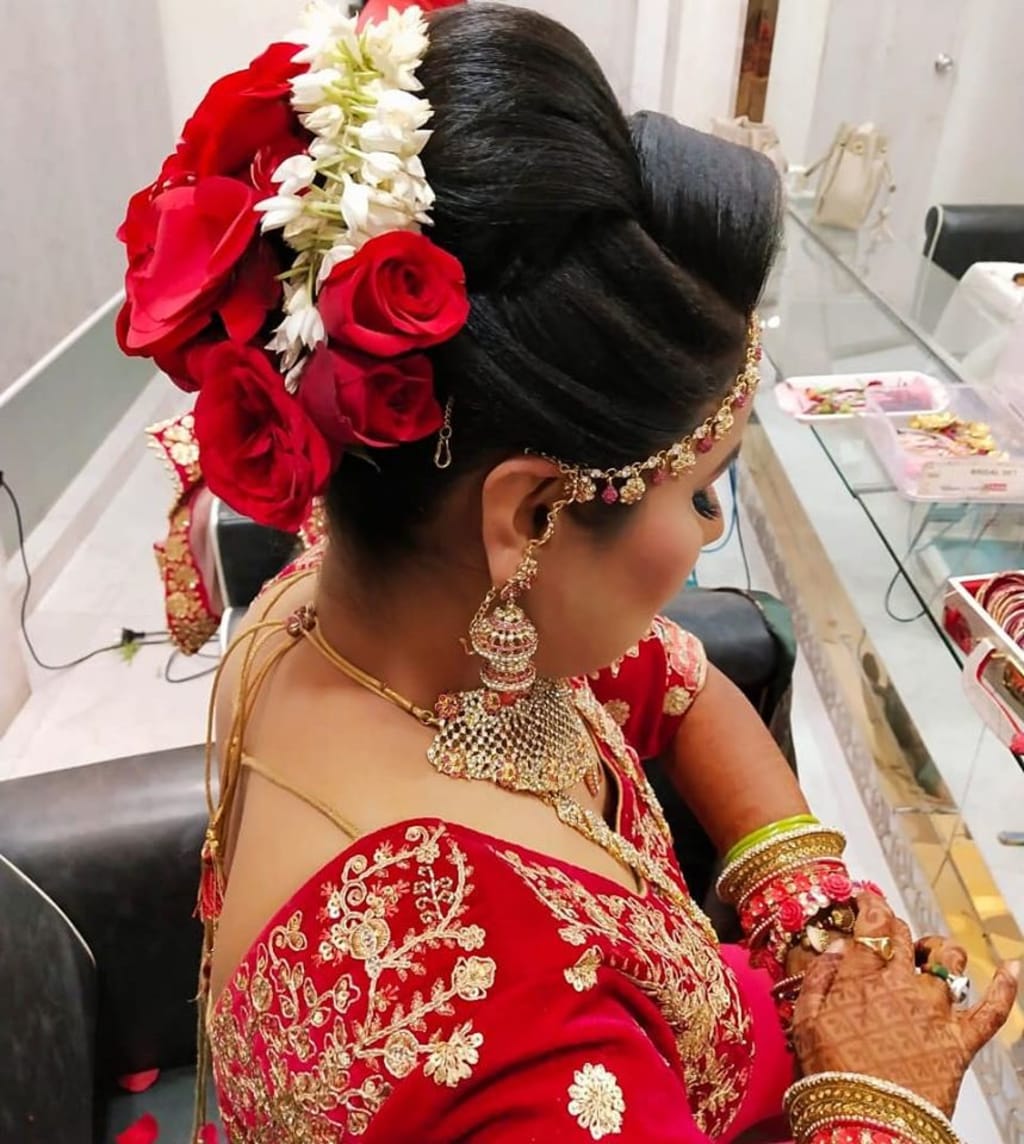 Weddings are a dream come true for all the girls and brides-to-be. It is, therefore, very essential to look good and perfect for the wedding day. For a bride, there are a number of things to take care of in order to look the best on the D-day like to carry the best lehnga, an on point makeup, have the best and most suited hairstyle, best footwear and what not. Your bridal hairstyle has to be great for making your appearance wonderful. Hair styles, to be precise cannot be boring, stuffy, repetitive, regular or traditional. Instead, they should be trendy, chic, new and fresh! From ironed long hair look, loose waves to curls and sobre braids and braids, we can get together a vast collection of different and unique hairstyles. Every bridal makeup artist in Delhi takes notice of regularly changing bridal hair styles and patterns. So why wait for taking a look and selecting the best bridal hairstyles for different occasions?
Here, I number down few of the best bridal hairstyles that you can count on for your wedding and other cumulative functions, by different makeup artists in Delhi -
Straight ironed look -
A soft and clean hair look is appreciated by all. Many brides opt for a clean and straight hair look. It portrays elegance and beauty to the next level. Carried well with all the outfits, straight hair looks can be left loose or even tied up in a rubber band. Straightened hair offers so many wonderful hair styling opportunities. Straight and even textured hair are less likely to mess up or get entangled with each other, heavy jewellery or even your bridal outfits. Straight ironed hair is easy to manage. Of course!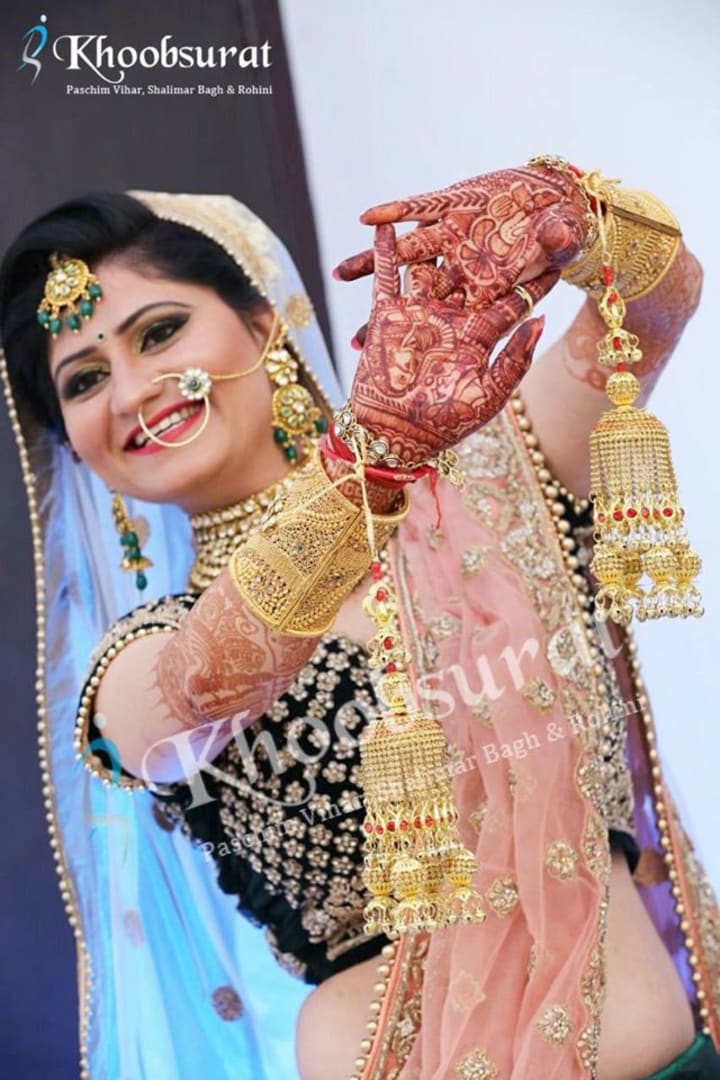 Hair curls -
There's no better occasion to let your curls shine than your wedding day. Make sure your turns and twists are done well by prepping with a moisturizing product and finishing with a curl-strengthening spray. While many curly-haired brides choose to let their run free by taking up straightening, there are still lots of styling options available. One well known choice is a half-up, half-down look. It helps to show up your curls properly and with finesse. It also saves you if you have your wedding in summers with scorching heat over you.
Decent Braids -
There are so many braided hairstyles to choose from, hence you're bound to find one you love and prefer. Some of them only require a brush to un-entangle your hair and hair elastics to create. From Dutch and French to classic three-strand and pull-through braids,you have many options to pick your braid style. Most look best with thick hair, and to make your hair look voluminous, Bridal makeup artists do bring to use some hair extensions to get the perfect hair look on the wedding day.
A fancy bun -
The ballerina bun, well tied and messy buns are greatly in demand when it comes to bridal hairstyles. Some brides love their hair to be settled and tied properly in a bun, to give a classic and elegant look elegant along with making their makeup noticeable. Hair bun suits those with oval face shapes and high cheekbones. When your hair is tied well in a bun, it draws the attention of your eyes and eye makeup, so it's the perfect partner to a bold eye make-up look. It's also the best bridal choice if you want to flaunt your jewelry. A fancy and well decorated bun can be carried off well with almost every wedding dress ranging from a gown to heavy indian wear.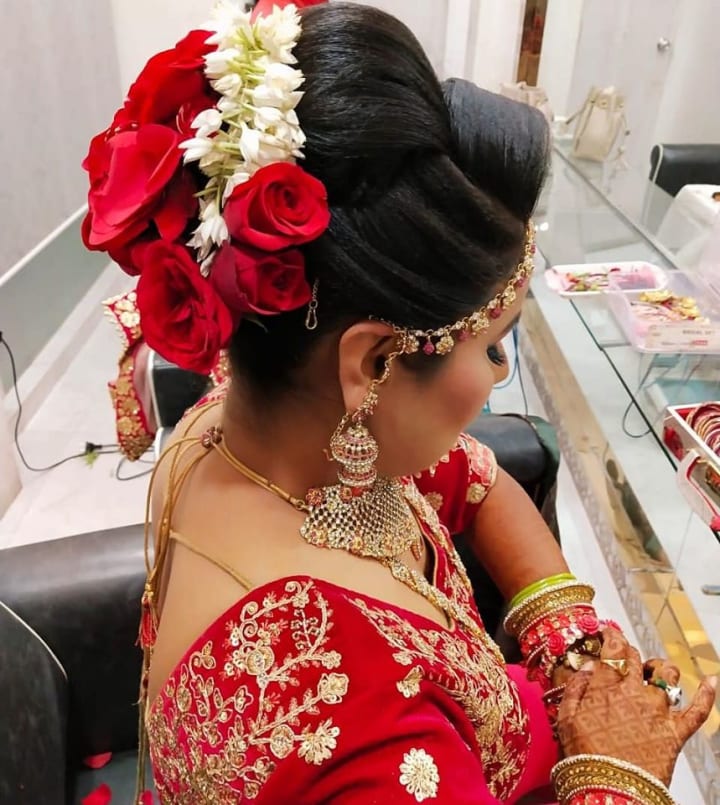 High up tied ponytail -
The ponytail is one of the most versatile and easy hairstyles out there. Even on your wedding day, you can take this style to the completely new level by adding a few glamorous details or accessories. For a flattering look, make sure to add volume to your front area of the scalp. Use hair extensions or artificial hair to give the ponytail extra thickness, and cover any hair elastics or pins by wrapping a few hair strands around it.
Side twirled up hair or a french twist -
The French twist is a gorgeous bridal hairstyle that's classy and sophisticated. Initially popular in the last few decades, it is still chosen by new brides. The French twist is a more formal hairstyle, so it suits brides who want a polished, traditional and well finished wedding look. It's a relaxed and easy hairstyle to create, as compared to others as it merely involves gathering and twisting the hair.
Half braid -
You can still flaunt a gorgeous bridal braid if you don't have ultra-long or voluminous hair. Cover up your hair look by going for a half on half style. Using just pieces from the top section of your hair, create two simple few initial strand plaits starting from your temples. Braid it towards the back of your head, then let your hair be loose with a pretty floral clip or a designer hair accessory. You can either leave your hair straight or give a fusion of waves or curls. Hair braid hairstyle gives you the option of both flaunting your hair in a tied up decent look and open, making you appear beautiful altogether.
Updo -
If you've always wanted the hair of a fairy-tale princess, the romantic updo is for you. These hairstyles are all about feminine details, like braids and flowers. However, they aren't too smooth or polished. Remember not to plait your hair too tightly and to leave some pieces out to soften the look and flatter your face. Tiny flowers like baby's breath suit the romantic updo because they are petite enough not to distract from the braided details. Pair the style with an equally romantic bridal gown.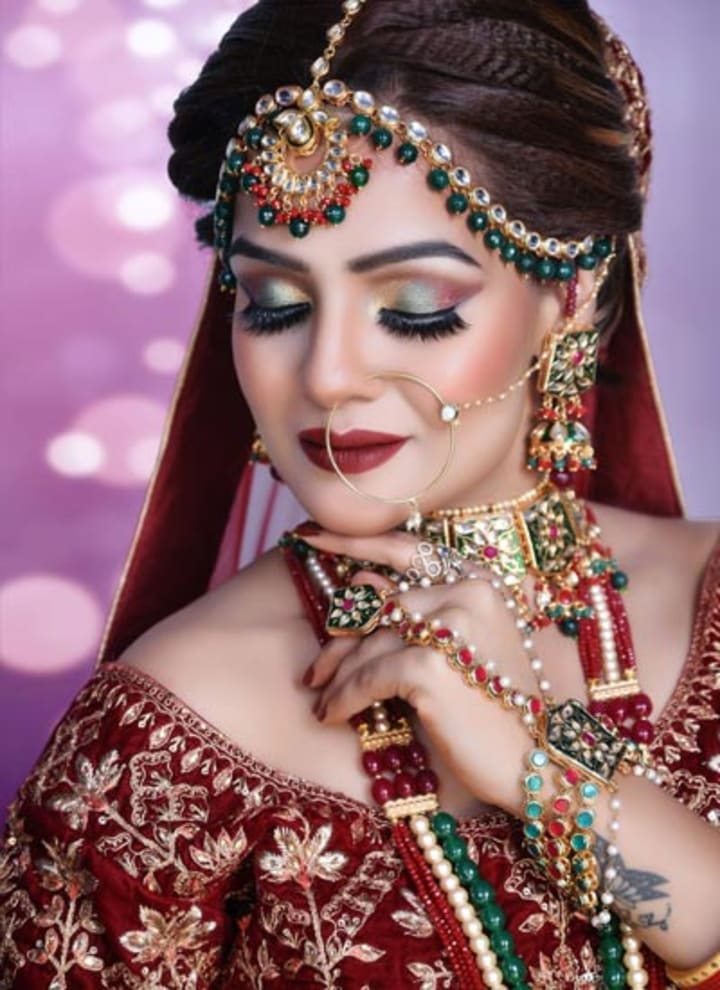 Loose waves
Loose waves are the ideal hairstyle for brides planning a beach wedding or even a destination wedding. These loose hair waves hairstyle suit those with naturally long and thick hair with a wavy texture. To make the most of the style, fuse up your roots with volumizing powder and use a finishing spray or a hair gel to prevent your waves from getting fluffy or loose their decked up look. Loose waves also look beautiful when paired with hair accessories like clips, flowers, tiara and headbands. Another popular choice is a half-up style with loose waves underneath.