Planning a Proposal in Abu Dhabi
How I planned a romantic Proposal with 12 hours notice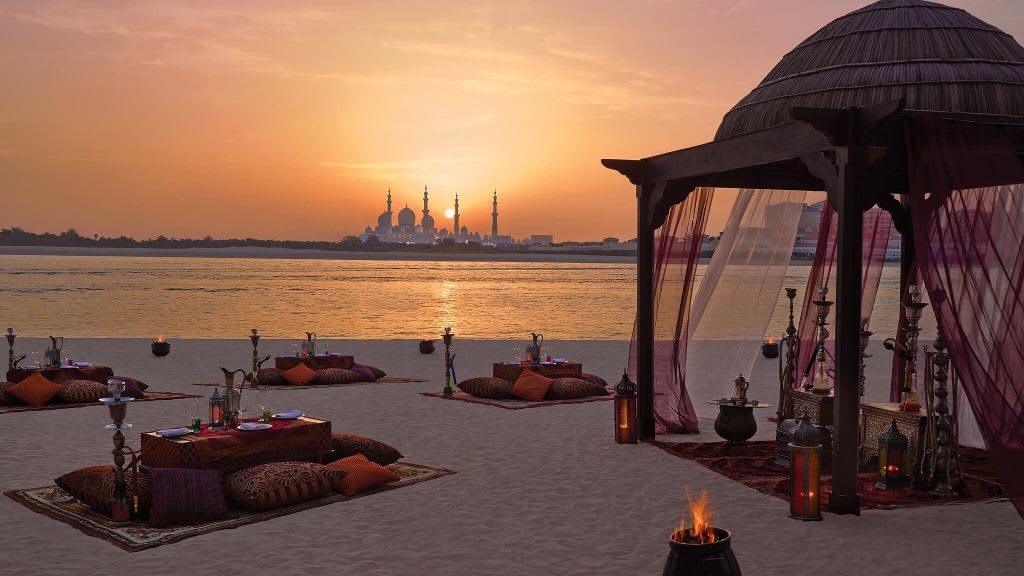 Shangri-La Hotel, Qaryat Al Beri, Abu Dhabi- United Arab Emirates (Credit: Shangri- La Abu Dhabi)
Planning a proposal for someone you love can be extremely time consuming and stressful. And even though we get to see Proposals being shared on Social Media, a thousand thought come to mind when it comes to our own.
With that in mind I decided to share my experience of planning a Proposal for friend of mine. Everything began in November 2017, when my dear Friend and former Colleague came with her Boyfriend for a visit to Abu Dhabi.
It was a lovely reunion among former colleagues and friends and what better way to start this than a Restaurant on the Corniche Beach. We had a few drinks and talked about the good old days when we were all living in the UAE. Afterwards, we drove to Yas Island to show a part of the Yas Marina Circuit where the annual Formula 1 is held as well as having a few more drinks at a Bar.
When my friend excused herself for a minute, her Boyfriend approached me and a friend of mine and asked us where the best place to watch a Sunset would be. My friend and I looked at each other and began to smile. Before my friend could even give him an answer, I looked at him and said '' Oh my god, you're going to propose.'' He smiled and looked around because he was afraid that my friend would somehow find out. When he confirmed my theory both me and my friend jumped up out of joy and then gave him a tip on where to pop the Question. We explained to him that one of the first photo's our friend took was at the Shangri- La Hotel, where an Aircraft flew over the Sheikh Zayed Grand Mosque.
He told us that he has been trying to figure out the details for the last six weeks. This was the moment where I offered him to help out plan the Proposal in detail because I could tell that he was really nervous. So, I asked when he would like to pop the Question and he replied with'' Tomorrow, because it is our last Day.'' So, I told him that I would contact him in the morning to ask a few questions and I would handle everything because otherwise it would be suspicious if he had to excuse himself throughout the day to plan everything.
I decided to drive to the Shangri- La Hotel and requested to speak with the Events Manager. I explained to him the situation and he told me that it is definitely possible to arrange something. The Hotel at that time offered packages for such occasions which are usually fully booked on Valentine's Day. After confirming with my friends Boyfriend, I booked a unique and private romantic dinner arrangement, where they would enjoy complimentary drinks and Shisha on the South beach and the move on the North beach and dine under a Bedouin gazebo with a great view of the Sheikh Zayed Grand Mosque and move onto an Arabian carpet by the canal for dessert.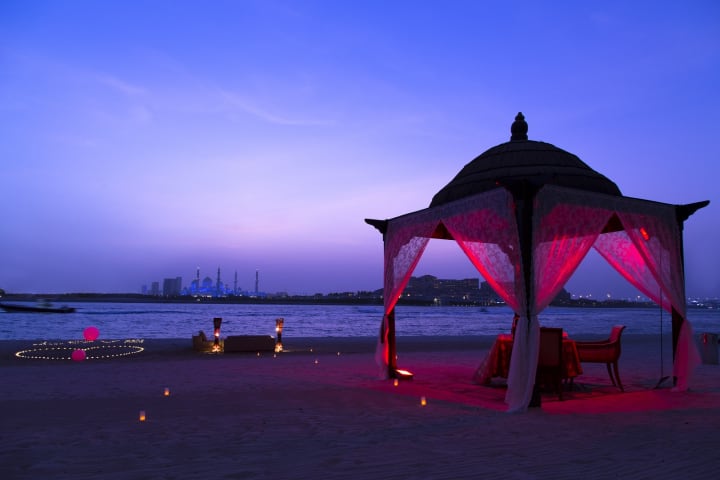 It was perfect, but I still had the feeling that something crucial was missing. And then I remembered that I had a friend who is a Hobby Photographer. I called him and asked if he would be free in the evening to take pictures of my friend getting proposed to by her Boyfriend – and luckily, he said yes.
This was it! Everything was planned and instructions were given to my friends Boyfriend. Meanwhile, my Photgrapher friend and I were hiding in order to get perfect pictures of the romantic moment. All he had to do is stay calm and pop the question. And he did successfully. In fact, my friend was so speechless that it took her like a minute until she could say'' YEESS!!'' And the best part of it was, that everything was that she did not expect a thing!