Funniest Nigerian Proposals Gone Wrong
Sometimes the answer is NO.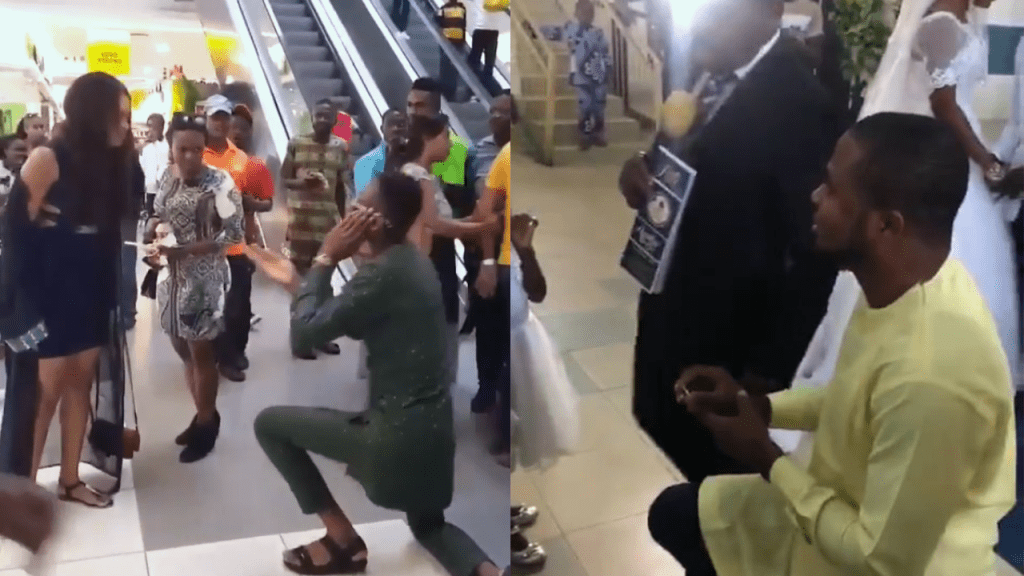 Sometimes the answer is NO.
I don't know what this says about the kind of person that I am but one of my favorite videos of all time on the internet is "Mall Proposal Gone Horribly Wrong". It is HILARIOUS! At least to me. Everything goes wrong but nothing kills me more in that video than when the toy truck passes by playing pop music 🤣🤣. It's hilarious and you have to see it.
As I watched it for the 97th time, my mind got to thinking: where are the Nigerian proposals gone wrong?
I like watching what happens when everyday things don't get the expected reaction and proposals are one of those things that people always do with the expectation that the person being proposed to says yes. What if they say NO?
What happens then?
Are you ready to watch with me some of the funniest Nigerian wedding proposal gone wrong videos I found? Then, like my page and let's go on watching.
**My Facebook page is really fun. You don't want to miss out on any new and interesting lists, articles, and stories that I post every single day so make sure you give it a like and join our ever-growing family of fun. Come on, it's fun!
We Don't Do That.
🤣🤣🤣🤣
This is by farrrrrr one of the funniest videos. I saw this and I immediately started DYING of laughter. 🤣 The way the pastor starts shouting "We don't do that. Its my daughter, we don't do that"🤣 to which the random woman in green who they're not even proposing to says too "This is church, we don't do that. You have to see the pastor"🤣
Wow! That was shut. down. QUICK! 🤣
The proposal didn't even last up to 5 seconds. Yikes!
PULL SHOE
Now, this one is just...I have no words!😭
Following the girlfriend's rejection of his proposal, the man goes ahead to flare up and doesn't leave it there. He pulls off the girl's shoes because he apparently bought it, and then throws the jollof rice and chicken the girl was eating into a waterproof bag before leaving. All the while note, this man is screaming about how much money he's spent on her, how dare she say no to his proposal.
Yikes!
Well, I guess on the plus side, the girl got to see him for who he was before all this. Good thing she said no.
The Man Said NO.
This one went VI-RAL.
I remember when this video dropped, it was the talk of the entire town that day. Everybody and their mother was discussing it. It was on the TV, it was on the radio, it was all over social media, and everybody had something to say.
A LOT of people, especially older women, bashed the girl for proposing saying that she was "shameless" and "desperate". Some other people praised her boldness. Some bashed the man for saying no and some said why should the man be obligated to say yes simply because the woman took a leap of faith.
It was all very complicated, and I'm sure you too have your own thoughts on the matter. Regardless of sides though, one must admit: it is a very entertaining video to watch!
PULL WIG
Yet another video that went 0 to 100 reaaaaaal quick!
The man gets on one knee and proposes to the girl who says quite simply "I don't want to marry you."
The man says in response "Why don't you want to marry me", meanwhile note also that even the PASSERSBY, people that have no stake in or understanding of the relationship are putting their mouth in too to ask "Why won't you marry him?"
As the girl continues saying "No, I don't want to marry you" while stepping back as the man advances, things take a left and the man lunges at her. That's when the general public starts shouting "Ah ah, oga calm down na!"
Before we can even say Beans Has Done, the man pulls her wig. It takes the grace of and thank God for those people around, to pull him away from the woman. Only God knows what would have happened if he proposed to her in a room with just the two of them.
Woman Slaps
Now in this one, only God knows what is going on and only God knows why the woman had to resort to slapping the man.
But all we know from the video is that the man in green gets on one knee and proposes to the girl who gets very upset. So much so that she even slaps the man to the surprise of everyone in the mall. Not once. Not twice. 3 TIMES. In fact after the last slap, the man ends up on the floor.
From what is audible, she's complaining about how all she does is cook and clean for him and his friends...
I guess there's so much going on here that we do not know but ah, what a video it makes! 🤣
I just find it funny how the normal proposal gone wrong videos I watch usually end up with the girl just running off and leaving the man stunned. Leave it to Nigerians to be slapping, pulling wigs, and pulling shoes. 🤣 Gotta love our people. We don't play! 🤣
I hope you've enjoyed reading this post. Be sure to like and follow my Facebook page above so you don't miss out on any new and interesting posts like this one that I'm sure you would not want to miss and that you won't find anywhere else.
Also to catch up on other posts you might have missed, click here.
Until next time, have a wonderful rest of your day.