Fall in love with the top wedding flowers that increase the beauty of weddings
Best wedding flower site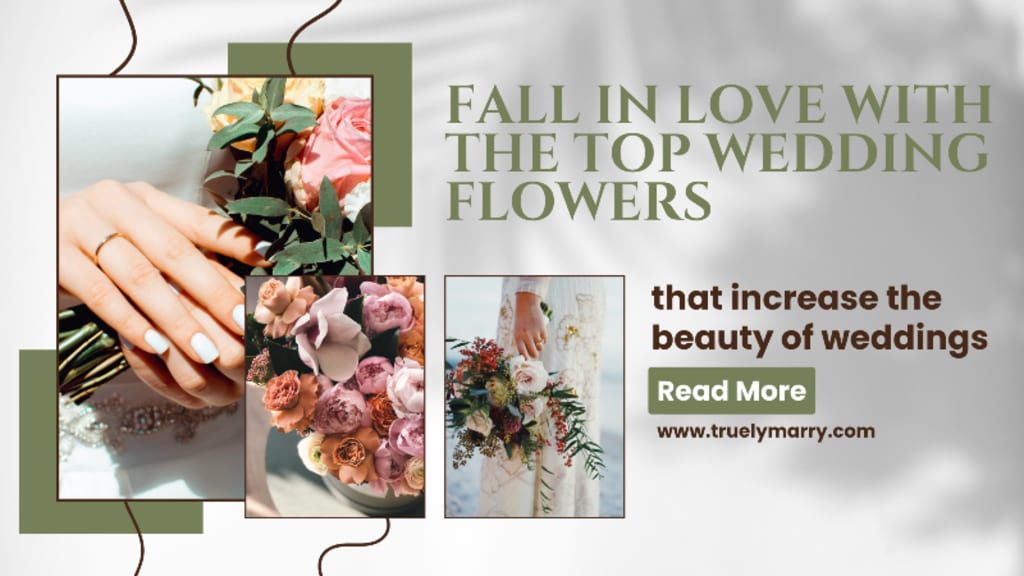 best Indian wedding site
When we think of weddings, no doubt flowers come to our minds. Flowers are a symbol of something beautiful and it is a symbol of love, right from the olden days and even today, Flowers are considered a symbol of purity of love filled with beauty as a flower. Flowers are a great way to make our wedding venue lively, to bring some wonderful fragrances to the couple's special day. Also flowers add an extra colour, texture, beauty, and a wonderful feeling on your special day. Let's know a few flowers which create an exotic wedding mood with their elegance, beauty,colour, and style.
ROSES: Roses,are the most outstanding choice for weddings. It is a symbol of love. Its beautiful colour, fragrance, and texture make it the best choice for weddings and receptions, decorations, and also for bouquets.Roses are available in different colours and each colour has its specific significance too. Roses are always the first gift we give to someone we love.
PEONIES: Peonies are known as the "King of Flowers' ', They can be used at receptions, floral decorations,bouquets .Peonies symbolise a happy marriage, good fortune, prosperity, compassion, and honour. Pink peonies are very beautiful which signifies love at first sight.
DAHLIAS: Dahlias are great face flowers, because of their grand presence.Dahlias come in so many beautiful colours which will give a special feed to the venue and also in a variety of sizes that fit any wedding theme we prefer.
ORCHIDS: Orchids are beautiful flowers with so many varieties and colours. Orchids are considered auspicious and symbolised timelessness, refinement and are very beautiful , which is so ideal to be used in weddings.
TULIPS: Tulips are actually lovely flowers and they look so beautiful in red, yellow, and white that you have no choice but to say that they are one of the best wedding flowers that symbolise happy years and consuming love. They have so much variety and in any shade, it is perfect for a beautiful wedding.
GARDENIA: Gardenia is a flower with no stem, So it is a perfect place for table centerpieces in marriages and also as hair accessories, etc. Gardenia symbolizes elegance, beauty, and grace.
SWEET PEA: Sweet Peas as the name is small and really sweet with their cuteness. This popular flower has dainty leaves and translucent petals which add to its beauty, this flower symbolizes lasting pleasure.
LILIES: Liles is a symbol of modesty and virginity, the white shade of lilies is appropriate for weddings. There are many varieties of lilies that have their own significance and beauty
CARNATIONS: This flower also known as "filler flower" is the ultimate choice for weddings especially for bouquets because it can stay for a day without water which means full-day freshness on the wedding day
PRESSED FLOWERS: Pressed flowers will be the best option if you want to gift a unique gift on the wedding day, Pressed flowers can also be used on theme-based decorations which will add a special unique wedding vibe.
Flowers are not limited to ten, nature has gifted us with hundreds of flowers to make all our occasions and special days magnificent and pristine pure like flowers.
Read More- https://www.truelymarry.com/blog/know-the-top-wedding-flowers-that-brighten-up-the-celebration
About the Creator
TruelyMarry provides the opportunity to the peoples to find their perfect soulmate. Truelymarry is one of the leading matrimonial site .
Reader insights
Be the first to share your insights about this piece.
Add your insights