Clothes are where the heart is
Wearing something you've created is a special kind of joy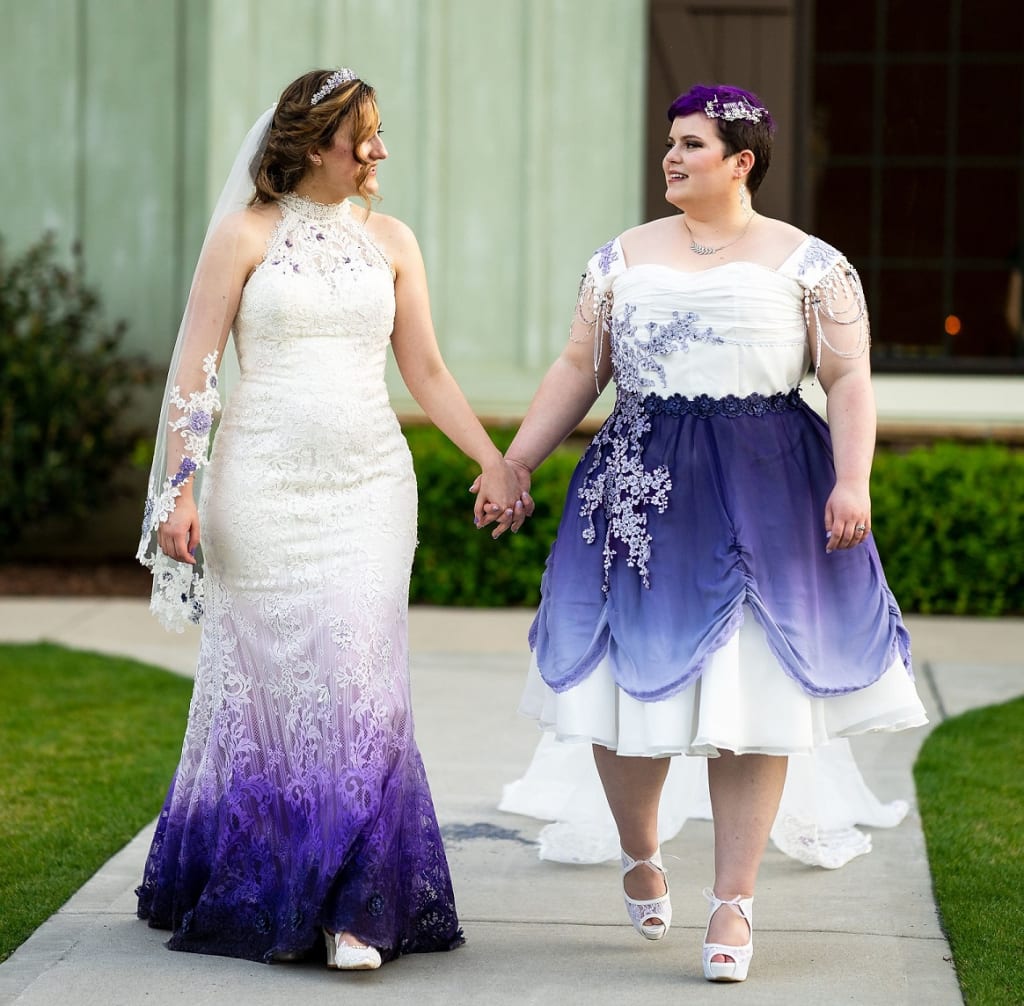 My wife (left) and me in our heavily altered dresses
I thought making my own wedding dress (while doing all the wedding planning) was a very smart idea. Even though I hadn't even sewn more than a hem here and there in about a decade. And had never done any bead-work.
Oh, let's also not forget that my now-wife wanted to do dye-work on both of our dresses. Neither of us wanted pure white dresses since it just didn't seem to match who we are as creative people.
If I'd taken more than 1 second to think it through, I'd have probably realized the whole plan would be...unwise. Difficult to complete, for sure.
What can I say? Passion makes you do crazy things.
As most creative endeavors go, I got a little bit of work done in the months preceding the wedding. I emailed a bunch of vendors and bought way too many beading supplies. I nailed down my main crew — photographer, caterer, cake, day-of coordinator — and found the baseline dress I wanted to alter to my tastes. Appliques were purchased and dyed, magnifying goggles became my best friend for beading on appliques, and I built and stuffed a dress form with my own measurements to design off of.
And then, before the real work began, I had to find the right pair of scissors. My old pair of fabric shears had been with me for a decade, since high school apparel design class, and in one horrifying moment my fiancée accidentally used them to cut wire. I wept at their loss, but the iridescent titanium scissors that replaced them cut through multiple layers of thick satin without putting up a fuss. I guarded those scissors jealously to prevent their early demise while I worked on my dress.
Except, well, I didn't really do too much work on the dress just yet. No, I had decided to purchase a long veil and turn it into a cape — and then bead along the entire bottom of it. I probably sank about thirty hours into just the cape, and I was finishing the beading on the morning of the wedding.
About three weeks before the wedding, I realized I had a bunch of pieces for my wedding dress, but nothing was put together. At all. The zipper on the base dress wasn't lying right with the corset I would be wearing, so I replaced it with grommets and lace. I didn't want to worry about anything slipping, so I added straps. I painstakingly removed a very weird piece of chiffon overlay to be able to shape the bodice right, which is where the very sharp new scissors came in handy. My fiancée dyed the chiffon for the overskirt while I beaded until I went cross-eyed.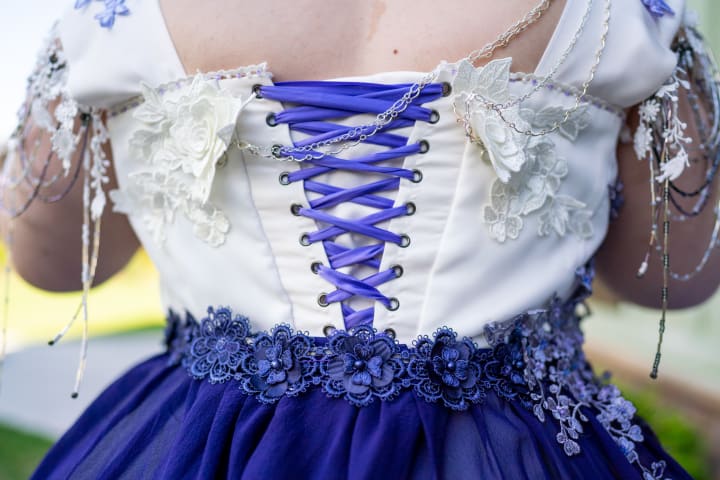 Cut to about a week before the wedding. The base dress was mostly done, and I'd added lace designs hanging off the straps. Ten French seams, an interfaced belt, and a hem later my overskirt was looking more skirt-like than rectangle-like. Of course, then I decided I wanted lace at the hem. While my fiancée dyed a solid five yards of lace, I worked on beaded strands to drape around the upper arms.
Then it was two days before the wedding. People were coming into town. We'd done the rehearsal dinner. I still didn't have a full dress. My fiancée wasn't finished with the embroidery on her dress and veil. Sirens were blaring, people were weeping and shouting, sleep became a luxury...
That's when my maid of honor took up the scissors, the lace appliques I'd already beaded on, and began helping me create the final look. We spent an hour or so placing appliques on the dress and stepping back to see how they looked from a distance. And then we spent hours tacking the appliques to the dress. One strand of thread pulling everything together, circling a few times to secure the stitch, and tying off...multiplied by a thousand. Both of my bridesdudes joined in to help, and we found a way to make four people huddled around a dress form with scissors, needles, and thread work.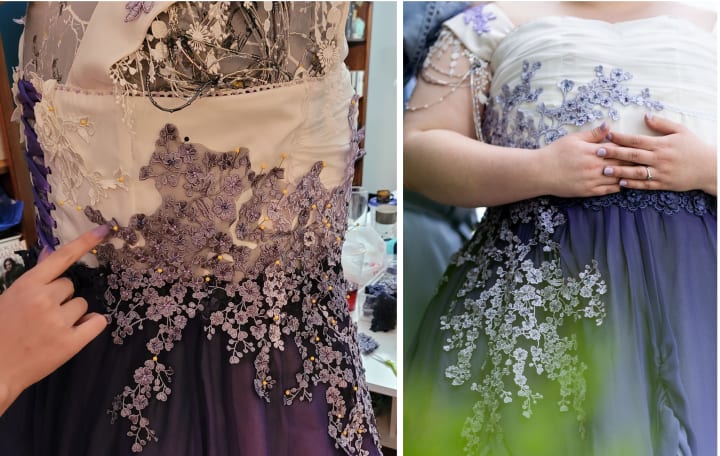 T-minus one day to the wedding. I turned on music, raised my shears to the light, and worked until my hands were ready to fall off. The overskirt was perfected and grommets were added to the closure. Hooks were added for the cape to attach to. More stitches were added to secure the appliques. Everything somehow ended up finished by the time the sun set — well, except for the aforementioned beading on the cape. But that only took an hour or so in the morning. When I clipped the final thread, the steam engine of stress that had been driving my body for the past month went with it.
As tough as the entire process had been, there was a special high I felt every time the dress swished around my legs. I felt so regal with that cape dragging behind me, weighed down by the hundreds of beads I'd added to it. I couldn't hold back a grin of joy and pride each time someone complimented my dress — and it only grew when my mom would chime in to add I'd made it myself.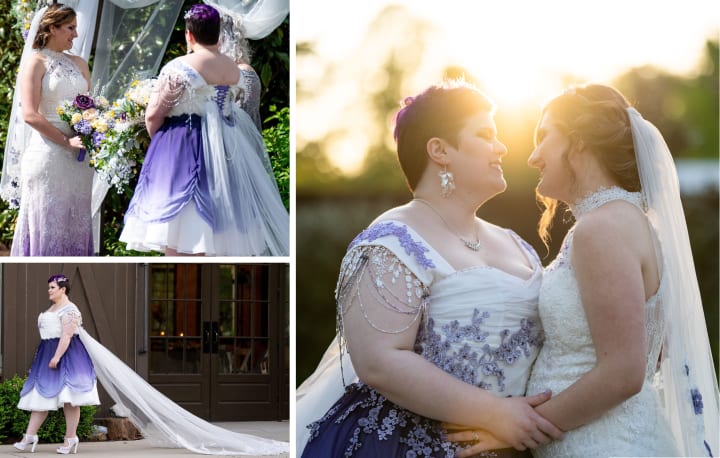 For my first real bit of apparel design and sewing in over a decade, I think it turned out almost exactly as I wanted it to. And now, a few months post-wedding, those rainbow titanium scissors are calling to me asking what the next project is.
Reader insights
Outstanding
Excellent work. Looking forward to reading more!
Top insight
Heartfelt and relatable

The story invoked strong personal emotions
Add your insights