Check out reactions to what a bridesmaid wore to her friend's wedding (Video)
What do you think?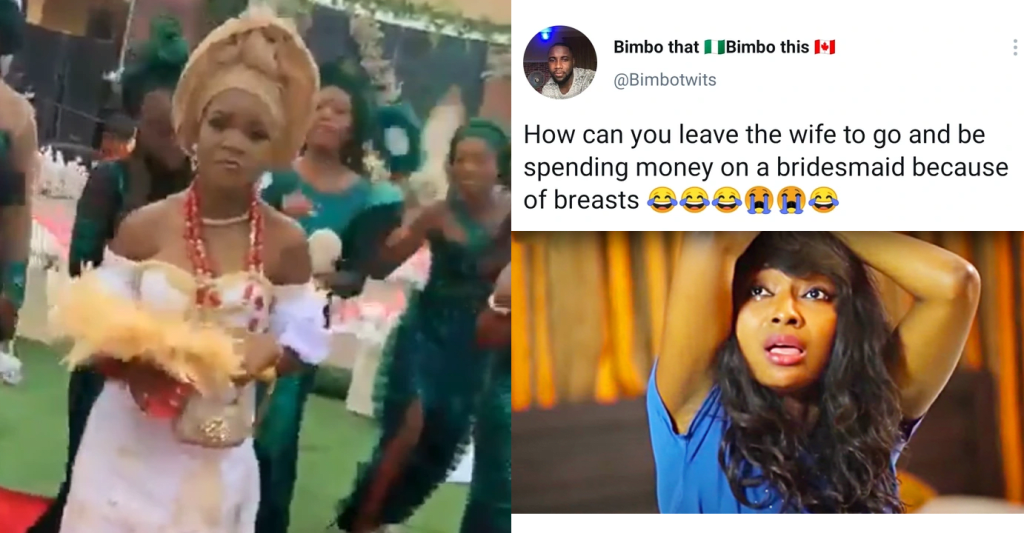 The internet is abuzz today because of a new video making the rounds on Twitter. In the video, a bride is dancing during her wedding but all eyes are not on her. Oh no, all eyes are on her friend in the bridesmaid train and the outfit the bridesmaid is wearing along with the reaction of the bride and what people think of all the whole situation has been very interesting to read.
Today, I'll be showing you the 13 most interesting reactions to the video so far, as well as the video, and photos of the bridesmaid in question.
Are you ready to jump in? Then let's go!
**Before reading on, please make sure to like and follow my Facebook page so you don't miss out on any new and interesting lists, articles, and stories that I post every single day. I have a really fun page. If you like my page, you will have fun too. So what's stopping you? Like my page and let's have fun together!
The Video
In the video, you really see the way the bridesmaid's chest is really bouncing and dancing to the beat of the music, so much so that when people come to begin spraying money, they don't even spray the bride, they go straight to start spraying the bridesmaid.
The Friend
If you don't feel like playing the video, here are the pictures of the bridesmaid and her eye-popping outfit.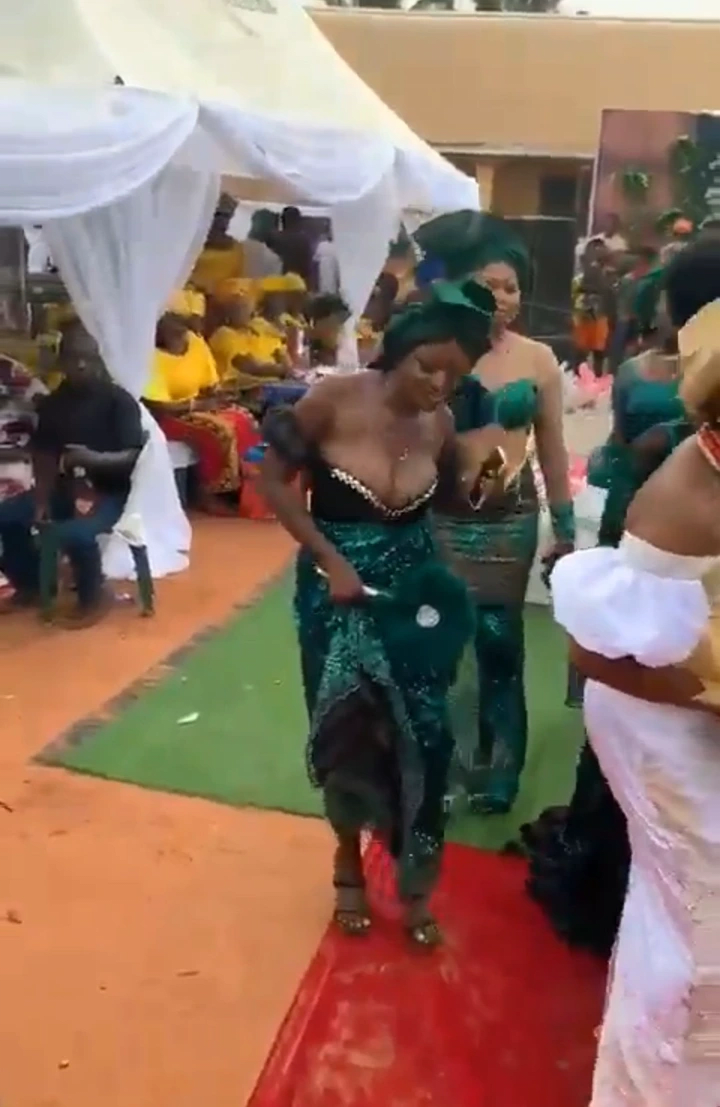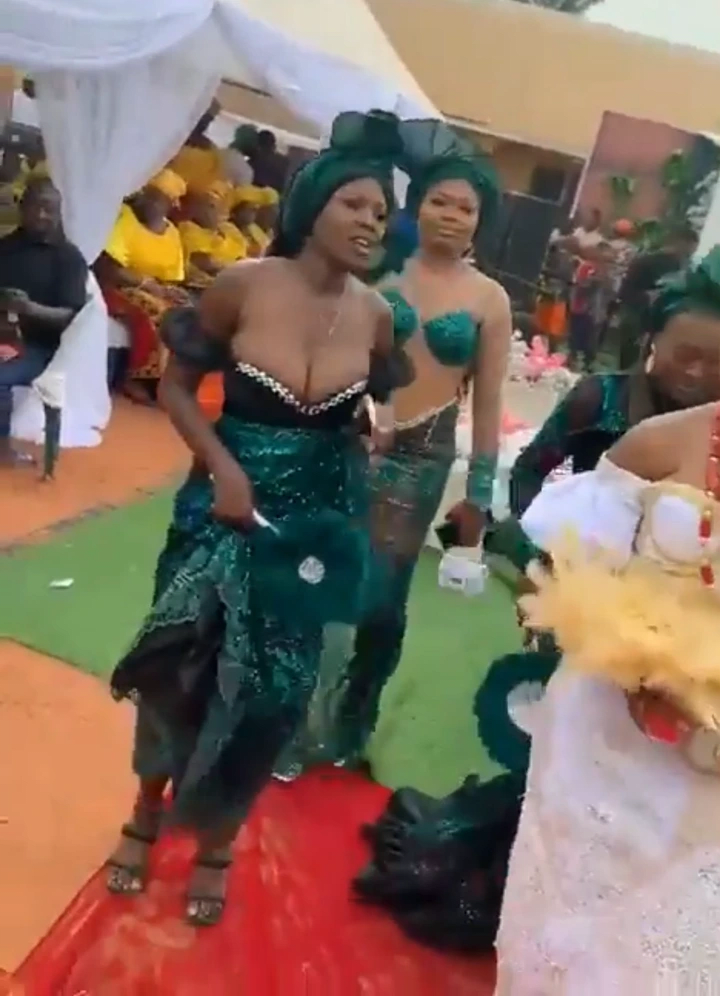 The Reactions
Reacting to this, Nigerians had a lot to say. Here are 13 of the most popular responses to the video.
1.
How did she block the bride's shine? They're friends fgs! She's endowed & chose to flaunt it. Almost all the ladies in the bridal train are hoping to get hitched during a wedding. Let her sell herself, If you don't like it, getat.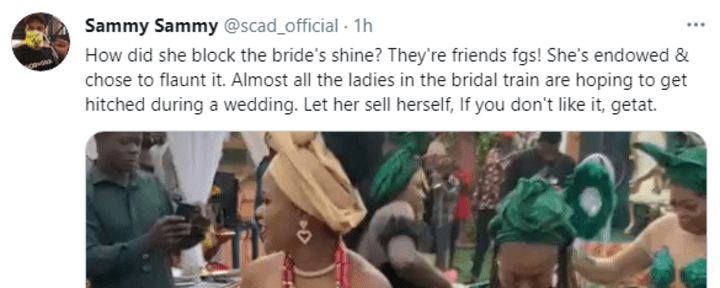 2.
At a wedding? Unbelievable!

3.
Lmao how are Y'all mad about this video? Same you people that almost pulled someone's business down cus they kicked that pelumi girl out from entering their restaurant.. what happened to "Her body her choice?" You people are mad Sha
4.
Forget Rema and Kizz Daniel, see wetin breast dey cause. How you go leave wife go dey spray money on top bridesmaid because of breasts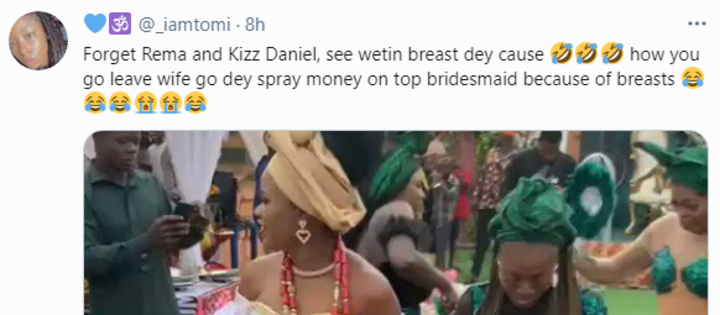 5.
Women be like

"Stop sexualizing women " "we dont dress to attract men" "Her body her choice" until e reach their doormot ,then they become upset .

6.
Forgive me if I'm wrong, but is the babe with big boobs not practically wearing the exact dress as the bride, just with a different colour??? Plus she looks happy for her friend and she's exuding independence and body positivity. Why all the outrage?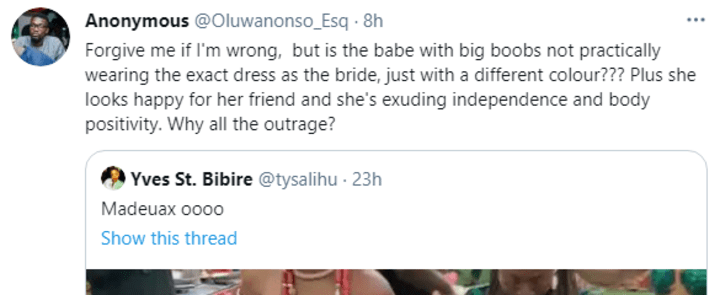 7.
The babe is literally wearing the same bodice style with the bride. The difference is that the babe has boobs and her tailor understood the assignment. There was no upstaging, just a babe happy for her friend and a man who is interested in her. What's the problem?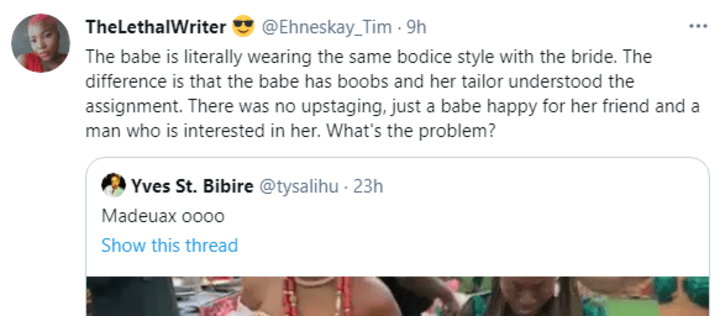 8.
You can't be an advocate of body positivity and be lashing at the brides maid. I thought we agreed that "it's their body, their choice"

Flaunt that bress girl cos E choke
9.
It's the one dressed like Ariel in the back for me

10.
"If you open Breast to my wedding, I'll bounce you"

Find man first

11.
So you people know there's a proper way to dress sometimes? I thought we were allowing women to be "empowered" through their dressing?

Why is your wedding different? Lol

12.
We see the owanbe outfits some of you post here, some of you wear worse to people's wedding. But crucify her cos one man left bride to spray her money.

"I will bounce you out if you wear this to my wedding" if ur wedding day is really a bomb, things like this won't be ur issue.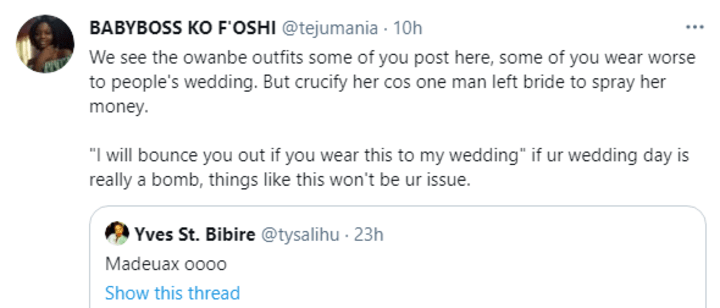 13.
I'll pay a lot of money to see the faces of the mummies and aunties at this party.

What do you think of the outfit?
That's All.
I hope you've had fun. Don't forget to like my page if you don't already for more stories like this, the fun never ends!
To catch up on other content you might have missed, click here.
Until next time, have a wonderful rest of your day.