Bridal Jumpsuits: Why Brides are Making the Switch
Stunning bridal jumpsuits have been making waves and women all over the world have been making the switch, but why?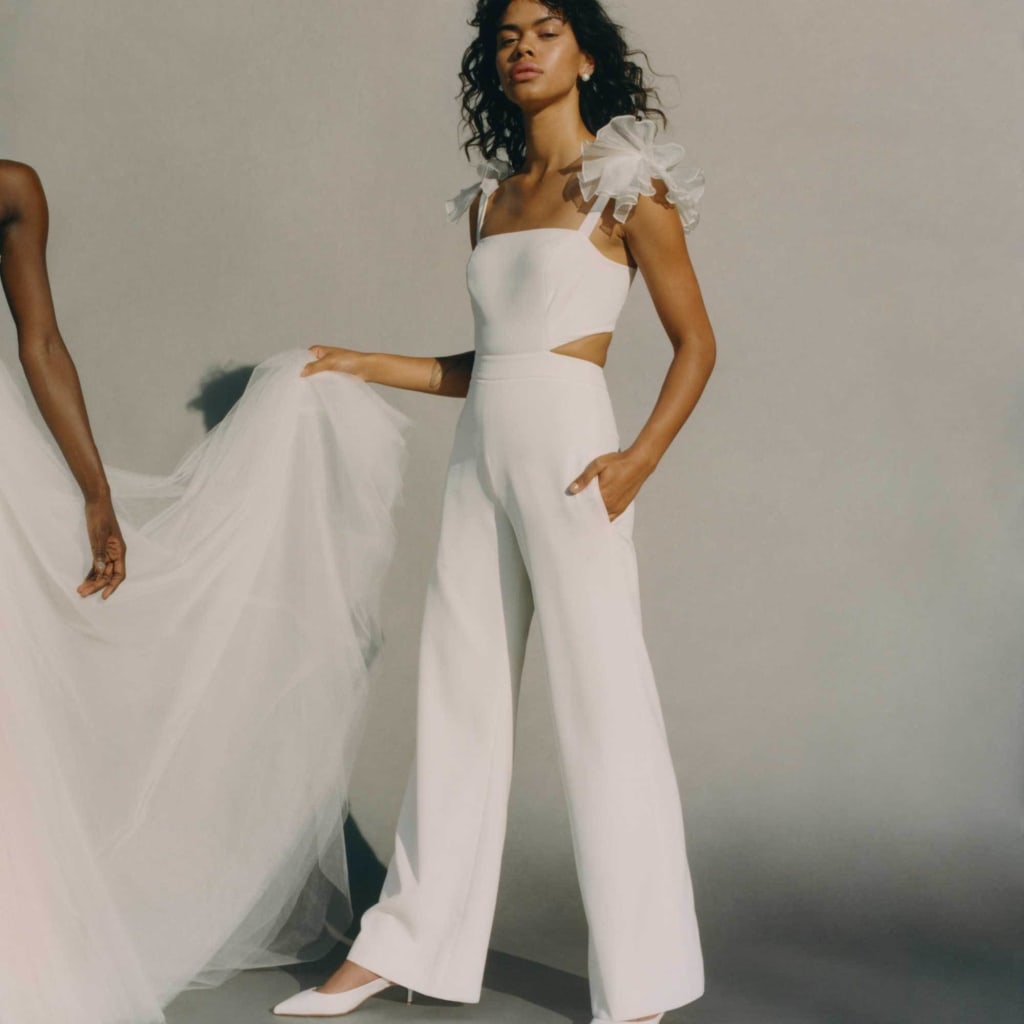 Did you know that the tradition of wearing a white wedding dress came from Queen Victoria in 1840? The queen stepped out of her carriage wearing a beautiful white silk-spun dress accented with lace to marry Prince Albert thus starting the trend of the white wedding dress. Society is constantly evolving and today we are seeing brides step away from the norm and walk down the aisle in not the traditional wedding gown, but a jumpsuit.
Swapping a long flowing wedding dress for a jumpsuit is a trend that is emerging predominantly within western cultures, especially ones that are adopting the most modern trends. Growing up, little girls have visions of gliding down the aisle in a traditional gown- it is all they have ever known. Today, the world has evolved to truly embrace individuality and freedom to be who you want to be and wear what you want to wear! If you want to float down the aisle in a romantic ballroom gown- you can! If you want to rock a black lacy mermaid silhouette- you can! If you want to try something different stepping away from a gown altogether and glide down the aisle in a jumpsuit – you can!
Okay, but what is so great about a jumpsuit?
A bridal jumpsuit is unique and sure to turn heads. It can speak volumes about a bride's style and is a chic alternative that is perfect for crazy extravaganzas or even a small simple wedding. A bridal jumpsuit is functional and versatile allowing a bride not to feel constricted in a heavy gown. Your wedding day is a memory that every bride wants to cherish for a lifetime and while wanting to look amazing is important, comfort is key! Many brides are making the switch to a bridal jumpsuit not only for its chic modern style, but because it is so much easier to get down on the dance floor in a comfy jumpsuit then pounds of lace and tulle.
What if I like lace?
Great, so do we! A jumpsuit can be anything that you want it to be. If you still want a princess feel to your bridal attire, but want the comfortability of a jumpsuit, then rest assured because there are a ton of styles to meet your unique taste. These outfits can feature a beautiful delicate floral lace with detailed beading, plunging or even sultry necklines and open backs.
Are jumpsuits flattering?
Yes! From creating sexy shoulders to elongating your legs, there is a bridal jumpsuit that can flatter any body type! Just like a traditional wedding dress, there are many options to choose from, so it is always helpful to know your body type prior to shopping. If you are on the tall side and have long legs, try an ankle cropped jumpsuit with a killer shoe! If you are on the shorter side, try a fitted bodice and stick to well-tailored pants that hit just below the ankles so you can rock a cute wedge or heel. If you are pear shaped, an off the shoulder ensemble can bring balance to your style and for petite brides, rock a slim fitting pant to show off your figure.
If you are wanting to break away from the mold of a traditional wedding gown, we highly recommend giving a jumpsuit a try! The moment you try one on, you will see why brides are making the switch! And that's not only because of its multifunctionality, comfort, style, modern vibe, and endless options to choose from. It's also because you're going to be a wonderful modern bride.