A Famous Love Story
Untold Story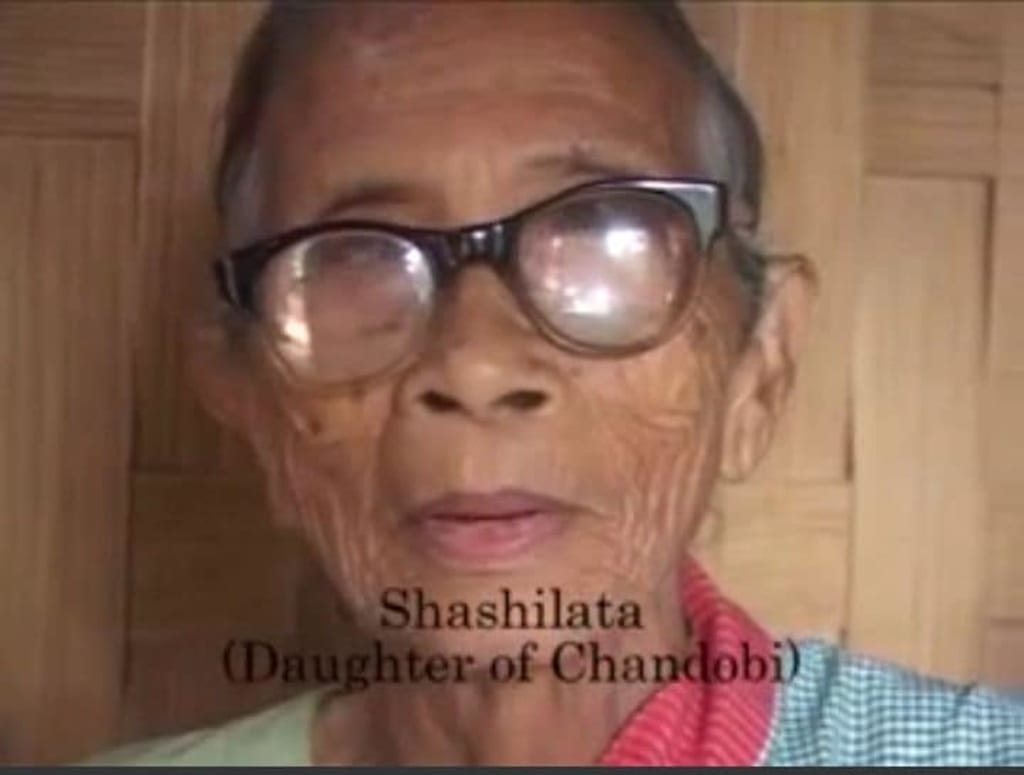 2nd Generation
A famous love story in Chakma society is called Chandavi and Navaram:
About one and a half hundred years ago, a very beautiful woman named Chandavi was born in Sublong area of ​​Barkal. Before Chandavi's birth, Chandvi's parents were engaged to a brahmin, who suggested naming the girl Chandvi. Chandbi's parents asked that Brakshan what caste will our Chandbi be? Then Brakshan said, your daughter Chandavi will be of Padhini caste. Padhini women are very beautiful, sati patibrata always prays religion, sweet voice like cuckoo, always smiling your daughter will have these signs. When Chandavi is one year to five years old after birth. Then Chandbir's father died suddenly. Then the mother and daughter were saddened by the death of the father. Since then, Chandvir's mother brought him up in her arms.
On the other hand, the more Chandavi grows, the more her appearance grows. Chandavi was so beautiful that once you looked at her, you could not turn your eyes away. Young people crazy about his appearance used to flock from the surrounding villages to the villages of the Chandavis on various pretexts to catch a glimpse of him. His skin color was milky, his cheeks were as red as ripe chillies, his eyes were drawn like those of a deer, his hair was as black as the moon. It is said that the Chakma king of that time also sought Chandbi's water after being impressed by his appearance. But Chandavi had returned that proposal of the king. Because Chandavi loved Noaram from the same village with all her heart. Love was going on between the two of them. Day after day, month after month. Once the family of Chandbir left Sublong for ever and came to Thega region. After that, the birah started between the two. Both would be eager to meet each other.
At that time, Rupavati Chandvir's appearance was spread around. All the aspirants dreamed of having the supremely beautiful Chandavi as their life partner. Once the news of Chandvi's appearance reached Kukiraja's ears, he too sent a proposal to Chandvi for marriage. But Chandavi returned the offer. At one stage, Noaram takes Katton's excuse and sails a boat to a distant place to meet Chandbir and when he meets Chandbir again, the love of the two gets a new momentum.
Thus Chandavi becomes pregnant at one stage as a result of love with Noaram. Tragically, Navaram later denied paternity of the child. Day after day, Chandavi is forced to seek justice in the community court. The male-dominated Chakma community ruled in Navaram's favor. Pravanchak Navaram also denies having a relationship with Chandbi with Chandbi's unborn child in the society's judgment. Later Chandavi Karbari, Headman Court and even Raj Court staged dharna. She had to go without food day after day while protesting with the child in her stomach in the hope of getting justice. He had to walk miles and miles alone. Day after day had to pass by sea. He did not get justice until the end. Instead, he had to be insulted and humiliated again and again. At one point her grandfather said, "Chando, you spoil the child, there is no use in seeking justice. No one will know. We will marry you in a good place". He didn't hear about grandpa. Weeping, Chandavi said, "Dada this child is not illegitimate, the product of my holy love. Why should I kill him? What is his fault!" Grandfather loved Chandavi very much. Chandavi was the only sister. But that grandfather also left him for not listening to him. Chandavi waited for twelve months believing that her boyfriend Navaram would realize his mistake and one day he would come back to her right.
One night the humiliated helpless Chandavi hides in a cowherd and gives birth to a dead baby in great pain. No one was with him that day. No one in the cruel society stepped forward when Gagan Bidari was screaming in labor. No one went and saw how much emotional pain the girl was suffering. Early in the morning, she saw that she gave birth to a daughter like a beautiful divine child. Seeing the child, Chandavi said,
Daughter died and survived
I brought it with me and took it with me
If he had lived, there would have been many curses
To be born as a woman in this nation is an unborn sin. Chandvi's final fate is heard in the public eye, 'Chandvi was put up for social auction. A wealthy man named Phulchan Chakma or Kala Mahajan buys Chandavi from an auction and marries her and goes far away.
Basically, Chandavi and Noaram were cousins ​​of each other. In Chakma society this relationship is an immoral or forbidden love relationship. That is called garba kudum or non-marriageable relationship. That is why Noaram dares to go against the Kuloyni society and marry his niece Chandavi. Dharmadhan Pandit wrote an unforgettable poetry book called "Chandavi Barmas" about the love story of Rupavati Chandavi and Noaram.
There is still a village called Chandavighat in Thega region where Chandavi lived with his mother. The stone on which Chandavi used to sit and bathe on the banks of the Thega river is still there. And Chandavi Ghat village is still inhabited by its North Suris.
About the Creator
Iam Talukder a content writer as well as the entrepreneur of online business where i sell various products and source the best one. We give priority first the customer satisfaction.
https://www.youtube.com/channel/UCBVSEe4rtMeiIn_VybLQ3Ug
Reader insights
Be the first to share your insights about this piece.
Add your insights